What You Need to Know About Demerit Points
If you are convicted of violating a traffic law, you may have demerit points added to your license. The specific number of points that are added to your license after a violation depends on the severity of your actions. For instance, evading a police vehicle will earn you seven points while an improper turn will result in a penalty of two demerit points. Let's take a closer look at what demerit points are, why they are assessed and how they may impact your ability to obtain insurance for your vehicle.
What Exactly Are Demerit Points?
Demerit points are used to determine how responsible you are as a motorist. When you receive your license, you start with a score of zero points. If you accumulate two or more points, you'll likely receive a warning letter from the licensing authority in your province.
If you accumulate nine or more points, you may be required to defend yourself in front of a panel of government officials. At a minimum, this may require you to take time off of work, arrange for childcare on short notice or deal with other interruptions to your life. In some cases, you may also be charged $50 to cover costs related to the interview process.
After accumulating 15 or more points, there is a good chance that your license will be suspended or revoked. This means that you may not be able to drive to work, school or other destinations until the suspension or revocation period expires.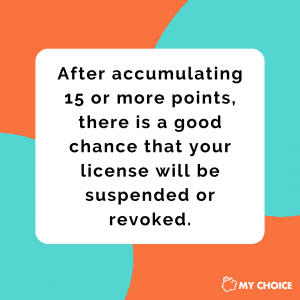 Why Are Demerit Points Assessed?
As a general rule, points are assessed in an effort to dissuade you from being an irresponsible driver. For smaller offenses such as an improper lane change or failing to use your turn signal, points may be placed on your license in lieu of a fine.
Furthermore, they are assessed to ensure that repeat offenders are taken off of the road as quickly as possible. If you are convicted of reckless driving, you would receive six demerit points on your license. This means that any further offenses would likely result in some sort of action taken against you regardless of how minor the infraction might be.
It's worth noting that you could have your license suspended after a single event regardless of how many points are on your record. It's not uncommon for drivers who are found to be under the influence of drugs or alcohol to have their driving privileges revoked immediately.
How Do Demerit Points Impact Your Ability to Buy Auto Insurance?
The top insurance companies don't look at how many points are on your license when determining your eligibility to buy coverage. They also don't look at this number when determining how much to charge for a policy. However, they will see that you received a ticket in the past year or that you were in a serious accident caused by distracted or impaired driving.
Therefore, it's still in your best interest to drive as carefully as possible if you want to retain access to affordable car insurance. You should also know that if your license is suspended or revoked at the time that your current insurance policy expires, you might not be able to renew it until after you get your license back.
Do Demerit Points Ever Expire?
Demerit points typically expire two years after the date that they were placed on your license. This is generally true even if your license is suspended or revoked after acquiring too many points over a period of 24 months.
A Conviction Will Stay on Your License for Three Years
Although demerit points might expire after two years, the conviction that led to the points will remain on your record much longer. A conviction for drunk driving, reckless driving or failing to wear a safety belt will remain visible for three years after the date that the guilty verdict is actually rendered against you.
What Happens After Your License Is Suspended?
In the event that your license is suspended after accruing 15 demerit points, you must surrender it as soon as possible. A failure to do so could lead to a full license revocation, which will last for up to two years. You may be subject to additional penalties if you attempt to drive without a valid license, registration or insurance policy.
What Happens If You Don't Have a Full License?
If you don't have a full G license, you may incur penalties faster than you would if you do have one. Typically, those who have a G1, G2 or M1 license will have their driving privileges suspended after obtaining as few as nine points. In addition, the suspension will last for up to 60 days as opposed to 30.
It's worth noting that it may be easier for drivers who have a graduated license or learner permit to obtain demerit points. This is because they are subject to stricter DUI laws as well as restrictions as to when they can drive or how many passengers they can have in their vehicles.
Can You Appeal After Receiving Demerit Points?
Typically, you are given several days to appeal a traffic ticket before any further action is taken. If the appeal is successful, you will likely see no change to your driving record. However, if the appeal is not successful, the points will be added to your license without any further consideration. It's worth noting that additional penalties may be levied if you fail to pay a ticket in a timely manner.
You generally have the right to dispute a DUI, reckless driving charge or other serious allegations in court. However, as with a traffic ticket, there is little that can be done to take points off of your record after you are convicted.
Endnote
Ideally, you will refrain from driving in a reckless fashion whenever you venture on a Canadian road or highway. Even if you aren't concerned about getting demerit points, engaging in safe driving habits can reduce your risk of a costly traffic ticket. It can also reduce your risk of getting into a crash, which could result in serious injuries and costly car repair bills. If you have any questions about how your driving record might impact your insurance policy, don't hesitate to speak with an agent at your earliest convenience.