GUELPH CAR INSURANCE
Compare & Save When You Shop for Car Insurance in Guelph.
Google

Google

Amd

Mashable

Adidas

Guelph Car Insurance
Known as the Royal City thanks to being named after a royal family in England, Guelph lies at the intersection of Highway 6 and 7 in Ontario. A diverse economy, clean environment and Canada's lowest unemployment rate have helped Guelph consistently rank as one of the best places to live in Canada.
Guelph is also one of the best places to drive in Ontario with its population and lesser congested streets, getting to Guelph Central Train Station is never too difficult. Even with its safer roads than similar cities, it's still necessary to have some sort of car insurance as with any other place in Canada.
What are the Average Auto Insurance Rates in Guelph?
Thanks to its geographical location, which has Guelph sitting just outside the reach of the GTA, residents can rejoice when it comes to the city's average car insurance rate. Due to its location, generally safer roads and less congestion in comparison to other areas in Ontario, drivers who live in Guelph can expect to pay an insurance premium somewhere around the region of $1,281 to $1,345.
This average insurance rate is calculated based upon a 35-year- old male driver with a clean record, so your premium may be subject to change. The current average rate for Ontario as a province is $1,458 but even so, it's important to shop around and compare different rates in order try and get the best deal!
Car Insurance Trio Images iPhone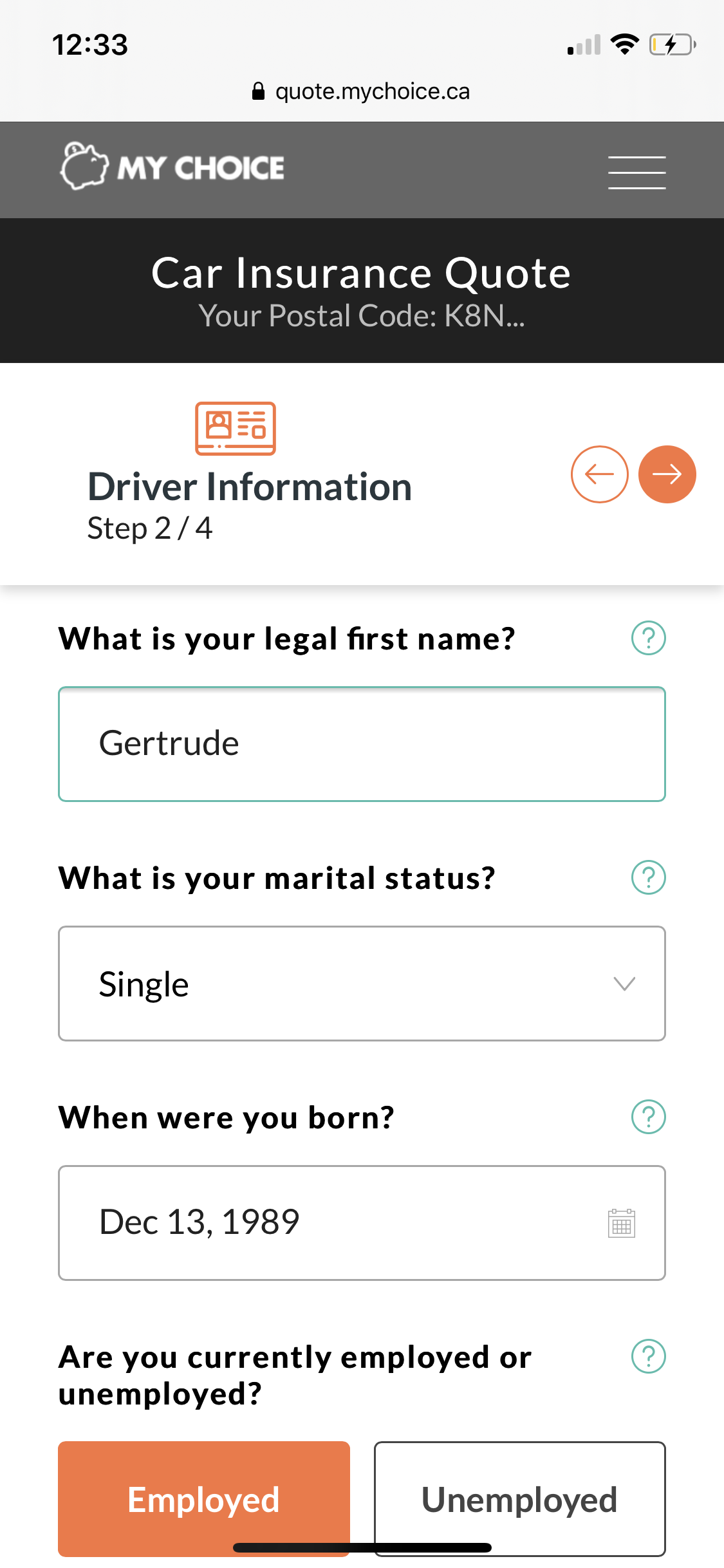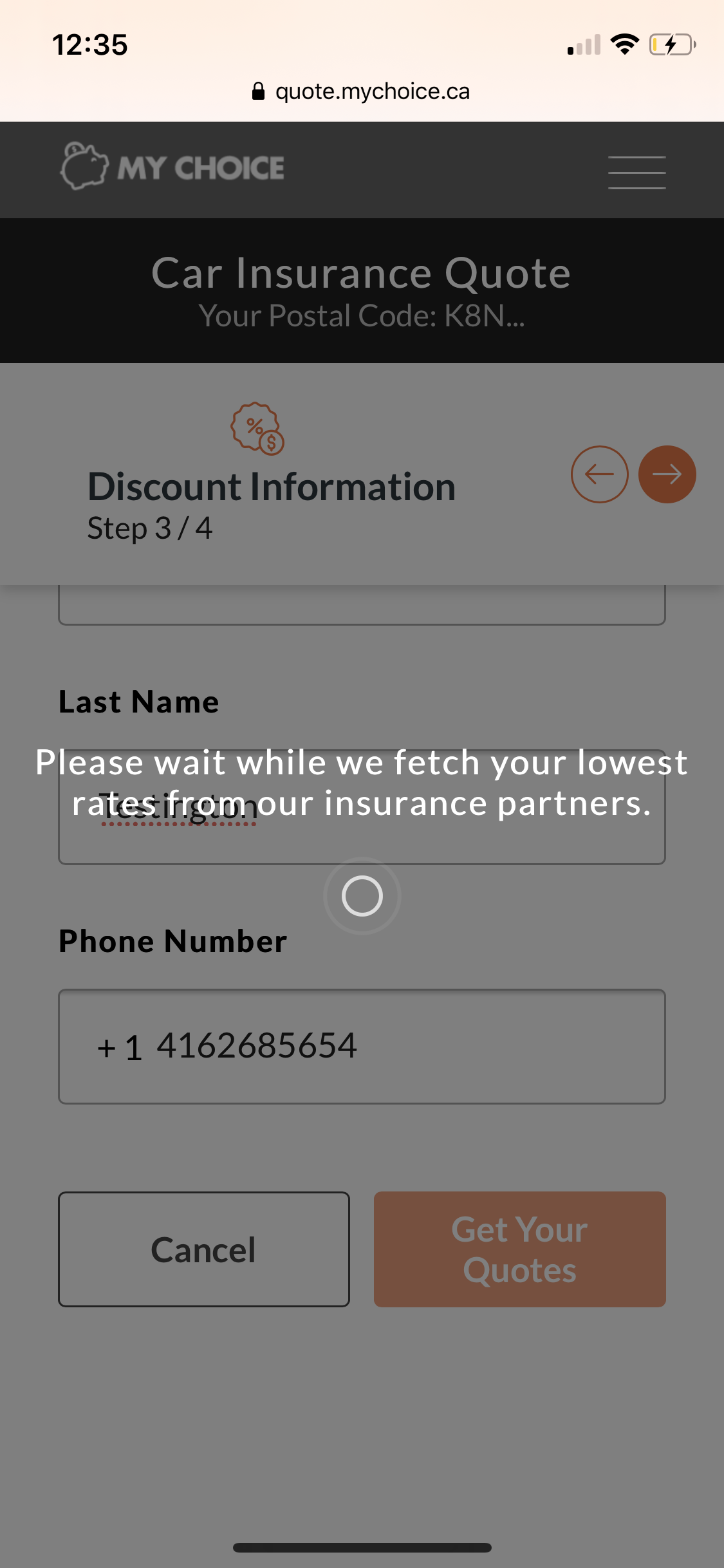 *Actual Quoting Data. Based On A Clean Driving Record.
Guelph Car Insurance FAQs
How much is car insurance in Guelph?
Guelph drivers pay about $1,281 to $1,345 per year in premiums on average. That works out to approximately $110 per month. The rates are relatively consistent across town, though some drivers just outside of Guelph can find rates of under $100 per month.
Is car insurance in Guelph expensive?
Guelph's car insurance rates are similar or even a bit cheaper than the rates for drivers in nearby Waterloo, Cambridge, Acton, and Milton. The rates rise sharply in areas to the east. Brampton and Mississauga's average premium rates are twice as high as Guelph rates. The average Toronto driver pays about $2,000 per year in car insurance premiums.
How to get the cheapest car insurance in Guelph
The most crucial step you can take to get cheap car insurance in Guelph is to compare rates often, especially if you plan to make changes to your coverage. See if insurance providers offer any discounts to drivers who complete defensive driving lessons, agree to use a tracking device, or bundle auto coverage with home or life insurance. Whatever your driving history, it is important to be cautious on the roads, especially during snowy and icy Guelph winters. If you are planning to purchase a new car or move into a new home, it may be worthwhile to consider whether the change will have an effect on your insurance rates. Your premium rate may even sway you one way or the other if you are trying to decide among several options.
When is a good time to compare car insurance rates in Guelph?
It is a good time to review your insurance options whenever your household driving circumstances change. For example, if you are adding a teenager to your coverage, you can expect your rates to increase, but some insurance providers may offer more favourable terms. Likewise, a driving infraction can also lead to a rate hike, but some companies may be more forgiving. If you are looking to purchase a different level of coverage, keep in mind that some insurers might provide a lower quote for lower or higher tiers of coverage. While many insurance companies reward long-term customers, it is always a good idea to examine your options each time your policy is set to renew. Just keep in mind that your rate might drop with your current provider if they offer some sort of loyalty program.
Which car has the cheapest car insurance in Guelph?
In 2021, the Mitsubishi Mirage topped the list of cheapest cars to insure in Ontario. The hatchback's safety features and kilometers to the gallon make it cheap to maintain and operate. In total, the Mirage has an estimated annual driving cost of $6,538 per year. Rounding out the top five, in descending order, are the: Chevrolet Spark Toyota Corolla Mazda 3 Hyundai Elantra Drivers of each model can expect to pay low insurance premiums across the province.
What is the cheapest postal code for car insurance in Guelph?
Guelph insurance rates are relatively consistent. However, you may be able to save a small amount of money by moving to the Rockwood area or other nearby suburbs. The L0P postal code has the cheapest rates by a slim margin. Drivers in that area can expect to pay, on average, about $1,192 per year in premiums. That works out to just under $100 each month.
What are the most dangerous intersections in Guelph?
Driving conditions are an important consideration when insurance companies set premium rates. Along with crime rates and weather conditions, insurance adjusters want to know whether there are a lot of crashes in the places you will be using your vehicles most. While Guelph is relatively safe, there are a few problem areas you may want to avoid. The intersection of Wellington Street West and Edinburgh Road South ranks as the most dangerous intersection in Guelph in a recent report by CTV News. More crash injuries and total crashes have occurred at this site than at any other intersection in the city over the past five years. Wellington Street is also dangerous for non-drivers. Its intersection with MacDonell Street and Woolwich Street has had the most pedestrian injuries in recent years. The intersection of Gordon Street and Surrey Street is worst for bicyclists. While the crash and injury rates are on the decline throughout the city, Guelph drivers still crash about six times per day. According to a recent City of Guelph report, a crash with an injury occurs once per nine hours, on average.
Tips for Driving in Guelph
Guelph isn't the largest city but nevertheless, it may pay dividends to understand what locals know when it comes to driving in the city and that's why we put together the following tips:
Guelph is always regarded as one of the better places to drive in Ontario but the city is still subject to plenty of construction, use the city website to keep up to date with developments.
Like pretty much all Canadian cities, there will be snow and this is no different in Guelph which has its fair share during winter. This can make it tricky to navigate the roads and a nightmare for insurance, so make sure snow tires are in use if required.
Guelph is one of the oldest cities in Canada, dating back to the mid 19th century so when driving through the streets keep a look out for a number of Victorian heritage homes.
The Most Dangerous Intersections in Guelph
Along with the number of collisions recorded in Guelph, the same report also detailed the more dangerous intersections where you are most likely to have an accident. The top 3 for Guelph were:
Edinburgh Road/Wellington Street
Edinburgh Road/Stone Road
Gordon Street/Wellington Street
Total Reportable Collisions in Guelph, 2016 – 2020
Like any other city Guelph has collisions and the numbers are here to show that, the latest report was conducted by the Guelph police the following statistics were recorded:
Total number of collisions for 2020 – 2,424
Source: Guelph Collision Report, 2020