TORONTO CAR INSURANCE CALCULATOR
Don't Overpay for Auto Insurance.
Use our Toronto Car Insurance Calculator to Find Your Cheapest Rate. Just Enter Your Postal Code Above!
Google

Amd

Forbes

Philips

Mashable

Adidas

What is the Average Price of Toronto Car Insurance Quotes?
You can be sure that when it comes to the average car insurance premium in the Toronto area it's going to be considerably greater than Ontario's as a whole. As outlined above, this is purely due to the greater number of factors at play within the GTA in comparison to other areas, simply put, lots of people with lots of cars equals a greater potential for incident.
Our data has highlights the average auto insurance rate from Toronto to be $2,124 as of April 2021, which is, quite higher than the Ontario average of $1,458 for each driver. If we dive a little deeper and look at some more specific regions within the Toronto area, we have the following neighbourhoods to compare.
| Neighborhood | Average Rate |
| --- | --- |
| Downsview, North York | $2,422 |
| Albion, Etobicoke | $2,418 |
| Upper Rough Scarborough | $2,373 |
Car insurance premiums in Toronto can vary widely depending on your home address. Yes, the area you live in has a direct impact on what you can expect to pay to drive your vehicle.
With so many car insurers in Toronto and drivers alike, the average price varies widely. The range is usually between $1,100 and $2,000. If you live inside the city limits close to the downtown core, you may pay less compared to areas beyond downtown where you might pay more. These lower car insurance costs for the center of city drivers can be attributed to fewer car owners but ultimately it comes down to more than just where you live.
For research purposes we ran the numbers and the true average car insurance as of April 2021 was around $1,400. This example was calculated for a male driver, 30 years of age, buying only the required coverage. He also had a clean driving record for the past five years and he drove a five year old Honda Civic, an average of 5,000 km to 8,000 km to and from work.
It is interesting to note that this same driver was paying higher Toronto car insurance roughly a year and a half earlier, we calculated the rate to be $1,500.
Why Is Toronto Car Insurance So Expensive?
Many people fail to realize that car insurance, and indeed all types of insurance, is a risk based business. Car insurance companies take on your driving risk in exchange for a price paid for covering that risk. In Toronto, that risk is maximized.
Car Insurance Trio Images iPhone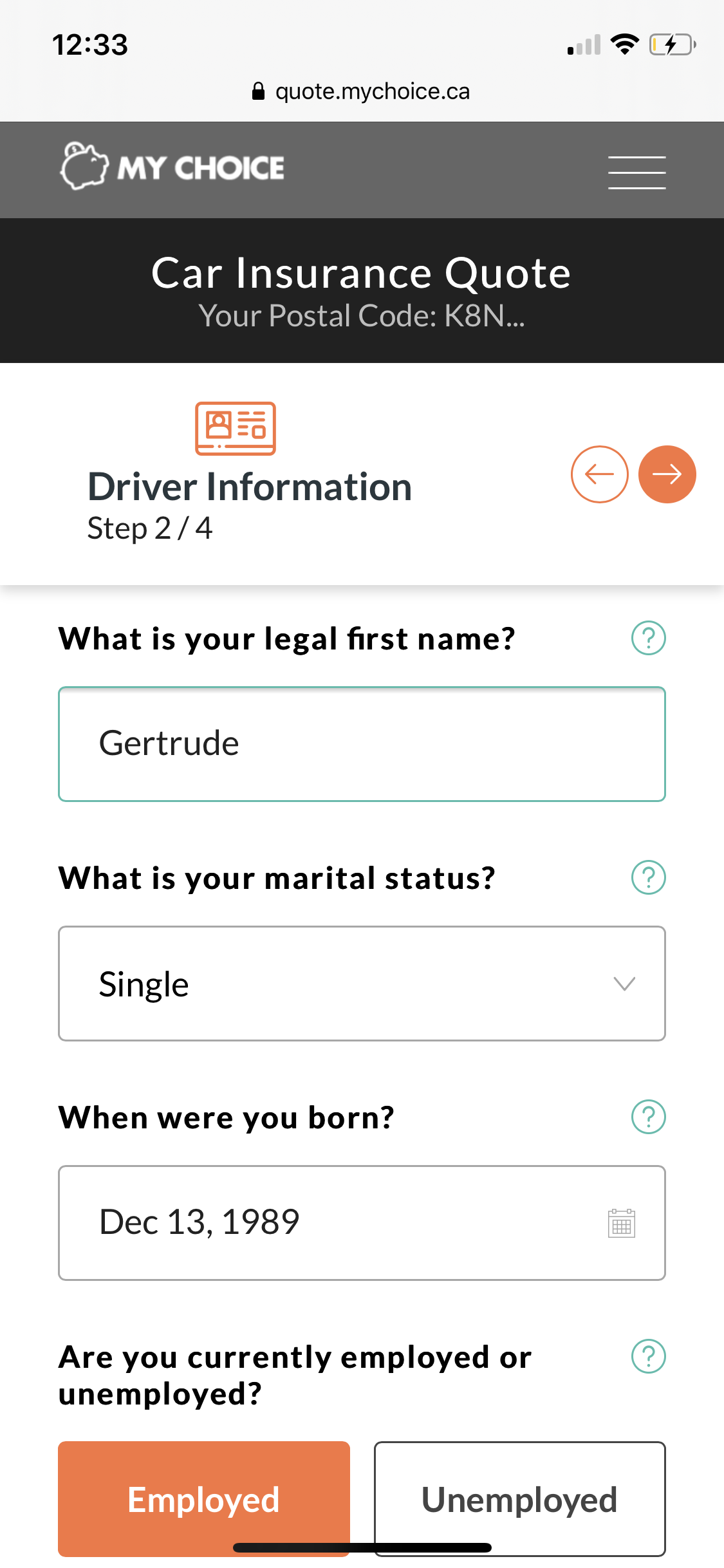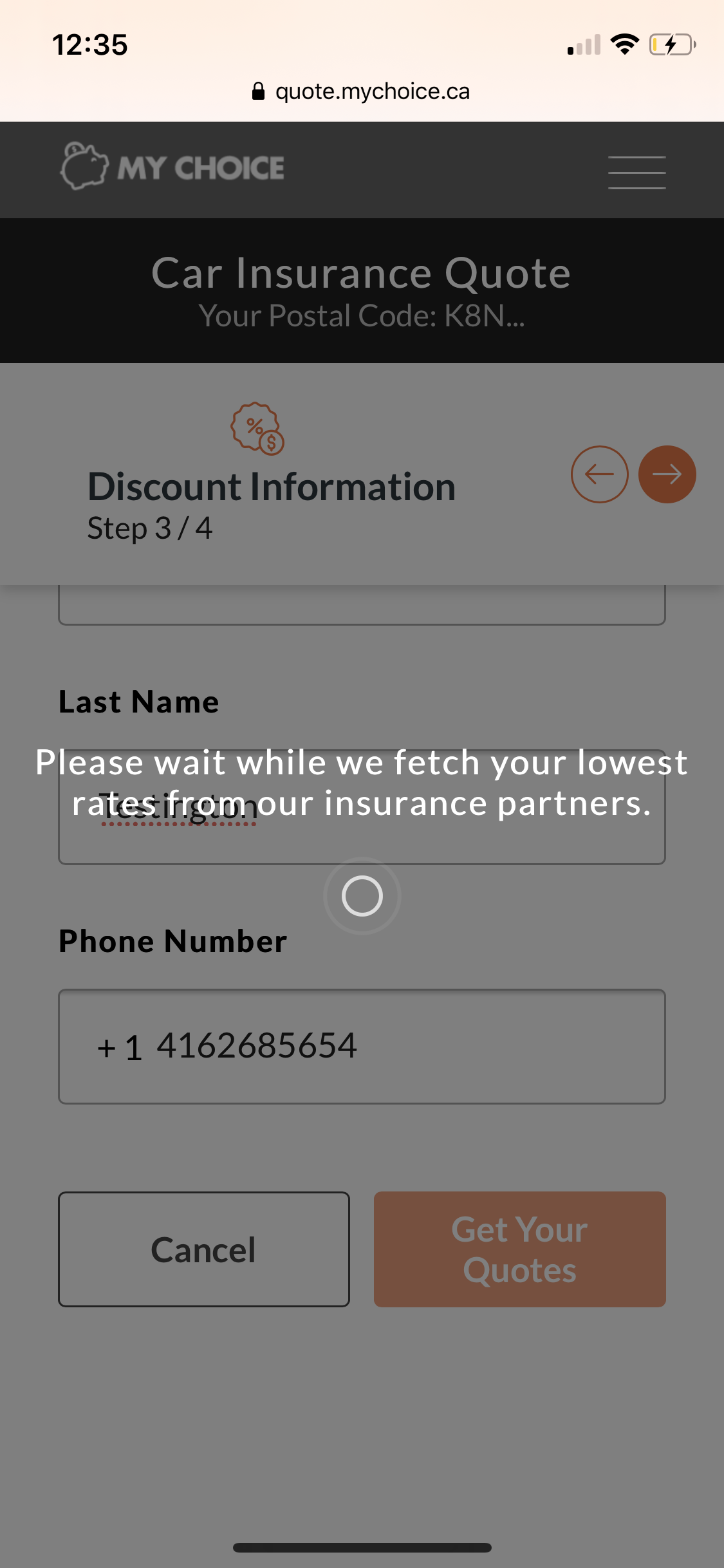 *Actual Quoting Data. Based On A Clean Driving Record.
Generally, car insurance companies apply the same life profile information for each driver when it comes to their car insurance. This life profile usually includes: driver age, make and model of vehicle, miles traveled and driver's address. Other factors may or may not affect car insurance cost depending upon the particular driver and situation.
In order to be profitable, these companies take into consideration certain factors for every person they insure. These factors determine the amount of risk for the insurance company and, in turn, what the company needs to charge any particular customer. Risk range helps insurance companies decide what to charge, or whether to insure drivers at all.
Car insurance companies apply a simple formula: the higher the risk, the higher the premium. Auto insurance quotes are also established in terms of the population profile of a particular area.
For instance, residents in highly populated areas, like Toronto, pay more. There are more vehicles on the streets, and that increases the potential for accidents. Consequently, you pay a higher car insurance rate for living in a higher risk area whether you personally have a high risk ranking or not. If you hit another car, or the car hits you, does not matter. The cost of the vehicle damage is the same.
Along with the abundance of cars on the road in and around the GTA there is no shortage of pedestrians and cyclists too. Having these extra factors certainly plays a role in determining what auto insurance rates are given for Toronto drivers. This is more than enough to deal with for any competent driver and with these additions things can often become congested and dangerous, fast.
Toronto has one of the highest car insurance rates in Canada, thanks to traffic and its accidents, however, if you are hunting for cheap Toronto auto insurance, you've come to the right place - compare different rates with us today!
What are the Cheapest Suburbs for Toronto Auto Insurance?
As mentioned above some of the cheaper areas for Toronto auto insurance aren't too far from downtown. So if you are considering relocation, here are some of the lower-cost car insurance zones or suburbs in the GTA.
Coming in with the cheapest average insurance coverage rate are drivers who reside in the M6G postal code region, effectively Christie Pits, the average insurance rate here is $1,479. Christie is the closest suburb to downtown that comes in this cheap, next on the list is Forest Hill (M5P) at $1,486 and Davisville (M4P) at $1,503 respectively. Drivers living in and around these areas can expect to pay some of the better rates in the city.
What is a Car Insurance Calculator?
A car insurance calculator is a cost estimating tool that gives you a solid idea of how much car insurance you need and a very close approximation of the cost. You, the driver has to include the necessary information to fill-in-the-blank fields, multiple selection fields or drop-down menus.
These calculators are simple to use, and can give you a rough estimation for your car insurance coverage fairly quickly. As this is the same information that goes into determining your personal auto insurance costs by the insurer, it's quite important to input details as accurately as possible.
In high insurance cost areas like Toronto, this expense can dramatically impact personal expenses and budgets. Making sure you are getting the best needed coverage at the lowest cost goes a long way toward managing the insurance part of your budget.
How Can You Save Money Using a Car Insurance Calculator in Toronto?
First, calculate the total costs. Next, try adjusting certain features of the total costs, manipulate deductible ranges to lower total costs while keeping the essential parts of your plan.
As you are trying to limit costs, one of the first decisions you need to make is how much car insurance do you need? Using this calculator helps you do that. While basic liability coverage clears the legal requirement, is it sufficient? That old saying, 'it is better to have it and not need it, than to need it and not have it' comes to mind.
The best way to get an accurate estimate of your real car insurance needs is to use this cost tool. Get the figures, write them down, and you can get a clear summary of true, personal insurance needs to guide your decision.
These calculation tools reveal critical cost factors like the deductible best for you, and how the insurers rate your vehicle in terms of gas mileage and maintenance.
The deductible decision mentioned above is a key factor in determining what you will pay. Basically, this is the insurer asking you, the insured, how much of your personal risk are you willing to take.
If you are willing to take more of the risk, the relevant car insurance company is willing to charge you a lower rate since their risk is reduced by you.
Importance of Car Insurance Calculators for Toronto Residents
When it comes to car insurance in Toronto, auto insurance rates are among the highest in Canada, a calculator like this is a great advantage. With so many insurers offering such a wide variety of plans at such a wide cost range, this tool helps narrow down so much information toward making a final decision.
Knowing that Toronto is a high insurance cost area, higher rates are a given. You need every advantage at your disposal to sift through the noise and customize your specific auto insurance coverage needs. These calculators can help you save money and still get the coverage that fits your personal needs best.
By using the calculator you can easily see benefits of different coverage plans and the premiums for those plans. All your coverage options and the cost differences are in one place, and you won't have to consume time hunting better prices and comparing different quotes elsewhere. Do yourself a favor; try our Toronto car insurance calculator today!
Driving in Toronto: What You Need to Know
Armed with the best Toronto car insurance and these local driving tips, you'll be sure to keep your no claims bonus.
Stay calm, focused and alert. Driving in Toronto can be stressful with lots of traffic, pedestrians and cyclists to contend with so take care when driving.
When on a road with streetcars, try to avoid driving directly on their steel tracks, especially in the rain as these can become slippery and dangerous.
Parking can be very troublesome, even more so in the downtown core. There is minimal free spots and on a weekend these spots become ever more hard to get.
If you are driving east or west in the downtown core, take Richmond St (one-way West) or Adelaide St (one-way East). This will be quicker and easier than having to battle on King or Queen St which have streetcars and parking to contend with.
The CAA recently identified that Toronto has 5 of the worst bottlenecks for traffic in Canada, notable ones are, Highway 401 between Highway 427 and Yonge Street, Don Valley Parkway between Don Mills Road and Finch Avenue and finally, Gardiner Expressway between the South Kingsway and Bay Street.
Dangerous Intersections in Toronto
Here at My Choice we like to look out for our customers and their auto insurance needs whatever way we can, as a result we've put together the following list.
After seeing some of the collision numbers for drivers in Toronto it would be wise to pinpoint some of the more dangerous spots throughout the city. Roughly around 60-65% of all collisions in Ontario will happen at an intersection and the majority of insurance claims are because of collision incidents.
According to a recent report, undertaken between 2021, the following intersections were seen to have the highest vehicle collision rate:
Lake Shore Blvd/Lower Jarvis St
Lake Shore Blvd/Don Roadway
Ellesmere Rd/Bellamy Rd
Lawrence Ave East/Midland Ave
St. Clair Ave West/Old Weston Rd