MISSISSAUGA CAR INSURANCE
Find Cheap Auto Insutance in Mississauga by Comparing with us Today.
Google

Google

Amd

Mashable

Adidas

Car Insurance Mississauga
The city of Mississauga almost blends into its neighboring Toronto as the cities sprawl on top of each other, established in the early 19th century, Mississauga has now prospered into a reputable city on its own accord. Also, Mississauga is the sixth-largest country in Canada and is part of the Great Toronto Area. Rapid growth over the past two centuries has seen Mississauga become the sixth most populous city in Canada with an economy to match. With development comes cars on the road, which brings traffic and congestion. That's why having your own auto insurance provider is a must in the area.
This is no different in Mississauga as you will most likely encounter some sort of traffic on your average day commuting, so whether you're twiddling your thumbs on the Queen Expressway from Toronto or just stuck in the downtown core; there's not much you can do to get away from it. Auto insurance in Mississauga is mandatory just like anywhere else in Canada, making it all-important to get a cheaper rate. At My Choice, we are here to help you to have a car insurance rate that's cheap and within your reach, start your car insurance comparison with us today and get saving those dollars!
Average Car Insurance Rates in Mississauga
When it comes to the growth and development of the city, Mississauga can largely account this to the proximity of being next to Toronto which has seen many commuters journey between the two cities. However, it's not all thanks when it comes to the average car insurance rate for Mississauga as unfortunately being within the GTA really does bump up those premiums.
Also, Mississauga is a busy and populous city. There are a lot of roads connecting to one another and Mississauga services the seven major highways that provide quick and easy access to key United States locations.

The most recent research has concluded the average auto insurance rate, based upon a 35-year-old man with no claims, to be at $1,930 for the Mississauga area. This estimated premium places Mississauga at number 3 in the most expensive cities for auto insurance in Ontario, for the record Toronto is number 4, roughly $50 cheaper per year.
Unfortunately, perhaps the most important factor when determining how cheap car insurance quotes are is where the driver resides so unless you are moving any time soon it can't be helped. However, it's not all doom and gloom for drivers in Mississauga as these premiums are only averages, therefore it still pays to shop around, looking at different quotes and try to find cheaper auto insurance.
Car Insurance Trio Images iPhone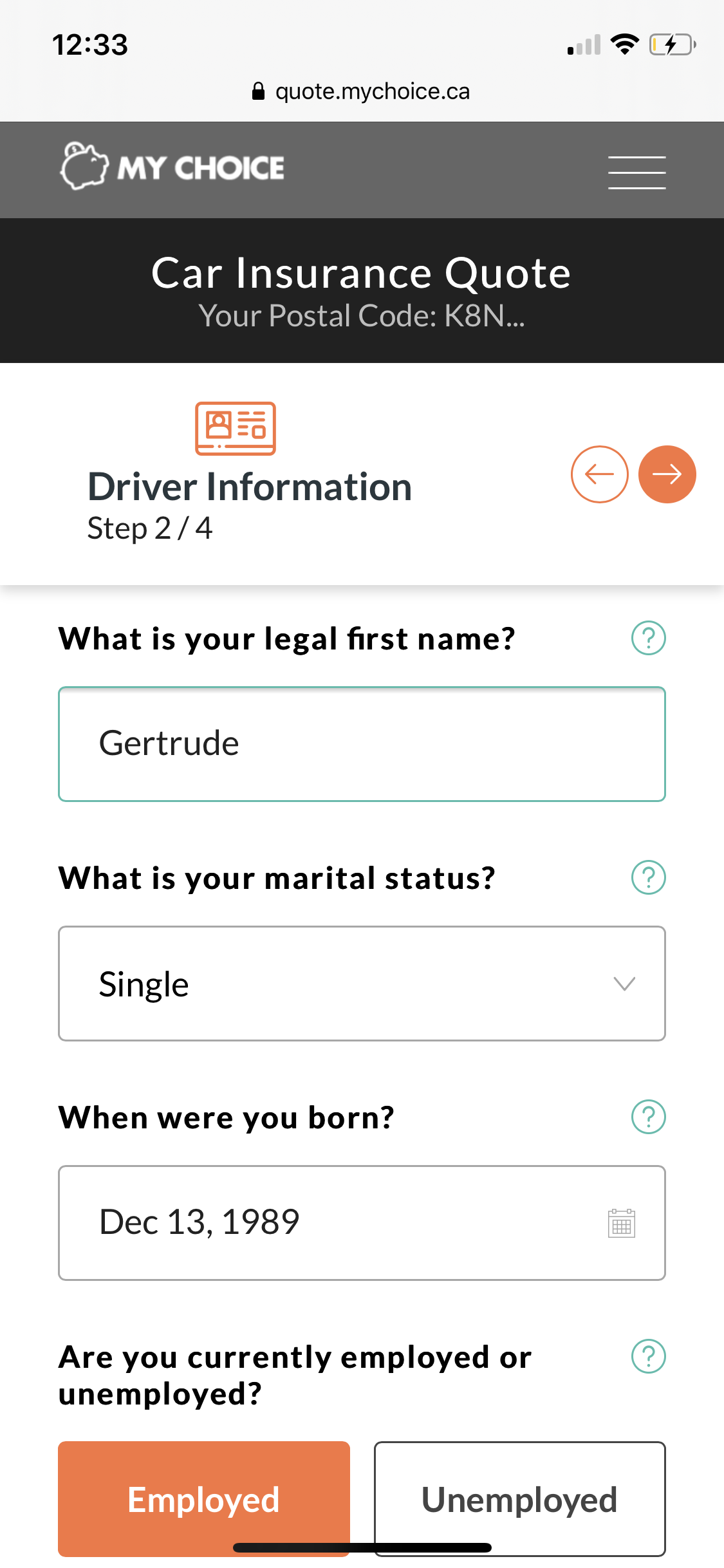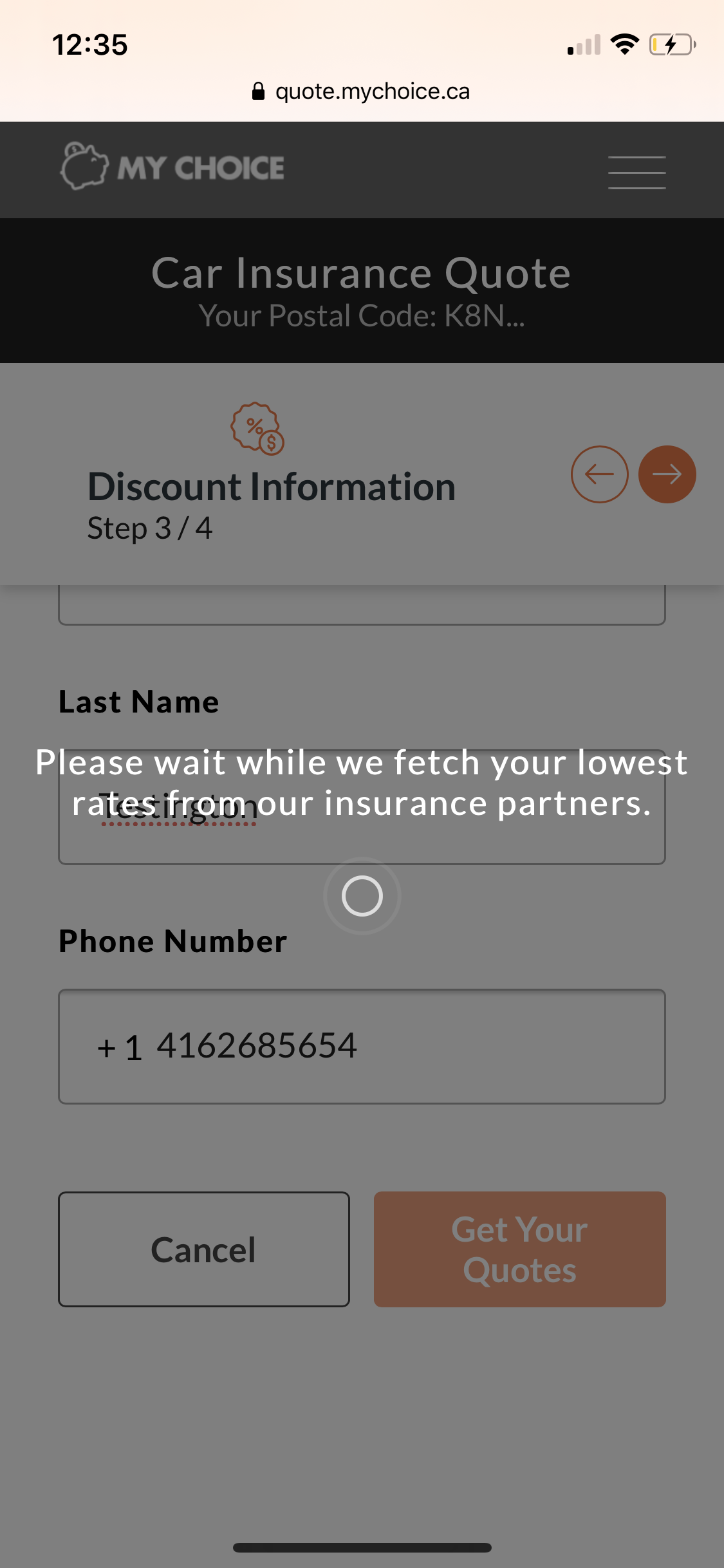 *Actual Quoting Data. Based On A Clean Driving Record.
Mississauga Car Insurance FAQs
How Much is Mississauga car insurance?
The average cost of car insurance in Mississauga is $2,372 per year, making it the second most expensive city in Ontario for car insurance. Only Brampton has a higher average rate. However, keep in mind that insurance quotes can vary dramatically between providers and drivers because each company uses a different algorithm to determine rates—location is far from the only factor. Outside of the provider you choose, your premium will vary depending on your age, gender, vehicle, driving history, and more.
Is Car Insurance in Mississauga Expensive?
If you live in Mississauga, you'll pay about 50% more than most drivers elsewhere in Ontario, where the average cost of car insurance is around $1,600. Drivers in Mississauga pay over $1,200 more annually than those in Whitby or Pickering. Mississauga drivers also have higher premiums than Toronto residents. Many factors contribute to the high cost of auto insurance in Mississauga. Drivers in the city experience more accidents and file more claims than other towns, which increases premiums for the entire city. Mississauga also has many young and inexperienced drivers, which is another leading cause of expensive rates.
How to Get the Cheapest Mississauga Car Insurance?
Comparing quotes, and doing so often, is the most significant step you can take to get cheaper car insurance in Mississauga. Beyond that, many insurance providers also offer a wide range of discounts. Usage-based insurance—a policy that allows insurers to calculate a premium using a telematics device to record your driving behaviour—can save you up to 25%. Bundling car insurance with homeowner insurance and other policies can help you save between 10% and 20%. Adding safety features to your car, like an enhanced alarm system, and paying your premium in one lump sum also often come with discounts.
When is a Good Time to Compare Car Insurance Rates in Mississauga?
The best time to compare car insurance quotes in Mississauga is right before your policy renewal as well as after any event that might impact your premium. Car insurance companies look at countless factors when determining a change in rates. For example, auto insurance rates can change dramatically after certain birthdays—another reason to compare quotes annually.
Which Car has the Cheapest Auto Insurance in Mississauga?
Certain cars are less costly to insure than others. Insurers consider a car's safety ratings, theft risk, accident rates, and maintenance demands when determining car model discounts. In Mississauga, the car models with the cheapest premiums include Kia Sorento, Mazda CX-5, Hyundai Tucson, Hyundai Kona, Kia Forte, Toyota Corolla, Honda Civic, Honda CR-V, Toyota RAV4, and Hyundai Elantra.
What are the Most Dangerous Intersections in Mississauga?
According to the Peel Regional Police, there are approximately 6,500 collisions annually in the Mississauga area, more than 670 of which occur at intersections. Mississauga has two of the most dangerous intersections in Ontario: the intersection at Dixie Road and Dundas Street East—typically choked with shoppers going to the nearby shopping centers—and Goreway Drive at Derry Road East. King Street and Hurontario Street near the center of Cooksville, and Fowler Drive at Erin Mills Parkway, across from Sheridan Centre mall, also have a higher number of accidents than many parts of the city. While living or working near these intersections may slightly increase your premium, the impact is unlikely to be significant. Even so, it's worth avoiding all the above if you can!
Driving in Mississauga & What You Need to Know
Looking for some must have tips and tricks for driving in Mississauga, look no further and start protecting your auto insurance coverage:
Take care driving on Creditview Rd, there's plenty of traffic lights which you will no doubt get. Whilst it is tempting to rush, police cars are known to monitor driver's speeds on this road in particular.
Lakeshore Rd is usually busy during rush hour, being one of the main commuter streets and the intersection with Stavebank Rd can become especially bad. Stay aware and look out for pedestrians as well as other drivers.
Derry Rd from the airport as you attempt to join Highway 410, this industrial area becomes full trucks from about 3pm onwards and can be slow.
The obvious one, Eglinton Av which runs parallel to Highway 403 for a period is always jam packed come the evening rush hour.
What is the Cheapest Postal Code for Car Insurance in Mississauga?
Most car insurance companies use data from postal codes as one factor to calculate premiums. Even if you've never had an accident, your address can put you at risk for higher premiums. The Ontario government is considering legislation to remove postal codes as a leading factor in determining car insurance costs.
All areas of Mississauga have higher than average insurance coverage rates. However, people living in postal code L5J get lower rates than many areas of Mississauga. Other neighbourhoods with lower rates include postal codes L5G, L5H, L5K, and L4W.
WAYS TO LOWER YOUR AUTO INSURANCE COST IN MISSISSAUGA
Having car insurance is a good thing, but knowing how to lower your auto insurance's cost will greatly benefit you as a consumer. Aside from saving you money, it can also make you smarter in choosing the best car insurance for you.
Prices for auto insurance differ from one company to another, so it is efficient and advisable to conduct a price comparison first. My Choice provides the best auto insurance rates for your vehicle in a variety of places across Canada, making it convenient for you. The obvious reason that you will need insurance, aside from it's required by the law, is to also assist you financially if a sudden accident or unforeseen incident occurs when you are on the road. Therefore it's recommended that you choose an auto insurance company that is both stable and has a trustworthy reputation, all our insurance company partners meet these standards.
One of the main factors that auto insurance companies use to decide how much to charge you is the type of car you drive. A sports car, for example, is more expensive to insure since these types of vehicles generally cost more. However, if you drive a vehicle with built-in security systems, such as anti-lock brakes or anti-theft devices, you may be eligible for some savings on your Mississauga car insurance.
A deductible is the amount of money you pay toward an accident or a claim on your car insurance policy. When you submit a claim under certain coverages, you will be responsible for paying the deductible out of pocket. You may significantly reduce your costs by seeking larger deductibles from your car insurance company.
Buying your house and auto insurance from the same company might help you save money on your rates. Combining insurance services like these might result in savings and benefits. Depending on the insurer, bundling your house and auto insurance policies may save you up to 25% or more, especially if you've been a customer for a long time.
FACTORS THAT IMPACT CAR INSURANCE RATES IN MISSISSAUGA
Your postal code. When it comes to calculating your vehicle insurance, your address is a crucial consideration for insurers.
Age. A driver's age is used by car insurance companies to assess their driving experience and accident risk. A motorist with more years behind the wheel is less likely to be involved in an accident and file a claim for compensation.
Driving experience. Insurance companies have discovered that drivers under the age of 21 or with fewer than 5 years of driving experience are more likely to have an accident or break the road rules more so than drivers over the age of 21 or with more driving experience.
Deductibles and amount of coverage. If you have a low deductible, your insurance provider will provide you with greater coverage and you will have to pay less in the form of excess.
Driving record. Your premium will be cheaper if you have a good driving history. If you've been in an accident or have a history of significant traffic offenses, you'll almost certainly pay more than if you had a clean driving record.
Your car model, when it is manufactured, and how much is it worth. The brand, model, year, and body style of your car all affect how much you pay for car insurance. Insurance will be more expensive for an expensive car model with more amenities and a huge engine than for a simple car model with a high safety rating.
My Choice is your best choice in getting the cheapest car insurance quotes in Mississauga, try us today!
Reportable Collisions in Mississaugua, 2016 – 2019
Mississauga is a city submerged in and around other small cities that help make up the GTA. As you would have noticed when driving downtown, it can be a very busy place, which is evident in the average rates for Mississauga auto insurance online.
Another thing that is evident, is the number of reportable collisions within in the Peel region where Mississauga is situated. In 2019 there were 6,488 collisions reported highlighting the increased traffic and risks when driving in the city.
Source: Peel Region Collision Report, 2020