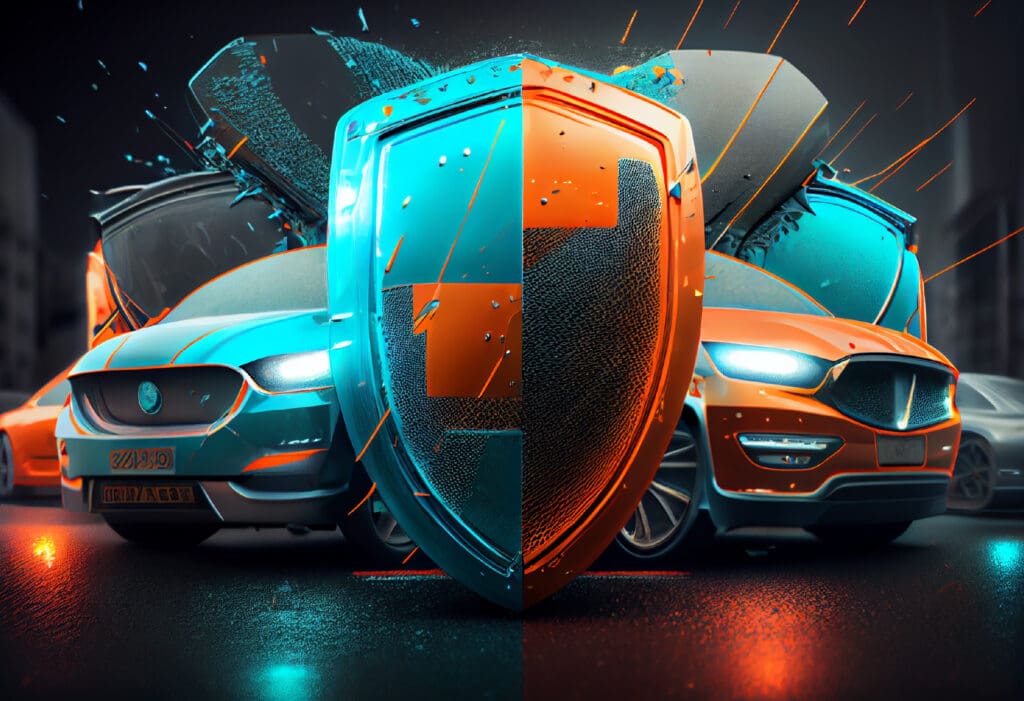 Direct compensation property damage (DCPD) insurance is one of the mandatory car insurance coverages for Ontario drivers. It's included in your basic car insurance policy alongside third-party liability and accident benefits coverage.
What does DCPD do, and why is it an important part of your policy? Let's dive deeper and see how you can benefit from DCPD insurance.
What is DCPD?
DCPD insurance is a mandatory coverage included with your Ontario car insurance. It covers damage to your car and its contents if you're deemed not at fault for an accident. It's called "direct compensation" because your insurer provides the coverage.
Why You Need DCPD Insurance
You need DCPD insurance because it ensures you get the money to cover repair bills as soon as possible. DCPD coverage pays out quickly because you're dealing with your own insurer instead of the other driver's. Because you get paid faster, you don't have to pay out of pocket for repair bills.
DCPD insurance is important because it protects you from accidents you can't control. According to our distracted driving research, 75% of Canadian drivers admitted to driving distracted.
Moreover, people often exhibit signs of careless driving, like failing to check their mirrors or eating while driving. This boosts their likelihood of getting in an accident that involves you even further.
The bottom line is that you can get in an accident even if you follow all the road rules, which is why you need DCPD insurance.
How Much Does DCPD Insurance Cost?
DCPD is bundled with your basic car insurance policy, so getting an exact number is tough. But since it comes with your entire insurance policy, we can use provincial insurance rates to estimate how much you need to pay for DCPD and other basic insurance coverage.
In Ontario, the average provincial rate is $1,385/year. Car insurance rates may be lower or higher depending on your location.
Where Do You Get DCPD Insurance?
You can get DCPD insurance alongside your basic auto insurance policy. Drivers usually buy car insurance from a broker or an insurance company's agent. You can also visit insurance rate comparison sites like MyChoice to get a good look at what each insurer offers before purchasing a policy.
Either way, you need to have a policy before you can legally drive in Ontario.
Is DCPD Mandatory in Ontario?
DCPD coverage is mandatory in Ontario. You can find it in all Ontario car insurance policies alongside third-party liability and accident coverage.
How DCPD Works
DCPD works in a fairly straightforward way. The insurance pays out when your car is damaged in an accident that isn't your fault. You don't have to wait on the other driver's insurer, so the process is generally much faster. This means you don't have to spend too much money out of pocket to repair your car.
Once your compensation pays out, your insurer will ask the other driver's insurance company for reimbursement.
Why DCPD Insurance Exists
DCPD is a relatively new concept in Ontario car insurance, introduced in 1990. It exists to simplify the insurance claims process and help claimants get paid faster.
Before DCPD was introduced, your insurer needed to contact the other driver's insurance company for compensation. The long-winded process meant you had to either pay out of pocket or wait until you received compensation to repair your vehicle.
What Does DCPD Cover?
DCPD covers damage to your vehicle in a not-at-fault accident. It works in conjunction with your third-party liability, accident benefits, and uninsured driver coverage.
DCPD doesn't cover if you're at fault for the accident. In the case of at-fault accidents, you need collision or all-perils coverage to get compensation. They're optional coverage, so you might need to pay more for them.
Another limitation of DCPD is that it doesn't cover hit-and-runs. DCPD insurance relies on the other driver's insurer reimbursing your insurance company for the compensation. But if your insurer can't identify the at-fault driver, they can't get reimbursed.
That's why your DCPD coverage doesn't include hit-and-runs. This may also apply if you experience a parking lot accident and can't identify the offender.
How to File a DCPD Insurance Claim
You can file a written insurance claim within seven days of an accident. Your insurer's claims adjuster will review your claim document and guide you through the claims process. They'll generally guide you by phone or email, but some claims adjusters prefer to meet you in person.
You might also be asked to file a proof of loss form. This form verifies your claim by asking you to provide details about the accident and the damage to your car.
Don't take your car to a repair shop while your claim is still under process. If repairs have already started, the insurance company can't assess your vehicle's damage.
Does DCPD Have a Deductible?
DCPD claims don't have a deductible because you're not at fault for the accident. However, your coverage might be split if you're partially at fault for an accident.
For instance, if you get in an accident and the investigation determines you're 20% at fault, 20% of your claim will go to your collision coverage (if you have one) and 80% will go to DCPD. You have to pay 20% of the deductible to receive collision compensation.
Can I Increase DCPD Coverage?
You can't increase DCPD coverage. There's a provincial standard amount, and you can't exceed it. That said, you can increase your collision coverage to get more insurance protection.
Which Provinces Have DCPD Insurance?
As of 2022, seven of Canada's 13 provinces have DCPD insurance. They are:
Ontario
Newfoundland
Quebec
Alberta
New Brunswick
Nova Scotia
Prince Edward Island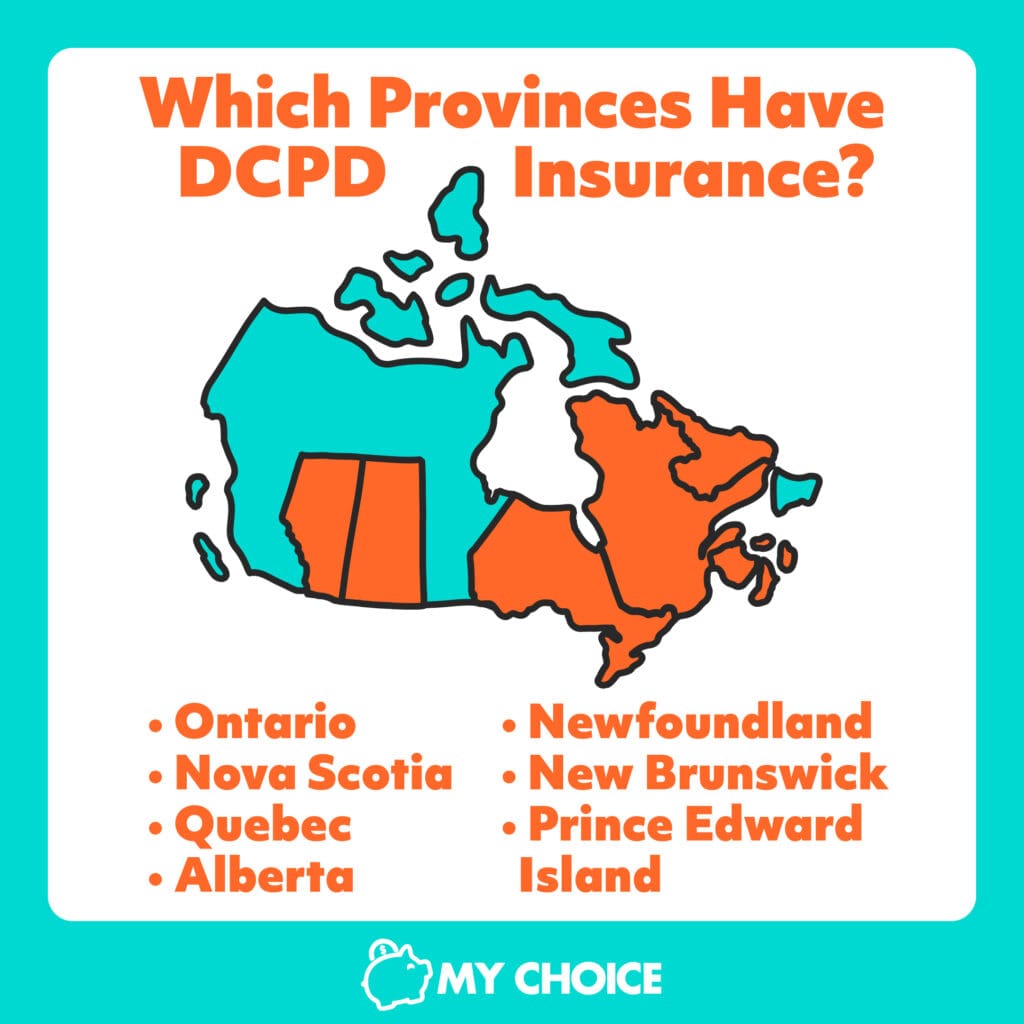 Criteria to Use DCPD Insurance
DCPD insurance has four relatively strict criteria to kick in. If any of these four criteria isn't fulfilled, your DCPD coverage won't activate. The four criteria are:
You can't be at fault for the accident. This has to be established through an assessment according to Insurance Act rules.
The accident must involve one or more vehicles.
All vehicles involved in the accident must have insurance and be clearly identifiable.
The accident must have happened in Ontario.
Your DCPD coverage will activate if all four conditions are fulfilled.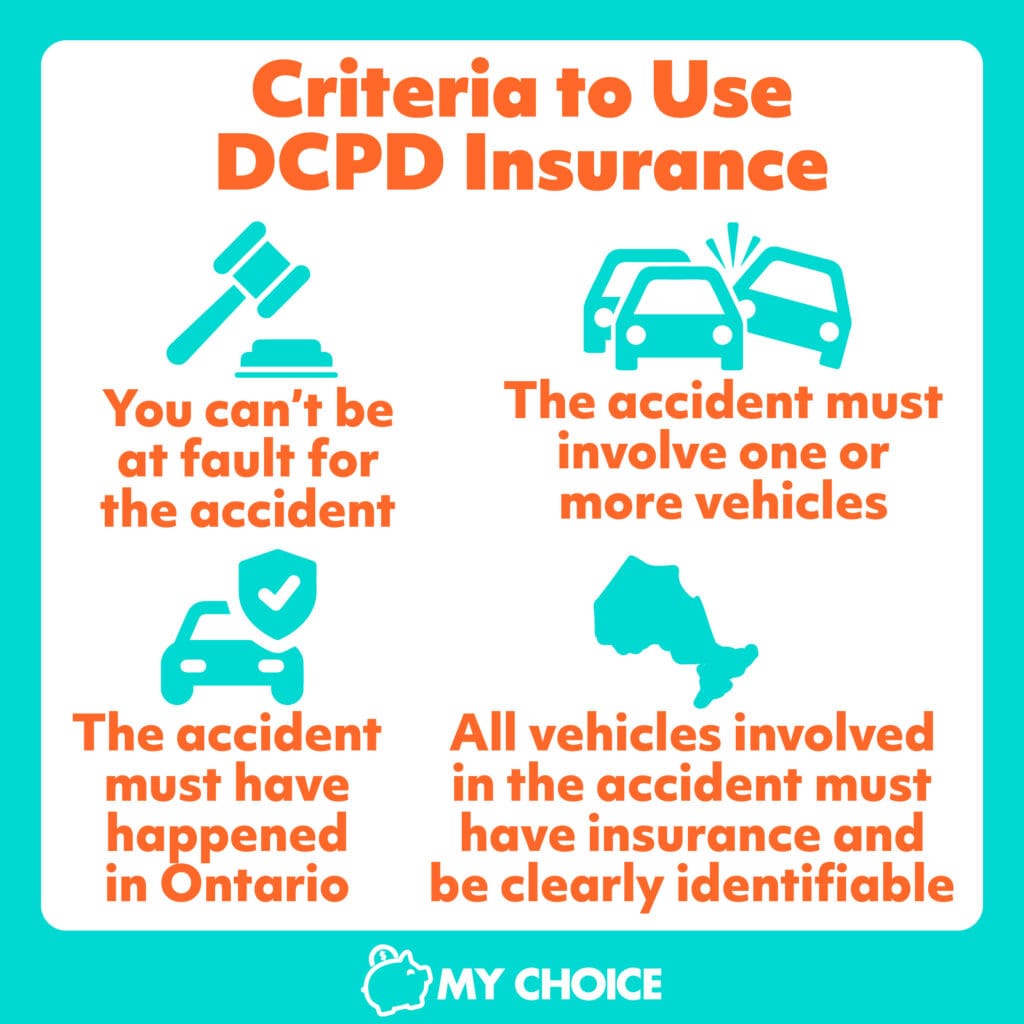 Can DCPD Cover All Not-At-Fault Accidents?
DCPD doesn't cover all non-at-fault accidents. If any of the four criteria isn't met, your DCPD coverage won't pay out. Two common scenarios are when the other driver isn't identifiable or doesn't have insurance.
In the case of hit-and-runs, your collision insurance will kick in. If the other driver is uninsured, you'll be protected through your uninsured motorist coverage.
Key Facts About DCPD
DCPD insurance creates a fairer auto insurance landscape for all drivers. Drivers don't have to wait long to get insurance coverage, and the burden of compensation falls onto the offending driver's insurance company.
Here's a summary of essential facts about DCPD insurance:
DCPD insurance lets you arrange vehicle repairs with your insurance company. This means you're dealing with people you know instead of another insurance company you might not be familiar with.
DCPD insurance doesn't impact your right to sue the other driver. So, you can still sue the other driver for injuries or other damages incurred in the accident.
DCPD insurance doesn't just cover your car. It also covers the loss of use and anything inside the car damaged in the accident.
With DCPD insurance, your chosen insurer deals with the car repair process. This means you can choose your insurer based on how well they handle vehicle repairs.
DCPD insurance speeds up the vehicle repair process since you don't have to wait on compensation from the other person's insurer.
DCPD insurance regulations ensure transparency when determining accident faults. This means you know for sure who's at fault for the accident.
Closing Thoughts
Direct compensation property damage insurance is mandatory for your Ontario insurance coverage. But it's also one of the most useful, especially if you get into an accident that's not your fault. DCPD insurance compensates you as fast as possible to ensure you can get car repairs quickly.
When looking for car insurers, it's a good idea to search for companies that take vehicle repairs seriously. Visit MyChoice and compare policies from the top car insurance companies now!