HAMILTON CAR INSURANCE
Compare Quotes for Car Insurance in Hamilton Today
Google

Google

Amd

Mashable

Adidas

About Car Insurance in Hamilton
Driving in Hamilton can often be overlooked as many of its inhabitants commute to neighboring areas for work which ultimately determines car insurance rates for Hamiltonians. That being said Hamilton is still the third largest metropolitan area in Ontario and the city is split into two main cores, upper and lower respectively.
Not everyone commutes for work and as a result downtown Hamilton has seen a resurgence in recent years; this is quite evident if you take a stroll down beautiful King Street East or even the contrasting local art galleries instead. So whether you commute for work or are indeed a city slicker you can compare insurance quotes right here at, My Choice.
Car Insurance Trio Images iPhone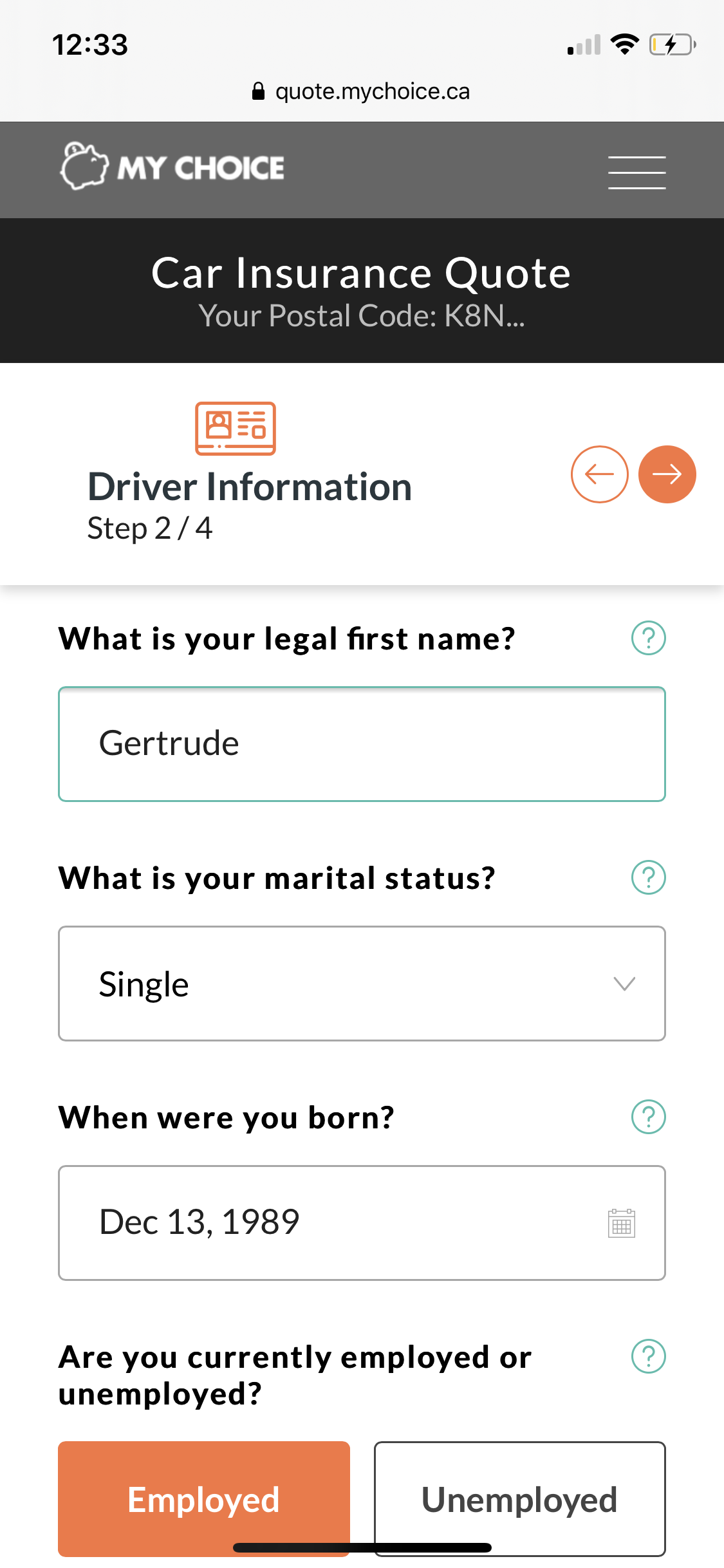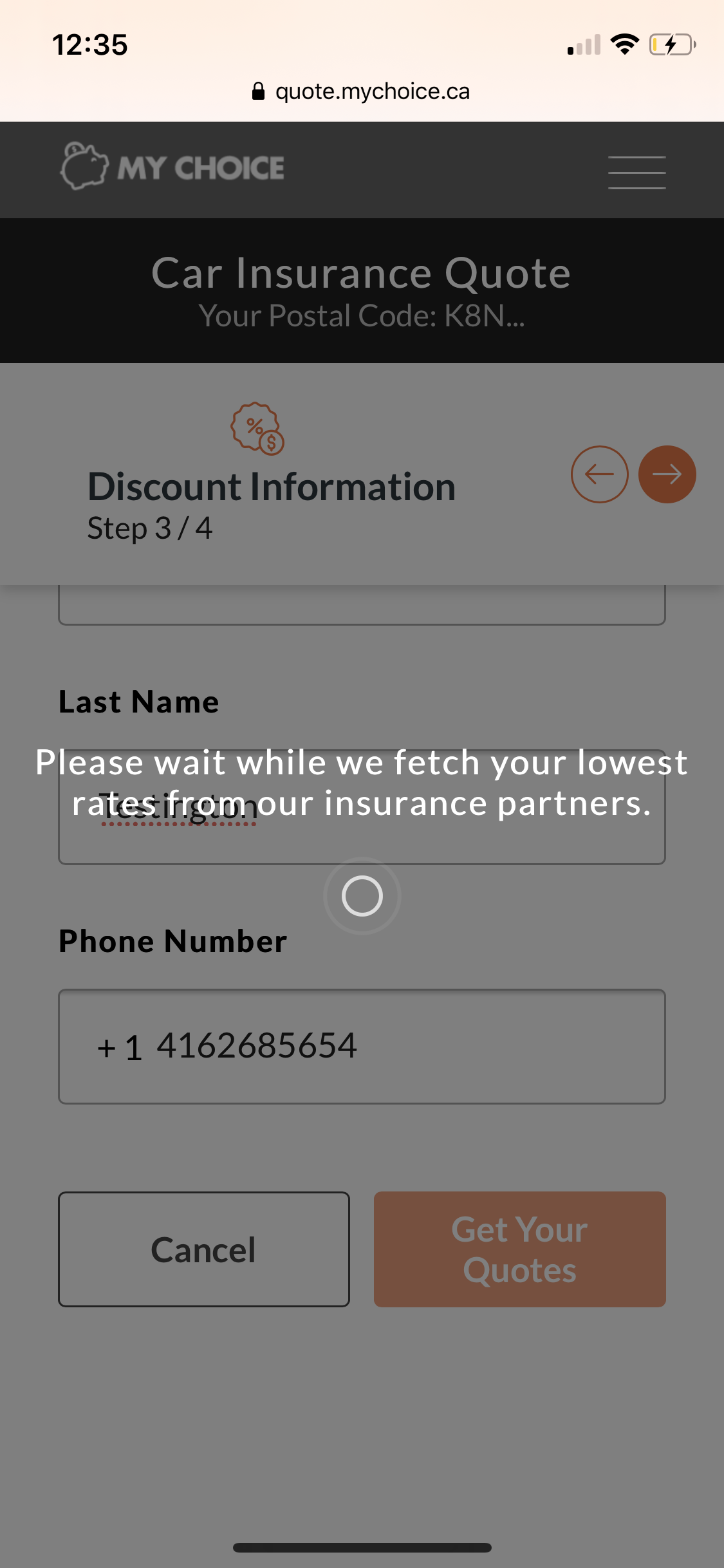 *Actual Quoting Data. Based On A Clean Driving Record.
Hamilton Car Insurance FAQs
How much is car insurance in Hamilton?
The average annual cost for car insurance in Hamilton is $1,755, making it the 10th most expensive city in the province for car insurance. However, insurance premiums are based on more than just where you live. Your rate may be higher or lower due to a range of factors, including your driving record, age, gender, vehicle type, and more. Although Hamilton has among the most expensive insurance premiums in Ontario, you can find ways to reduce your costs. At My Choice, we give you an easy way to compare insurance premiums and find quotes for the best policies at the cheapest rates.
Is Car Insurance in Hamilton Expensive?
Drivers in Hamilton pay approximately 10% more than the average premium in Ontario, which is about $1,600. Insurance premiums cost Hamilton drivers approximately $600 more than people who live in areas with the cheapest premiums. For example, Hamilton premiums are about $500 more expensive than annual insurance rates in St. Catherines and $400 more than Oakville and Milton. There are many reasons why insurance carriers charge higher rates to Hamilton drivers. The port city experiences heavy traffic, which results in more collisions. That high number of accident claims prompts insurers to raise premiums. Industrial traffic to Hamilton's steel plants is also a contributing factor to high insurance costs.
When is a Good Time to Compare Car Insurance Rates in Hamilton?
You can compare car insurance rates anytime with My Choice, but there are certain times when life events might result in deep discounts. Insurance companies weigh many factors when calculating rates, including age. It's a good idea to compare quotes with My Choice after each birthday to see if you qualify for lower rates based on your age. Your credit score is another factor that can impact your premium cost, so search for quotes when your financial data improves. Getting a traffic ticket or experiencing a collision will negatively impact your premium, but your rates will lower again in a couple of years. After your move—even within the same city—is another good time to compare quotes because a change in postal code can increase or decrease your rate.
Which Car has the Cheapest Car Insurance in Hamilton?
Insurers consider the make and model of your car when determining an annual premium. Cars with a history of good safety ratings, low risk of theft, and minimal repairs get discounted rates. In Hamilton, cars that get the best discounts include Mitsubishi Mirage, Toyota Corolla, Mazda 3, Chevrolet Spark, Hyundai Elantra, Honda Civic, Honda CR-V, Toyota Corolla, Toyota RAV4, and Kia Forte.
What Are the Most Dangerous Intersections in Hamilton?
Hamilton has almost 8,000 intersections, according to Hamilton's Public Works Department. There are about 9,000 collisions annually that result in approximately 1,600 injuries. More than 20% of collisions in Hamilton involve drivers between the ages of 21-30. The most dangerous intersection in Hamilton is Dundurn and King, which has had 62 collisions over the past five years. James and Main, John and King, Main and Wellington, and Dundurn and Main are also relatively dangerous, with between 52 and 59 collisions in the past five years. John and Main and Kenilworth and Main have had 46 car accidents since 2016.
Average Car Insurance Rates in Hamilton
Being a city that's a part of the Greater Toronto Area (GTA) certainly has its benefits, such as career opportunities, great restaurants or ample entertainment and this is no different in Hamilton. However, living in the GTA is certainly nothing to shout about when it comes to your average car insurance premium, unfortunately you can expect higher rates than most other places in Ontario.
All that being said, Hamilton makes the list for top 10 most expensive cities for car insurance in Ontario, coming in at number 7 for 2020 with an estimated average rate being $1,755. This average is calculated based upon a 35-year-old male with a clean record. However, these being averages don't mean you are destined to pay such a high rate, the Ontario average is $1,458 and with a little comparing there's no reason why you can't try to save money.
| Average Insurance Rate = | $1,755 |
| --- | --- |
How to Get The Cheapest Car Insurance in Hamilton
There are several things you can do to decrease your premiums. The first step is to use My Choice to search for the cheapest quotes in Hamilton.
Insurance companies also offer discounts to people who enhance their vehicle's safety systems, which could mean putting on snow tires in winter or making sure you have a premium anti-theft system.
Some insurance companies even offer up to a 25% discount if you install a device that allows insurers to track your driving behaviour with a policy called usage-based insurance. Another way to get discounts of up to 20% is to bundle all your insurance policies with one provider.
What is the Cheapest Postal Code for Car Insurance in Hamilton?
Insurance providers in Canada place heavy consideration on your postal code when calculating your insurance premium. Moving from one neighborhood to another can impact your rate. In Hamilton, most postal codes have a similar average, but areas in postal codes L9B, L8T, and L8K have rates that are about $175 less per year.
Tips for Driving in Hamilton and What You Need to Know
Check out some of our top tips for when you're next driving in Hamilton, they could come in very handy!
In Kitchener and surrounding areas there exists a number of roundabouts which are not all that common on the roads of Ontario. Used widely in Europe, these may have you stumped if you've never driven through one before.
Although Hamilton doesn't receive too much annual snowfall, thanks to its proximity next to lake Ontario, the city can still be vulnerable to some dangerous weather in the winter. This makes it difficult getting around, especially on the roads so be prepared with a winter survival kit and take your time.
A regular favorite for one of the worst roads in Ontario is Burlington St East which runs through Hamilton, this is one to try steer clear of to avoid congestion and heavy traffic.
Hamilton used to have a vibrant past with the steel industry and was known for its role in the manufacturing business. As a result, when driving, especially near the water you'll notice some old steel mills
Total Reportable Collisions in Hamilton, 2015 – 2019
The chart below shows the number of collision statistics from Hamilton across a five year period from 2015 – 2019. One of the more prominent determining factors when it comes to car insurance rates, is the number of collisions for a given area so this is an important stat to take note of.
Source: Hamilton Collision Report 2020