EDMONTON CAR INSURANCE
Compare & Save with Quotes From Top Car Insurance Providers in Edmonton.
Google

Google

Amd

Mashable

Adidas

Average car insurance rates in Edmonton
In relation to some other big cities in Canada, where the average car insurance rate can get pretty high, pretty fast, it's not so bad for drivers of Edmonton where your premiums are fairly on par. From a recent study, it was reported that the average car insurance rate is around $1,237 a year, not so bad compared to other major cities but that being said it's still the most expensive car insurance in Alberta.
Determining what rate is offered to consumers comes down to a number of factors, one of the more important ones is your personal driving record and how many previous claims you've had. However, there's also the factors based on where you live and by living in Edmonton, you are more likely to submit a claim than anywhere else in Alberta.
Breaking this down a little further and looking at the most expensive auto insurance by neighborhood in Edmonton, the following was recorded.
| Neighborhood | Average Rate |
| --- | --- |
| St Albert | $1,139 |
| Sturgeon County | $1,118 |
| Sherwood Park | $1,055 |
About Car Insurance in Edmonton
The capital city of Alberta, Edmonton, was founded in 1892 on the North Saskatchewan River and is often referred to as the Gateway to the North thanks to abundance of oil and other natural resources in the area. Edmonton offers a sprawling downtown area, containing a vast amount of different neighborhoods, each with a different feel and all of these help to make the city the province's second most populous municipality.
When driving in Edmonton, not only do you have to contend with the number of vehicles on the road but you must also be mindful of the weather and more specifically the snow. Edmonton has one of the coldest climates in Canada, where you can expect a decent amount of snowfall each year. These are just some of the factors that are considered when determining car insurance rates for the area, so if you're looking to compare different rates you've come to the right place.
Toronto has one of the highest car insurance rates in Canada, thanks to traffic and its accidents, however, if you are hunting for cheap car insurance, you've come to the right place. Compare different rates with us now, at My Choice.
Car Insurance Trio Images iPhone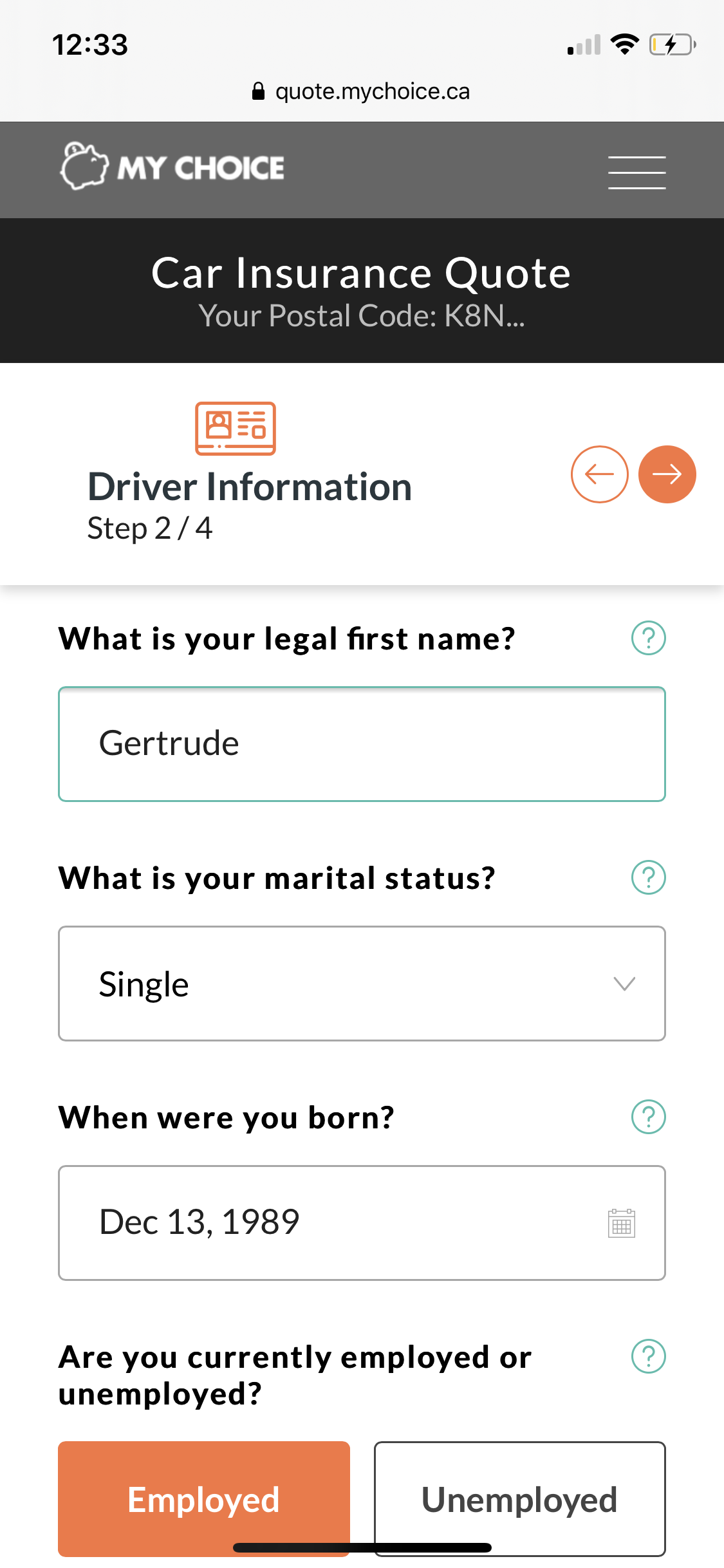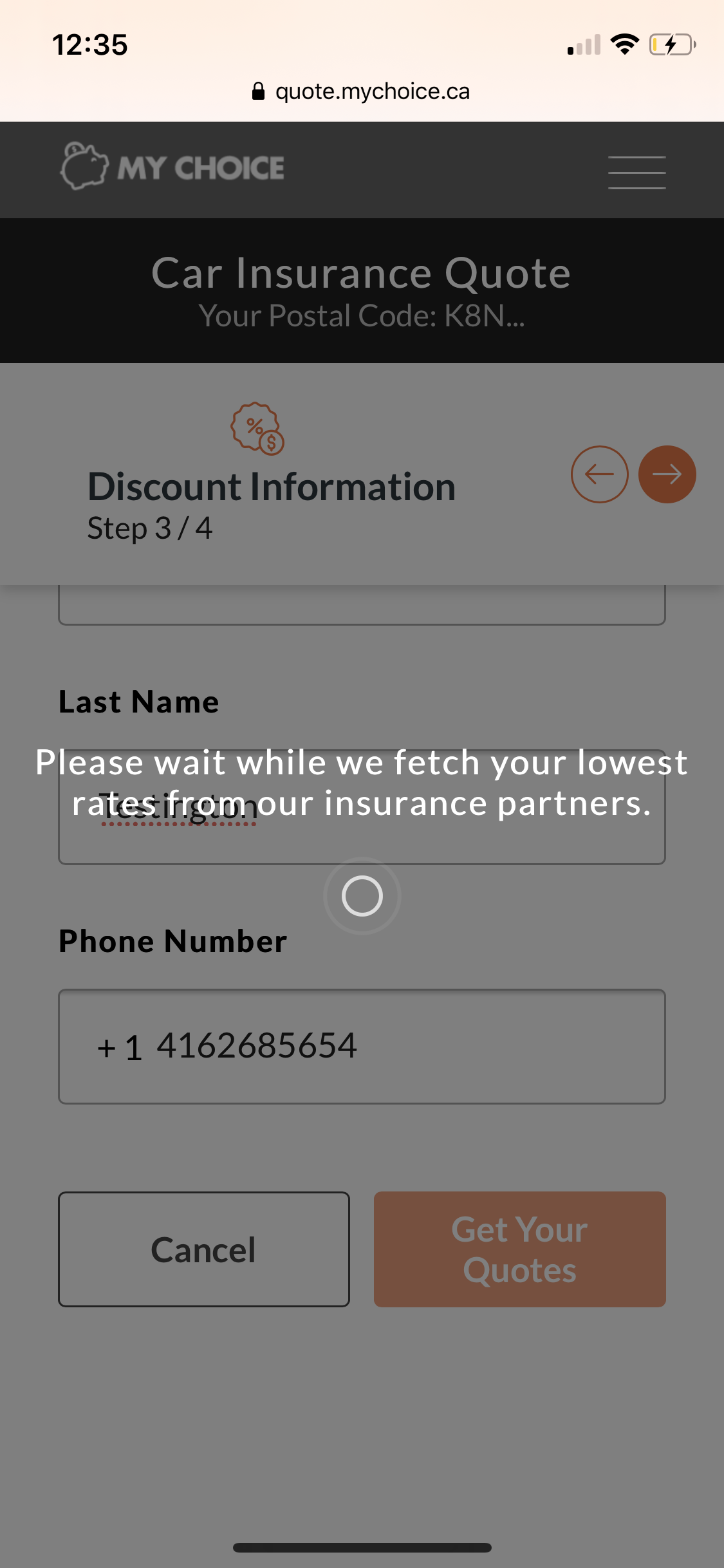 *Actual Quoting Data. Based On A Clean Driving Record.
Driving in Edmonton What You Need to Know
We have put together some of our top tips for driving in and around Edmonton, hopefully this will be of some value to you and help ease your car insurance concerns!
Edmonton is split North to South by the North Saskatchewan River and if you find yourself on the Northside, be mindful of the Yellowhead Highway during rush hour especially, as this will regularly back up.
Encircling the city as a feeder road to all four corners of Edmonton is the Anthony Henday freeway, acting like a big wheel for the city it can easily get congested as you try to move from one corner to another.
Snow tires; Come Winter make sure you are prepared for the inevitable arrival of the snow. Interestingly there are less accidents on Edmonton's roads during Winter compared to Summer.
How To Find The Cheapest Car Insurance In Edmonton
As with any important purchase you are making it pays dividends to do your research and compare different options before you buy, this is no different for Edmonton car insurance.

There are lots of different factors taken into consideration for a driver when obtaining a car insurance quote, some examples include, your age, where you live and driving history. You should always look to see if you can get cheaper auto insurance whenever your personal information changes such as changing the address where you live in Edmonton or the purchase of a new vehicle. We compare different car insurance rates across many top insurance companies to save you the hassle of going place to place, so give us a try today and start saving on your auto insurance!
The Most Dangerous Intersections in Edmonton
Following on from the collision insights above, it would be wise to point out where these are most likely to occur. One of the regular hotspots for a car accident can be found at busy intersections and in Edmonton, collisions at intersections were responsible for 57.8% of all collisions in 2016 – a notable statistic.
Of the top 10 areas, 7 of the intersections reside north of the river and these all contain the top 3 most dangerous, they were:
107 Ave. & 142 St. NW – 134

Yellowhead Tr. & 127 St. NW – 83

Yellowhead Tr. & 149 St. NW – 76
Source: Transport Safety Report
Who Is In Charge of Car Insurance Rates in Edmonton?
As you would probably expect, auto insurance rates in Edmonton are set and governed by the Alberta Government and they do so under the two following governing bodies: the Automobile Insurance Rate Board (AIRB) and the Office of the Superintendent of Insurance.
Edmonton car insurance rates can change a few times per year, but typically there will be some sort of update around the beginning of each quarter in any given year. It's also worth noting here that having some minimum car insurance coverage is mandatory in Edmonton and Alberta as a whole, respectively.  
Total Reportable Collisions in Edmonton, 2016 – 2020
Source: Edmonton Police Report 2020