A List of the Top 10 Electric Trucks In Canada in 2023
Here are our top 10 best electric trucks in Canada in 2023 from top to bottom:
Click on a car below for more information!
This is a list containing our picks for the top 10 best electric trucks in Canada, to see our overall list of the cheapest cars to insure check out this page.
Why Should You Consider Buying an Electric Truck?
Canadians love their trucks – around 20% of Canadian vehicles sold in the first quarter of 2022 were trucks. As more electric passenger vehicles hit the market, the popularity of EV's and specifically electric trucks in Canada has also risen with it. In fact, 71% of Canadians consider buying an electric car the next time they buy a vehicle.
Electric trucks are often more powerful, have higher towing capacity, and are easier to maintain. Some places, like British Columbia, even allow you to pass through carpool lanes in an EV truck without meeting the minimum occupancy limit.
The Cost of Charging an Electric Truck
Charging an electric truck is generally very affordable. Home charges typically cost $10-15 for a 500 km trip, while public charging stations cost $1/hour or $2.50/charge.
Which Electric Truck is the Cheapest?
The cheapest electric truck depends on its size and features. Here's a quick breakdown of the cheapest trucks on our list, divided by size:
Full-size – Ford F-150 Lightning and Chevy Silverado EV, both starting at $40,000
Mid-size – Canoo Electric Pickup, starting at $46,000
Mini truck – Alpha Wolf, starting at $36,000
Which Electric Truck is the Most Powerful?
The GMC Hummer EV is the most powerful truck on our list at 1,000 horsepower. Select models of the Hercules Alpha can also reach 1,000 horsepower.
Electric Truck Alternatives
Electric trucks are the future, but some people might not be ready for fully electric trucks. If you're looking for a good middle line between gas trucks and electric trucks, consider hybrid trucks. They're less dependent on fuel and are more environmentally friendly than gas trucks.
Some of the best hybrid electric trucks in Canada even fetch great resale prices if you plan to sell your car or trade it to a dealer later.
How Electric Trucks Impact Your Car Insurance Rates
Most electric vehicles come with advanced safety measures, and electric trucks are no exception. On the one hand, extra safety measures could lower your quoted truck insurance rates since they make your car safer. On the other hand, these components are often expensive, and the high replacement cost may raise your insurance rates.
Whatever happens, you need to get insured before you can legally drive your car in Canada. Fortunately, you can still use your previous car's policy to drive while waiting for your current car's policy to activate.
The prices listed here are for each car's basic models. They may get pricier if you need a model with more features.
The Top 10 Best Electric Trucks In Canada
Here are our top 10 EV trucks in Canada. Some of these are already on the market, but some may be coming in the near future – in those cases, we'll let you know when they're going to hit the street.
Tesla Cybertruck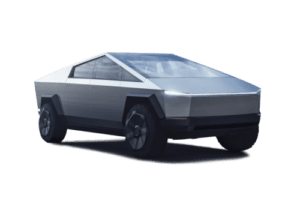 Size: Mid-size
Range: 804km/500 miles
Power: 800 horsepower
Top Speed: 110 mph
Acceleration: 0-60 mph in 2.9 seconds
Price: Starts at $50,000 CAD
The long-awaited Tesla Cybertruck is finally coming sometime in 2023. This futuristic-looking truck was teased in 2019 and has been rumoured for even longer. While the Rivian R1T passed it as the world's first mass-produced electric truck, the Cybertruck still has a legion of loyal Tesla fans waiting for its release.
If you want a truck that stands out from the crowd and features cutting-edge technology, the Cybertruck should top your list. The vehicle boasts four-wheel steering that maneuvers around obstacles easily as well as a deceptively large storage space that can hold up to 100 cubic feet of your personal items.
Ford F-150 Lightning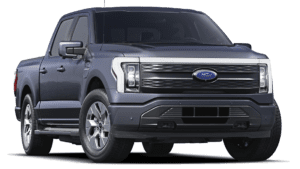 Size: Full-size
Range: 480km/230 miles
Power: 563 horsepower
Top Speed: 120 mph
Acceleration: 0-60 mph in 4 seconds
Price: Starts at $40,000 CAD
Ford's F-Series has been the top-selling pickup line in Canada for 55 years, and the Ford F-150 Lightning is a new iteration of the classic pickup you know and love. Able to tow 10,000 pounds and carry 20,000 pounds, the F-150 Lightning is a tough, rugged pickup ready to help with whatever job you have.
This pickup comes with two types of batteries: the Standard 98-kW pack and the Extended 131-kW pack. If you want to unlock all of its potential, we suggest choosing the Extended pack – it gives you full access to its 563-horsepower engine and boosts its range to 480 km on a single charge.
Rivian R1T
Size: Mid-size
Range: 500km/310 miles
Power: 800 horsepower
Top Speed: 124 mph
Acceleration: 0-60 in 3 seconds
Price: Starts at $67,500 CAD
Amazon-backed manufacturer Rivian is the first non-Detroit Big Three truck to win the MotorTrend Truck of the Year Award since 2008. It's a well-deserved win, thanks to its ample 68 cubic feet of storage, 11,000-pound towing capacity, and excellent stability.
It's got all the comforts for the modern outdoorsman, too. The Rivian R1T boasts a panoramic roof, classy wood-trimmed upholstery, and an all-in-one touchscreen that controls everything.
Bollinger B2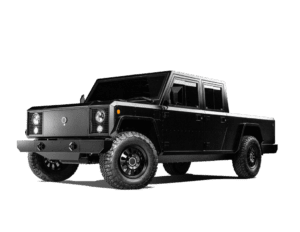 Size: Full-size
Range: 320km/200 miles
Power: 614 horsepower
Top Speed: 100 mph
Acceleration: 0-60 in 4.5 seconds
Price: Starts at $168,750 CAD
The Bollinger B2 is up there with the Cybertruck in terms of unconventional and unique designs. Where the Cybertruck is defined by its space-age smoothness, the B2 goes the other way and embraces the boxlike look that reminds us of the Mercedes G-Class.
While the B2 is on the higher end of the price range, it features an extensive trunk area and enough carrying capacity to accommodate large and long objects easily. Moreover, it also has a front trunk (or frunk) for even more cargo space. Pair that with a towing capacity of 7,500 pounds plus a max payload of 5,000 pounds, and you've got a unique-looking workhorse that'll turn heads everywhere.
GMC Hummer EV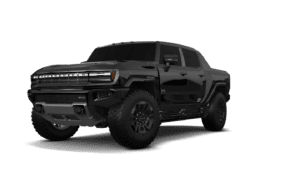 Size: Full-size
Range: 560km/348 miles
Power: 1,000 horsepower
Top Speed: 106 mph
Acceleration: 0-60 in 3 seconds
Price: Starts at $114,000 CAD
Hummer is a name synonymous with power, and the GMC Hummer EV doesn't disappoint in this arena. Boasting 1,000 horsepower and 11,500 ft.-lb of torque, it's easily one of the more powerful pickups on this list.
It doesn't just have power, either. The GMC Hummer EV has a "crab mode" that lets it move sideways like the Tesla Cybertruck, plus an extract feature that raises it an extra six inches for traversing water and high obstacles.
Not a pickup person? Don't worry – GMC also offers an SUV variant of this Hummer EV.
Chevrolet Silverado EV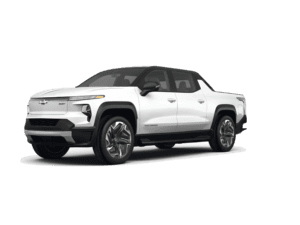 Size: Full-size
Range: 640km/398 miles
Power: 660 horsepower
Top Speed: 114 mph
Acceleration: 0-60 in 4.5 seconds
Price: Starts at $40,000 CAD
The widely-popular Chevrolet Silverado's electric variant is planned to hit the road late in 2023. Powered by Chevy's Ultium Platform battery, it boasts 780 ft.-lb of torque and 660 horsepower, making for a very powerful pickup. Moreover, it has a top speed of 114 mph – one of the speediest in its class.
All the power and speed are nothing without control, and the Silverado also delivers on that front. Its four-wheel steering provides excellent agility at low speeds while retaining stability at high speeds. It also offers a glass roof for extra visibility and light.
Alpha Wolf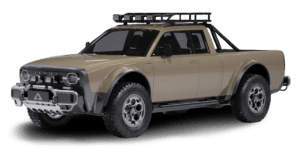 Size: Mini Truck
Range: 440km/273 miles
Power: 215 horsepower
Top Speed: 125 mph
Acceleration: 0-60 in 6.2 seconds
Price: Starts at $36,000 CAD
With its classic compact truck-inspired design, the Alpha Wolf aims to be a major player in the mini truck space. It might not be as big as the other trucks on this list, but we're sure it'll still find a market among people who want smaller, more agile trucks.
However, you may need to wait a bit to get the Alpha Wolf. Reservations are currently open, but the company hasn't scheduled an exact production schedule.
Atlis XT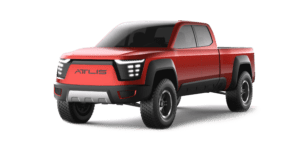 Size: Mid-size
Range: 800km/497 miles
Power: 600 horsepower
Top Speed: 120 mph
Acceleration: 0-60 in 5 seconds
Price: Starts at $60,000 CAD
Atlis XT is great if you want a more hard-edged, militaristic style in your pickups. This truck offers an 800-km range on just 15 minutes of charging, meaning you can potentially travel very long distances without worrying about losing power.
The Atlis XT also has a unique feature in its bed-mounted exterior power outlets, which means you can plug in generators or other USB devices outside your truck.
Hercules Alpha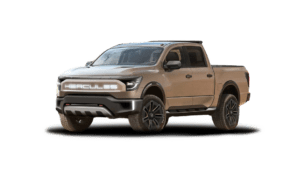 Size: Full-size
Range: 563km/350 miles
Power: 800 horsepower
Top Speed: 120 mph
Acceleration: 0-60 in 3 seconds
Price: Starts from $100,000 CAD
It may not look like much on the outside, but the Hercules Alpha boasts a lot of power under the hood. Depending on the version, you can get up to 1,000 horsepower and reach its top speed of 120 mph – very fast, especially for full-size trucks.
Another unique feature of the Hercules is its TerraVis Solar Tonneau Cover, which gives you extra power simply by letting your truck sit out in the sun.
Canoo Electric Pickup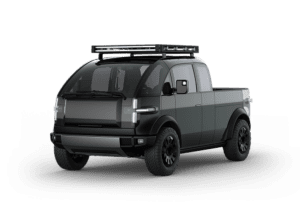 Size: Mid-size
Range: 321km/200 miles
Power: 500 horsepower
Top Speed: N/A
Acceleration: N/A
Price: $46,000 CAD
Contrasting other vehicles in this list that go for a masculine, somewhat militaristic design, the Canoo Electric Pickup takes inspiration from the rounded designs of Japanese utility vehicles. Boasting the ability to carry 1,800 pounds, a pull-out bed, and flip-down tables, it's the perfect partner for your outdoor adventures.
That said, it's not just great for your weekend retreats – the United States Army awarded Canoo a contract to supply these pickups as its light tactical vehicles, meaning it's also rugged enough for military use.
The Bottom Line
Electric trucks will become more popular with Canadian drivers as they become more affordable. Whether for work or personal use, these trucks are just as powerful as their gas-powered peers, providing great performance with much fewer emissions.
Looking for the best insurance company after buying your new electric truck? Use MyChoice to compare rates and find the best-valued insurance company for you!