"The time is right for electric cars—in fact, the time is critical." — Carlos Ghosn
Electric cars have changed the auto industry, caused ripples among environmentalists, and surprised critics. Look at the top stats about EVs in Canada.
71% of Canadians said they will consider an electric car for their next purchase.
50% of Canadians want an electric car more today than they did a year ago.
75+% of millennials are considering purchasing electric cars.
79% of two-car households are considering electric cars for their next purchase.
75% of households with a $50,000-$150,000 annual income are considering purchasing an electric car.
49% of Canadians are more likely to consider purchasing an electric car compared to how they felt a year ago or pre-pandemic.
79% of Canadians said they wouldn't consider an electric car that doesn't have a 400-km driving range.
64% of Canadians believe electric cars aren't reliable in the country's harsh winters.
51% of Canadians expect fast service (less than 20 minutes) from public charging stations.
90% of Canadians said they need to do more research before committing to buying an electric car.
66,815: The number of electric cars Canadian auto dealers sold in 2020.
255,000: The number of electric cars sold in Canada between 2010 and 2021.
5.2% of Canadian new vehicle registrations in 2021 were zero-emission vehicles.
42.8% of zero-emission new vehicle registrations in 2021 were in Quebec.
No. Almost 100% of young drivers admitted to knowing that handheld device usage is prohibited when driving (even at a red light). Yet, 55% of young drivers also admitted to reading texts when driving, and 44% responded to those texts as well.
These results from a recent KPMG poll, Statista, and Statistics Canada indicate ‌the country is moving closer toward electric vehicle (EV) adoption. But even though the majority of consumers said they need to do more research to allay their concerns and find the vehicle that is right for them.
The following statistics and trends offer more insight into Canadians' response to electric cars. But before looking at them, it's helpful to explore the different categories of EVs.
Canadian Electric Car Categorization
According to research by the Parliament of Canada, there are four main categories of electric cars:
Battery electric vehicles (BEVs)
Hybrid electric vehicles (HEVs)
Plug-in hybrid electric vehicles (PHEVs)
Fuel cell electric vehicles (FCEVs)
The basic definition of electric cars are vehicles in which electricity is the primary power source or is used to make conventional vehicle designs more efficient.
Battery electric vehicles run on a battery-powered electric motor. Drivers recharge the battery by plugging it into a charging station or outlet.
Hybrid electric cars are powered by a gasoline or diesel internal combustion system (ICE) and an electric motor that uses energy stored in a battery, that's charged by the ICE and regenerative braking. The engine is smaller, as the electric motor offers extra power when the vehicle starts and accelerates. The result is improved fuel economy that doesn't affect performance.
Plug-in hybrid electric cars have larger batteries than hybrid vehicles, so they can travel using electricity only. The battery is charged by the ICE through regenerative braking or plugging it into an electric power source. Plug-in hybrid electric cars can be fueled with gasoline only, although that means missing out on their all-electric capabilities and on maximum fuel economy.
Fuel cell electric vehicles use a hydrogen-powered fuel cell to generate electricity, rather than using battery-stored electricity. This technology has been available in Canada since the 2015 debut of the Hyundai Tucson FCEV.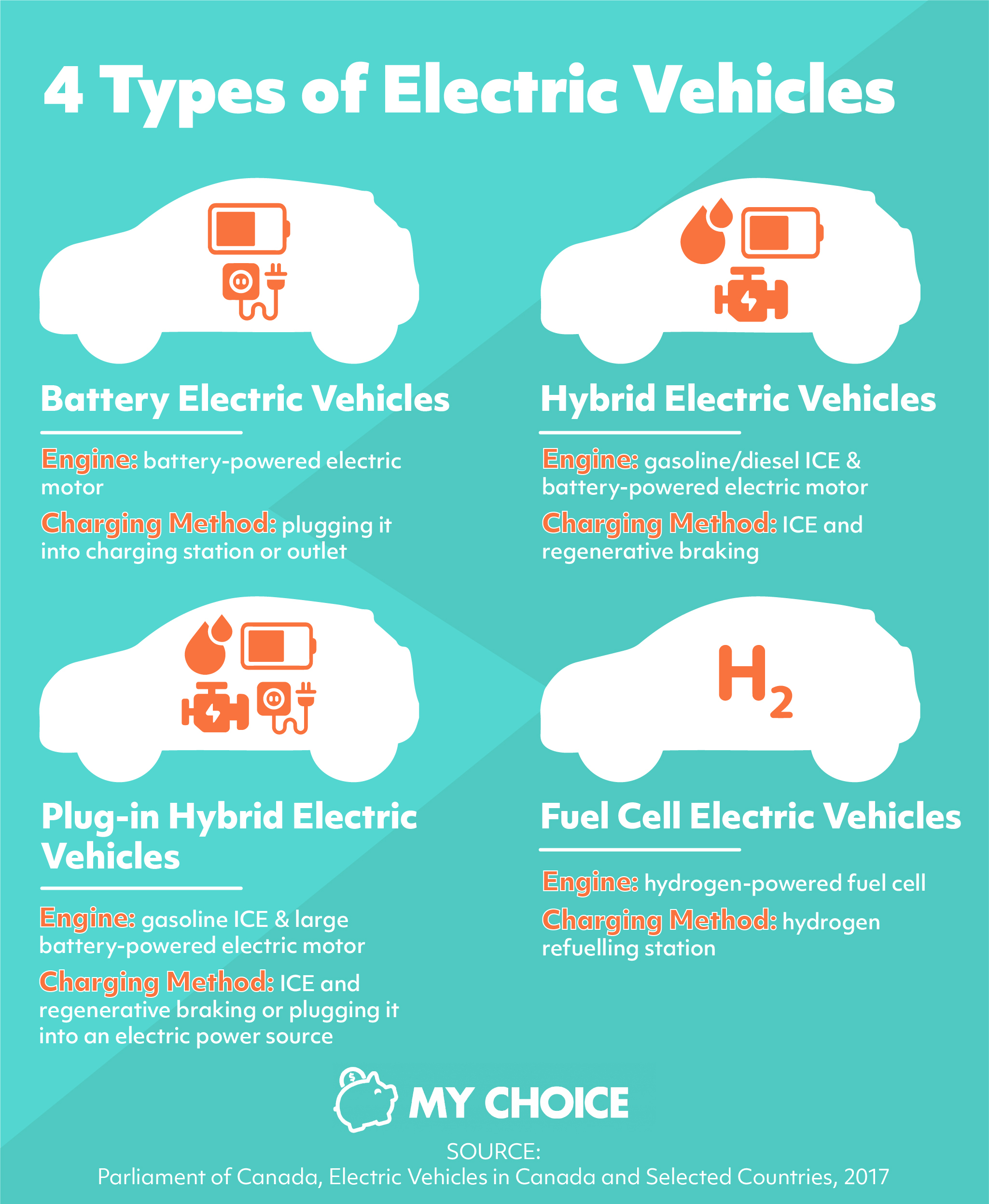 Canadians And EVs – Attitudes In Statistics
According to the KPMG poll mentioned above, the majority of Canadians are interested in EVs.
74% of Ontarians and 77% of British Columbians will consider an electric car the next time they are looking to purchase a vehicle.
More than three-quarters of millennials are considering EVs. Among them, 77% between 25 and 34 years old and 76% between 35 and 44 years old said they will consider an electric car for their next purchase.
79% of households with two cars said they will consider an EV for their next vehicle purchase, and 75% of households with an annual income between $50,000 and $150,000 would do the same.
Of the Canadians surveyed, 49% said they were more likely to purchase an electric car today compared to how they felt a year ago or before the pandemic. 32% said their interest in plug-in hybrid cars has increased over the last year.
Despite the growing interest, many consumers have concerns about electric cars that may influence their purchasing decisions. 79% of Canadians said they wouldn't consider buying an EV that doesn't have a 400-km driving range. 64% of respondents said they believe electric cars aren't reliable in Canada's harsh winters.
51% of Canadians said they expect fast service from public charging stations, and that they wouldn't be willing to wait for more than 20 minutes. 18% said they wouldn't wait longer than five minutes for their electric car to charge at a public charging station.
Due to concerns such as these, 90% of respondents said they would need to do more research before committing to purchasing an EV.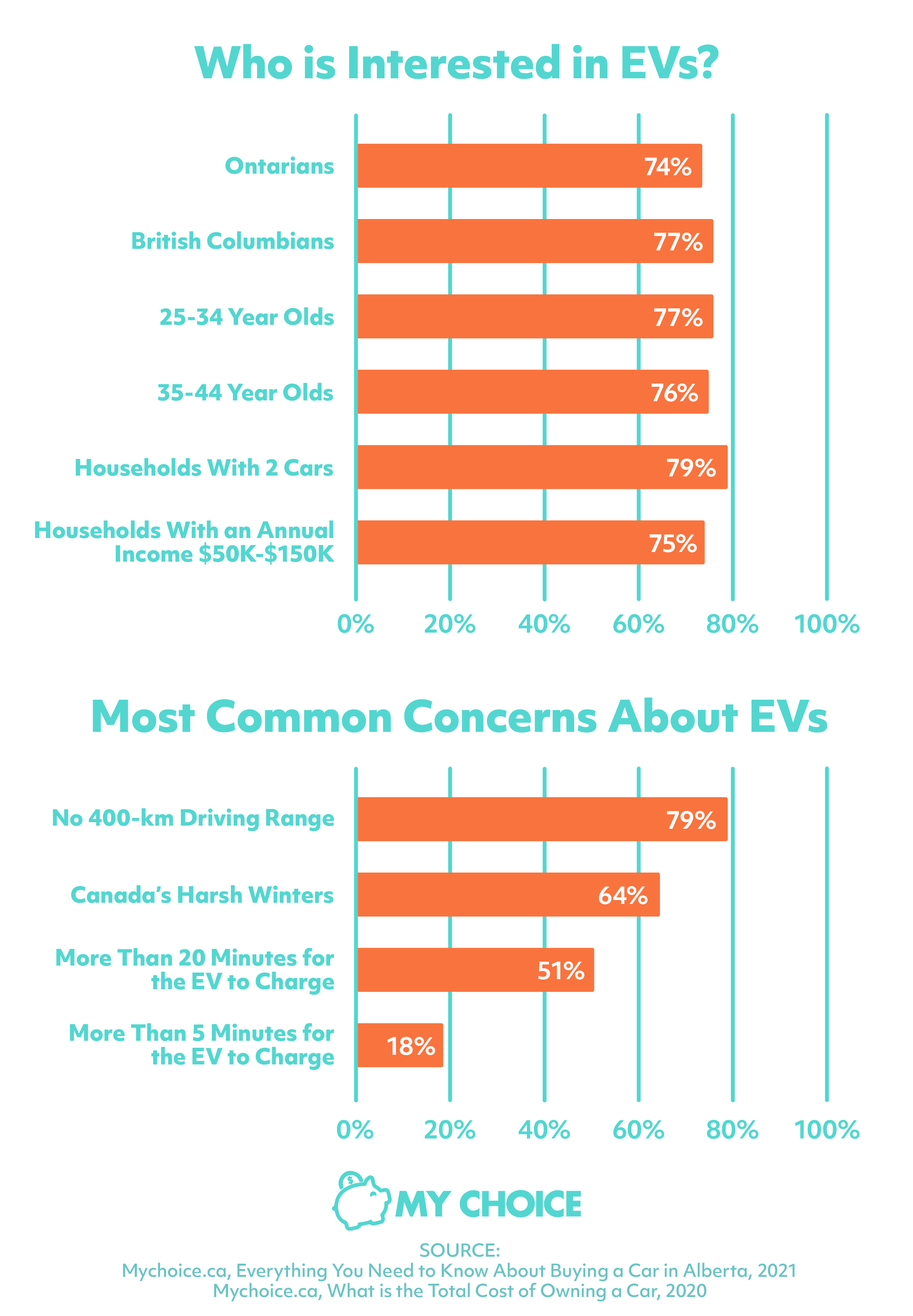 Canada Ramps Up EV Investment
Cognisant of the generally positive attitude of Canadians toward electric cars and the need to drastically lower greenhouse gas emissions, the government and the automobile manufacturing sector are ramping up investment related to EVs.
According to Global News, April's federal budget saw Justin Trudeau's Liberals commit to pumping up to $3.8 billion over eight years into the country's first critical minerals strategy. The goal is to increase the extraction and production of cobalt, copper, lithium, nickel, titanium, zinc, and other minerals used as electric car and EV battery components.
The hope is this will create an electric car domestic supply chain, boost the economy, and help combat greenhouse gas emissions. Although Canada already mines most of the minerals targeted for investment and has vast repositories of others, current production volumes will not meet the demands of the coming energy transition and transport system electrification.
Another aspect of the strategy is a new 30% tax credit, which will work as a flow-through share arrangement, for exploration expenses for some of the targeted minerals. The Liberal government will also commit $1.5 billion for processing, manufacturing, and recycling critical mineral projects, as well as $144 million for research on responsible extraction and processing.
TechCrunch reported that multinational vehicle manufacturer Stellantis will spend $3.6 billion to increase electric car production at two Canadian plants. The funding is part of the US$35.5 billion the manufacturer has dedicated to EVs and new software in a bid to be carbon net zero by 2038.
The Canadian and Ontario governments plan to invest up to $529 million and $513 million, respectively, alongside Stellantis. This is expected to create more than 650 additional engineering jobs at the Windsor R&D center and an additional 2,500 jobs at the Stellantis-LG Energy Solution join battery venture. The Windsor retooling should begin in 2023, followed by modernization and retooling at Brampton in 2024.
The Canadian government's support for electric cars is not only through investment. Transport Canada recently announced that more new EVs sold in the country will be eligible for the government's $5,000 EV purchase rebate, thanks to new price ceilings for light- and medium-duty vehicles.
Since April 25, the rebate has been available on EV passenger car models with a base price lower than $55,000, on higher-priced versions of those cars up to $65,000, on SUVs, minivans, and pickup trucks with a $60,000 starting price, and higher-priced versions of those EVs up to $70,000.
Transport Canada also announced the definition of longer-range PHEVs changed, with it now being based on the electric range in kilometres. PHEVs with a 50km-range or higher are eligible for $5,000, while those with a lower range continue to be eligible for the $2,500 rebate.
Electric Car Sales In Canada
Despite the concerns of some consumers, electric car sales in Canada have grown in leaps and bounds over the last several years. According to Statista, the country's auto dealers sold 66,815 EVs in 2020, which represented an increase of approximately 20,000 from the 46,882 EVs they sold in 2019.
In 2018, they sold 50, 963 EVs, which was a significant increase from the 19,086 EVs they sold in 2017. What makes these figures all the more impressive is that the country's auto dealers sold 5,235 electric cars in 2014. The cumulative sales between 2010 and 2021 were 255,000 units.
Statistics Canada revealed that 5.2% of all new vehicles registered in 2021 were zero-emission vehicles. Those would be all-electric, as hybrid and plug-in hybrid electric cars' ICEs produce emissions. Of those new vehicle registrations, 22.9% were in Ontario, 27.7% in British Columbia, and 42.8% in Quebec.
More Canadian Electric Car Options In 2022
Canadian electric car buyers will enjoy a greater variety of options this year. According to Electric Autonomy, Ford will debut the local market's first all-electric pickup truck, the F-150 Lightning.
The model is a battery-electric version of the F-Series pickup, the best-selling vehicle since 2009 and the country's best-selling pickup truck for 56 years. The F-150 Lightning is expected to beat the Rivian R1T and the Hummer EV pickup truck, which will be marketed in Canada in Q2 2022.
Q2 should also see Lucid's deliveries begin. The luxury electric start-up opened a second Canadian Lucid studio in Ontario's Yorkdale shopping mall in fall 2021. The location already has a Tesla store, and it should also see the opening of a VinFast store in time for the Vietnamese company's EVs to arrive later this year.
Hyundai's Genesis luxury marque, Subaru, and Toyota are among the other brands that will bring their first BEVs to the Canadian market this year. These will be Subaru and Toyota's first all-electric offerings after the manufacturers' PHEVs that have been available on the local market.
Electric Cars: Challenges To Overcome
Canadian consumers' doubts and hesitations regarding electric cars are not unfounded. The EV sector faces several challenges, while other stakeholders are voicing concerns of their own regarding electric cars.
Parts Shortages Lead To Extended Waiting Times
According to CTV News, the entire automotive industry is being affected by pandemic-induced microchip shortages that began in late 2020. This shortage has disrupted EV supply chain issues.
To further complicate matters, more than 80% of the global supply of electric cars is shipped to Chinese and European Union consumers. This means that Canadians who want to purchase new zero-emission cars need to pay a deposit and be placed on a waiting list. Depending on the dealership and manufacturer, the wait time can be up to three years.
Tesla vehicle delivery times range between three months and a year, model dependent. Other manufacturers, such as Nissan, have sold out of their EV inventory for the 2022 model year.
Stock Issues Abound
A March 2021 Transport Canada report revealed that more than 50% of Canadian dealerships have no stock of electric cars. The report also found that 31% of those dealerships had wait times longer than six months.
AutoTrader.ca reported that electric car searches increased by 89% in March 2022, compared to the same month in 2021. The number of inquiries sent to EV sellers through the platform surged by 567%.
CTV News also reported that EV availability differs wildly across Canada's provinces. As British Columbia and Quebec are the only two provinces with zero-emission vehicle (ZEV) mandates, most manufacturers have prioritized their EV supply to them. 98% of Ford's ZEVs, and more than 80% of Honda's, Kia's, and Volkswagen's ZEVs, are being allocated to B.C. and Quebec.
The Transport Canada report found that 70% of dealerships in Quebec and 60% of dealerships in B.C. had at least one ZEV in stock. 82% of dealerships in the rest of the country did not have a single ZEV in their inventories.
This is expected to change when the federal government implements a ZEV mandate in a few years. The mandate is expected to require at least 20% of new passenger vehicles and light-duty trucks to be zero-emission by 2026, and for 100% to be the same by 2035.
Potentially Fatal Faults
Given that the technology used in electric cars is still relatively new, consumers can expect the odd fault – which could have serious consequences. In 2019, a Hyundai Kona EV exploded in a Montreal resident's garage, leaving a massive hole in the structure's roof. It took 30 firefighters to extinguish the resulting fire.
Firefighters have concerns of their own when it comes to electric cars. They, along with other first responders, require specialized training to deal with MVAs involving EVs due to the dangers found in electric cars. High-voltage cables run through EVs, which also have a high-powered battery. If either the cables or the battery is pierced, it could damage tools and cause serious injury or death.
Environmental Upsets
Another concern regarding electric car batteries is what happens to them once they have reached the end of their lifespan. The B.C. government estimates that more than 2.5 million EVs will be on the province's roads by 2040, according to the Narwhal. There are already more than 60,000 EVs on the province's roads, each one fitted with a lithium-ion battery containing materials such as cobalt, graphite, lithium, manganese, and nickel, and weighing several hundred kilograms.
EV batteries have an average lifespan of eight to 15 years, which means B.C. and Canada's other provinces need to re-think their recycling sectors. An International Zero-Emission Vehicle Alliance report, the need for raw material mining can be reduced significantly from 2040 onwards if it's possible to develop recycling streams that can recover as much as 90% of critical battery materials.
The B.C. Ministry of Environment and Climate Change Strategy told the publication that hybrid and EV batteries will be added to the province's recycling regulations in 2023. The programs and processes to ensure EV battery recycling should be implemented by 2026.
Electrical Grid Under Pressure
Strain on Canada's electrical grid and a lack of charging spots are other EV-related concerns. According to Maclean's, Level 2 chargers have 240 volts/30 amps electric needs, similar to stoves or dryers. However, most older Canadian homes are wired for 100 amps. If other appliances, such as air conditioners and pool pumps, are running, using a Level 2 charger could overload the electrical panel. Those houses would need to upgrade to 200 amps at an expense of several thousand dollars.
If three or four older Canadian homes on the same block all made the same upgrade, the local transformer would blow. That entire infrastructure would need to be upgraded to support those homes' upgrades to 200 amps. The reality is that the increasing number of EV owners charging their cars at home will add unprecedented stress to a largely unprepared power grid. 80% of Canadian EV owners charge their cars at home.
The number of EV owners who use public charging stations may soon increase far beyond the number of available spots. This will add further stress to the power grid. If this scenario remains unchanged, uncoordinated charging of millions of EVs simultaneously could lead to blackouts.
To paint an even more stark picture, the demand for electricity is expected to increase by 15% annually between 2022 and 2040, which is the equivalent of six months of nuclear reactor output.
In 2021, Toronto and Toronto Hybrid installed 17 curbside Level 2 chargers for residents who cannot charge their electric cars at home. At the time of Maclean's report, the city had only 864 chargers. However, its EV strategy hopes to install 10,000 chargers by 2030, which would represent an increase of more than 1,000%.
A Question Of EV Insurance
Consumer perception has traditionally been the biggest barrier to electric vehicle (EV) adoption but a recent poll* finds that the majority of Canadians have changed their perception and are now interested in EVs. British Columbians are leading the charge with 77% saying they will consider an electric vehicle the next time they are looking to purchase a vehicle with Ontarians a close second at 74%.
Issues around cost, range and charging are key factors behind EV uptake. In addition to having concerns about charging and performance factors, some Canadians worry about the cost of insuring electric cars. In a recent study, MyChoice, found that searches for Electric vehicle increased 240% year over year, and 89% in the last 3 months! Comparatively, searches for Tesla car insurance increased 50% year over year.
In total, 49% of Canadians surveyed said they were more likely to purchase an electric vehicle today compared to how they felt a year ago or before the pandemic. 32% said their interest in plug-in hybrid cars has increased over the last year.
As with gas cars, the premiums depend on the model of the car, rather than the vehicle's fuel source. The cost of replacing a vehicle is largely what determines the insurance cost. As electric car batteries cost more to replace in the event of a collision, and because those vehicles may require more specialized repair services, customers with electric cars may pay slightly higher premiums.
The basic insurance requirements for EVs are the same as for any other car. These include the mandated third-party liability insurance, accident benefits insurance, uninsured auto insurance, and direct compensation for property damage. Customers may choose add-ons such as collision insurance and comprehensive insurance that protects parked cars from events such as flooding and fire.
Below is a comparison of annual auto insurance premiums for various electric car models:
Porsche Taycan (2021)- $2,123
Audi e-tron (2021) – $1,878
Tesla Model Y (2021) – $1,708
Tesla Model 3 (2021) – $1,670
Nissan Leaf (2021) – $1,389
Chevrolet Bolt (2021) – $ 1,387
Mini Cooper SE Electric Hardtop (2021) – from $1,342
Hyundai Kona Electric (2021) – $1,317
Based on the statistics and trends included above, Canadians are overwhelmingly positive about electric cars, despite having some concerns and questions.