This is the one. You've scoured the internet searching for the vehicle that checks all of your boxes: it has a manual transmission, it's safe, dependable, just a touch sporty—but most importantly, it has ten large cup holders.
Everything is in order, but the price is a little…uncomfortable. It's at the top of your range. You can easily add on another few months of financing to manage the monthly payment and handle it that way, right?
Hold it right there. Before you start leveraging your home to buy your dream car, read on to learn the 5 most important costs dealerships leave out of the equation and what the true cost of a car is.
1. Depreciation
"Depreciation isn't a cost, though. I'm not paying anything." That's correct—however, you are losing something, and that is value. A car is an investment. You want to keep it as valuable as possible because you know you will likely sell it one day.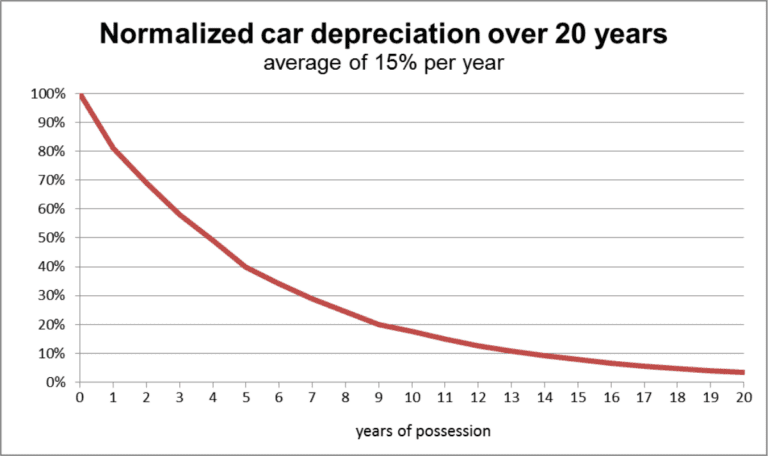 Let's say you buy your new car for $30,000. It drops to $24,000 a year later because the average depreciation rate for a new car is 20%. You just burned six grand!
2. Gas
Most people think of fuel as a monthly expense that everyone must bear. Sure, you can curse your un-walkable city and heavy traffic, but how much can you really do about it?
The type of car you choose to drive will make an enormous difference in your gas expenses. In 2019, the best trucks for fuel efficiency were still only peaking at 10 litres per 100 km. The best sedans hover around 4.7 L/100 km. Since the average Canadian drives about 15,200 kilometres, a year and average gas prices are $1.48 per litre right now, that's a difference of about $1,200 per year.
3. Insurance
Insurance premiums are right next to your car payment when it comes to cost. To avoid high premiums, you can use MyChoice's comparison tool and find the best coverage for your dollar.
It's worth shopping around. The average car insurance premium costs $1,426 per year, but your location has an impact on those rates. Car insurance premiums in Ontario are not the same as premiums in Alberta. Of course, your mother's advice still stands—" Don't get into an accident". If you tend to forget that advice, you can read this to learn how to manage a poor driving record.
4. Financing
The general rule is: avoid financing your vehicle through dealerships. They tend to tack fees and fine print onto your deal. Every deal will be different, of course, depending on credit and even the condition of the car.
If you give the dealer a 10% down payment and finance your car for the national average of five years, you'll pay an average of $669 per year.
5. Maintenance and Tires
You can only avoid that oil change for so long. If you don't want your engine to explode, AAA says you'll have to shell out an average of $1,186 for maintenance and tires. They also factor in an extended warranty.
Keep in mind, this is for a new car. An older car with more mileage will begin hurting your wallet with maintenance fees.
Verdict
Let's take a look at the total price of your new car in one year:
Average cost of a new car: $34,000
20% depreciation: $6,800
Fuel (@ 6.7 L/100 km): $1,500
Insurance premium: $1,426
Interest payment: $669
Maintenance/tires: $1,186
This brings your total cost of owning a new car to $11,581 in the first year!
Final advice: shop around for the best deals and find the most value for your money. Buy smart and avoid those financial headaches.