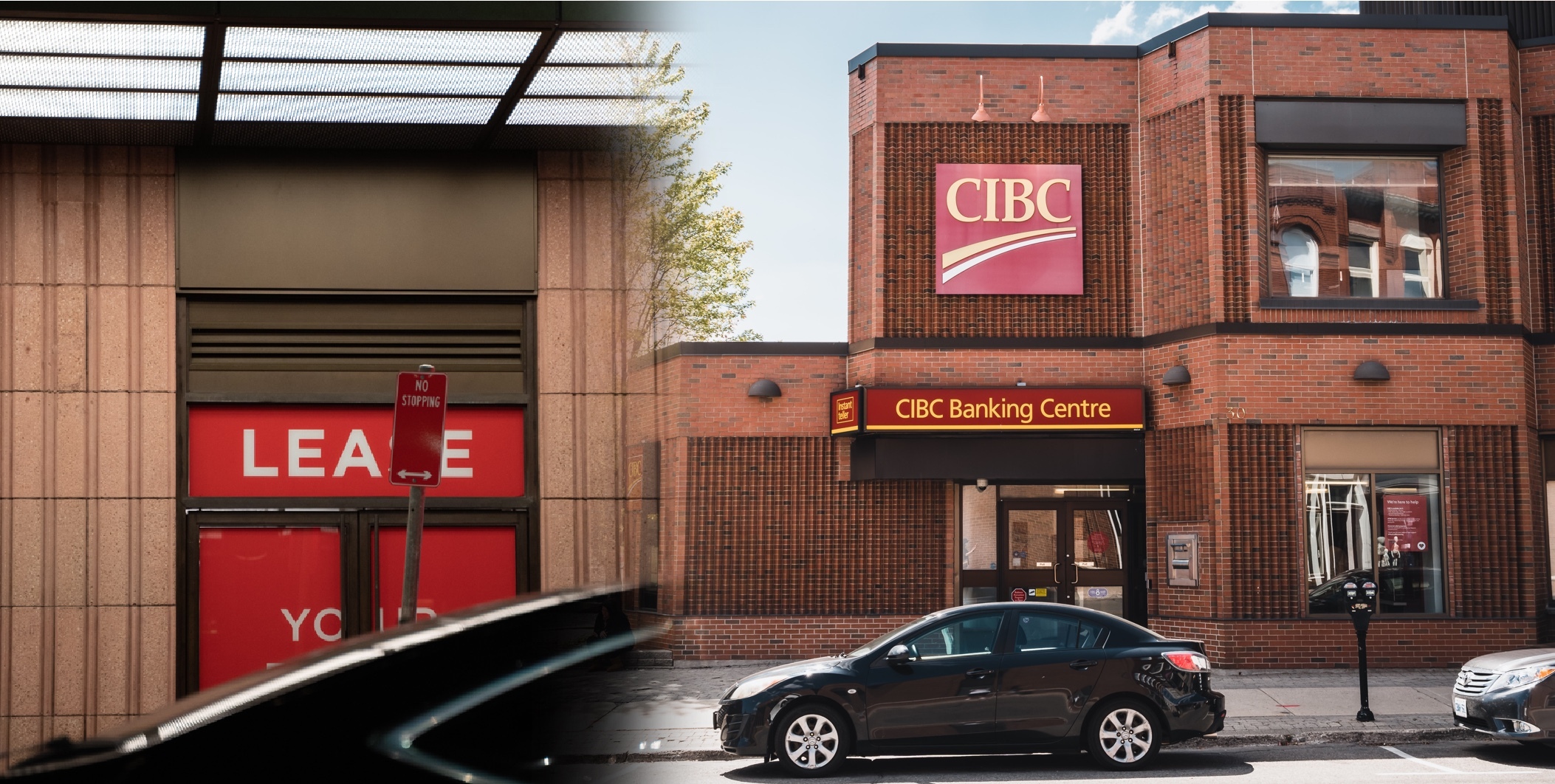 It's not easy to decide between buying and leasing a new car in Canada.
Buying a car means higher monthly costs, but at the end of the day you will end up with something of your own. On the other hand, car leasing has lower monthly payments but you will end up paying forever, just effectively renting the vehicle and never actually owning it.
If you are unsure about which is the right option for you you've come to the right place, we'll show you how each work and an overview of the benefits and drawbacks of each one.
What Is a Car Lease?
A lease is a rental of a good for payment during a certain period, that is, the lessor buys, for example, a car and rents it to you for an amount during the time established in the contract, which generally goes from 12 to 36 months. At the end of this period, you have three options:
Renew the lease with a new car
Buy the car for the residual cost
Return the vehicle and end the contract.
Car leasing or leasing is another way of acquiring a car and has interesting characteristics. At first glance, leasing seems like a non-viable way to buy a car, but as always, everything will depend on the profile of each person, their likes and needs.
What Are The Different Types Of Car Leases?
There are different types of car leases in Canada, the type you choose depends on your short and long term interests as well as your monthly budget. These are the most common:
Standard rental leases: This option offers you the opportunity to drive brand new vehicles, as long as your credit profile is in good standing. You'll be expected to make a small down payment, followed by monthly payments for the remainder of your car lease term. Once your lease term expires, you must return the car to the dealership, and you may choose to extend the lease or trade in your current car for a newer vehicle.
Leasing to own: This gives you the option to purchase a vehicle once the lease term is ended. You're required to make regular payments, often on a weekly or bi-weekly basis. Your payments will help you accumulate equity and eventually own the vehicle. However, although the approval process is easier, you typically won't have a brand new car to choose from.
Lease takeovers: This option can be a great opportunity to get a good deal on a lease by taking over someone else's lease payments. The initial costs and fees are lower, and often there is a cash incentive to take over someone's lease. However, there are some risks to taking over a lease, such as receiving a vehicle in bad condition and mileage overages which may be a problem at the end of the lease if you don't review the lease terms.
Leasing a used car: This is possible if you're in a lease-to-own agreement. In other instances, a customer may wish to terminate their lease contract early and seek someone who would be willing to take over their payments. If that someone is you, then you could save money on down payment costs, but before you jump in the driver's seat, be sure to thoroughly inspect the vehicle for any damage, wear, or kilometre overage, since you'll be in charge of once you take over lease payments.
Pros & Cons Of Leasing A Car
Some people find car leasing a solution to their immediate needs that also better fits their budget. Leasing a vehicle can offer you the following advantages:
Monthly payments are lower than owning and you could receive special offers.
If you have a good credit history, you probably won't have to pay any kind of down payment beyond the first month's lease.
You can easily change vehicles in a short period of time, which will save you a lot of maintenance costs.
You do not pay the total cost of the vehicle, only the residual value. This amount results from the difference between the current market price and the estimated value it will have when the term ends.
The amounts do not change if the car depreciates or increases in value. If it depreciates too much and you are interested in purchasing, it could represent an excellent option to buy at the end of your term.
Leasing a car is ideal for those who don't need a vehicle for a long time and who are not willing to pay high amounts or monthly payments. If this is not the case for you or if you do not meet some of these characteristics, you will likely find some disadvantages such as:
If you do not have a good credit history, you may not be able to lease a vehicle.
If the car increases in value, it is likely that you will not be able to own it at the end of the term.
If you like to drive a lot, renting a car could frustrate you since the mileage in this type of transaction is limited to a maximum of approximately 12,000 annual miles. If you exceed you will have to pay additional fees at the end of the contract.
The integrity of the vehicle is your responsibility, you must deliver it in good condition.
If you want to cancel your contract early you will have to pay a very high excess amount.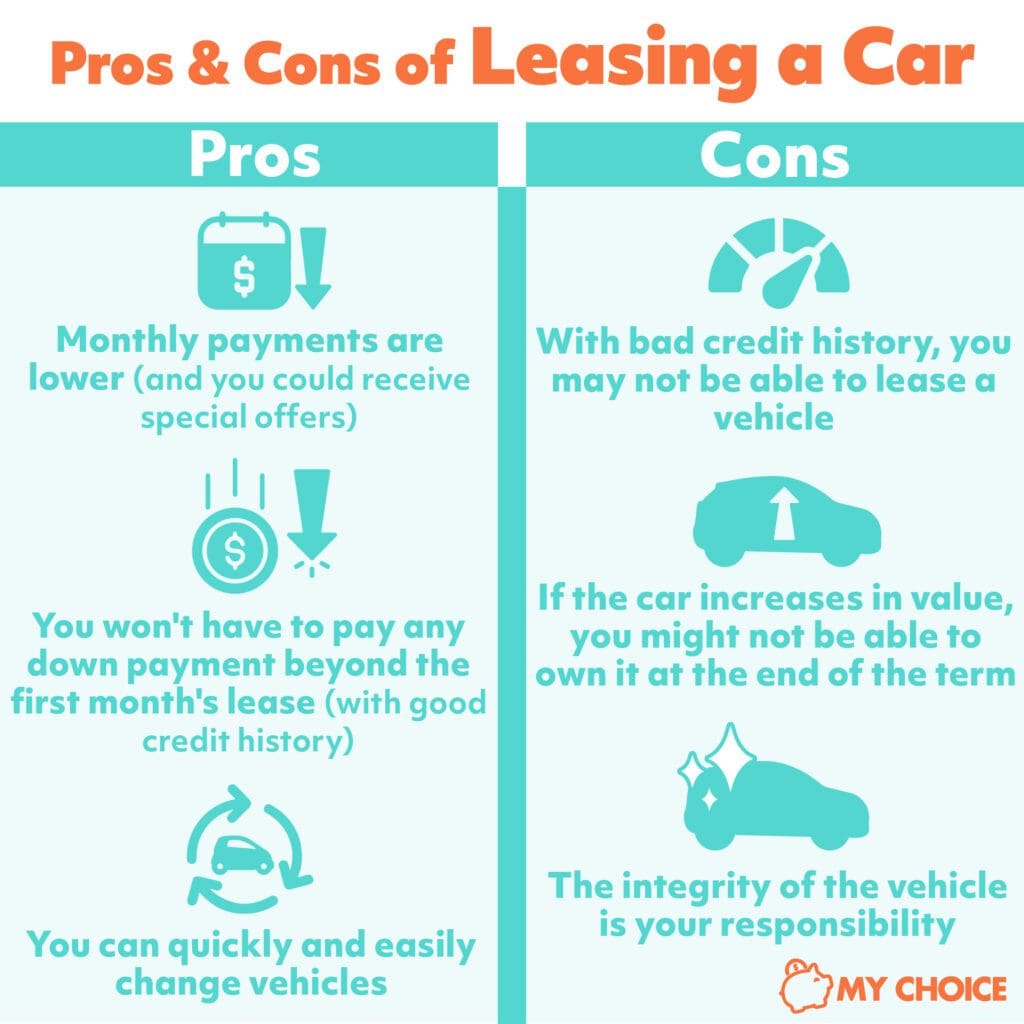 What Is Vehicle Financing?
Financing a vehicle means obtaining a loan to buy and paying for it within a certain period of time. When you take out a loan to buy a car, you agree to repay the amount borrowed, plus interest and fees, over a set period. Shopping around and comparing loan interest rates could save you a lot of money.
Currently, you can access auto financing in Canada. There are three types of lenders to which you could go for approval for financing, we recommend consulting with a car sales representative to help you decide which path is best for you.
The traditional way to borrow money to buy a car is directly from a financial institution or bank, you have to fill out an application form and meet with a branch manager to discuss the loan. Bank agents look at various factors, such as your income, savings, and credit score, before deciding on whether or not to approve you.
Apply for financing through a car dealership, you usually choose the car you want and then arrange the financing. Your dealer will submit your application to their in-house financing division or to various outside lenders (including banks) in the hope that you will be approved for the car you want.
Online auto financing is simple and easy to access. This method helps car buyers get pre-approved for car financing before they even start shopping for vehicles. Each customer is then matched with a nearby dealership that has dozens of vehicle options within their price range.
Pros & Cons Of Financing A Car
Consider the following when purchasing a vehicle through financing:
You can enjoy the benefits of owning a car that you can hold onto until you decide to sell or trade.
You can drive as many kilometres as you want. But higher mileage will impact the value of the vehicle and may result in frequent repairs and maintenance.
You can make any updates or changes you want, but you'll have to pay for any major repairs.
At the end of the loan, you will no longer have to make payments. If you pay off the loan early, you will be responsible for any additional payoff payments. When buying a new car, you can sell or exchange the one you currently have.
You will be paying the total cost of the vehicle, due to which it is necessary to have the financial means to pay off the loan.
You will pay for the cost, interest and other fees of the vehicle, regardless of the kilometres you travel. The monthly payments are higher than a car lease.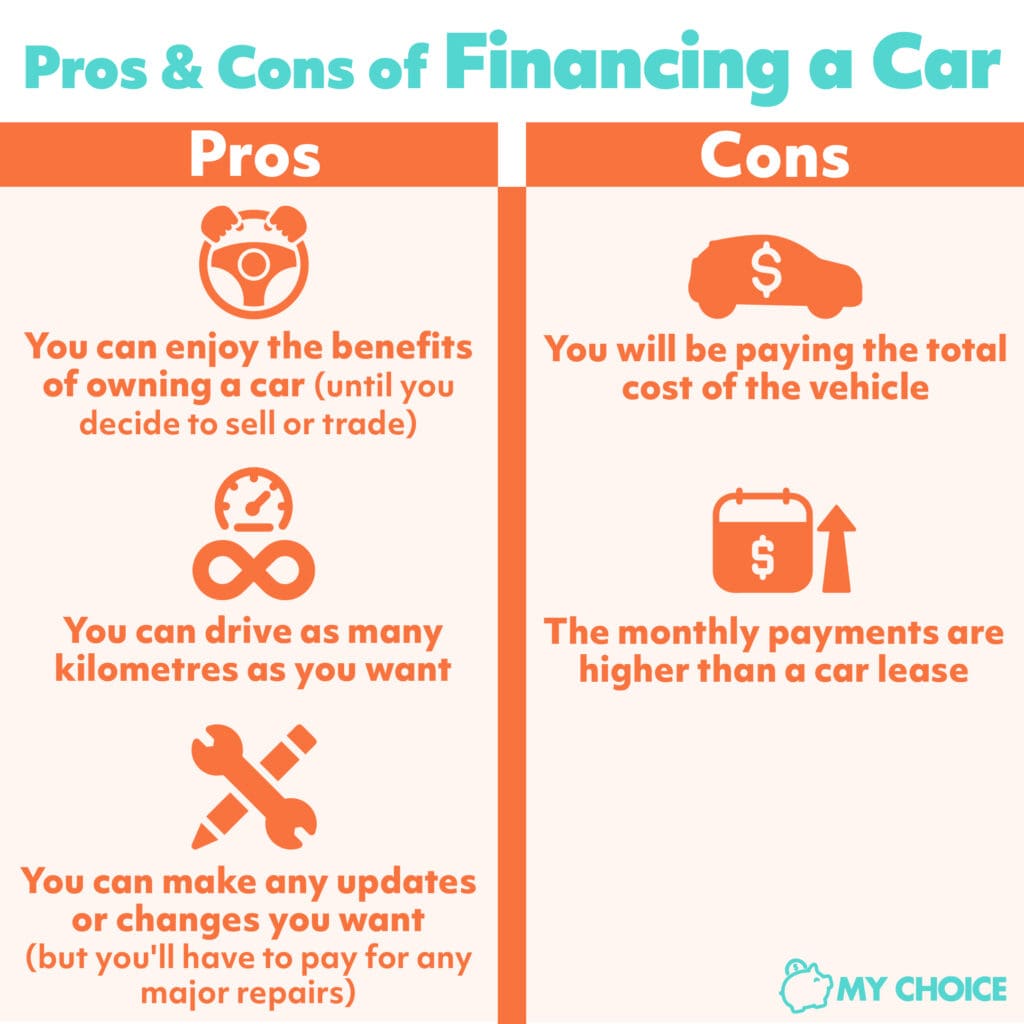 What Is The Difference Between Leasing And Financing A Car?
If you are still undecided between financing or renting a vehicle, we leave you this table, to help you make a better decision:
| | FINANCING | LEASING |
| --- | --- | --- |
| Ownership | You are the owner of the vehicle, and you keep it as long as you want. | The vehicle is not yours. You have it at your disposal but you must return it at the end of the contract unless you choose to buy it. |
| Anticipated Costs | It includes the cash or down payment price, taxes, registration, and other fees. | It may include the first monthly payment, a refundable security deposit, acquisition charges, taxes, registration, and other fees. |
| Monthly Payment | Loan payments are usually higher than lease payments because you will be paying for the entire purchase of your vehicle, plus interest and other financing charges, taxes and fees. | Lease payments are almost always less than loan payments since you'll only be paying for the depreciation of the vehicle over the term of the lease plus interest, taxes, and fees. |
| Anticipated Termination | You can sell or trade-in your vehicle at any time. If you need it, you can use the money from the sale to pay off any remaining loans. | If you choose to end the lease early, the fees could cost you as much as if you had continued the lease. Occasionally, a dealer might be willing to buy the car. |
| Vehicle Return | You'll have to deal with the sale or trade-in of your vehicle when you decide you want to trade it in. | You return the vehicle at the end of your lease, pay all costs associated with closing, and you're done. |
| Future Value | The vehicle will depreciate, but its monetary value will be at your disposal. | The good thing is that its future value will not affect you financially. The bad thing is that you will not have any capital for the vehicle. |
| Mileage | You have the freedom to drive as many miles as you want. But keep in mind that the trade-in or resale value of the vehicle decreases as you increase the mileage. | Most leases limit the number of miles you can drive, typically between 12,000 and 15,000 per year. (You can negotiate a higher mileage limit). You will have to pay fees for exceeding the pre-established limits. |
| Excessive Wear | You won't have to worry about wear and tear, although they can reduce the vehicle's trade-in or resale value. | In most leases, you will have to pay supplemental fees for exceeding any wear that is considered natural. |
| End of the Term | At the end of the loan term, you will have met all your payments and will have accumulated the capital to be able to pay for your next vehicle. | At the end of the lease (usually two or three years), you can finance the purchase of the car, or lease or buy another. |
| Personalization | Since the vehicle belongs to you, you can modify or personalize it to your liking, although doing so could invalidate your warranty. | Since you'll need to return the vehicle in resalable condition, you'll need to remove any custom modifications or parts you've implemented. You will have to pay for any residual damage and have it repaired, or you will have to file a claim with your insurance and pay the deductible. |
Which One Is Better?
When to lease a car:
If you enjoy the smell of a new car and you are one of those who prefers to update your vehicle every two years, leasing a car is for you. Leasing is like renting a house; although you are paying for the privilege, the car is not really yours. You're paying for the luxury of driving a new car, one that you'll likely trade in frequently.
Also, if you want some sort of guarantee when you lease, your car will almost always be under warranty. You don't have to worry too much about major mechanical issues compared to when owning your car. If you want to pay less, you generally won't need to spend much on a down payment. Plus, monthly payments are 30% to 50% lower than if you were financing the same car.
Lastly, you don't want to worry about selling your car, this takes more work so once your lease is up, simply return the car to the dealership.
When to finance a car:
If you want to own your car but you are unable to pay for it all at once, the car will be completely yours once all payments have bee met. Take into account that you will have to pay between 10 and 15% of the value of the car as a down payment.
Also, if you don't want to limit how far you can drive. When you own your car, you have complete control over your distances and mileage compared to leasing a vehicle. Additionally, you can personalize your cars license plates, you can upgrade it, change the tires or give it your personal touch.
Furthermore, owning your car gives you the freedom to choose any type of auto insurance that fits your needs. People who lease usually need to get comprehensive and collision insurance coverage.