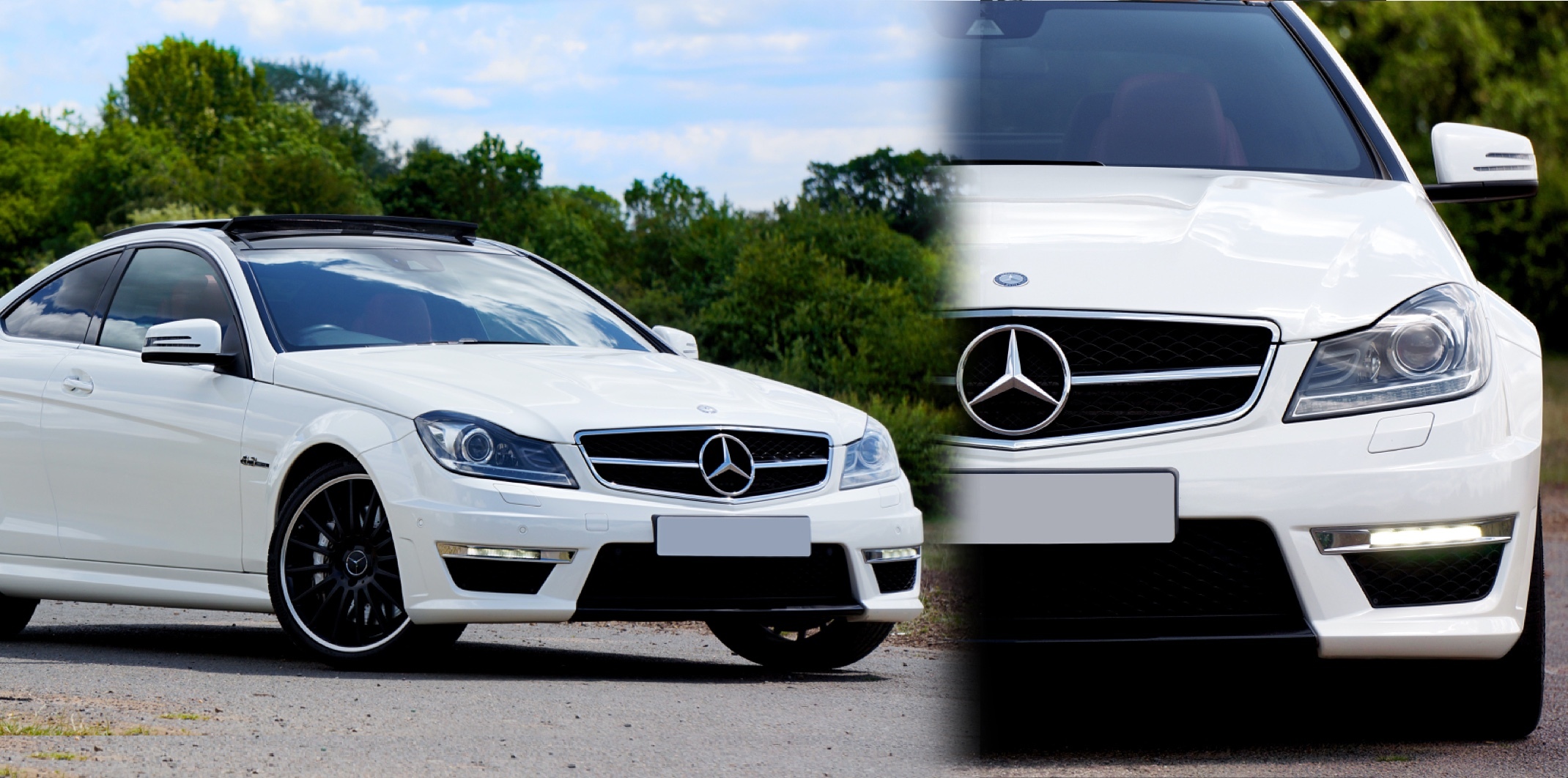 We all like to give a touch of ourselves to the house, the car, and other personal items.
Many car owners like to show their personality through a personalized license plate.
If you are interested in having your own custom license plate, you've come to the right place to learn more about what you should consider before ordering and the necessary requirements so it isn't rejected.
License Plates in Ontario
License Plates in Canada are issued by each province. The province name is usually displayed at the top or bottom of the plate, and it usually changes depending on whether it is a private or commercial vehicle. Current Ontario license plates have light blue characters on white background. The standard size is 12 inches per 6 inches, with the phrase "Yours to Discover" at the bottom and a configuration of four letters and three numbers (ABCD-123). At the top is the name of the province in capital letters: "ONTARIO".
How to Get a Personalized License Plate In Ontario
If you want to get a custom car plate, the most common provider to buy it from is directly from the Government of Ontario. There are plenty of options to choose from depending on your preferences and what you want to put on the plate. To purchase a custom license plate online for a car you must have the following:
If you don't have any of the above, you can go to a Service Ontario office or call 1-800-AUTOPL8 (2886758) to order a new custom number plate or convert a regular license plate to a personalized license plate.
What Are the Criteria to Order a Custom Plate?
Like other vehicle procedures, Ontario license plates must meet certain rules or criteria to be approved before production. Some of these criteria are:
The combination of numbers and letters must be unique, not in use for other cars.
The length must be between two and eight characters.
It cannot have more than four identical numbers or letters in a row
Interchangeable numbers and letters are not allowed (for example S/5, A/4)
Additionally, there is a list of topics and terms that have been banned on license plates. These are the topics specified by the Ontario government page:
Sexual messages
Abusive, vulgar or derogatory language
Offensive slang in any language
Religion
Drugs and alcohol
Political opinions and figures
Violence or criminal activity
Discrimination
Your custom number plate will be reviewed by a committee to make sure it meets these requirements for approval or rejection.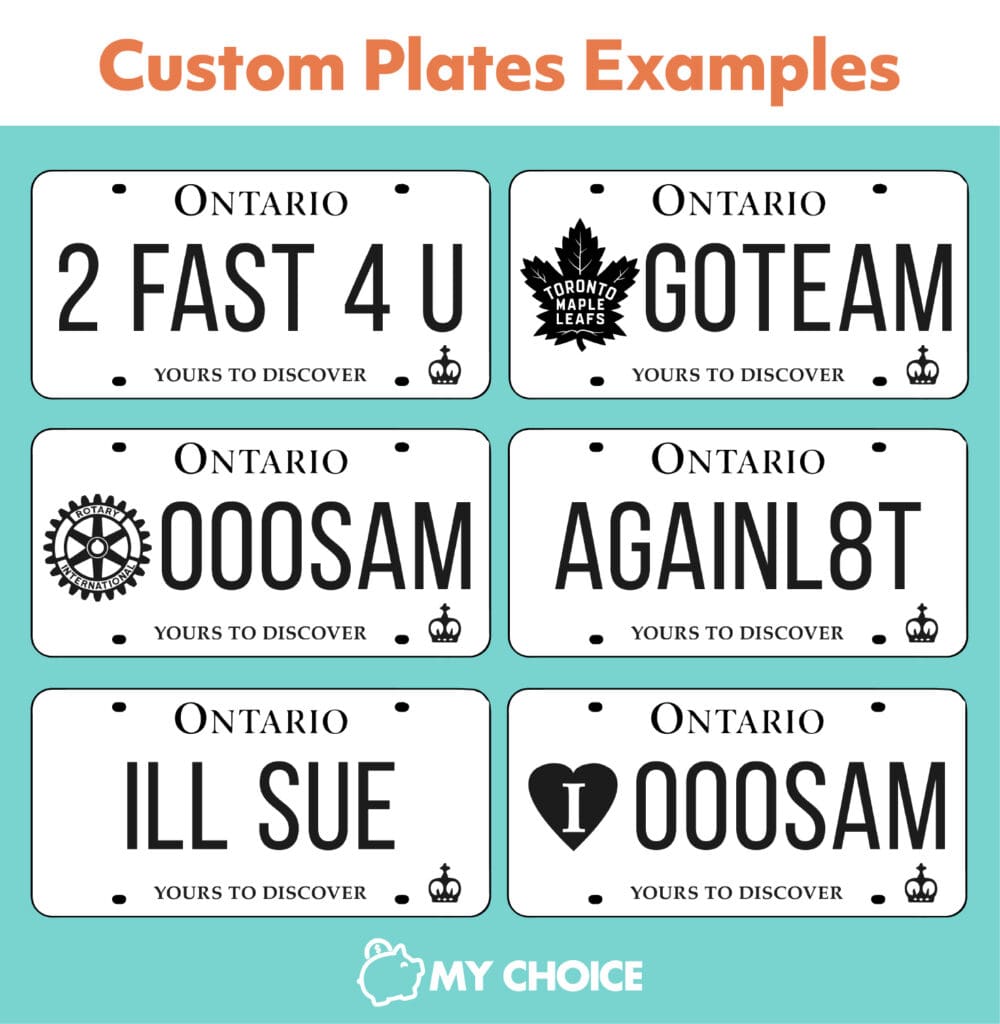 How Much Is A Custom License Plate In Ontario?
The cost of your license plate depends on the type of customization and the type of vehicle that will carry the plate.
A custom license plate without a graphic for a passenger or commercial car is $310 (two to eight-character limit)
A custom license plate with a graphic for a passenger or commercial car is $336.40 (two to eight-character limit)
A custom license plate without a graphic for a motorcycle is $310 (two to five-character limit)
Keep in mind that any NSF fees (non-sufficient funds), Highway 407 tolls or other outstanding fines will need to be paid at the time of purchasing your custom plate.
How to Buy a New Personalized License Plate in Ontario?
To buy a new license plate in Ontario or order a replacement is quite easy. You can order online from the Government of Ontario website by following these simple steps:
Read over the criteria and make sure your combination is not banned.
Head over to the "Order Now" button and click.
Enter your valid Ontario driver's license number or RIN.
Choose your type of vehicle (personal, commercial, motorcycle).
Choose if you want a graphic or logo.
Type in your combination of characters, including letters and numbers.
Look up and check if it is available.
Select the one available and confirm
Complete the purchase by paying the total amount.
Before the pandemic, Service Ontario offered a 28-day Service Guarantee Period, however, this delivery guarantee is suspended for now but on their website it still states you should receive your new license plate within 4 weeks of ordering via mail.
How To Check If My Combination of Character is Available In Ontario
You may not be the first person to think of a specific combination of letters and numbers. It is very common for this to happen, so it is advisable to have a couple more options in case your first choice is already taken by someone else. To know if your combination is available, you must start ordering your personalized license plate on the Service Ontario page. The transactional page will show you the options available as part of the purchase process, it's worth nothing that there is no other way to look up and verify this information.
Custom License Plates With A Logo Or Graphic
Probably the most exciting part of buying a personalized license plate for your car will be choosing a graphic or logo that reflects your love for a sports team, community organization, or post-graduate institution. Ontario has over 60 graphics to choose from in several categories:
Arts and Entertainment
Charity
Community Organizations
Environment
Government
Heritage
Novelty
Professional
Sports Teams
Universities and Colleges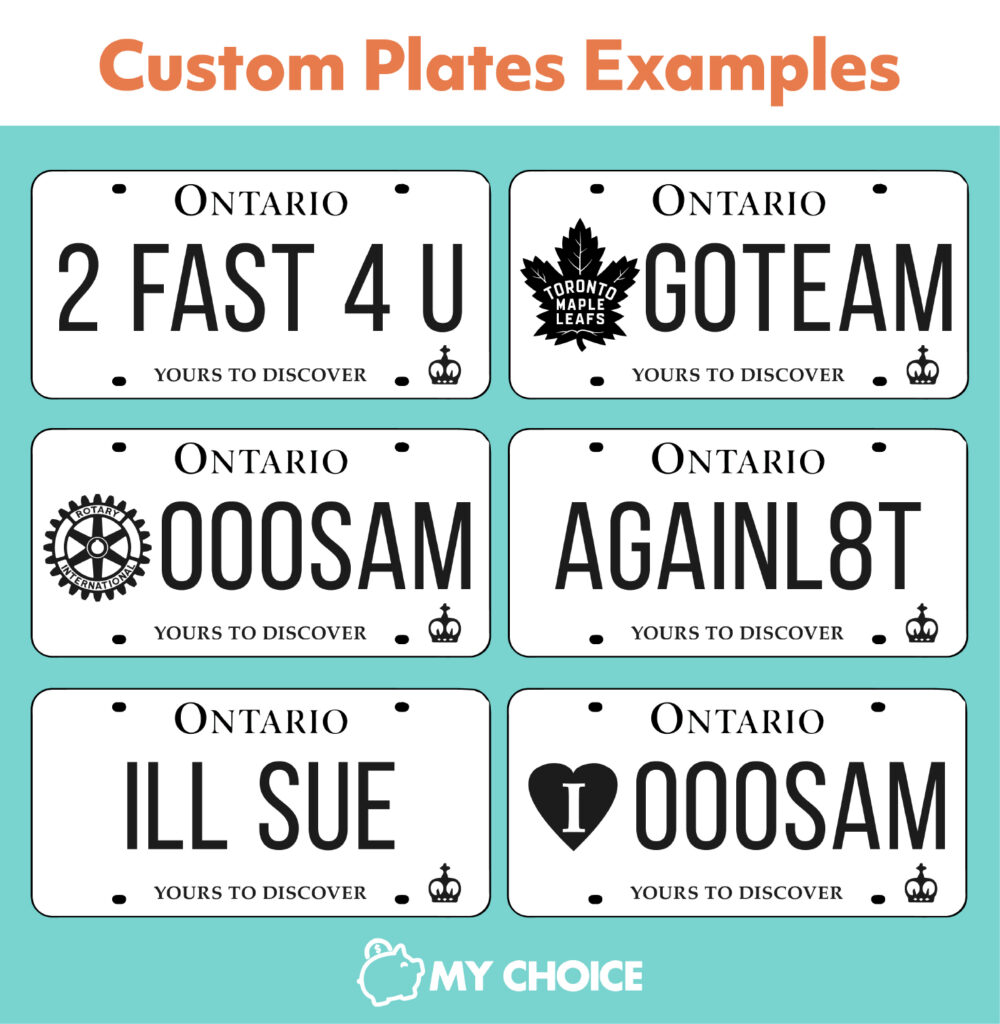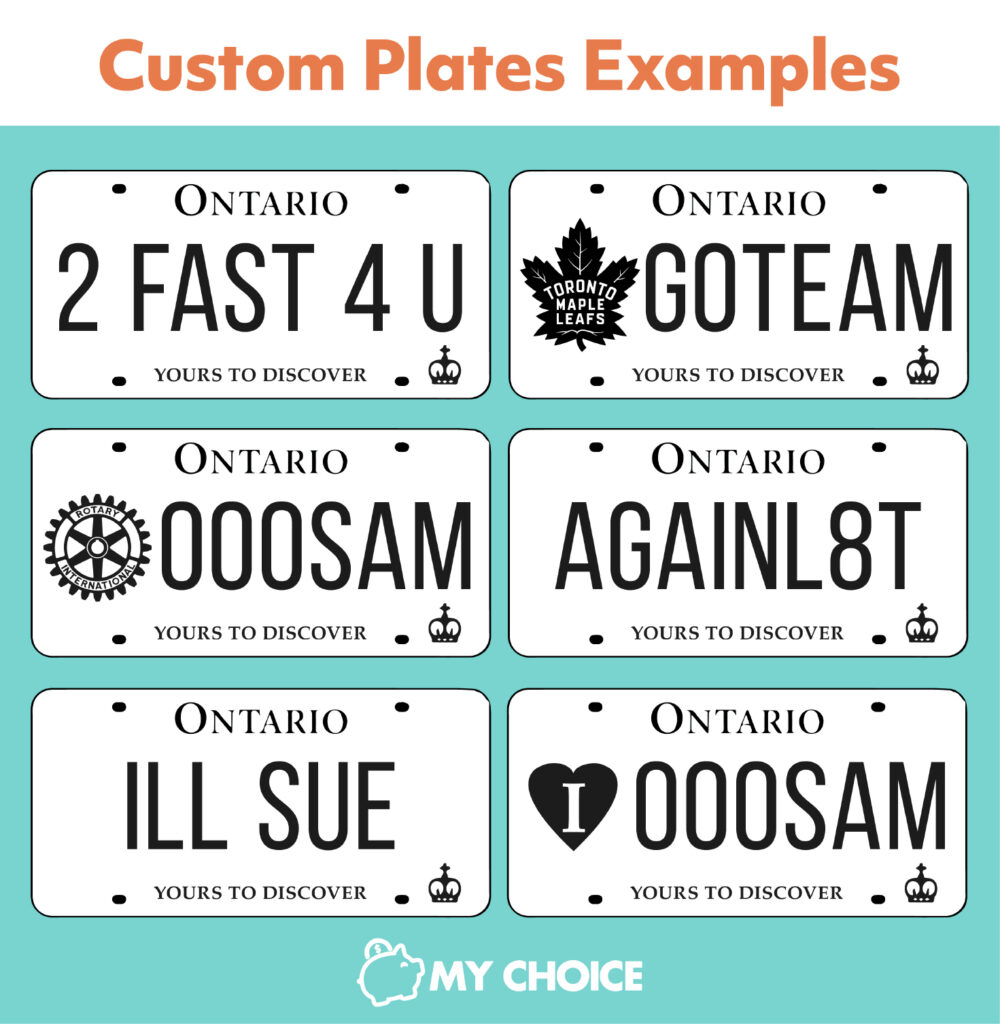 Personalized License Plates for Veterans
Retired Canadian Army members, also known as Veterans, may also purchase a custom license plate with the veteran graphic. To acquire it, the person must visit a Service Ontario office in person with the Application for Veteran Plate Eligibility Certification form completed, signed and stamped by the Royal Canadian Legion, Ontario Provincial Command.
What Are Sample Plates and Vanity Plates?
Sample plates are mainly bought for decoration or plate collectors. You can order one like this if you're one of those collectors or if you just want to decorate your garage or room but remember that you can't attach it to any vehicle legally. The cost of a sample license plate without a logo is $16.95 and with a logo or graphic is $33.90.
A vanity plate is a license plate bearing letters or numbers designated by the owner of the vehicle. In other words, it's a more fancy way of saying custom license plates.
Can I Purchase a Custom License Plate for Someone Else?
Are you looking for a unique birthday gift? Well, surely this may interest you. You can purchase a gift certificate for a personalized license plate at a Service Ontario center. Gift certificates are not available for sample plates or replacement plates. If you transfer ownership of a car, personalized license plates can be transferred only once to anyone before it is attached to a vehicle.