KITCHENER CAR INSURANCE
Find the Cheapest Car Insurance Quotes in Kitchener
Google

Google

Amd

Mashable

Adidas

About Car Insurance for Kitchener
Kitchener is a city within South Western Ontario and in close proximity to neighboring Waterloo and Cambridge. Unlike other similar cities in the area that follow a traditional grid street pattern, Kitchener has a complex radial system thanks to its German heritage; as you can guess this doesn't help the daily occurrence of rush hour traffic.
When driving in Kitchener be mindful of the areas around Victoria Park and streets that take you into downtown. Also, as mentioned above take care navigating through the streets, drive slow and make sure you have your car insurance sorted, the radial layout can be confusing for drivers who are not used to it. Start your search for car insurance in Kitchener here, by comparing many different car insurance rates and save today at My Choice!
Car Insurance Trio Images iPhone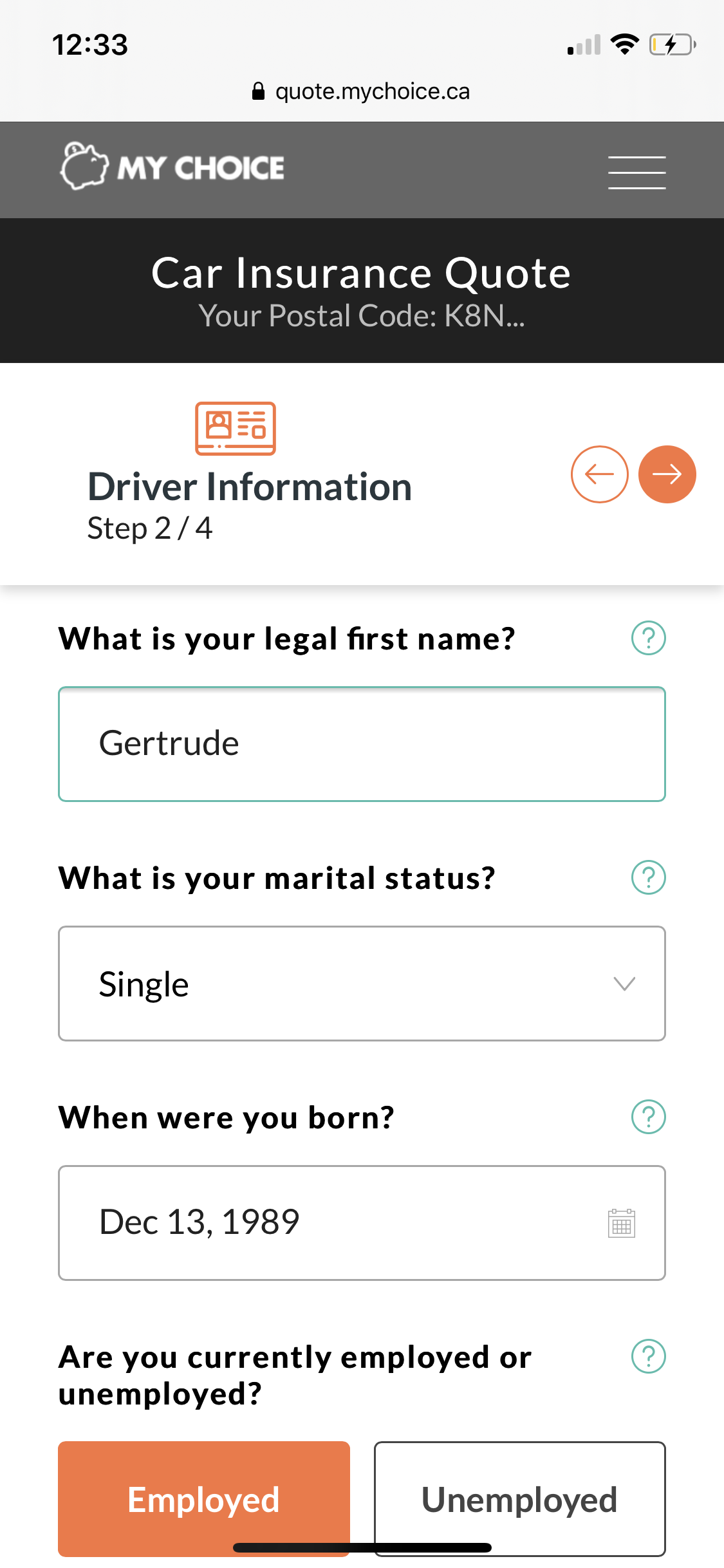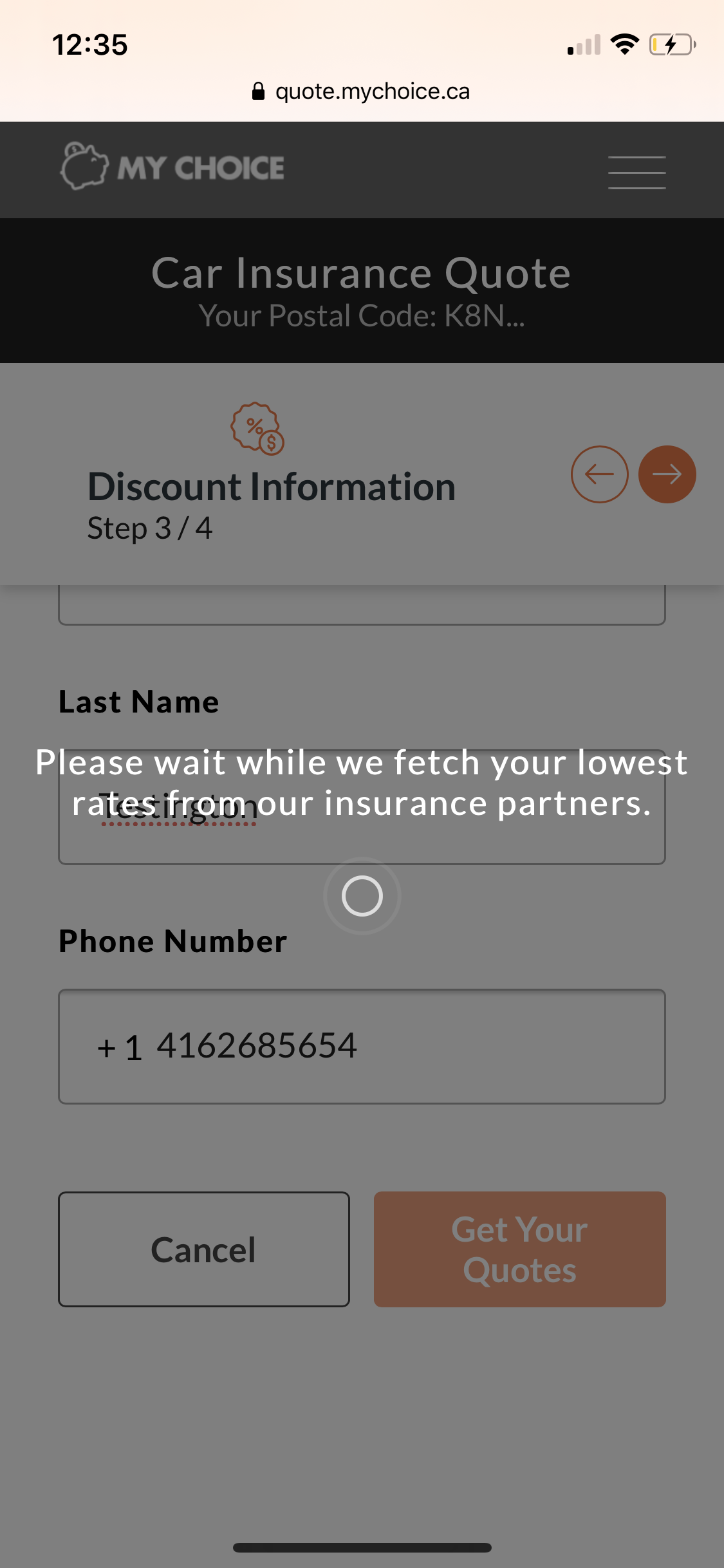 *Actual Quoting Data. Based On A Clean Driving Record.
Kitchener Car Insurance FAQs
How much is car insurance in Kitchener?
The average cost of insurance in Kitchener ranges between $1,500 to $1,800 annually. Rates are typically slightly lower than the provincial average. However, because car insurance is a product with customized prices, Kitchener-Waterloo doesn't have a standardized insurance cost. Insurance companies base premiums on a wide range of factors, including some you can't control. For instance, insurance companies look at everything from your driving record to the frequency of auto thefts in your area.  
How do you get the cheapest car insurance in Kitchener?
Though car insurance rates in Kitchener are not as high as in other regions, you still want to find the best quotes available. The ideal way to begin your search for the cheapest quote is to use My Choice to compare rates from hundreds of insurers in the area. With a little information and a click of a button, you will have access to the best insurance quotes in Kitchener. The reason you want to compare quotes is that many companies consider the same determining factors differently. Insurers will look at your driving history, marital status, car make and model, zip code, and more. Because the companies attach varying levels of importance to these factors, their rates can be vastly different.
When is a good time to compare car insurance rates in Kitchener?
It's best to shop for car insurance near the end of your current policy. Rates increase and decrease over time. It's possible to find a cheaper quote before your insurance expires. You may also need to shop for new insurance quotes when your living status changes. For instance, many drivers seek cheaper premiums when they have financial trouble. Drivers need car insurance, but higher expenses and reduced income may require a more affordable alternative. Likewise, comparing insurance quotes is a good idea if you intend to add someone to your policy, like a spouse or child. Adding a driver to car insurance usually increases the premiums, but you can offset the additional costs by finding a cheaper insurer.
What is the cheapest postal code for car insurance in Kitchener?
Where you live will affect how much you pay for car insurance. For instance, rates tend to be higher in densely populated areas than in rural locations. Generally, the cheapest car insurance rates in the Kitchener-Waterloo area are found within the N2H postal code. That region includes Eastwood, Civic Center, Huron Park, Northward, MT Hope, and Auditorium. In comparison, the N2C postal code for Country Hills East, Kingdale, and Vanier has the most expensive rates in the area.
Average Car Insurance Rates in Kitchener
Determining an insurance rate comprises of a number of different factors and for drivers who live in Kitchener you can expect your premium to be similar to the city average of $1,251 which is around 15 – 20% cheaper than the Ontario average of $1,503. Even with its busy roads, the average car insurance rates for Kitchener are one of the better rates for Ontario and you can easily shop for comparison quotes here.
Being a driver from Kitchener makes you one of the luckier ones in the province when it comes to your auto insurance, as only a small handful of cities possess an average rate which is less than the provincial. Even with that being said it's still important to compare different quotes from different insurance companies to have the greatest chance of getting a cheaper rate.
| Average Insurance Rate = | $1,251 |
| --- | --- |
Is Car Insurance Expensive in Kitchener?
Not exactly. The rates are not as high as other cities like Brampton, which has an estimated annual car insurance premium average of $2,698. However, Kitchener is experiencing an uptick in commuters. As a result, Kitchener-Waterloo has seen an increase in car thefts and collisions.
With a booming population and more people on the road, the chance of having a fender bender is significantly higher than it once was. While the current annual insurance rates for the region are not the most expensive in the country, prices are rising steadily.
Which Car is The Cheapest to Insure in Kitchener?
Drivers often buy cars for their value and low cost. However, a cheap vehicle doesn't guarantee affordable car insurance premiums.
A vehicle's make and model does play a significant role in insurance costs. For instance, attention-grabbing luxury cars tend to be more expensive to insure than practical vehicles with advanced safety features. Some models are also prone to theft and generate higher claims costs than others, which will increase the premium cost.
Some of the best cars to purchase for cheap insurance rates in Kitchener are the Nissan Micra, Subaru Accent, Hyundai Accent 5-Door, Genesis G90, Kia Rio, Lexus NX, Kia Sorento, and Honda Insight.
What Are The Most Dangerous Intersections as a Kitchener Driver?
Insurers are more likely to provide lower rates to drivers who frequent safe locations that don't experience many traffic collisions. Unfortunately, Kitchener has several dangerous intersections, and living or working near them may raise your premium.
Over 490 collisions occurred in the last five years at the intersection between Homer Watson Boulevard and Block Line Road. Homer Watson Boulevard and Manitou Drive/Doon Village Road is another problematic intersection with 118 accidents over the same period. The social cost of the damage from the collisions is over $255,500 and $80,000, respectively.
Reportable Collisions in Waterloo Region, 2015 – 2019
The data represented in the chart below shows the number of collisions throughout the Waterloo region from 2015 – 2019. Kitchener is considered one of the larger cities to sit within that region and reported 2,721 collisions in the year of 2019, the most of any other city in the region.
Source: Region of Waterloo, Collision Report 2019
Driving in Kitchener What You Need to Know
As is the case with driving in any big city, you should use all the help you can when it comes to navigating, so check our top tips for when driving in Kitchener
In Kitchener and surrounding areas there exists a number of roundabouts which are not all that common on the roads of Ontario. Used widely in Europe, these may have you stumped if you've never driven through one before.
Another street that can become troublesome whilst heading downtown is that of Benton/Frederick street as this forms one of the major corridors for traffic and public transport alike.
If you're in or around Kitchener come early Autumn it would be well worth a stop in to visit the Kitchener-Waterloo Oktoberfest, which is the largest Oktoberfest celebration outside of Germany.