HOME INSURANCE
Make It Your Choice By Quickly Comparing Home Insurance Quotes With Us Today!
Home Insurance: A Vital Part of Ownership
A home is one of the most valuable assets that most people will own, making it important for people to protect by way of home insurance.
One way to do this is by having the best home insurance policy, that ticks all your boxes for you and your family. It's important to remember that homes are very expensive, and there are a variety of ways they can sustain damage that which will affect the overcall cost of your home insurance.
Don't Take The Risk
Here at My Choice we strongly recommended that you purchase some sort of home insurance. By having at least some sort of coverage it allows you to be compensated for major damage and even if you lost your home.
Also, when buying a home don't forget that it's important to consider the price of your home vs. home insurance rates. By knowing this will easily be able to see when a home insurance policy is definitely worth the money.
*Actual Quoting Data. Based On A Clean Driving Record.
Home Insurance Trio Images iPhone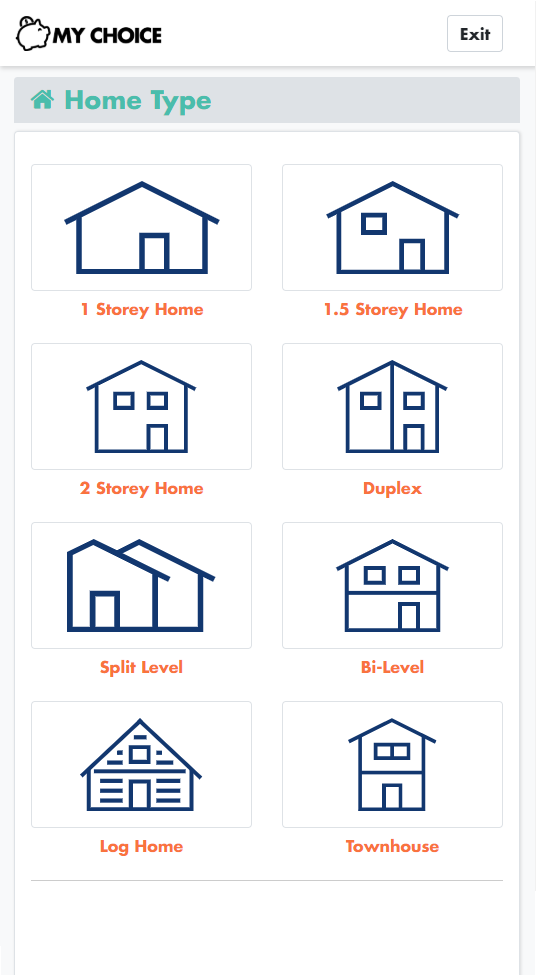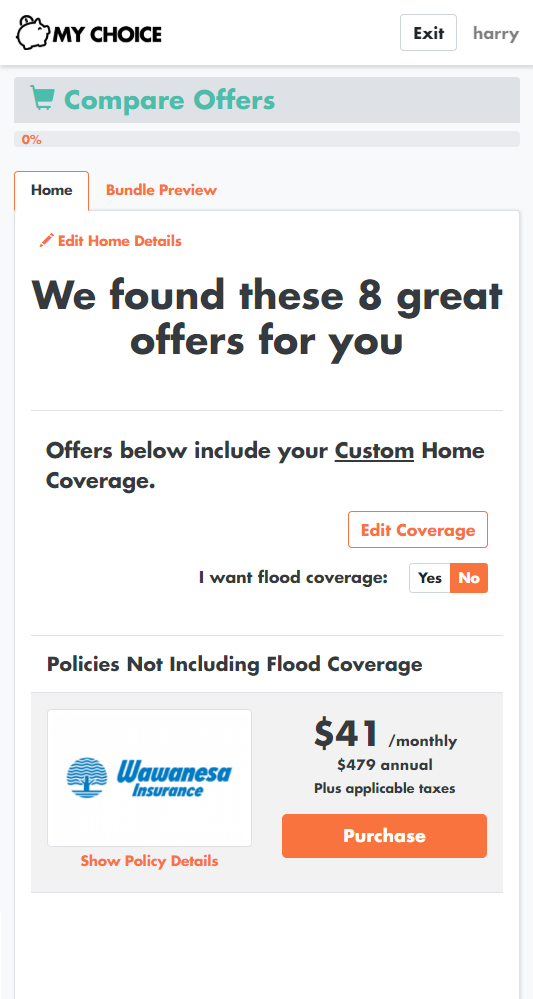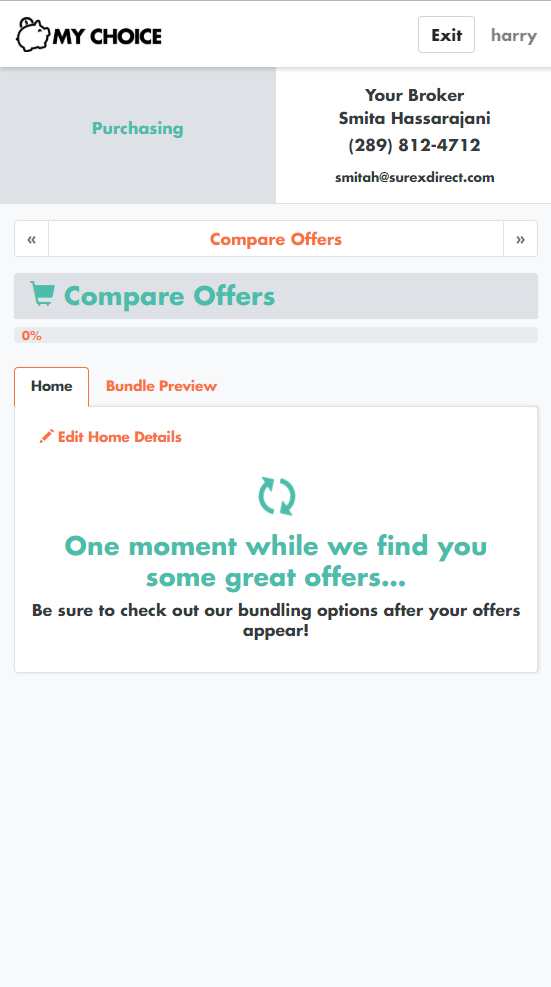 Is It The Law To Have Home Insurance in Canada?
No, it is not the law to have home insurance in Canada.
You are not required to have homeowners insurance in Canada. Although, you will be required to have home insurance if you have a mortgage or a line of credit with the lender requiring you to show proof of home insurance.
Tip: Some lenders will include home insurance in your mortgage. You should check to see if your lender has done this in order to avoid having two lines of insurance on the same home.
What Different Types Of Home Insurance Are Available In Canada?
Canada has four different types of home insurance. The Insurance Bureau of Canada requires citizens to have access to four different kinds of home including comprehensive, broad, basic and no-frills coverage.
Comprehensive Coverage
Comprehensive insurance offers the highest level of cover out of the different types of home insurance. It covers you from all forms of common major damage ranging from interior flooding to vandalism. Comprehensive coverage will also protect you from all risks that are not specifically mentioned in your policy.
Risks not covered by comprehensive insurance are known as optional extras, and you have the option to purchase these to meet these risks. Optional extras include such things as earthquake coverage and flood coverage. You should consider the chances of these risks occurring when purchasing optional insurance features.
Comprehensive coverage will not cover what is known as "uninsurable peril".
What is Uninsurable Peril?
Uninsurable peril covers risks that are likely to happen or risks that can be avoided. An example of this would be not being able to get flood insurance if you happen to build your home on a floodplain.
Broad Coverage
Broad coverage is the second most complete form of insurance. It covers such things as your home's physical structure along with basic protection for the rest of the home. This form of coverage offers limited protection for the residents and property found inside of the home.
Broad coverage is a good option for people who want to insure their home, but who do not necessarily care about covering such things as their belongings.
You should look into your insurance policy to see it covers such things as the occupant's health or expensive things such as vehicles.
Basic Coverage
Basic coverage is a rather limited form of insurance. It will only cover specific forms of damage outlined in the policy such as fire, smoke damage, lightning, windstorms, and hail. Your policy will specifically list the risks that you are covered for.
No-Frills Coverage
No-frills coverage is the cheapest form of home insurance with it offering the least amount of coverage. This form of insurance policy is not offered by most insurers, and most homes are not eligible for this form of coverage. In general, this form of homeowners insurance is offered to homes with something wrong with the physical structure. No-Frills coverage offers a very limited dollar amount of coverage with it only covering very specific risks.
What Should The Best Home Insurance Cover?
You should pick an insurance policy that covers most forms of catastrophic risks to the home as these are the most common ways that major damage happens to a home. These include such things as:
Fire
Flood
Theft
Storm Damage
For absolute complete cover, you should also consider getting an insurance policy that covers specific forms of damage. You may want an insurance policy that covers flooding from an internal problem which will protect you if you having a burst pipe.
You should try to seek out an insurance policy with the most coverage that you can afford but you should avoid an insurance policy that charges you extra for coverage that is redundant or unnecessary.
Understand Home Insurance Rates When Shopping For The Best Policy
Home insurance can be expensive, and so it's normal to try and save money on your policy.
The first part of saving money on your home insurance is to know how home insurance is calculated. There are a number of factors that go into calculating your home insurance premiums including:
The Location of The Home
How Far It Is Away From A Fire hydrant
Value of The Home
Value of The Belongings in The Home
Uses of The Home Such as If It Is A Rental
Type of Electrical Wiring
Type of Pipes
Swimming Pool
Security Features
Top Rated Home Insurance Company Satisfaction in Canada 2018:
Source: Jd Power, Home Insurance Study 2018
Good Ways To Try & Get Cheaper Home Insurance
There are a number of ways to reduce your home insurance rates.
Get A Credit Check
Most insurance policies will not require you to get a credit check during both the shopping and purchasing phase of getting insurance.
However, you should get a credit check before signing up for an insurance policy as you get a better rate if you have a good credit score.
Bundle Policies
Bundling insurance policies is one of the easiest and most common ways to get cheap home insurance. You can bundle your homeowners insurance with most other forms of personal insurance including: Auto, Rv, Health and Life insurance.
Most insurance companies will give you a discount for bundling insurance policies. The discount is commonly applied to both your home insurance and the other insurance policies. You should compare how much you can save by bundling policies between your current provider and your home insurance provider.
Get A Security System
Theft is a major risk to your home, and it is the most common reason for filing an insurance claim. That being said insurance companies will often give you a discount if you were to install a security system. It's important to make sure the security system includes such things as sensors on all perimeter doors, as this can automatically call for help if an intruder breaks in.
Finally, a security system is a relatively cheap way to protect your home, and purchasing one should eventually pay for itself in the form of an insurance discount.
Compare Home Insurance With Us Today
My Choice makes it easy for you to compare insurance rates online, getting started is simple. Just enter some basic information about you, your home and what level of home insurance you want. After that, we'll provide you with a list of the best insurance providers in your area.
We make comparing insurance simple, so you can review insurance rates inside of a few minutes.
Home Insurance Rates By Type
Home Insurance Rates By Province
Home Insurance Rates By Company
Calculators