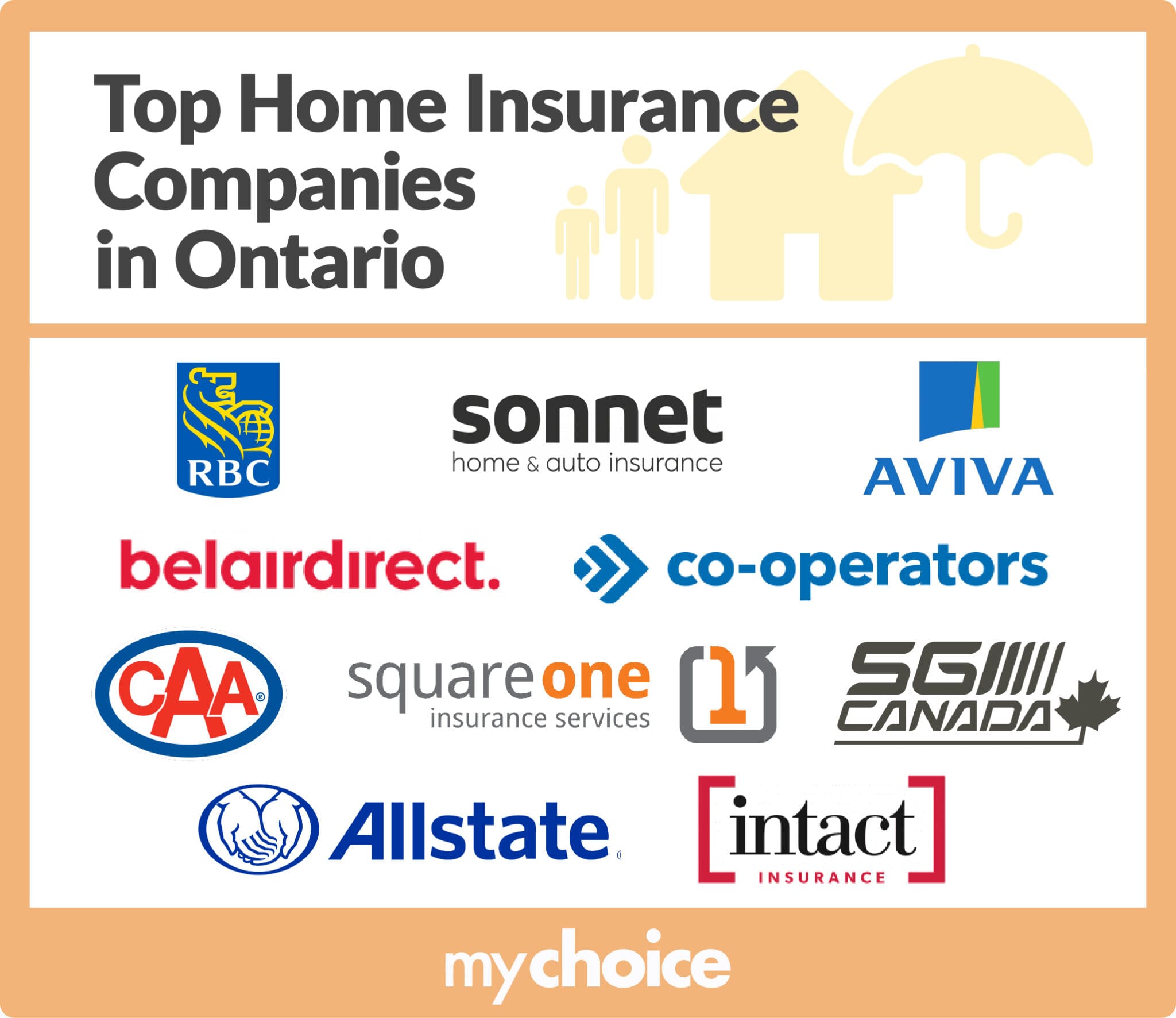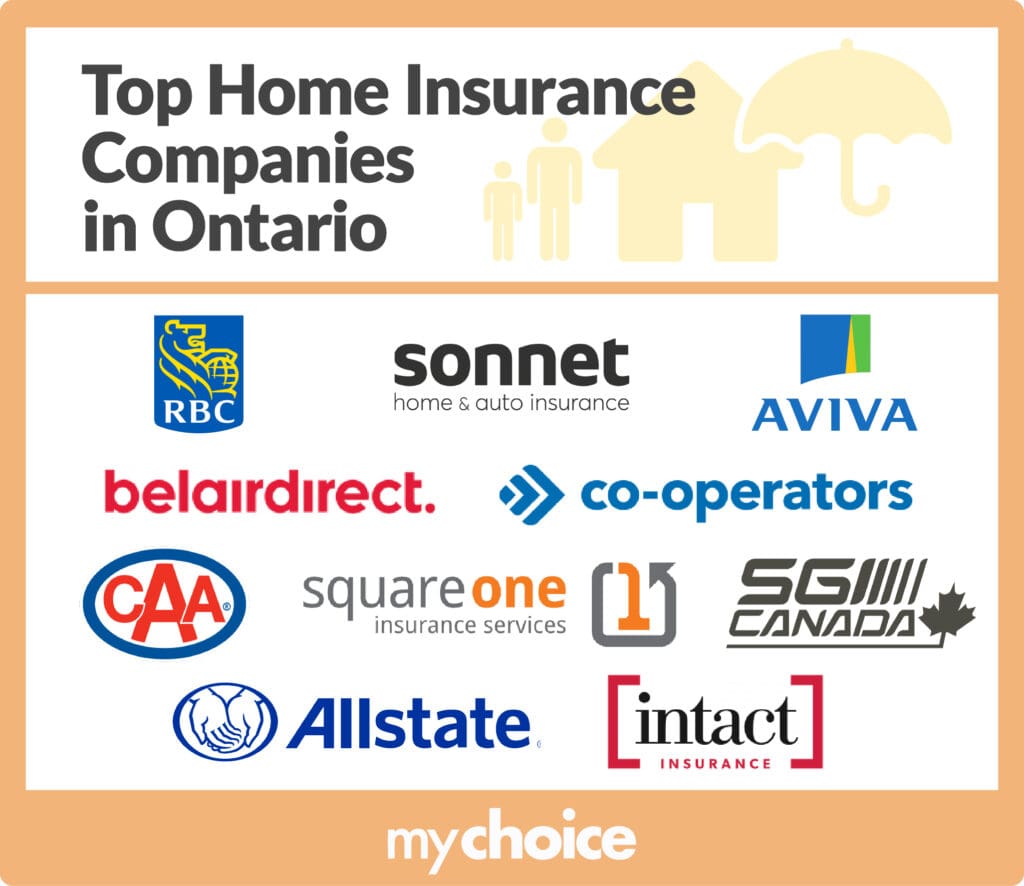 Find Your Best Home Insurance in Ontario
Deciding which insurance company to choose for your home insurance in Ontario can be a difficult decision with so many different providers to choose from. In order to help with your search we have compiled 15 of the most popular home insurance companies to make sure you can find the best home insurance suited to you and your family.
Home Insurance Provider
Category
Average Online
Rating
Key Features
Square One
Direct Insurer
4.7/5
Purchase online and get comprehensive protection
against common perils,
easy online claim process
Canadian Auto
Association (CAA)
Insurance Company
3.1/5
Offers complete coverage
for personal belongings
Sonnet
Direct Insurer
4.1/5
Quick and easy quote
generation (in about 5 minutes) and purchase online
RBC
Insurance Company
3.3/5
Offers a wide range of insurance
policies with bundling discounts
Aviva
Insurance Company
3.2/5
Claims protector option to avoid
higher rates after the first claim
Travelers
Insurance Company
2.1/5
Customizable coverage options,
24/7 claims service
Pembridge
Insurance Company
1.7/5
Offers three levels of coverage,
discounts for various factors
SGI
Insurance Company
3.9/5
Prestige home insurance,
comprehensive coverage options
Wawanesa Mutual
Insurance Company
2.4/5
Offers basic, broad, and
comprehensive coverage plans
Belairdirect
Direct Insurer
4.1/5
Offers online claim tracking and buy online available
Desjardins Insurance
Insurance Company
2.3/5
Offers discounts for installing
security systems and specific brands
Intact
Insurance Company
3.8/5
Comprehensive home insurance coverage, tailored policies
Allstate
Insurance Company
3.1/5
Comprehensive coverage options,
climate Mitigation Solutions,
TD Insurance
Insurance Company
2.2/5
All-risk coverage,
personal liability protection
Cooperators
Insurance Company
4.7/5
Easy claims process assistance
through mobile app and hotline
Square One

Key Features: comprehensive protection against common perils, easy online claim process
Square One Insurance Services offers a modern and customizable approach to home insurance, with policies starting as low as $12/month. Their commitment to customer satisfaction is evident in their 4.7 out of 5-star rating and A+ rating from the Better Business Bureau. Square One's digital platform simplifies the insurance process, allowing customers to manage their policies and claims online while also providing access to expert assistance when needed. Their policies offer comprehensive protection against common perils like break-ins, fires, and windstorms as standard, without extra charges. Policy deductibles are clear and straightforward, with various options available depending on the type of loss. Square One also stands out for its 24/7 emergency claim line, ensuring prompt emergency response and support.
Square One Phone Number: 1-855-331-6933
Canadian Auto Association (CAA)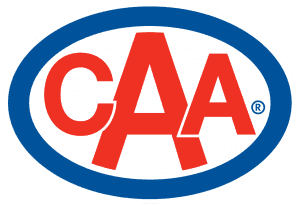 Key Features: offers complete coverage for personal belongings
CAA (Canadian Automobile Association) was originally founded in 1913 as a non-profit association of eight automobile clubs. The company has since grown to have 180,000 members with it offering a variety of insurance packages including travelers and home insurance. CAA has recently expanded their home insurance coverage with them focusing on offering value to their home insurance products. The company focuses on offering complete coverage for personal belongings with them covering the replacement cost of electronics and appliances. They offer optional coverage for services lines, groundwater flooding, and overland water flooding. CAA offers a number of discounts with them providing offering discounts for being over forty-five, being claims free for three years, having an alarm, and being mortgage free. They offer a discount for being a CAA member with them including complimentary tire and legal coverage for bundling home and auto policies.
Sonnet
CAA Phone Number: 1-800-222-4357

Key Features: quick and easy quote generation (in about 5 minutes)
Launching as Canada's first fully online home and auto insurance company in 2016, Sonnet prides itself on its ability to generate quotes in as little as 5 minutes with a sleek and user-friendly website that is easy to navigate. Sonnet is part of the Economical Insurance family and they provide insurance quotes for home and auto, using data analytics and sophisticated technology, it provides a new and innovative way for Canadians to purchase their insurance from the comfort of their own home.
Sonnet Phone Number: 1-844-766-6384
RBC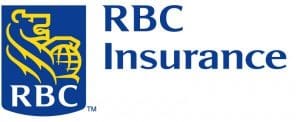 Key Features: offers a wide range of insurance policies with bundling discounts
RBC (Royal Bank of Canada) offers insurance to over five million clients with it being the largest bank-owned insurance provider. RBC is the largest business in Canada with its long history dating back to its founding in Halifax in 1864. The company has expanded into the international market with it having a major footprint overseas. RBC provides nearly every kind of insurance policy with them offering discounts for bundling policies. They offer insurance for seasonal, second homes, and rental properties in addition to their primary home insurance. RBC prides itself on offering no-pressure insurance advice with them able to inform you of their dynamic range of insurance policies without pushing sales. RBC makes it easy to file a claim with them offering a twenty-four hour hotline with them offering free collect calls. RBC makes it easy retrieve copies of paperwork with them having agents that can assist you from one of their many branch offices.
RBC Claims Phone Number: 1-855-264-2174
Aviva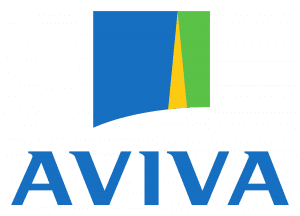 Key Features: claims protector option to avoid higher rates after first claim
Aviva is a London based banking and insurance provider with it being the second largest insurer in Canada. The company is one of the best known insurance providers in Canada with it employing four thousand people and insuring three million clients. The company prides itself of being a positive force in local communities with it donating to charities and community events. Aviva's business model is focuses on customer service with them offering refunds to customers who are not happy with their coverage. Aviva provides auto, life, business, and home insurance among a wide range of other forms of insurance. They insure over 860,000 homes in Canada. Aviva offers discounts for non-smokers, newer homes, bundling policies, and if you install a burglary alarm. They offer a wide range of optional coverage options that cover customers from everything from earthquakes to overland flooding. Aviva makes the process of filing claims easy with their twenty-four hour hotline. They protect their customers by offering a claims protector option that allows customers to avoid higher rates after their first claim. They will even replace their customers' appliances with eco-friendly products.
Aviva Phone Number: 1-866-692-8482
Travelers


Key Features: customizable coverage options, 24/7 claims service
Travelers Canada, part of the renowned Travelers Insurance group, has become a key player in the Canadian home insurance market. The company offers various home insurance policies suitable for different properties, including standard homes, condominiums, and cottages. Their policies are known for their customizable coverage options, allowing clients to tailor their insurance to their needs.
One of the standout features of Travelers Canada is their 24/7 claims service, ensuring that customers can get assistance whenever they need it. This commitment to customer support is a cornerstone of their service. In addition to standard coverage, Travelers Canada offers optional coverage extensions such as protection against sewer backup, surface water, and even earthquake damage. They also provide additional protection options for high-value items like jewelry and fine arts and personal umbrella liability coverage.
Travelers Phone Number: 1-800-268-4543
Pembridge

Key Features: offers three levels of coverage, discounts for various factors
Pembridge Insurance provides a range of property insurance options, catering to homeowners, tenants, and condominium owners. They offer three distinct levels of coverage: Comprehensive, Broad Form, and Named Perils. The Comprehensive coverage includes dwelling and contents for all risks, with replacement cost benefits. Broad Form covers the dwelling for a broad range of risks and contents for certain perils like fire and theft, also offering replacement cost. Named Perils coverage is more specific, covering the dwelling and contents only for certain perils such as fire and theft. Pembridge also offers additional coverage options for purchase, including sewer backup, personal articles floating (e.g., jewelry), home-based business, and more. Their policies cover various aspects like legal liability, living expenses during home repairs, and protection against perils like explosion, fire, theft, and water damage.
Pembridge Phone Number: 1-877-736-2743
SGI

Key Features: prestige home insurance, comprehensive coverage options
SGI CANADA offers a specialized house insurance product, including their Prestige home insurance, which is tailored for high-value homes. This insurance provider emphasizes comprehensive coverage options to meet the diverse needs of homeowners. Their house insurance policies are designed to provide peace of mind, covering a wide range of potential risks and damages to properties. SGI CANADA has established itself as a reliable insurance provider, focusing on customer satisfaction and offering tailored solutions for different types of homes. Their Prestige home insurance is particularly noteworthy for homeowners with high-value properties, offering enhanced coverage limits and additional benefits. The company's approach to house insurance is centered around providing extensive protection, ensuring that homeowners can feel secure in the knowledge that their property is well-protected against various risks. SGI CANADA's commitment to offering quality insurance products is evident in their detailed and customer-focused policies.
Pembridge Phone Number: 1-877-844-8460
Wawanesa Mutual


Key Features: offers basic, broad, and comprehensive coverage plans
Wawanesa provides a range of home insurance options to cater to the diverse needs of homeowners, regardless of the size and scope of their property and belongings. They offer three main types of coverage plans: Basic, Broad, and Comprehensive. The Basic plan covers specific events like water damage, fire and smoke, hail, wind and lightning, glass breakage, explosion, vandalism, and theft. This plan is also known as "Standard" or "Named Peril" coverage. The Broad plan offers a mixed approach, treating buildings and contents differently. For buildings (home, shed, garage), it lists events that are not covered, while for contents, it specifies covered events. The Comprehensive Plan, also referred to as "Special" or "All Risk," covers all events except those explicitly excluded, such as terrorism, war, nuclear events, business or farming operations, vacancy over 30 days, and wear and tear.
Pembridge Phone Number: 1-800-268-7300
Belairdirect

Key Features: offers online claim tracking
Belairdirect was originally founded in 1955 with it offering insurance products in Ontario and Quebec. It has since grown to service all of Canada with the company boasting having served over a million customers over sixty years. Belairdirect offers a standard level of coverage that will protect you from risks such as theft, fire, vehicle impacts, and storm damage. They also offer an all-risk form of coverage that offers additional protection for damage to personal property outside of your home and for accidental damage such as if you knock over your television. Their insurance policies come standard with liability coverage. Belairdirect offers optional coverage for such things as identity theft, flooding from above ground pools, and fire damage following an earthquake. Belairdirect makes saving easy by clearly listing the cost of insuring your home. They also offer easy ways to get discounts by doing such things as bundling your home and auto insurance. They will even give you a discount if you are part of a group program where you and your family use Belairdirect. They strive to make the claims process simple with them allowing you to track the claims process on their website. Customers can submit claims through their website, mobile app, and their claims hotline.
Belairdirect Phone Number: 1-877-228-2656
Desjardins Insurance

Key Features: offers discounts for installing security systems and specific brands
Desjardins is network of Canadian credit unions with them providing insurance and financial services. The company began moving towards its current business structure following the creation of their first subsidiary group in 1944. The company has since grown to include twenty subsidiary groups. Their acquisition of State Farm Canada in 2015 resulted in Desjardins becoming the second largest property and casualty insurer in Canada. Desjardin Insurance provides home, condo, and apartment insurance. Their policies cover most forms of risk with them making it easy for their customers to add optional risk coverage to their standard home insurance plan. Desjardins makes it simple for customers to get discounts. They offer discounts for installing security systems with them offering additional discounts for installing specific brands. They offer discounts for installing a system that will detect flooding and frozen pipes along with discounts for being claims free and bundling policies. Desjardin prides itself in its use of technology. Their mobile app will alert customers to dangerous weather systems, flooding, and other risks. It also makes the process of updating one's policy simple. Customers can file a claim through their website, hotline, and their mobile app.
Desjardins Insurance Phone Number: 1-888-776-8343
Desjardins Insurance Website
Intact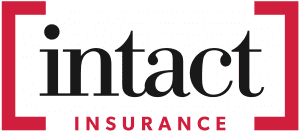 Key Features: Comprehensive home insurance coverage, tailored policies
Intact Insurance, from 1809, has evolved into one of Canada's largest providers of home, vehicle, and business insurance. Today, Intact insures over five million individuals and businesses nationwide, offering a wide range of insurance products. For homeowners, Intact provides comprehensive home insurance policies that are customizable to meet each homeowner's unique needs. Understanding that every home is different, Intact offers tailored coverage options to ensure homeowners have the protection they need. Whether it's coverage for the building, personal property, or liability, Intact's policies are designed to provide peace of mind.
One of the standout features of Intact's home insurance is the flexibility in coverage options. Homeowners can choose from basic coverage to more extensive policies, including additional protections such as identity theft and personal liability. This allows homeowners to tailor their Insurance to their specific needs and budget. In addition to flexible coverage options, Intact is known for its excellent customer service. Policyholders can manage their policies online and access 24/7 support for claims and inquiries. The company's commitment to customer satisfaction is evident in its quick and efficient claims process, ensuring that policyholders receive the support they need when they need it.
Intact also offers discounts for various home safety features and for bundling home and auto insurance, providing additional savings for homeowners.
Intact Phone Number: 1-866-464-2424
Intact Insurance Website
Allstate

Key Features: Comprehensive coverage options, Climate Mitigation Solutions, Online policy management
Allstate Canada offers quality home insurance coverage tailored to meet the unique needs of homeowners. Recognizing the effort put into making a house a home, Allstate provides policies as unique as each homeowner's lifestyle. Whether you're a first-time buyer or an experienced homeowner, Allstate works to ensure the best protection for your property. Coverage options include protection for your dwelling and attached structures, detached private structures, liability coverage, and personal property. This ensures that both your home and valuable belongings are safeguarded against various risks. Allstate stands out with its additional coverage options, which include earthquake damage, personal items, water protection, home business needs, and property in storage. Their Claim Forgiveness policy means your rates won't increase after reporting an insurance claim. The Disappearing Deductible feature reduces your deductible every term you go without a claim, eventually disappearing.
Allstate Phone Number: 1-800-255-7828
TD Insurance

Key Features: all-risk coverage, personal liability protection
TD Insurance provides versatile home insurance options featuring the unique Million Dollar Solution®. This innovative approach offers comprehensive coverage for your home, belongings, and additional living expenses, ensuring flexibility and extensive protection. The policy covers repair or replacement costs and extra living expenses if your home is uninhabitable due to a covered claim. Key features of TD Insurance include all-risk coverage and safeguarding your home and belongings against a wide range of incidents, except those explicitly excluded in the policy. Water damage coverage is a significant aspect, addressing interior damage from systems like heating, plumbing, and appliances. The Extended Water Damage Coverage further enhances protection against external threats like sewer backup and overland water. TD Insurance allows policy customization with optional add-ons like Above-ground Water Coverage, Settle Your Way options, Personal Valuables Coverage, Identity Theft Recovery, Personal Umbrella for increased liability limits, and Home-sharing coverage for short-term rentals.
Allstate Phone Number: 1-866-454-8910
Cooperators

Key Features: offers expansive coverage, including identity theft and unauthorized credit/debit usage
Cooperators was founded in 1945 as a group of 44 credit unions, co-ops, and farm organizations. The company has since grown to offer life, auto, business, travel, and property insurance. The company is made up of a number of organizations. Their largest group is Cooperators General Insurance with it offering property and casualty insurance. The group offers its insurance products through a group of 385 exclusive brokers. Cooperators insures hundreds of thousands of properties with the company offering policies with expansive coverage including identity theft, unauthorized credit and debit usage, and full coverage while moving. The company is known for its use of technology to assist its customers. It offers tools compare different home insurance rates. They also use credit checks with them offering cheaper rates to customers with good credit. Cooperators is considered one of the country's fifty best "corporate citizens" according to the business review group Corporate Knight. Cooperators offers claims assistance through their hotline with them having a policy of keeping their customers updated on their claim progress.
Cooperators Phone Number: 1-800-265-2662
Methodology for Selecting Top Home Insurance Companies
Our methodology for selecting the top home insurance companies is comprehensive and customer-centric, focusing on the most important factors to homeowners. We understand that choosing the right home insurance provider is critical to financial security and peace of mind. Here's how we approached the selection process:
Customer Ratings & Satisfaction Rate
Customer Reviews: Customer reviews and testimonials were considered to gauge satisfaction and trustworthiness.
Coverage Options and Policy Flexibility
Variety of Plans: We looked for companies offering diverse coverage options. This includes basic, broad, and comprehensive plans, ensuring that there's something for every homeowner's needs.
Customization: The ability of policyholders to customize their coverage based on their specific needs was also a key criterion. This includes options for additional coverages like floods, earthquakes, or special valuables.
Pricing and Discounts
Competitive Pricing: We analyzed the pricing structure of various companies to ensure they offer competitive rates. This involved comparing similar coverage plans across different providers.
Discount Opportunities: Availability of discounts such as bundling, loyalty, claims-free, and security system installation were also considered, as these can significantly lower insurance costs for homeowners.
Buying Online: It's 2024, more and more Ontarians are flocking online to purchase their insurance policies and our list is weighted to favour insurers that provide this option.
Customer Service and Claims Process
Accessibility: Companies with a strong customer service network, including 24/7 support and easy-to-use online platforms, were favoured.
Claims Efficiency: We evaluated the efficiency and ease of the claims process. Companies with a reputation for a hassle-free, quick, and fair claims process were given higher importance.
Additional Benefits and Features
Innovative Features: We looked for companies offering unique or innovative features such as online claim tracking, eco-friendly options, or advanced home monitoring discounts.
Continuous Monitoring and Updating
By employing this thorough and multi-faceted approach, we aim to provide a list of home insurance companies that not only offer quality coverage and service but also align with homeowners' diverse needs and preferences. Our goal is to empower consumers with information that helps them make informed decisions about their home insurance.