OSHAWA CAR INSURANCE
Save with More Choice with Quotes From Top Car Insurance Copmanies in Oshawa.
Google

Google

Amd

Mashable

Adidas

Oshawa: A City On The Move
Oshawa began its journey towards being the car capital of Canada when McLaughlin Carriage Company signed a deal to buy Buick engines. In 1918, McLaughlin merged with Chevrolet to create General Motors of Canada. General Motors of Canada is the largest car manufacture in Oshawa with the city having the reputation of everyone driving GM vehicles. However, drivers in Oshawa drive a variety of vehicles.
Oshawa continues to have car manufacturing as a central part of its economy. The city has grown to diversify its culture and economy as it has become a modern metropolis. The city has three colleges and a vibrant downtown entertainment scene. The economy is now centered on the health care and technology industries.
How To Save Money On Car Insurance In Oshawa
Oshawa is the "Motor City of Canada" with it long being the auto manufacturing hub of the country. Oshawa is home to a fantastic car culture, an extensive road network with two major highways, and unique one way roads. Oshawa is home to commuters, car enthusiasts, and car manufactures. It is also home to some of Canada's higher car insurance rates. This means that when shopping for car insurance it is important to know some things to help you get a better rate.
Oshawa is a city with a unique insurance market with different insurance providers offering wildly different rates for similar drivers. This is because of a variety of factors with the city's young population having a major impact on auto insurance rates.
This is because young people rapidly hit different mile stones that have a big impact on auto insurance rates. Some of these milestones include such things as:
-Turning 25
-Graduating College
-Getting Married
-Buying A Home
-Purchasing A Newer Car
Another major impact on auto insurance rates is the transient nature of the population of Oshawa. Twelve percent of the population has moved in the past year. This means that many of these people change their car insurance and living situation on a yearly basis. Insurance companies need to have their rates reflect the temporary living situation of their customers.
Car Insurance Trio Images iPhone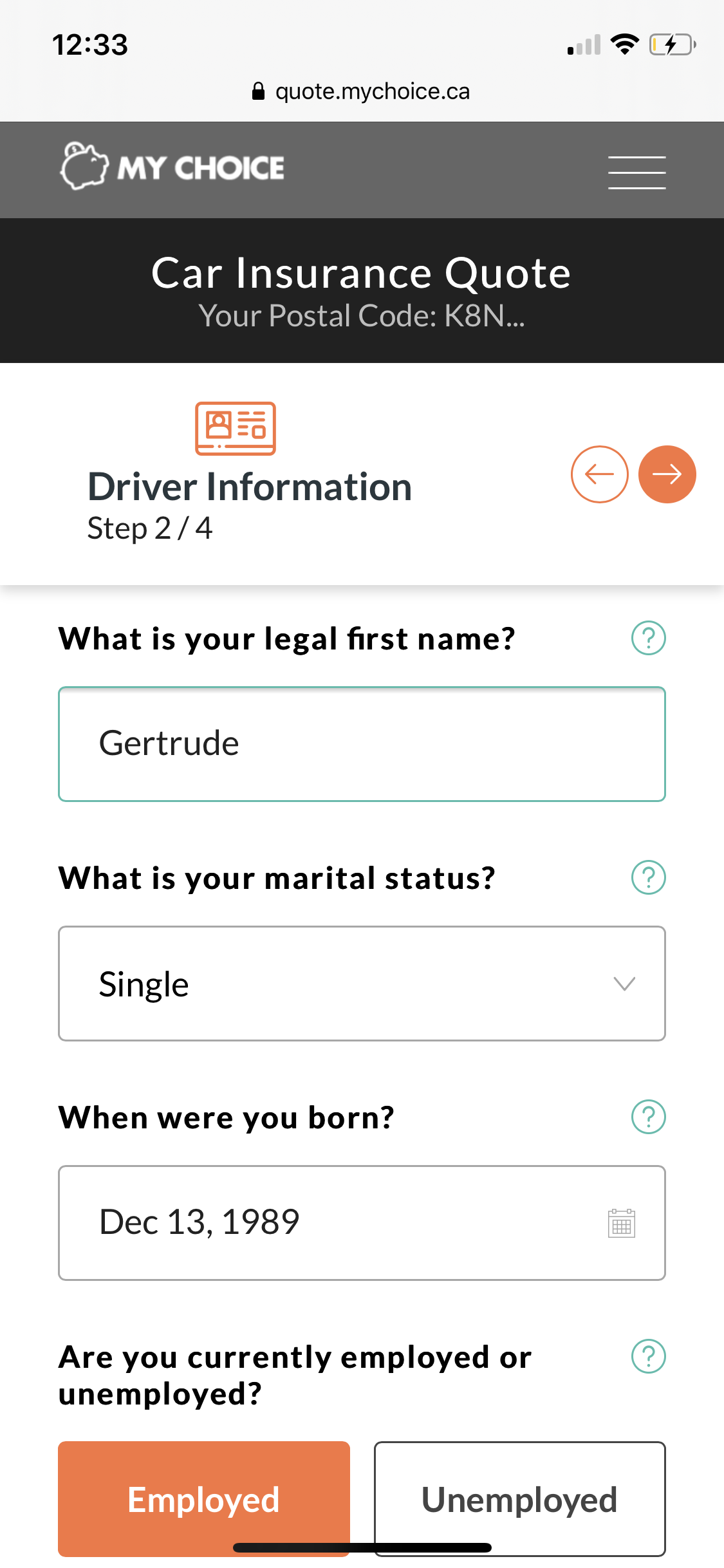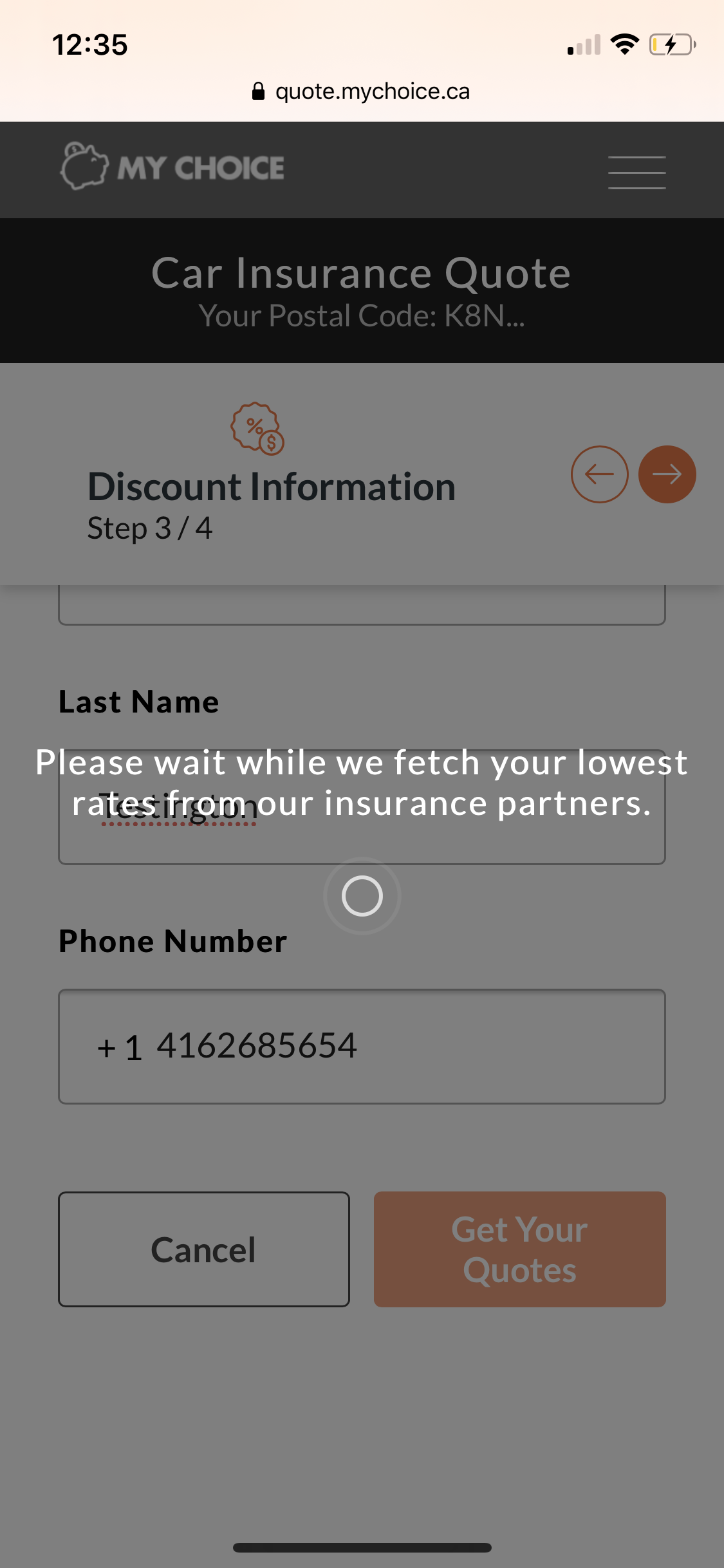 *Actual Quoting Data. Based On A Clean Driving Record.
Oshawa Car Insurance FAQs
How much is car insurance in Oshawa?
On average, auto insurance in Oshawa costs around $1,326 per year or $110.50 per month, but keep in mind that this rate can vary dramatically depending on the type of vehicle you drive, age, gender, and driving history. For example, a 38-year-old woman can expect to pay $1,786 a year for car insurance in Oshawa, but a 20-year-old man will pay on average $8,364. Young male drivers tend to pay higher premiums than any other demographic. Those who are married and over the age of 35 tend to pay the lowest rates.
Is car insurance in Oshawa expensive?
The average cost of auto insurance in Ontario as a whole is $1,505 per year. Brampton drivers pay the highest premiums on average at $2,268 per year, while Kingston drivers pay the lowest rates at around $843 per year. At $1,326 per year, Oshawa car insurance rates fall below average compared to other cities in the province, but it doesn't have the lowest rates, either.
Remember that car insurance quotes are based off far more than location. It is possible your rate will be far less or more than the average Oshawa driver—so don't go planning a move to Kingston just yet!
How to get the cheapest car insurance in Oshawa?
While you can do a few things to lower your car insurance costs making it cheaper, shopping around is likely to result in the most significant savings. Auto insurance quotes can vary dramatically between providers, even for the same driver and vehicle. At My Choice, we make finding the cheapest car insurance in Oshawa easy—just answer a few questions, and we'll show you rates from more than 30 top providers. When you look at different quotes, we also recommend adjusting your coverage options. Lowering your deductible or coverage options can result in much lower premiums. However, you still have to carry the minimum auto insurance coverage required by law. You can also take advantage of insurance company discounts. Most providers offer at least one or two discount programs, with common options including multi-policy, multi-car, anti-theft, and lump-sum payment discounts. Some insurance companies offer a loyalty discount, too, but don't forget to compare insurance rates to ensure that discount exceeds what you could save from switching providers.
When is a good time to compare auto insurance rates in Oshawa?
The best time to compare car insurance rates is around three weeks before your current policy is set to renew. If you do find cheaper car insurance with another provider, it's easiest to switch when your policy is at the end of its term. Checking your rates annually also accounts for changes in your rate due to the passage of time. Your rate may go down as you get older, and things like car accidents and traffic violations only affect your insurance rates for about three years. In addition to checking your rates yearly, we also recommend shopping around after getting married or buying a new car.
Which car has the cheapest car insurance in Oshawa?
The Honda Civic and Mitsubishi Mirage are among the cheapest cars to insure in Oshawa. Small economical cars, in general, tend to cost less to insure, while sportscars tend to have the highest average auto insurance costs. Any factor that increases the replacement cost of your vehicle can raise your premiums. For instance, certain car colours are more desirable than others, as are leather seats and after-market upgrades. All these factors will increase not only the value of the vehicle but the chance of it being stolen. The result? Higher average car insurance costs.
What is the cheapest postal code for car insurance in Oshawa?
Postal code 1L1, which is on the outskirts of the city and includes parts of Whitby, tends to have the lowest car insurance rates in Oshawa. In contrast, the L1L postal code located around Britannica Avenue has the highest average auto insurance costs.
What are the most dangerous intersections in Oshawa?
Avoiding accidents is likely high on your priority list. Doing so is also a great way to keep your car insurance rates low—and avoiding dangerous intersections is a great way to reduce the probability of being in an accident. The most dangerous intersection in Oshawa is at the Bond Street and Ritson Road intersect. Ritson Road's intersection with King Street East also has one of the higher accident rates in the city. Other intersections to avoid include the intersection of Bloor Street and Park Road, Harmony Road and Taunton Road, and Rossland Road and Mary Street.
Average Auto Insurance Rates In Oshawa
One of the first steps towards saving money on auto insurance is to understand average auto insurance rates. These can vary widely with rates by make and model of vehicle being a good place to start. This will give you a better understanding of the cost of insuring different types of vehicles, and how much you can save by shopping around can be surprising. The range of premiums by type of vehicle include:
-2015 Chrysler 300S 4DR – $517 Range
-2018 Mazda Mazda A3 Sky 4DR – $217 Range
-2005 Mazda Mazda3 s 5DR – $220 Range
-2014 Jeep Cherokee Sport 4DR -$134 Range
These numbers demonstrate just how important it is to compare car insurance rates in Oshawa in order to find cheaper insurance. These rates change on a regular basis so it is important to regularly check to see if you can get a better deal.
Driving Facts For Oshawa
Oshawa is a unique driving environment with it presenting challenges to drivers who are not use to the city. Understanding the city will both take the stress out of your commute, and it will help you avoid raising your insurance rates by getting a ticket or into an accident. 
Oshawa is home to a network of one-way streets. The city's two main downtown streets are King and Bond Street with both of them being one way streets. In addition, there are a number of roads that turn from two-way streets into one-ways streets. It is important to make sure you are going the right direction while watching out for drivers going the wrong way. This will help you avoid an accident. It will also help you avoid getting a serious ticket for going the wrong way. 
Shopping For Cheap Oshawa Car Insurance Quotes
There are a number of methods to make shopping for auto insurance easier. The best method is to use online tools that allow you to quickly compare quotes between major car insurance companies. This will allow you to avoid having to go to each insurer, enter in the same information, and then compare quotes between multiple websites. An insurance comparison site like My Choice can help you quickly compare the different quotes for your vehicle.
The other major advantage of an insurance comparison site is that they allow you to compare your quotes based upon a number of factors. This means you can see what your insurance will be depending on:
-The Type Of Make And Model Of Vehicle
-How Old The Vehicle Is
-How Much The Vehicle Is Driven Monthly
-The Miles On The Vehicle
-Where You Live
-Your Deductible
-Your Driving Record
-Your Claims History
-Your Age
These various factors all have an impact on auto insurance rates with it being advantageous for you to consider each factor when picking both a car and an insurance policy.
How To Save On Your Oshawa Car Insurance
An insurance comparison site like this one is the first step towards saving money on car insurance Oshawa. This is because it is a quick way to get accurate information on many different sites. A good way to use a the My Choice car insurance comparison tool is to check it at the right times. This is usually when something about you changes that will have an impact on your insurance rates. This includes such things as when you:
-Become A Year Older
-Graduate From College
-Buy A House
-Move To A New Area
All of these factors have an impact on car insurance rates, but they are things that most people do not connect with auto insurance. You will be able to save money on insurance by remembering to shop for car insurance right after these events happen.
Knowing when to shop for auto insurance also extends to your car and driving record. You can sometimes save money by insuring your car after it turns another year old. This is because the car will be less valuable with insurance being correspondingly cheaper. You can also save money on car insurance after an infraction is removed from your driver's abstract. Infractions disappear after a three year period, and so you can get lower insurance by not having infractions on your driver's abstract.