Living in Toronto can be one of the greatest experiences of your life. However, before you decide to live there permanently, it's important to know how much it will cost to do so. Generally speaking, the cost of living in this city is higher than in other parts of Canada, and this is especially true as it relates to the cost of car insurance. Let's take a closer look at how much you can expect to spend if you expect to become a permanent resident of Toronto.
How Much Does Housing Cost in Toronto?
The cost of a 900 square foot apartment can range from $2,300 to $2,600 depending on where the apartment is located. A studio apartment of about half that size will range from $1,700 to $2,300 depending on where it is located.
You can also expect to spend anywhere from $95 to $150 in utilities each month, and this price will fluctuate based on the number of people you have in your apartment and your own unique energy consumption habits. If you are looking to buy a home in the city, it's not uncommon to pay upwards of $500,000 for a starter home. Homes in desirable parts of town can easily cost $1 million or more even if they aren't in great condition.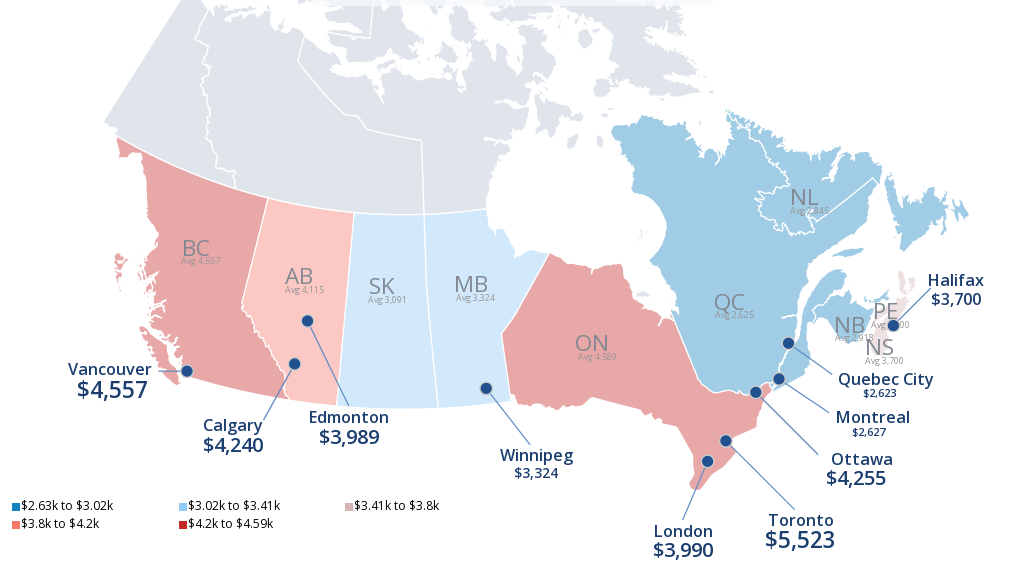 How Much Does Food Cost in Toronto?
Generally speaking, grocery store prices aren't much higher in Canada than they are in the United States. For example, a couple litres of milk will cost around $4 while a pound of apples or potatoes will cost about $1.50. Of course, food prices can vary based on the quality that you are looking for, if a given item is in season and other factors. Note all grocery stores provide the same rates, and it is a good idea to check stores within a two-kilometer radius, because going just a little farther can help you save a significant amount of money.
If you plan on eating at restaurants, you should expect to pay a premium for even a basic meal. Generally speaking, a burger and a drink at a fast food restaurant will cost at least $10 while food at a more expensive restaurant can easily cost more than $20 per person.
How Much Does Transportation Cost?
If you own a car, you can expect to pay an average of roughly $2,000 per year for car insurance. The exact price that you'll pay will depend on your age, driving history, where you live and the number of discounts that you might be entitled to.
It's worth noting that your premium is partially predicated on the number of accidents or tickets that other drivers have gotten. Therefore, don't be surprised if your insurance rate is still higher than you would like even if you're a safe motorist. Finding cheap auto insurance in Toronto is possible though by comparing free quotes online with us that will let you quickly compare rates from different companies in Toronto. In addition, you can expect to pay about $1.50 for a litre of gas.
However, this pales in comparison to how much it might cost to park your car. In some areas, it's not unheard of to spend $5,000 or more for a private parking spot close to your home or apartment. To park on a street, you could pay as much as $4 every 30 minutes.
If you don't own a car, you can expect to pay about $140 each month for a public transportation pass on the TTC. A taxi will typically cost $20 for a trip of up to five miles. However, rates may be lower if you are able to obtain transportation through a ridesharing service like Uber or Lyft.
You May Save Money on Medical Care
If you have a permanent resident card or a work permit, you may be able to enrol in the Ontario Health Insurance Plan (OHIP). To enrol, you'll need to show proof that you are a resident of Toronto as well as proof that you are in the country for work or as a permanent resident.
Generally speaking, those who are enrolled in OHIP have premiums deducted from their paychecks, which means that they don't pay for most services that they receive when they are rendered. If you don't qualify for OHIP, you can expect to spend roughly the same amount that you would for private insurance as you would if you lived in the United States.
Prices for private insurance plans vary, so it may be a good idea to contact a coverage provider for more details. Your employer may also be able to provide insight into the potential cost of a private medical policy.
What Other Costs Should You Consider?
At some point, you will probably want to see a play, watch a Maple Leafs game or otherwise explore the city. The cost to attend a play can be as high as $250 per person while the cost to attend a Maple Leafs game can range from $200 to $700 depending on the opponent and your seat. It may be possible to get tickets to sporting events, shows or other attractions through third-party providers at discounted prices. You may also be able to save money on attractions by visiting them on weekdays when there is less demand.
Spending time in Toronto allows you to find out what it means to live in a diverse and vibrant city. However, you will also find out just how expensive it can be to live in an area that millions of people call home. Fortunately, if you are prepared for the higher cost of living, you can experience all that the city has to offer without causing too much of a financial hardship.