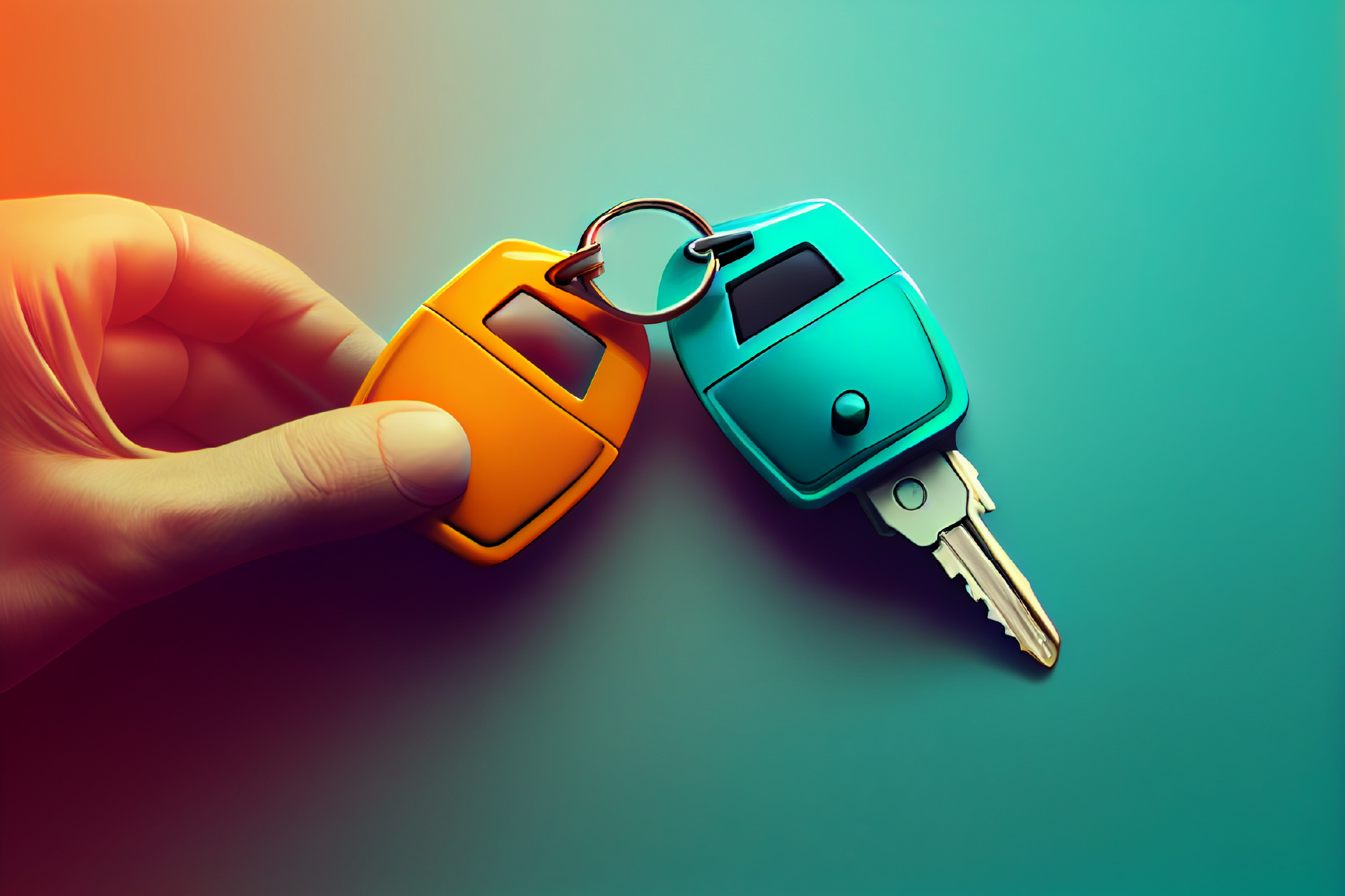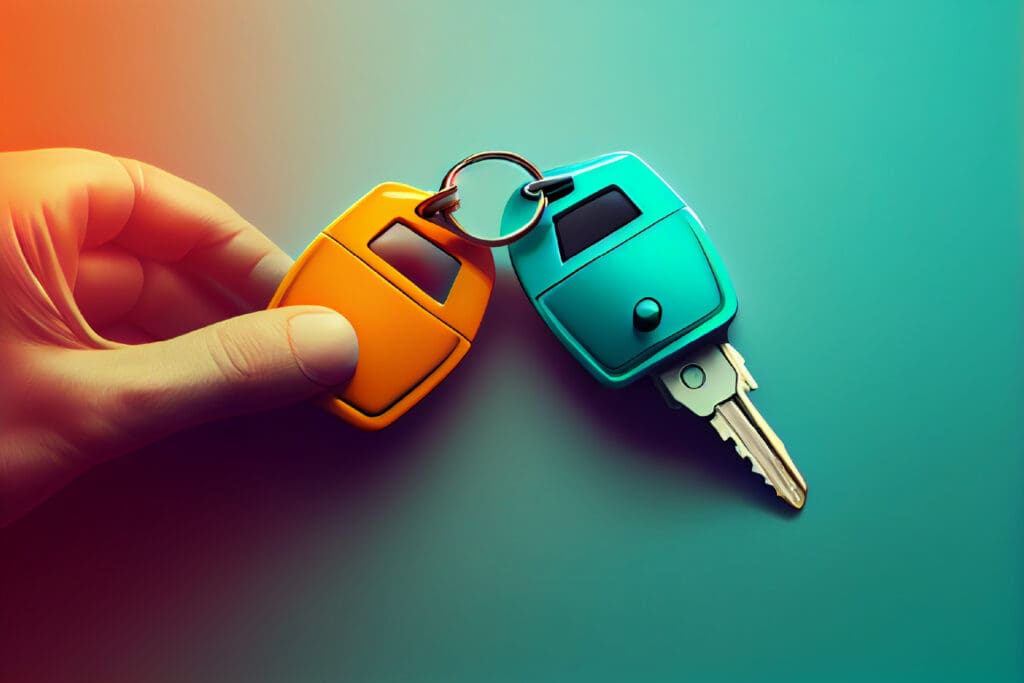 What's an OPCF 27, how can you get it, and why do you need it? Read on to learn more.
Some people prefer renting or borrowing cars instead of buying one. That's perfectly reasonable, but what's important is that you still need to be insured.
Some people assume you're automatically protected with the car's insurance policy, but that's not the case. You need to have an Ontario Policy Change Form (OPCF) 27 endorsement to be protected when driving a borrowed car.
However, this does not mean that you can't be found at fault for an accident. If you are found to be at fault, you will still need to pay the deductible on your insurance before your insurance claim is paid out.
What is no-fault insurance and why is it important? Does every driver in Ontario get no-fault insurance? Read this guide to learn everything you should know about Ontario's no-fault insurance.
What Is an OPCF 27 Endorsement?
An OPCF 27 endorsement is an insurance add-on that provides insurance coverage when driving cars you don't own. It's also known as Legal Liability for Damage to Non-Owned Automobiles. Essentially, it's extending your insurance coverage to cars you rent or borrow.
OPCF 27 is one of the many Ontario Policy Change Forms. OPCFs are optional add-ons that let you modify your basic car insurance policy. Examples of other OPCFs include:
OPCF 20: This ensures you get a replacement rental car while your car is being repaired.
OPCF 39: Otherwise known as an accident waiver, this protects your rates from increasing when you're at fault for an accident.
OPCF 43/43A: This OPCF eliminates your insurer's right to depreciate the value of your vehicle when settling for loss or damage. This means you can replace your old car with a new one of equal value.
OPCF 44R: This add-on provides extra coverage if the at-fault driver can't pay all outstanding medical bills. It protects you when the other driver doesn't have sufficient insurance coverage.
When should you get an OPCF 27? First, check whether you're insured when driving somebody else's car.
What OPCF 27 Covers
An OPCF 27 endorsement extends your insurance policy to rented or borrowed vehicles. Here's what you get by adding OPCF 27 to your car insurance policy:
Third-party liability: This coverage pays for losses, damage, injury, and death caused by your rented or borrowed vehicle to other people.
Accident benefits coverage: This coverage pays your medical expenses and potential funeral expenses in case of an accident. It also covers income replacement if the accident leaves you unable to work.
Collision insurance: This coverage pays for the rental car's repair or replacement costs if you hit an object or vehicle.
Comprehensive protection: This coverage compensates for losses due to other causes. Comprehensive protection covers things such as vandalism, theft, and fire.
Collision and comprehensive protection are an especially valuable part of OPCF 27 coverage since they're often offered as optional coverage at an extra cost. Read our guide to collision and comprehensive coverage to learn more about them.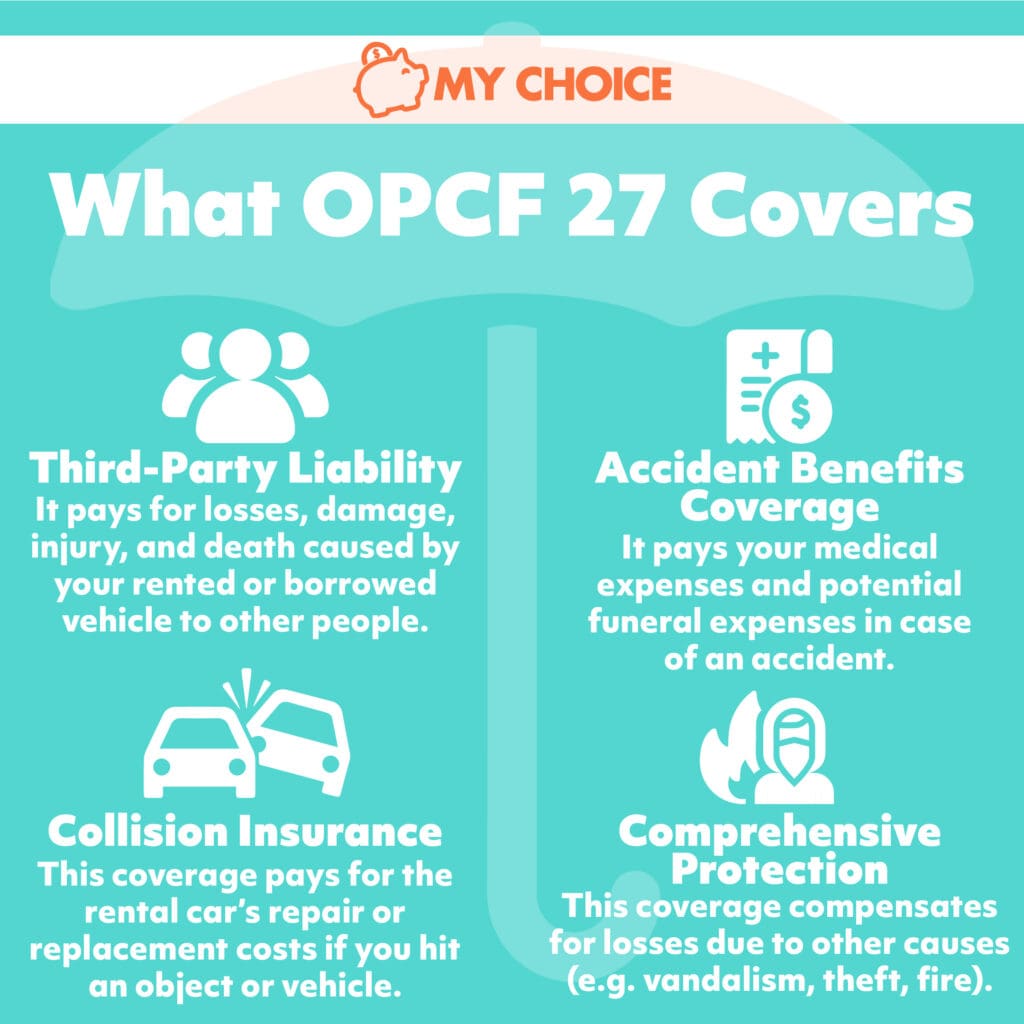 Conditions and Limitations OPCF 27
OPCF 27 does have some limits and conditions, so it's not complete protection for rental and borrowed vehicles. Here are the conditions and limitations of OPCF 27 protection:
OPCF 27 only protects the drivers listed on your car insurance policy.
OPCF 27 protection has a 30-day time limit for rental cars.
OPCF 27 has a limited coverage amount. Limits range from $25,000 to $50,000.
OPCF 27 only applies to standard cars weighing under 4500 kilograms.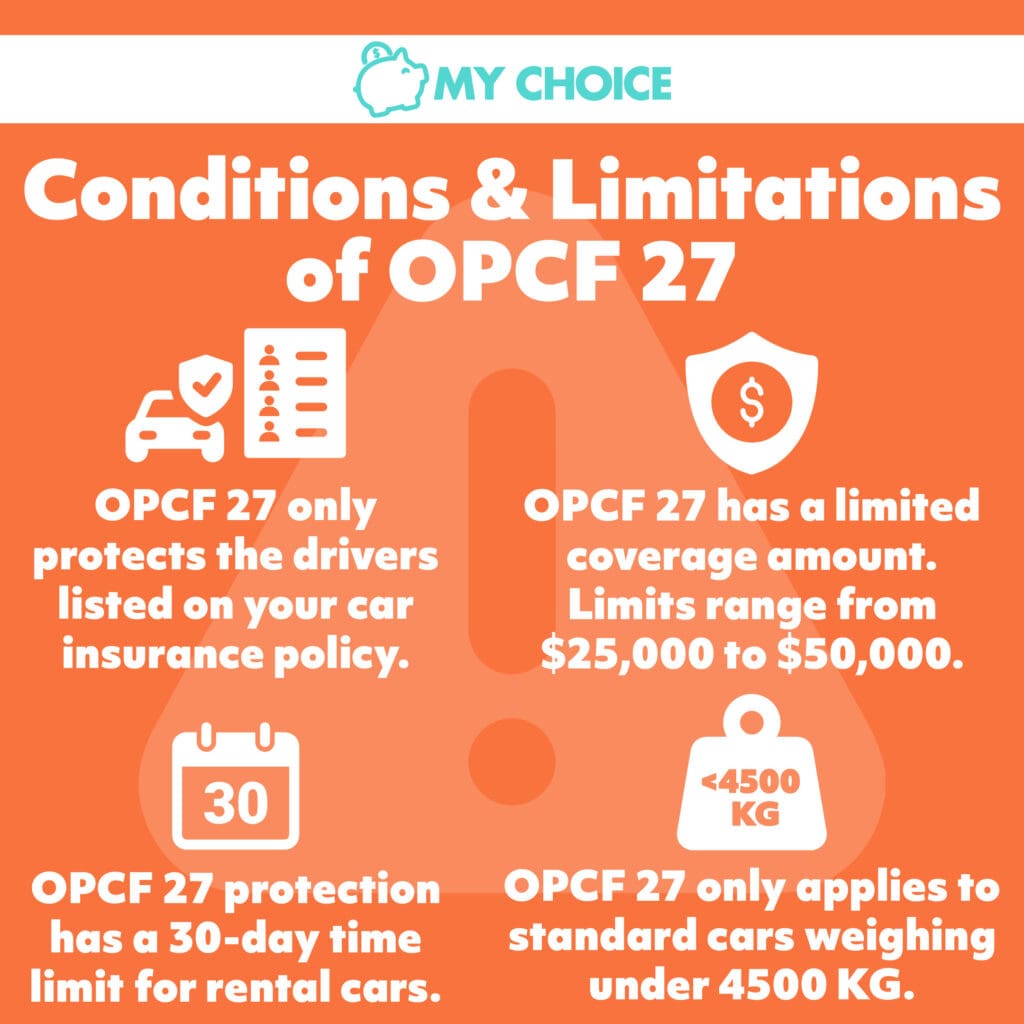 How An OPCF 27 Endorsement Works
An OPCF 27 endorsement works much like a regular insurance policy. If you get in an accident, you can contact your insurance company to make a claim. From there, your insurer will guide you through the claims process until you get the coverage promised.
How Much Does OPCF 27 Cost?
OPCF 27 costs vary depending on your driving record, but on average, it's around $50 per year. It's a very cheap add-on, especially if you often borrow or rent cars.
$50 is a relatively small amount and won't impact your Ontario car insurance rates by much. Ask your car insurance company for more details on OPCF 27 pricing.
OPCF 27 and Car Rentals
Even if you only rent cars once a year, OPCF 27 can be well worth it since rental companies charge daily for car insurance. Some car rental agencies can charge $60 a day for temporary insurance. If you're renting a car for multiple weeks, paying for OPCF 27 might be cheaper.
Paying for OPCF 27 is an even better idea if you rent cars frequently. Instead of shelling out hundreds of dollars every time you rent a car, you can pay $50 and not have to think about car insurance for the entire year.
Is OPCF 27 Mandatory?
An OPCF 27 isn't mandatory because there's no legal requirement. You can even legally borrow a friend or family member's car for a short drive without getting extra coverage.
But an OPCF 27 is highly recommended if you rent cars often or plan to do so for a long time. The longer you drive a car, the higher your chances of getting in an accident. In that case, you'll be glad you took an OPCF 27 before renting the car.
Are There Alternatives to OPCF 27?
There's an alternative to OPCF 27 when renting vehicles, called credit card rental car insurance. Many credit card companies offer rental car insurance with extensive coverage that may include protection from:
Theft
Vandalism
Physical damage
Injuries
Loss of rental car
Moreover, credit card rental car insurance costs are added to your credit card bill. You don't have to make separate payments, so it's more convenient.
However, you should compare your credit card company's rental car insurance and OPCF 27. Research each option and pick whichever one gives you the most value. Read our guide about rental car insurance to learn more.
Differences Between OPCF 27 and OPCF 27B
OPCF 27 and OPCF 27B sound similar but have different uses. OPCF 27 is made for personal-use cars, while OPCF 27B is for commercial and business drivers.
Will OPCF 27 Cover Me in the United States?
OPCF 27 covers you in the United States. Its coverage includes all Canadian provinces and the entire United States.
Closing Thoughts
Taking an OPCF 27 with your basic auto insurance policy is a great idea if you rent or borrow cars often. It extends your basic car insurance protection to rented or borrowed cars, plus collision and comprehensive coverage. It means you'll have extensive insurance protection when driving in a borrowed or rented vehicle.