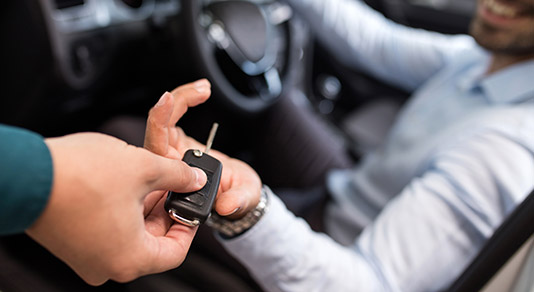 There is a lot to think about when travelling. Maybe you are planning a trip to Ottawa and are trying to decide if you have time to visit Parliament Hill and the National Gallery of Canada. Will you Uber or use public transportation while in town? What about renting a car, and if you do rent a car, do you need car insurance in Ottawa to do so?
A common question when you're considering renting a car is "do you really need to buy insurance?" If you haven't previously made the decision, you might panic when the clerk at the rental car counter asks the question, and that's not the best time to decide. We'll review some frequently asked questions, address your options, and help you make an informed decision ahead of time.
What is rental car insurance?
There are two basic types: the coverage offered by the rental car company, and coverage that may be provided by your personal auto insurance policy or credit card company.
Can I rent a car without insurance?
If you rent a car in Canada, you are not required to purchase auto insurance from the rental company, but you do want some type of car insurance to protect yourself and the rental car. If you don't have coverage of some type, you'll have to pay out-of-pocket for any damages to the vehicle if you're in an accident. The rental car automatically has some insurance coverage, but even a minor accident would easily surpass that amount. The rental car company will come after you personally for the difference.
Rental companies offer different insurance coverage, such as collision, liability, and personal property coverage. Without question, your rental car needs coverage for damage, theft, and liability – otherwise, you could end up paying out of pocket. However, understanding your options, and what makes the most sense for you, can be challenging.
Things to consider before buying insurance
Do you need that (often expensive) insurance sold at the rental car counter? What if you have a personal car insurance policy? What about coverage provided by the credit card company? In those cases, the answer is often "no." Before you buy additional coverage from the rental agency, ask yourself:
"What coverage is provided by the rental car company's insurance?" – Typically, it's only the legally required minimum coverage, but ask.
"Do I already have coverage under another policy?" – For example, if you live with family, their car insurance policy might cover you. Other possible coverage sources include your health insurance policy or travel insurance.
"Does my credit card offer coverage?" – Many credit card companies offer some rental car insurance, but you have to use that card for the auto rental. Call your credit card company to find out what is included.
What are the types of coverage?
There are four main types of auto insurance: Collision damage waiver, liability insurance, personal accident insurance, and personal effects coverage.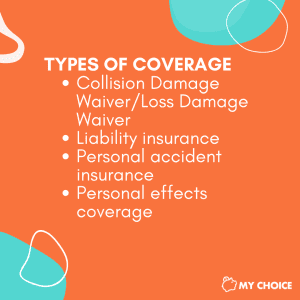 Collision damage waiver (CDW) or loss damage waiver (LDW): This coverage protects you from charges related to collision or theft. This coverage is required, but your credit card or personal policy may cover this.
Liability insurance (LI): This covers expenses for another vehicle, property, or victim's medical costs if you are at fault for the accident. Unless your personal insurance includes $1 million to $2 million in liability, this coverage is required. If you rent cars frequently, adding this coverage to your personal insurance is less expensive than paying it to the rental car company.
Personal accident insurance (PAI): This provides accidental death coverage to you and your passengers. This coverage is not required, but it's a good idea to have, especially if you're carrying passengers.
Personal effects coverage (PEC): This coverage provides loss protection for any personal items in the car, such as luggage or a camera. There is usually both a maximum coverage limit and a deductible. If you have homeowners insurance, it will cover personal effects in the car as well, and there's no need to also purchase from the rental car company.
If your personal auto policy provides Accident Benefits, you're already covered for personal injury. Your health insurance policy may cover you as well.
How much will it cost?
An average amount is about $65 a day, but that will vary depending on where you buy it and what it covers. You can also buy an endorsement for your personal auto insurance policy to cover any damage to cars you don't own, such as rental cars. This would cover damage or theft for any car in your care, control, or custody, or for anyone else listed on your policy.
Does my credit card provide coverage?
Every credit card company offers something different for rental car coverage, so verify coverage details ahead of time. Some may provide coverage, subject to limits, for damage, accident, theft, and injury. Credit card rental car insurance often excludes coverage for liability or personal injury to you or others. There may be additional fees from the rental car company for the loss of use of their vehicle that your credit card won't cover.
When do you need to buy from the rental car company
You should buy insurance at the rental car company in any of the following situations:
You're planning to travel outside Canada or the United States.
You don't have coverage through personal auto insurance, credit card, or homeowners insurance.
Your personal auto insurance policy doesn't cover non-owned vehicles.
The rental car value exceeds the limits of your policy's endorsement for non-owned vehicles.
You don't want the risk of increased rates for your personal policy. If you file a claim on your personal policy, your rates may go up.
Where Can I Get Car Insurance?
If you need insurance, we have pulled together the best car insurance companies to help you shop for the best policy to meet your needs.