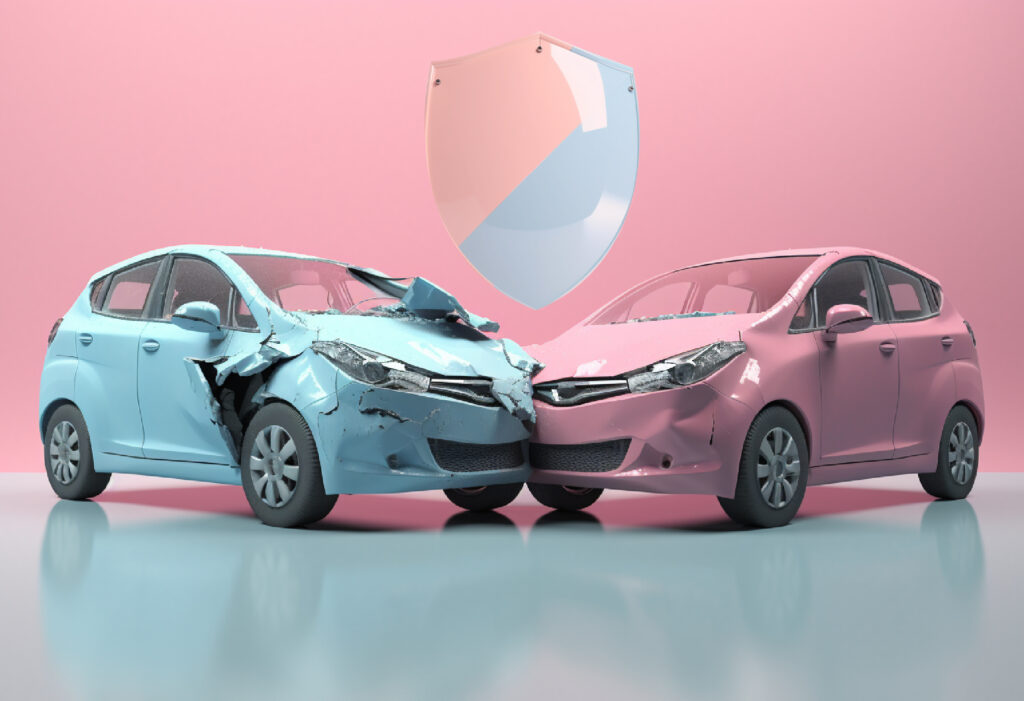 Third-party liability car insurance is a government-required policy that protects you when you're at fault in a car accident. It provides compensation for property damage and potential medical expenses.
Despite it being mandatory under Canadian law, not many drivers fully understand it. If you're applying for auto insurance in Canada, knowing how third-party liability car insurance works can be helpful in a collision.
In this guide, you'll learn what third-party liability auto insurance covers, how much you need, and how it can help you in tricky situations.
What Is Third-Party Liability Auto Insurance?
Third-party liability auto insurance provides financial coverage if you cause an automobile accident. While available for home and car insurance, it is only mandated if you want to drive.
It functions with other elements of your car insurance policy, including the following:
Accident benefits: Provides medical coverage if you are in a collision that causes injury
Uninsured auto insurance: Protects you financially if you are in a hit-and-run
What Third-Party Car Insurance Covers
Third-party car insurance provides financial coverage for the following:
Repair costs for any vehicles damaged in the accident
Repair costs for surrounding property damage
Medical costs
Legal fees and settlements for potential lawsuits
Some instances where you can use third-party car insurance include losing control of your vehicle and hitting another car or someone's property.
What Doesn't Third-Party Car Insurance Cover?
Third-party car insurance wouldn't cover damages to your vehicle or injuries to yourself if you caused the accident. You can receive compensation for these with accident benefits coverage.
How It Works
Third-party car insurance kicks in under the following circumstances:
Backing into private property accidentally
Hitting a pedestrian or cyclist unintentionally
Losing control of your vehicle due to a malfunction, bad weather, or other external factors
Causing an accident with another car leading to severe injury or death
When someone opens a third-party liability claim against you, your policy will cover this claim up to an agreed limit.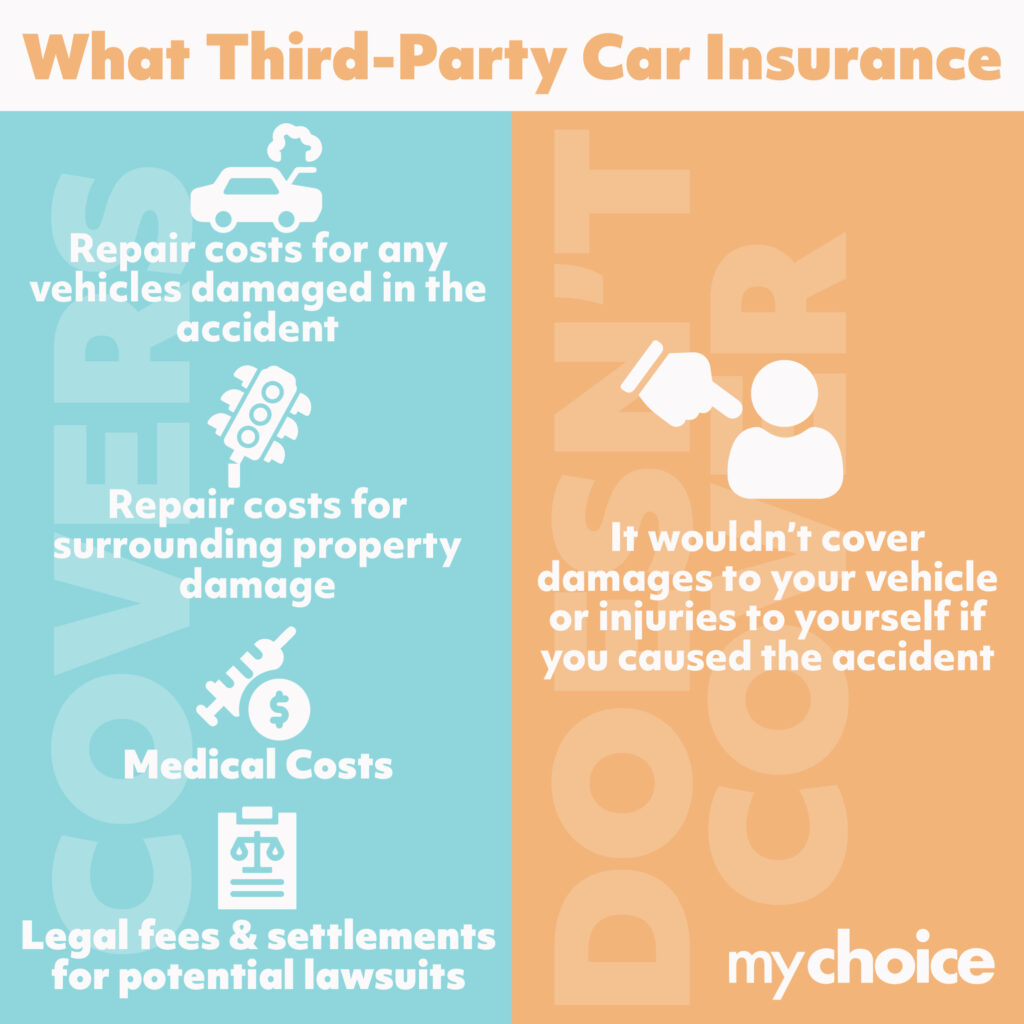 Do You Need Third-Party Car Insurance to Rent a Vehicle?
If you already have an existing policy, it will likely cover third-party liability on a rented vehicle. However, it might not cover collisions or other damage to the rental.
If you don't have insurance, the rental company may request that you add third-party liability coverage to your rental agreement.
What if You Live in a No-Fault State?
If you live in a no-fault province, each party's insurance company will determine who owes what and how much. Filing a claim against someone in a no-fault state is far more complicated, as it will force you to engage in legal action that you'll fund out-of-pocket. Learn more about no-fault insurance in Ontario.
How to Get Third-Party Liability Insurance
As with auto insurance, you must contact a broker or provider to apply for third-party liability coverage. You can quickly and easily compare insurance quotes online before picking your preferred company.
When selecting your policy, your insurance rates depend on age, driving history, vehicle, and even marital status. How much deductible you pay can also influence your insurance premiums.
How Much Third-Party Liability Insurance Does Ontario Require?
In Ontario, the minimum required coverage for third-party liability insurance is $200,000, with a property damage payment cap of $10,000.
If you live outside of Ontario, reference this table to get a better idea of how much third-party liability coverage you'll need, from the lowest to the highest amount:
| Province | Min. coverage amount | Damage payment cap |
| --- | --- | --- |
| Quebec | $50,000 | N/A |
| Alberta | $200,000 | $10,000 |
| Northwest Territories | $200,000 | $10,000 |
| Nunavut | $200,000 | $10,000 |
| Prince Edward Island | $200,000 | $10,000 |
| Saskatchewan | $200,000 | $10,000 |
| Yukon | $200,000 | $10,000 |
| British Columbia | $200,000 | $20,000 |
| Manitoba | $200,000 | $20,000 |
| New Brunswick | $200,000 | $20,000 |
| Newfoundland/Labrador | $200,000 | $20,000 |
| Nova Scotia | $500,000 | N/A |
How much third-party liability insurance costs is a different story. On average, insurance policies in Ontario cost between $600 and $1,600, which may vary according to any optional add-ons you might choose.
Increasing Third-Party Liability Insurance Limits
You can increase your third-party liability coverage if you want added protection on the road. In addition, a single accident can easily surpass $200,000, so growing your limit can be beneficial.
There are other reasons you might want to increase your insurance limits, including the following:
Frequent carpooling
Using your vehicle for commercial purposes
Driving across the US and Canadian borders often
Living in a metropolitan area where more accidents happen
Most Canadians purchase between $1 and $5 million, with the average recommended amount being $2 million.
Can You Drive Without Third-Party Car Insurance?
No, you cannot drive without third-party car insurance in Canada. If you have accident benefits and collision coverage, you may think you can get away with it, but car manufacturers will require it for anyone buying a new vehicle.
If you get into an accident and don't have third-party car insurance, you'll have to pay for any damage you cause personally. In addition, if caught driving without a valid third-party insurance policy, you'll have to pay a fine between $300 and $2,000, depending on where you live.
In some cases, you can also face permanent licence suspension, jail time of up to six months, and other no-licence penalties.
How to Make a Claim with Your Third-Party Liability Insurance Policy
If another driver hits your vehicle and causes damage to your property or injury to you, you can use your third-party liability insurance policy to make a claim. Just follow these steps:
Report the incident. Once you've pulled over and ensured everyone in your vehicle is safe, you should report the car accident to the authorities. Don't wait to call 911 – do it immediately.
Gather as much information as possible. Ask for the other driver's name, contact details, licence plate number, and insurance policy number. If you can, take photos and video evidence of the scene. Speak to witnesses and ask for their account of the incident. After speaking to the responding police officer, note their name and badge number, and request a copy of the police report.
Call your insurance company. Even if you weren't at fault, contacting your insurance company ensures you aren't breaking policy rules. In addition, working with your insurance company can make the claims process smoother.
File your claim. You can request that your insurance company facilitate the claims process. You'll just have to provide the information you collected at the scene. If you choose to file the claim yourself, most insurance providers have an online claims portal where you can submit information.
Consider hiring a claims adjuster. Determining fault is one thing, but figuring out how much the at-fault driver owes you is another. A claims adjuster can investigate the incident and estimate the cost of repairs and replacements. You can speed up the process by providing an accurate account of what happened during the accident and getting a quote from a repair shop.
Receive your settlement. You'll receive your payout or settlement offer if you win your third-party liability claim. You can negotiate a different cost if you believe the offer is too low. However, there's no guarantee you'll get a better offer afterward.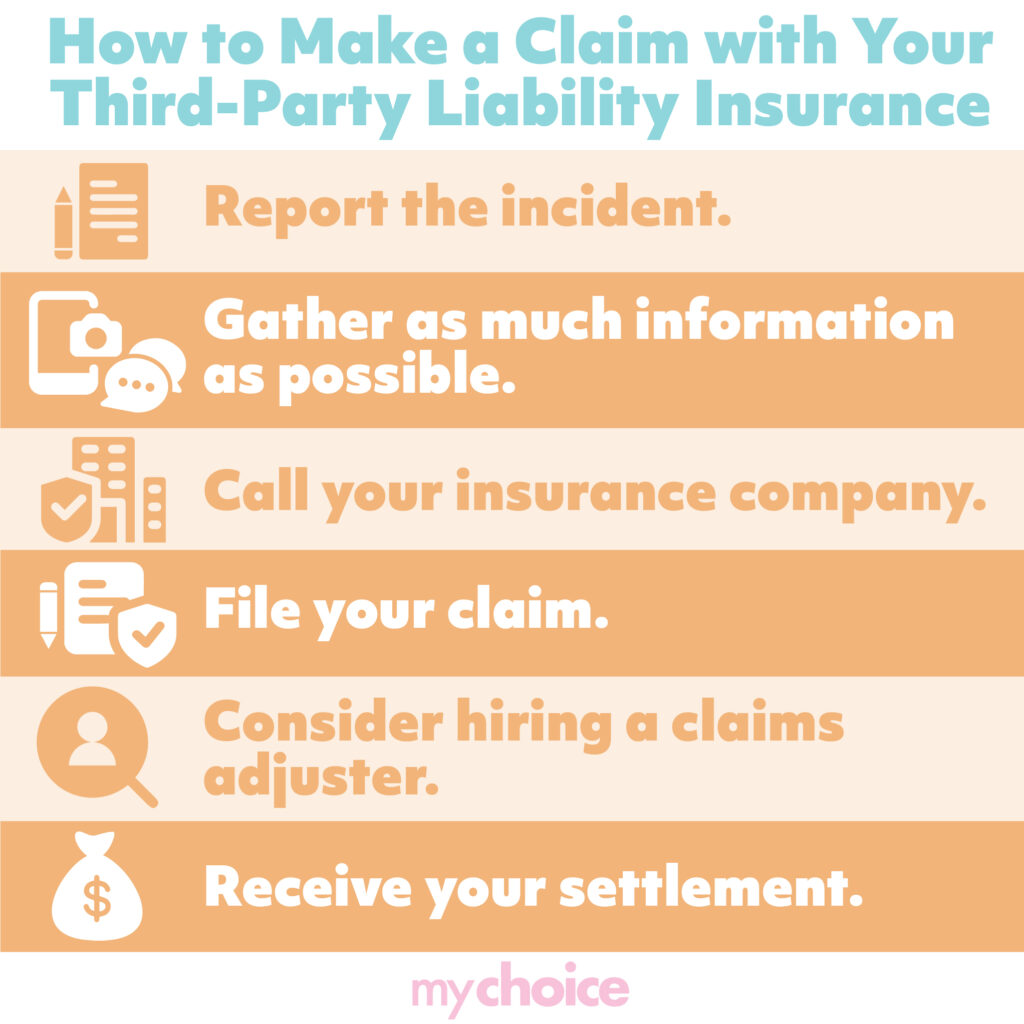 Tips for Saving Money on Third-Party Liability Insurance
While third-party liability insurance is necessary, paying for it can be costly. Remember these tips to lower insurance costs for a third-party liability policy.
Buy a Smaller, Cheaper Vehicle
Luxury vehicles are extremely expensive to repair, especially if they have powerful engines and hard-to-find parts. Thus, picking a car with highly available components that are less likely to be stolen will significantly lower your insurance rates. You might also consider buying a dependable second-hand vehicle.
Check out the top ten stolen cars in Canada – if you drive one of these, your insurance rates are likely higher than most.
Keep a Clean Driving Record
If you have a poor driving record, several demerits, and a long history of claims, expect your third-party liability insurance rates to be sky-high. The good news is that you can easily keep your premiums low by avoiding traffic tickets, paying your premiums online, and avoiding claims when possible.
Learn how to check your Ontario driving record in our comprehensive guide.
Use Telematics
Telematics are insurance technology that monitors your driving habits by recording your speed, how far you travel, how hard you brake, and other factors. Sign up for a compact sensor that pairs with your smartphone through your insurance company.
Increase Your Deductible
While you won't have to pay your deductible if you're not at fault for an accident, increasing it can generally lower your overall rates.
Compare Rates
While coverage minimums are the same throughout Ontario, your rates won't be. How much you pay in monthly premiums will ultimately depend on the insurance company you choose, so be sure to compare rates before you settle on what you think are the cheapest ones.
Read more tips on how to find the best and cheapest car insurance company that best suits your needs.
The Bottom Line
Applying for third-party liability car insurance in Canada isn't just a good way to protect yourself financially after an accident – it's mandatory. Thus, not having third-party liability car insurance when you drive can land you in a lot of trouble on the road.
Are you looking for the best rates on your insurance policy? Get help with MyChoice.