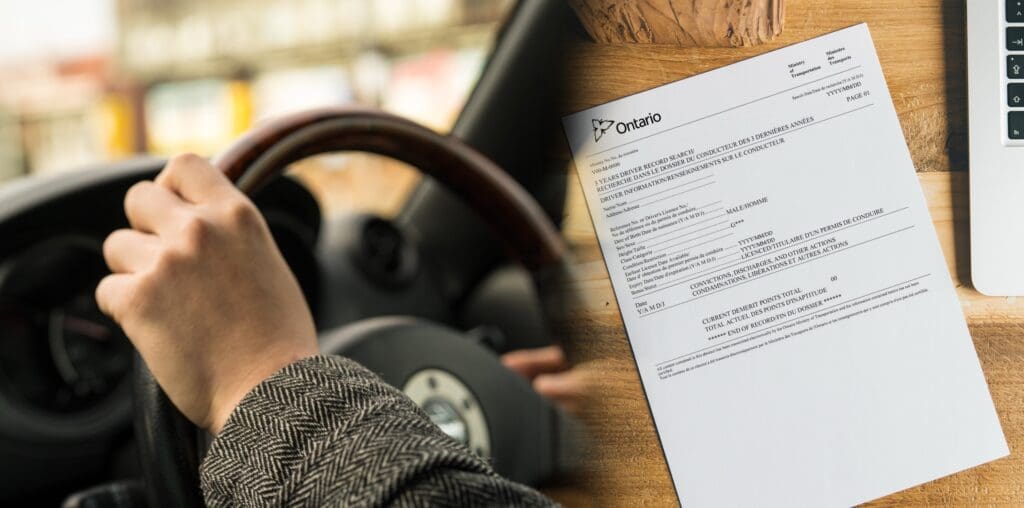 An overview of your driving record tells employers and car insurers how big a risk it would be to hire you or insure you. They can act as an official record of your qualifications to drive certain kinds of vehicles. They also tell insurers how likely you are to get in an accident or commit a traffic violation. For these and many other reasons, your potential boss or insurer may ask for your driving record.
How do you check your Ontario driving record? What are the different types of records? Read on to find out how you can get a copy of your driving history!
What Is A Driving Record?
Your driver's licence history in Ontario is basically your driving record. Depending on the type of driving record you get, this can include information on your residential address, licence replacements, and class changes.
That said, every Ontario driving record type will have the following information recorded:
Licence owner's name
Driver's licence number
Birth date
Sex
Height
Licence expiry date
Licence class
Licence status (e.g., any active fine suspensions)
Condition codes to indicate driving requirements (e.g., "A" for "adequate lenses")
Endorsements for driving, a.k.a. permissions to drive specific vehicles like school buses
Earliest available licence date
How Do I Check My Ontario Driving Record?
You can check your Ontario driving record online, in person, or via mail or fax. Here's a guide on how you can check through each method.
Online
You can request a copy of your driving record from the comfort of your home through the Ministry of Transportation (MTO) official website or ServiceOntario. You can get your uncertified three-year driver's record or driver's licence history from Service Ontario, whereas you can get your certified three-year record and certified or uncertified five-year driver's record from the MTO.
Note that you can't order a complete or extended driver's record online. These will have to be done through the other methods listed below.
In Person
You can visit the nearest ServiceOntario to request copies of any driving record type. Note that you should call up your nearest branch at least two to three days ahead of your visit to let them know what driving record you're looking up. You should also clarify if you're getting a certified or uncertified copy of your desired driving record.
Via Mail Or Fax
If you plan to get your record via mail or fax, you need to complete the Record Search Application Form first. Download, completely fill out, then print this form.
Send your form via fax to 416-235-4009. If you're mailing your form, send it to this address:
Ministry of Transportation
Information Services Office
Information and Data Retrieval Unit
87 Sir William Hearst Avenue
Room 158-D
Toronto Ontario
M3M 0B4
Note that if you're ordering a copy of your record through these methods, you can pay via credit card (Mastercard or Visa). If you're ordering via mail, you can also write a personal cheque or a money order in CAD, payable to the Minister of Finance.
What's The Difference Between An Uncertified And A Certified Record?
An uncertified copy and a certified copy of your driving record will contain the same type of information. However, a certified copy comes with an official seal from the Ministry of Transportation. While an uncertified copy often suffices for most purposes like employment, a certified copy is typically required for legal processes.
Types Of Driving Records
Insurers, employers, and courts all request a certain type of driving record for different purposes. Here's a quick description of each one and the differences between them.
Three-Year Driving Record
This is the most commonly requested type of driving record by employers. Also known as a driver's abstract, this record type has a record of your demerits and active, unpaid fine suspensions. It also covers your licence suspensions, licence reinstatements, and any convictions you've had under the Highway Traffic Act in the past three years.
Five-Year Driving Record
This type of driving record has all the information covered in your driver's abstract, except it covers the past five years instead of just three. This record type also has any activity (e.g., convictions or pardons) under the Criminal Code of Canada.
Extended Driving Record
Your extended driving record is just like your three-year driving record, except it also includes any of your activities covered by the Criminal Code of Canada for your entire driving history.
Complete Driving Record
This is the most comprehensive of all driving record types. It will have your residential address and total demerit points over your entire driving history. It has a complete record of your suspensions, reinstatements, and convictions under the Criminal Code of Canada and the Highway Traffic Act. Any collisions, licence replacements, renewals, and licence class changes are also included.
Driver's Licence History
This record type will confirm that you've completed your basic driver's education. It also has a record of your licence class and any changes made to it, any replacements made, and any renewals. If you access this record online or via mail or fax, it will also include your residential address.
This type of record is useful for getting lower car insurance quotes, as it shows your insurer that you've finished driving school.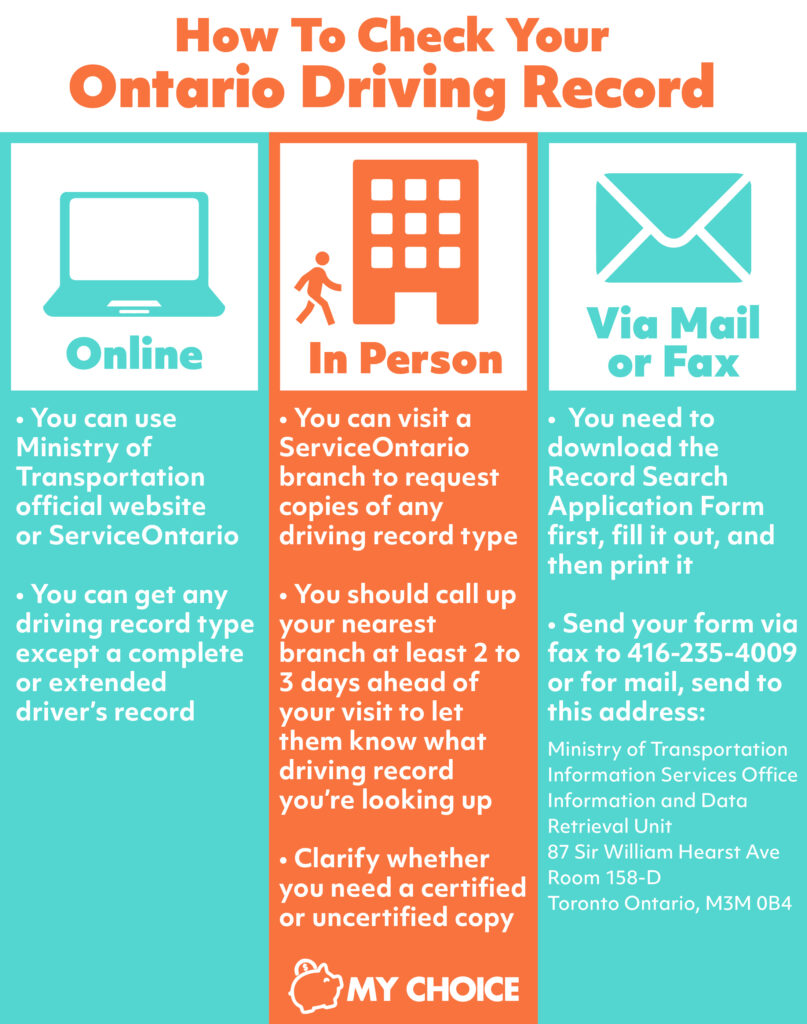 What Is A Driver's Abstract?
A driver's abstract is the uncertified record of your driving history in the past three years. Many employers require a copy of this abbreviated driving record. It's also commonly requested by auto insurers to determine your premium rates.
Driving Record vs Driver's Abstract
A driving record can be uncertified or certified by the Ministry of Transportation. There are also driving records that cover periods beyond three years. Apart from the basic information listed above, some driving record types also include any collisions, licence replacements, and a complete record of activity under the Criminal Code of Canada.
A driver's abstract in Ontario, on the other hand, is typically uncertified and only covers the following information apart from the basics listed above:
Any active fine suspensions
All reinstatements, convictions, and suspensions under the Highway Traffic Act for the past three years.
Your total demerit points
The Bottom Line
If you want to get cheaper car insurance quotes or apply as a driver in a new workplace, you'll need a copy of your driving record in Ontario. However, there are different types of driving records that you can check and request as official copies. Make sure you choose the correct one for your needs before asking for a copy, whether you do this online, in person, via mail, or through fax.
Note that most car insurers will require your complete driver's record to get a better idea of your insurable risk. MyChoice can give you affordable car insurance quotes based on your vehicle type, area, and driving experience. Contact us today to get a tentative quote based on a clean driving record – we're happy to answer questions and tell you more about our policies!