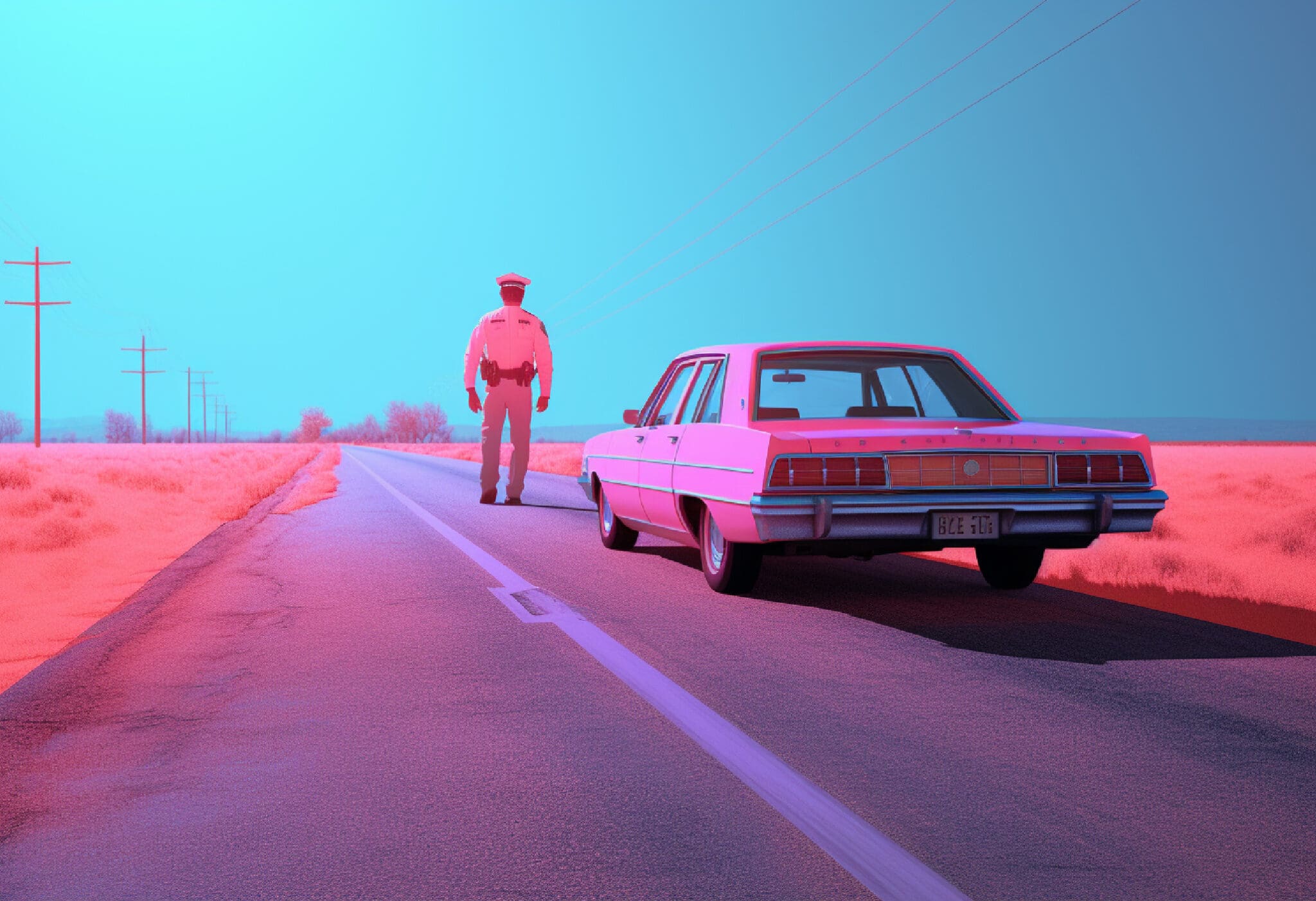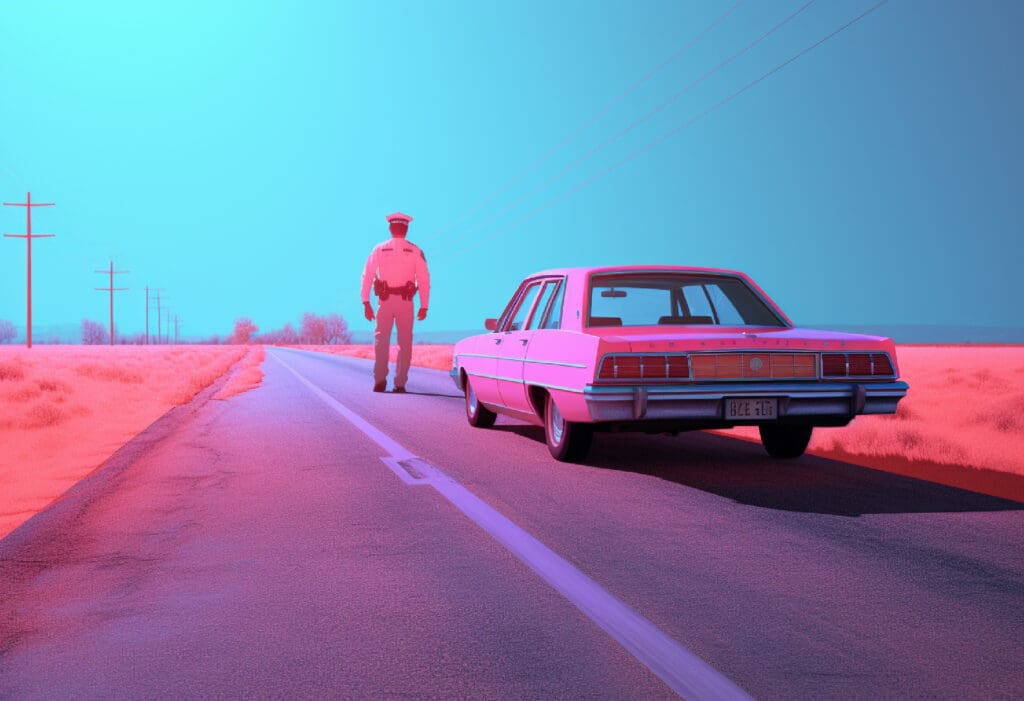 Driving in Ontario without an active car insurance policy is illegal. Not only will you have to pay a huge fine if you're ever caught driving without insurance, but you will also have to pay for repairs, damages, and medical bills out-of-pocket if you get into an accident.
As much as possible, don't drive in Ontario without getting the mandatory car insurance. But if you're ever caught with an expired policy or just don't have one in the first place, there are a few things you need to know. This guide will tell you all the pertinent information about driving without insurance in Ontario.
Why You Need Insurance to Drive in Ontario
In Ontario, you are legally required to be covered by automobile insurance before you can drive a car. Under Section 2 of the Compulsory Automobile Insurance Act (CAIA), owners and lessees of motor vehicles are prohibited from operating a motor vehicle unless it's insured.
Though it is seen by many as a burden, compulsory insurance is ultimately good for Canada's driving public. In the event of a collision or accident, your insurance will save you a lot of money in repair costs, medical expenses, and other expenses.
If you're having a bit of a hard time comparing insurance companies and policies, we can help you with that. You can save up to $1,000 a year when you team up with MyChoice. Find the cheapest, best value-for-money car insurance policy for you today!
Is It Illegal to Drive Without Insurance in Ontario?
Yes, it is illegal to drive without insurance in Ontario, Canada.
It is mandatory for all vehicles on the road to have insurance coverage in case of a collision or damage. The minimum legally-mandated insurance coverage includes third-party liability, accident benefits, and uninsured automobile coverage.
While it may not be a criminal offence, you can face large fines and other penalties if you're caught driving insurance-less in Ontario.
Is Driving Without Insurance Common in Ontario?
Driving with insurance is a little rare in Ontario, with the Toronto Star finding that around 2% of drivers in Canada have no active insurance. In a year, over 2,000 vehicles without insurance get into collisions in Ontario.
While driving without any insurance coverage in Ontario isn't that common, it should be avoided altogether. Uninsured drivers who suffer from an accident or collision have a difficult time paying for the damages, repairs, and medical bills. If you get into a collision without insurance, you'll also be considered a high-risk driver, leading to higher insurance rates in the future.
What Happens If You Get Caught Driving Without Insurance in Ontario?
If you get caught driving without insurance in Ontario, you may receive a heavy fine along with other penalties like the suspension of your license. That said, driving without insurance may be illegal, but it's not a criminal offence – you won't need to worry about having it on your permanent record.
Will You Be Arrested For Driving With No Insurance in Ontario?
No, you will not be arrested for driving with no insurance in Ontario. Again, it is illegal to be driving without insurance in Canada, but it's not classified as an arrestable offence. This means that you will only get a hefty fine and other penalties, but you won't be arrested or detained.
However, if you were in the middle of committing other punishable offences while driving a car without insurance, you will be arrested. You can keep this from happening by keeping your insurance premiums paid and your policies updated.
What Is the Fine for Driving Without Insurance in Ontario?
The fine for driving without insurance in Ontario can range from as low as $5,000 to as high as $50,000, depending on the instance and severity of the violation. If you were in an accident or collision with no insurance coverage, you'll have to pay a higher fine compared to if you were just pulled over for a traffic stop.
If it's your first time getting caught driving with zero insurance in Ontario, expect to pay lower fines. Here's a quick breakdown of the costs by number of offences:
First offence: $5,000 minimum to $25,000 maximum
Second offence and more: $10,000 minimum to $50,000 maximum
Other Penalties for Driving Without Insurance in Ontario
A fine is not the only penalty for driving without insurance in Ontario. You can also suffer from these other penalties:
License suspension: If you are caught by law enforcement driving without insurance, your license could be suspended for up to a year. If you attempt to drive during the period your license is suspended, you will be guilty of a crime.
Vehicle impound: The vehicle you are caught driving uninsured can be impounded for up to three months.
Bigger fees: In addition to a fine, expect a 25% surcharge under the Provincial Offence Act.
Higher premiums: If driving with no insurance makes it onto your record, insurance companies will consider you a high-risk asset. This means that your insurance premiums can be double or even triple the rates given to a safe driver.
Difficulty in looking for an insurance policy: You may have trouble looking for an insurance company willing to let you take out a car insurance policy. This is because bad drivers are offered higher rates with more restrictive conditions due to their history.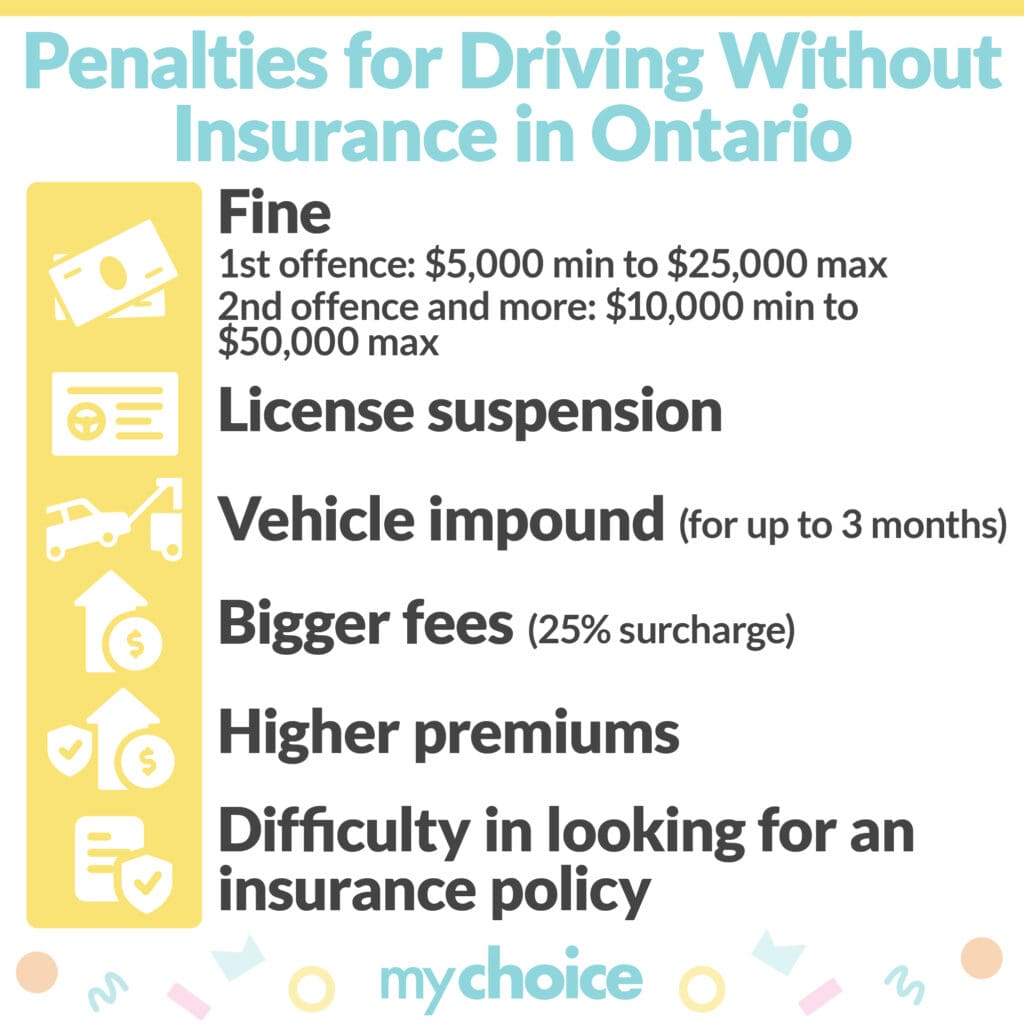 Can Your Driver's License Be Revoked for Driving Without Insurance in Ontario?
No, your driver's license cannot be revoked for driving without insurance in Ontario. However, your license can be suspended for a couple of weeks up to a year if you get caught driving without insurance.
If you get caught driving with a suspended license, your license could be revoked and criminal charges could be pressed.
Can You Drive Someone Else's Car Without Insurance in Ontario?
Yes, you can drive someone else's car without insurance in Ontario, as long as the car that you're borrowing is covered by the owner's own insurance policy. This commonly applies to student drivers who use the family car or people who borrow their partner's vehicle.
Many insurance companies allow you to list other drivers or the vehicle itself under the insurance policy. This makes it easier to allow multiple drivers to drive one vehicle. It also costs less compared to getting individual driver's insurance for everyone in a household.
At MyChoice, we can assist you in finding the best car insurance company for your specific needs. Compare insurers on our website today!
How to Avoid Penalties for Driving Without Insurance
If you want to avoid the penalties for driving without insurance, you need to keep your insurance policy updated and your premiums paid.
We understand that it's not easy or cheap to find a good insurance policy that covers all the drivers, scenarios, and vehicles that you need to be covered. Let MyChoice help you find the cheapest insurance policy in Ontario that covers all your needs!
Key Takeaways
Getting caught driving without a license in Ontario is not only inconvenient but also dangerous to your financial stability. You can face up to $50,000 in fines, as well as a 25% additional surcharge and license suspension for up to a year.
In the long run, insurance is cheaper than these fines. And it is significantly more affordable than paying for any damages and medical bills after an accident. Some insurers even offer pay-as-you-go car insurance and other low-cost options to keep you on the road safely and legally.