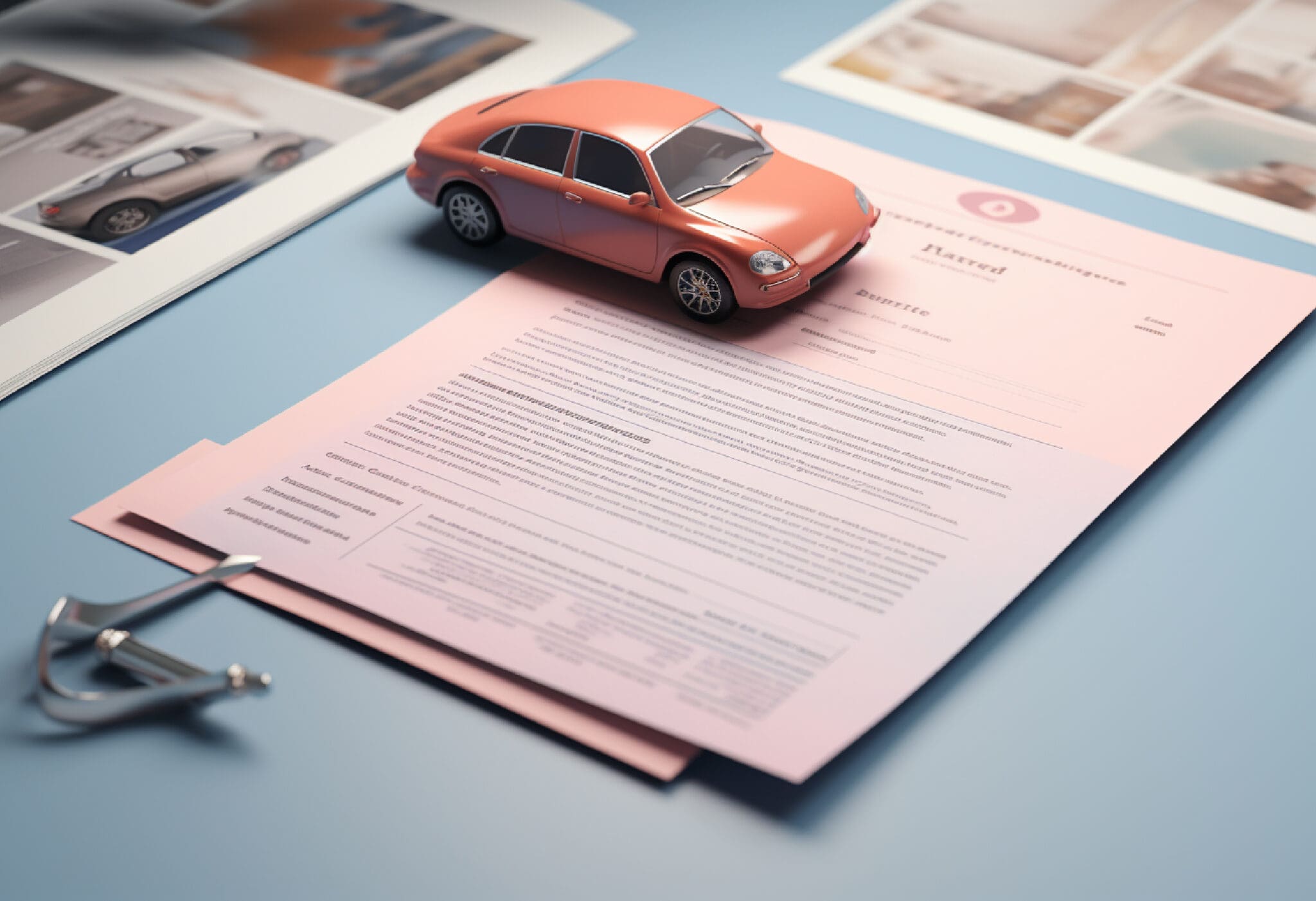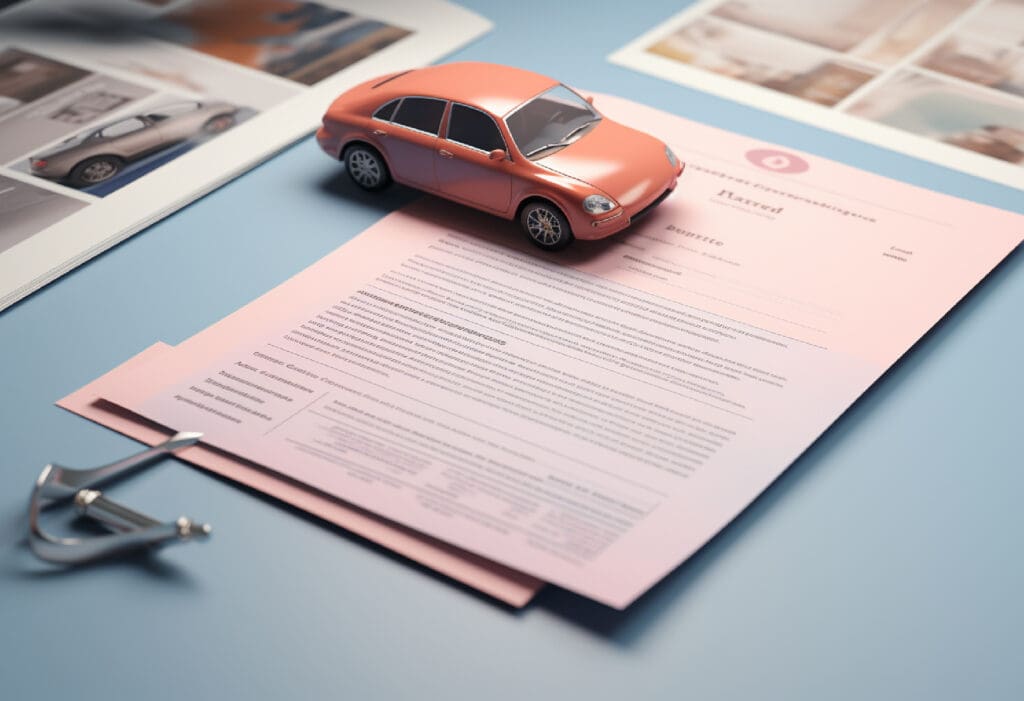 An Ontario Policy Change Form (OPCF) is an add-on to your existing auto insurance policy. OPCF endorsements alter your car insurance coverage to match your life circumstances and activities.
For instance, one OPCF provides you with a rental car when your current vehicle is in the repair shop. Another OPCF extends your insurance protection when driving rented cars.
There are many types of OPCFs, each of which does different things. Read on to learn more.
The Basics of OPCFs
Ontario Policy Change Forms or policy endorsements let you alter your insurance coverage in certain situations. The alteration to your coverage depends on which form you submit. OPCFs can reduce, add, or change your auto coverage amount.
OPCFs are differentiated by number. Each numbered OPCF does a specific thing to your car insurance coverage. Some work well together, like OPCF 16, which suspends your insurance coverage, and OPCF 17, which reinstates it.
What Kind of OPCFs Are There?
There are many OPCFs available, and each endorsement alters your insurance coverage differently. Here are the example OPCFs available on the Financial Services Regulatory Authority (FSRA) of Ontario site. We'll also give you a quick overview of what each of them does:
OPCF 3: This form gives you insurance coverage when driving government vehicles.
OPCF 5: An OPCF 5 endorsement extends insurance coverage to a leased or rented vehicle.
OPCF 16: This endorsement lets you suspend auto insurance coverage. It's generally useful if you're not going to drive the car for extended periods.
OPCF 17: This OPCF works with OPCF 17 to reinstate your car insurance coverage after suspending it.
OPCF 20: This endorsement provides you with a replacement car alongside its insurance if your current car is stolen or being repaired.
OPCF 27: This form gives you insurance protection when driving rented or borrowed cars. An OPCF 27 can replace standalone car insurance. Read our in-depth article about OPCF 27 to learn more.
OPCF 27B: This is a sub-form of OPCF 27 that protects business owners when operating rented vehicles and equipment.
OPCF 28 & 28A: These forms exclude a person from driving your car. You can take these forms when somebody in your family has a bad driving record, and you don't want them to raise your rates. If the excluded person drives your car and gets into an accident, your insurance won't cover any damages.
OPCF 39: This endorsement provides accident forgiveness. It ensures your driving record won't be hurt by your first at-fault accident. Note that this won't work for subsequent accidents.
OPCF 40: This OPCF applies a deductible to insurance claims related to fire damage.
OPCF 43 & 43A: These forms remove the depreciation deduction on your car. This is useful in getting as much money as possible if your car becomes a total loss.
OPCF 44R: This endorsement extends your third-party liability coverage to other members of your family.
Frequently-Used OPCF Endorsements
Many of the OPCFs mentioned above have specific uses, and you might not encounter them often daily. However, some OPCFs are more well-known because they help in many everyday scenarios.
Here are several commonly-used OPCFs and the scenarios you might find them useful:
OPCF 16 & 17: You can use OPCFs 16 and 17 when you're planning to take a long holiday or driving hiatus. Read our in-depth article on OPCF 16 and OPCF 17 to learn how you can suspend and reinstate insurance coverage with these two endorsements.
OPCF 27: You can use OPCF 27 if your car is out of commission due to repairs or lost because of theft.
OPCF 27B: This form provides insurance coverage for business owners when renting vehicles.
OPCF 28 & 28A: You use OPCFs 278 and 28A if you want to exclude somebody from your insurance policy. This ensures their bad driving record and demerit points won't raise your rates.
OPCF 39: This form lets you prevent a rate hike after your first at-fault accident.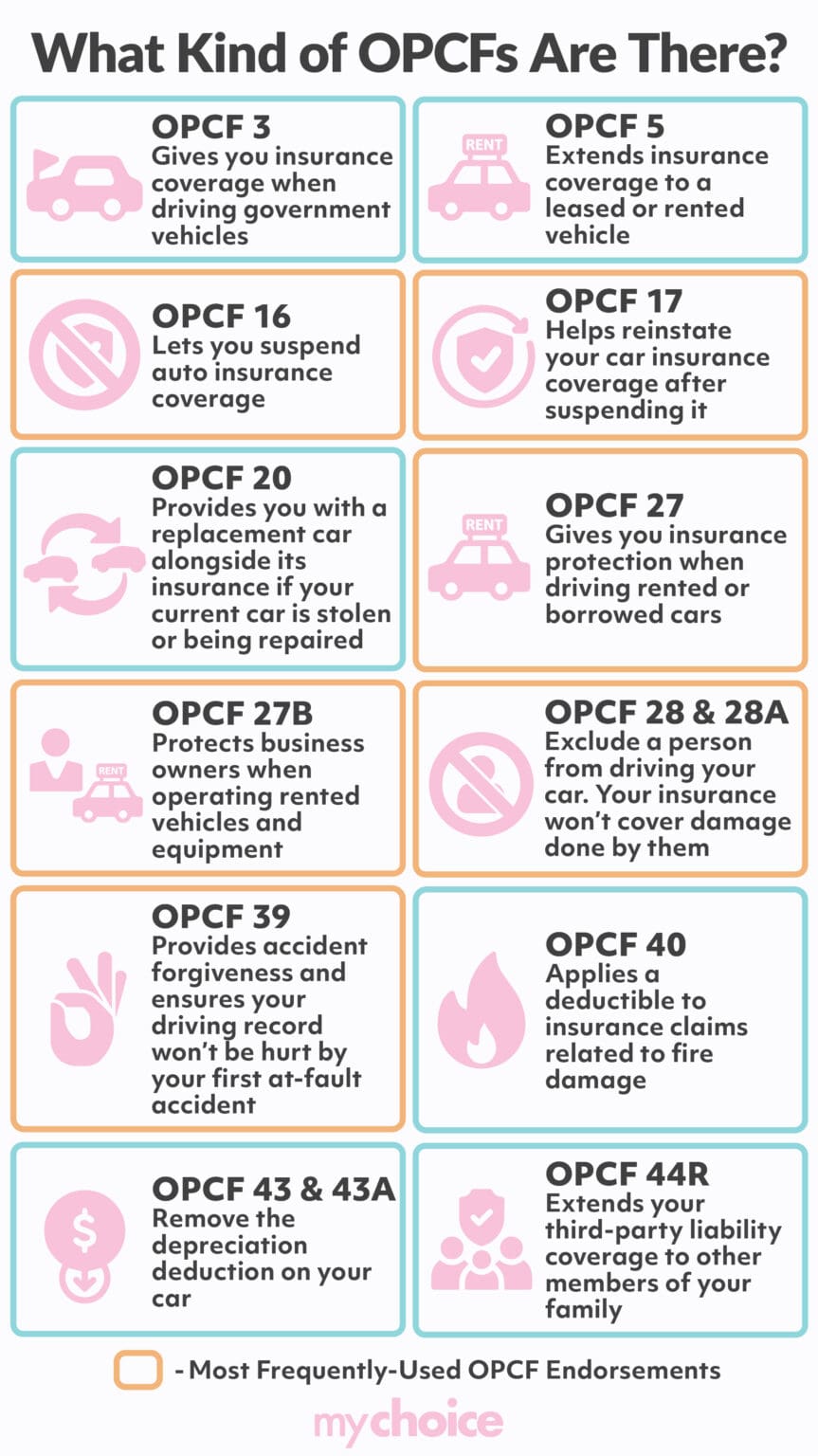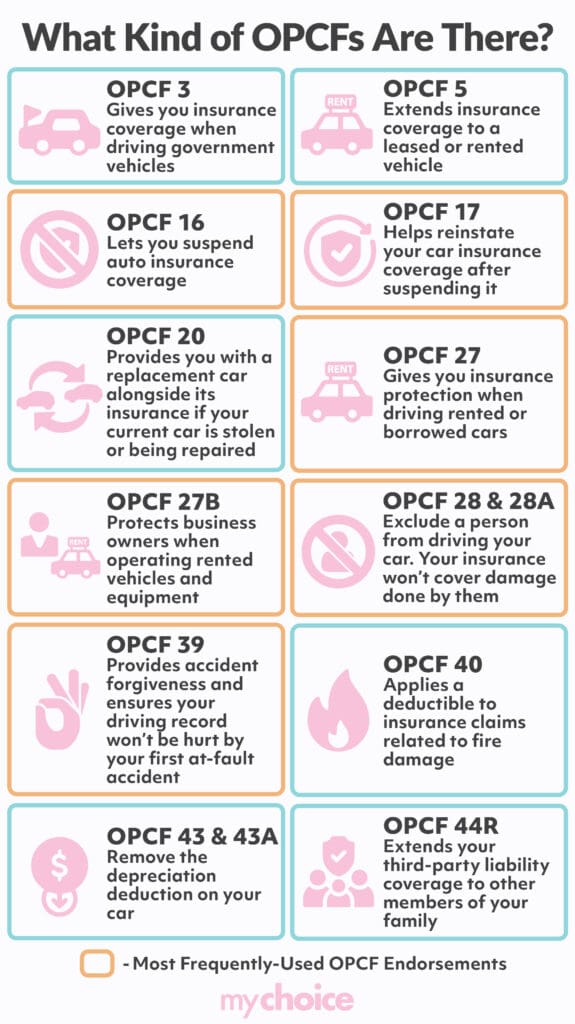 Benefits of OPCFs
The primary benefit of OPCF endorsements is the ability to alter your insurance coverage according to your needs. This means you can save money or extend insurance protection when needed without getting a new policy.
With the ability to change your insurance parameters, you can get these benefits:
Save money on insurance premiums.
Get extra protection for your family members and vehicles.
Avoid insurance coverage gaps.
Prevent your auto insurance rates from rising.
Cancel and reinstate insurance coverage easily.
Other Need-to-Know Forms for Ontario Drivers
In addition to OPCFs, there are also two other types of forms Ontario drivers must know: Ontario Automobile Policies (OAPs) and Ontario Application for Automobile Insurance Owner's Forms (OAFs).
There's one type of OAP and two types of OAFs. Here's a breakdown:
OAP 1: This form is also called the Ontario Automobile Policy Owner's Policy. In short, this form outlines your rights and obligations as a car insurance policyholder. It also details the insurer's responsibility as well as its coverage's terms and conditions.
OAF 1 & 2: These two forms make up your auto insurance application. OAF 1 is for the vehicle owner, and OAF 2 is for the driver.
Altering Your Insurance Coverage With OPCFs
Car insurance rates in Ontario are high, so you don't want to re-qualify for a new policy or switch insurance companies just to alter your coverage. Instead, you can use OPCFs to change your policy to fit your current needs. OPCFs let you suspend insurance coverage, extend your protection, and get you a replacement car, among many other benefits.
Are you looking for the best car insurance deals in Ontario? MyChoice has you covered. Look through our list of top insurance companies and use our Ontario auto insurance rate calculator to find the best-valued policies for you.