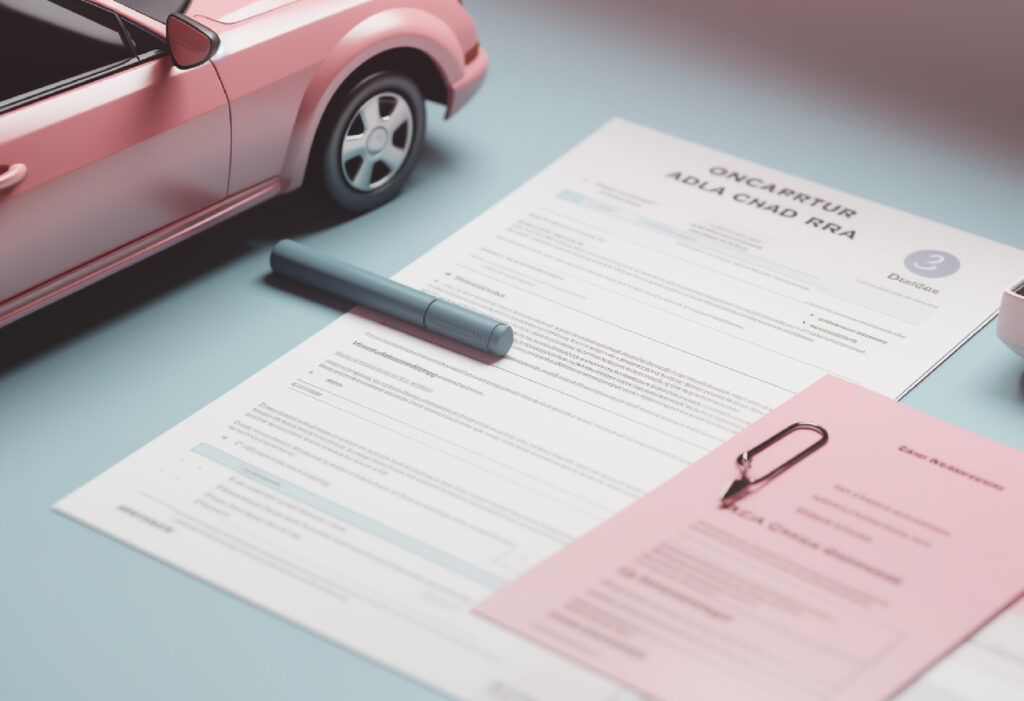 Sometimes you have to leave your car for extended periods, like for a vacation or a road trip. Unfortunately, car insurance rates in Ontario aren't cheap, and you still need to pay for it even if you're not driving your car. Insurers don't allow you to suspend insurance coverage, either.
So, what do you do to save money? Enter OPCF 16 and OPCF 17. These two endorsements can help you temporarily suspend or pause your car insurance policy.
How do OPCF 16 and OPCF 17 work? Are there any drawbacks? Read on to learn more.
What Is an OPCF?
An Ontario Policy Change Form (OPCF) is an add-on to your existing car insurance policy. OPCFs add or alter your auto insurance policy by modifying its contract. There are many types of OPCF – here are several examples:
OPCF 20: Provides you with a replacement rental car if your current vehicle is stolen or being repaired
OPCF 27: Provides insurance protection when driving rental or borrowed cars. This can replace a standalone rental car insurance policy because you need insurance to drive rented cars.
OPCF 39: Ensures your insurance rates won't rise after your first at-fault claim
OPCF 43: Ensures the insurer won't depreciate your car's value
OPCF 44R: Extends insurance protection to your family members
In this article, we'll focus on two OPCFs in particular: 16 and 17. These are the OPCFs that let you pause car insurance protection.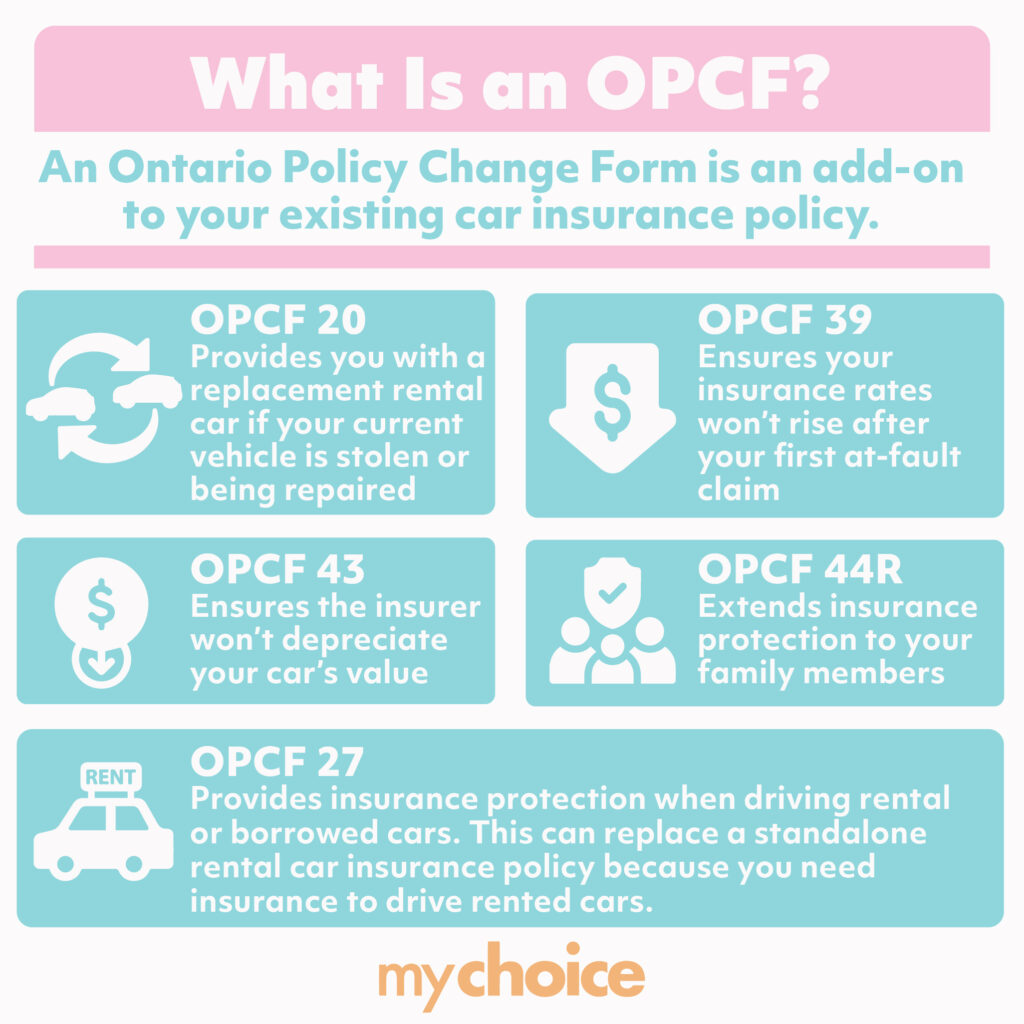 Understanding OPCF 16 & OPCF 17
OPCF 16 and OPCF 17 work together to suspend and unsuspend your car insurance policy. These endorsements are useful if you leave your car for a long time.
It'll be a waste if you keep paying premiums while your car sits unused – and that's where these forms come in handy. These forms allow you to refund part of your premiums while your coverage is suspended.
Applying OPCF 16 to your policy means it'll suspend your coverage for the use and operation of your vehicle. OPCF 16 will suspend your liability, accident benefit, DCPD, and uninsured motorist coverage. But that doesn't mean you're totally unprotected by insurance while the policy is suspended.
One thing to note is that OPCF 16 suspends coverage for the car's use and operation. If somebody hits your parked car while you're away, you'll still receive the coverage amount owed as long as you're not driving it at the time. Read our article on parking lot accidents for more details.
OPCF 17 does the reverse of OPCF 16. It reinstates your insurance coverage once you're ready to drive again.
How OPCF 16 & OPCF 17 Endorsements Work
When you want to suspend car insurance coverage, you need to complete the OPCF 16 form and submit it to your insurer. Once you're ready to drive again, submit the OPCF 17 form to your insurer. Depending on your insurance company, you may also need to pay fees.
When Do You Need OPCF 16 & OPCF 17?
You need OPCF 16 when you're about to leave your car or stop driving for an extended period. Conversely, you need OPCF 17 before driving the car again.
Here are common situations where car insurance suspension via OPCF 16 comes in handy:
Storing a seasonal car
Travelling for extended periods
Removing a rarely-used car from your policy
Getting your licence suspended
Getting the car repaired
Recovering from an injury or sickness
Things to Remember When Getting OPCF 16 & OPCF 17
Trying to understand car insurance by yourself can be confusing. Here are important things to remember before getting OPCF 16 and OPCF 17:
You need to suspend your coverage for at least 45 days to be eligible for the refund.
You must reinstate coverage with an OPCF 17.
You can't operate the endorsed vehicle at all.
Your car must be parked in a garage or driveway, not on the road.
You still need to pay the deductible if somebody hits your car while it's in the driveway or garage.
Benefits of OPCF 16 & OPCF 17
Car insurance is one of the mandatory costs of car ownership in Ontario. You still need to pay for your policy even if you're not a regular driver. Remember, driving without car insurance is illegal in Ontario and all other parts of Canada.
Fortunately, OPCF 16 and OPCF 17 help save you money on car insurance when you're not driving for an extended period. Here are the key benefits of suspending your car insurance coverage:
Limit your insurance costs
Protect your car from damage
Avoid an insurance coverage gap
Prevent insurance rates from increasing
Reinstate coverage easily
Downsides of Suspending or Cancelling Your Car Insurance
Suspending your car insurance with OPCF 16 is better than cancelling the policy outright. Here are some reasons why cancelling your policy outright is a bad idea:
Cancelling your insurance policy might cost you more money later on since you have to go through approval again.
Coverage gaps may be a potential red flag for insurance companies. This could make insurance approval harder.
You need to get insured again before being able to drive, which might take time.
You might land higher premiums compared to your previous policy.
You might have to choose a new car insurance company if you cancel your policy. Check our guide to switching Ontario car insurers for more information to do so.
Bottom Line
Sometimes, you must leave your car for a long time, whether you're travelling, recovering from injury, or for many other reasons. Unfortunately, you still have to pay car insurance, which can be expensive. Cancelling your car insurance eliminates the cost, but it might make re-qualifying harder or costlier.