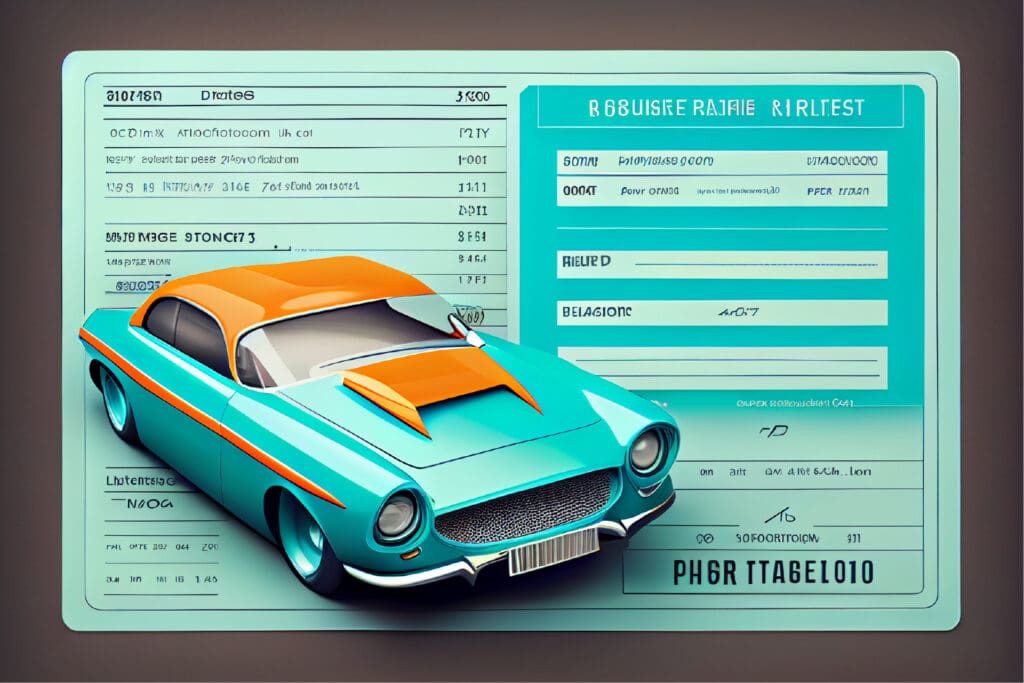 Ontario law requires that all cars be registered for insurance, whether you own or lease a vehicle. However, registration procedures can vary across all types of drivers. Processes may differ for new drivers, drivers immigrating from a new country, or drivers undergoing renewal.
If you need a refresher on how to register a car in Ontario in 2023, this guide will tell you what to know about fees, documents, and the entire process.
What Is a Car Registration & Why Do You Need It?
Registering a Car in Ontario consists of three components:
By law, Ontario requires all drivers to register their vehicles for the following reasons:
Identification for law enforcement officers
Proof of ownership, in case you get into an accident and need to retrieve your vehicle from custody
Proof of tax payments
Funding for government programs through vehicle registration fees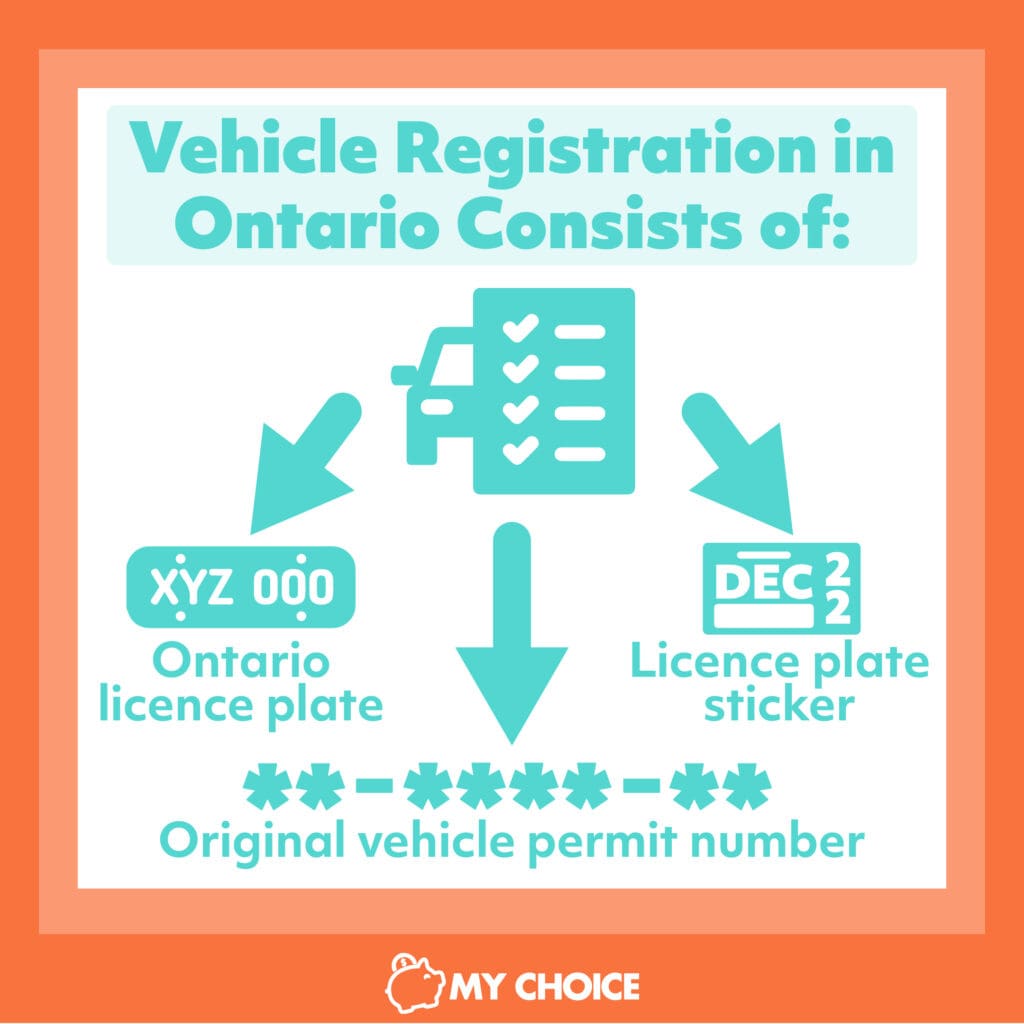 What Is a Vehicle Permit?
Vehicle permits are documents that prove your vehicle is registered in Ontario. This proof of registration comes in the form of a green slip of paper.
These permits have a corresponding 9-digit registered identification number (RIN). You can use a RIN for various transactions, such as applying for car insurance.
All drivers are required to keep their vehicle permits in their cars.
If you are pulled over by police or want to sell your vehicle, you'll need to present your original vehicle permit.
What Is a Vehicle Permit Number?
A vehicle permit number or registered identification number is a 9-digit number on your licence that you can use for transactions like registration.
How to Register Your Car in Ontario
All vehicle registrations in Ontario occur at ServiceOntario centres. You can submit your application online, by mail, or in person. When registering your vehicle, take a closer look at each process below.
New Car
When you purchase a new car, the dealership registers the vehicle for you. For a fee, your dealership will provide the necessary registration paperwork, licence plates, plate sticker, and other documentation you need to drive off the lot.
Used Car
Registering a used vehicle involves more steps than registering a new one. Unless you are purchasing a car from a dealership that can register it, you'll have to apply at ServiceOntario yourself. If your car is older than 20 years, you may have to undergo an appraisal through the Ministry of Finance.
Unsure about whether to buy a new or used car? Let our guide help you make your decision.
Business Vehicle
When registering a business vehicle, you'll need a RIN from any ServiceOntario centre. Then, you must provide the following to alter the company name or change the address on a RIN:
Proof of business address or a notarized letter of authorization from a business owner or director
Business identification document, such as an article of amendment or a letter of good standing
Proof of business address in the form of a utility bill or pink slip
Temporary Permit
If you're visiting Ontario and only need to drive a vehicle temporarily, you can register for a special permit. Special permits enable foreign drivers to use unregistered vehicles in Ontario for up to 10 days. They are also appropriate for drivers with commercial vehicles who do not qualify for temporary vehicle registration.
There are two ways to get a special permit:
Online: Online permits are available to drivers who have already purchased their first permit in person. You must also present your existing vehicle permit and insurance policy information.
In person: Special permits are available at any ServiceOntario centre. You must present your current vehicle permit with a safety standards certificate to apply for one. Other required documents include your insurance policy information, the completed special permit application form, and a personal identification document with your legal name, birthdate, and signature.
Costs for special permits may vary according to your vehicle. These include:
Passenger car: $23.50
Commercial vehicle under 4,500 kg: $23.50
Laden commercial vehicle over 4,500 kg (no trailer): $116.25
Laden commercial vehicle over 4,500 kg (with trailer): $205
You can pay for your special permit with a credit card, debit card, cash, or cheque.
Required Documents
If registering your vehicle independently from a dealership, below are the documents you'll need to submit:
Driver's licence
Used vehicle information form (if necessary)
Proof of purchase (bill of sale)
Proof of vehicle insurance
Original vehicle permit from the previous owner (if necessary)
Plate portion (if plates are already registered)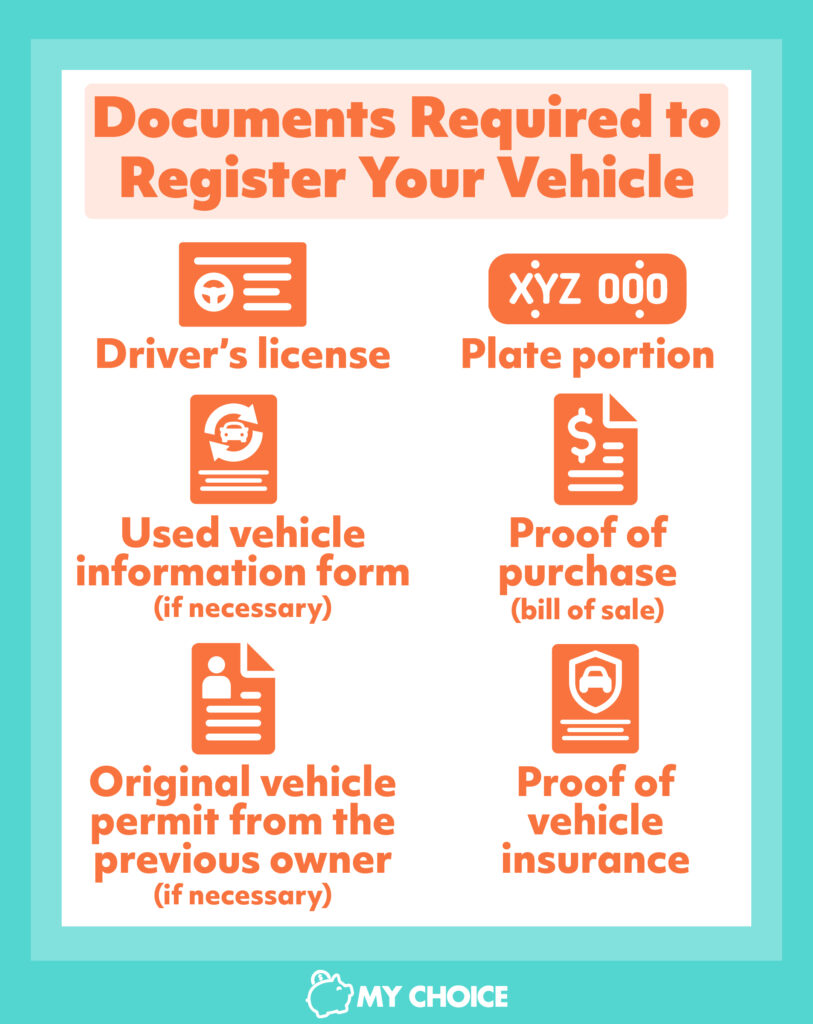 How Much Does it Cost to Register Your Car in Ontario?
While car registration costs are the same for most drivers, they can vary depending on where you register your vehicle in Ontario. Below are the average prices for registering your vehicle in Ontario:
| | 1 Year | 2 Years | Motorcycle |
| --- | --- | --- | --- |
| Northern Ontario | $60 | $120 | $21 |
| Southern Ontario | $120 | $240 | $42 |
You can pay for vehicle registration online and receive your permit in the mail a few days later. You can also use the ServiceOntario online portal to track your current registration status, renewal dates, and other details.
How to Replace Lost Vehicle Registration
Because vehicle permits are physical sheets of paper, it can be easy to lose or misplace them. Fortunately, getting a replacement at ServiceOntario is simple.
If you suspect someone stole your registration, it's better to report it to the police. Should you find the original copy after replacing it, destroy this copy to avoid complications.
Vehicle Registration for Non-Ontario Residents
New immigrants must also apply for vehicle registration in Ontario. To do this, you'll need to provide personal identification such as:
Ontario car insurance
Ontario driver's licence
Vehicle registration and title papers
Safety Standards Certificate
Afterwards, the registration process is virtually identical to that of an Ontario resident. If you have outstanding balances on your former registration or insurance, you'll need to settle them beforehand.
Note that imported vehicles won't be eligible for a special permit if you apply online.
Can You Drive With an Expired Licence in Ontario?
No, you cannot drive with an expired licence in Ontario. You should get your licence renewed at least a month before its expiry date to avoid fines.
The duration date of vehicle registration in Ontario is two years. You can find your exact vehicle registration expiry date on the front of your registration card.
Is Auto Insurance Required for Vehicle Registration?
Yes, auto insurance is required for vehicle registration, as you have to provide this documentation to your ServiceOntario representative.
Do You Have to Give Up Your Registration When Selling a Car?
Yes, you must give up your registration to the buyer when selling a car. You'll have to complete and sign an application for transfer of ownership.
Can Someone Else Register Your Vehicle for You?
Yes, someone else can register your vehicle if you provide a letter of authorization.
Can You Change the Address on Your Vehicle Registration?
Yes, you can change the address on your vehicle registration on the ServiceOntario website. You'll also have to inform the Ministry of Transportation about your new address within six days of changing it. Changing the address on your vehicle registration is free.
If you apply for an address change online, you'll have to pick up your new permit and surrender your new one at a ServiceOntario branch.
If you're immigrating from another country, learn more about insurance and registration for foreigners in our guide.
Can You Get a Temporary Licence Plate Sticker?
Yes, you can get a licence plate sticker in Ontario for temporary purposes, like driving to a storage facility or obtaining a safety standards certificate.
The Bottom Line
While registering your vehicle in Ontario may seem convoluted, the process is relatively simple. You can register your vehicle online or in person. Better yet, when you purchase a new vehicle, the dealership can take care of registration for you!