Are you thinking about selling your car directly to another person within Ontario? You should keep in mind that the Used Vehicle Information Package (UVIP) is a requisite to transfer ownership of a vehicle. In this article, we explain what the UVIP package is, what information it includes and how you can request it.
What is The Used Vehicle Information Package?
Selling or buying a used car directly from a car's owner is a trust transaction that requires patience and transparency. So to be fair to both parties (the seller and the buyer), the Government of Ontario requires a document called "the used vehicle information package" for residents of the province to be able to sell a pre-owned automobile. This document contains the general description and history of the vehicle. It is the responsibility of the seller to purchase this package and complete it with the required information before delivering it to the buyer. The UVIP allows a more transparent and fair transaction so the buyer can make an informed decision.
What Is Included in the Used Vehicle Information Package?
The used vehicle information package in Ontario contains the following information:
The vehicle details (including the year, make, model, colour, body type, cylinders and power)
The vehicle registration history in Ontario (including all present and previous owners, their city of residence and odometer reading)
Information about the vehicle currently attached to that plate number.
Vehicle liens, such as whether a third party is owed money or whether a lien claimant has the right to the automobile or the amount owed
The average wholesale value of the vehicle (minimum value on which Retail Sales Tax (RST) will apply)
Whether the car is physically unfit or has not been granted a Safety Standards Certificate
If the vehicle has been completely dismantled or crushed
The bill of sale section
Who Is Required to Order a Used Vehicle Information Package?
If you are selling a used car, van, light truck, self-propelled motor home or pre-owned motorcycle, you certainly are required to get a used vehicle information package. Failure to do so is considered an offence by The Highway Traffic Act. Sanctions and fees for not following this rule can range from $100 to $1,000 depending on whether it is the first or second time you commit the offence.
How Much Does a UVIP Cost in Ontario?
The cost of a used vehicle information package is $20, and you don't have to step outside to get it. It can be purchased online and paid by credit card Visa, Mastercard or Interact Online. Once you make a request and payment, the UVIP will be delivered to the address on file or the address that you provide in 5 business days. It's the seller's responsibility to complete the information in the package and hand it to the buyer.
Where Can You Get a Used Vehicle Information Package?
There are only two ways you can request a used vehicle information package. You can buy it online or order it in person. If you don't want leave the comfort of your house then you can visit the Service Ontario website and order it from there. Or, if you happen to swing by a Service Ontario office often, then you can do it in person, and the staff will help you order one.
How Long is the Used Vehicle Information Package Valid?
The UVIP does not have an expiry date. Keep in mind that you need an original and undamaged used vehicle information package to sell a vehicle privately.
Is a Used Vehicle Information Package Mandatory and are There Any Exemptions?
We can say "yes" to both questions. Obtaining a used vehicle information package is mandatory when selling a pre-owned vehicle in Ontario. However, there are some exceptions that may apply to you.
According to the Government of Ontario's website, you may sell or transfer ownership of a vehicle without this document if:
You are buying a previously owned vehicle from a registered vehicle dealer
It's a transaction between taxi license holders
A sale is between family members
A vehicle was sold outside of Ontario
It is a charitable donation to a licensed religious or benevolent organization
A vehicle is sold or transferred to a hospital, local service board, municipality, school board, university, or college
It is a prize for registered lotteries or raffles
It is purchased from a registered motor vehicle dealer
What Information Do I Need to Request a Used Vehicle Information Package?
Both online and in person, you will be required to provide the following information to request the UVIP for a used car or vehicle:
A vehicle identification number (VIN), or a license plate number of a used vehicle
Your Ontario driver's license number or registrant identification number (RIN),
Your name and address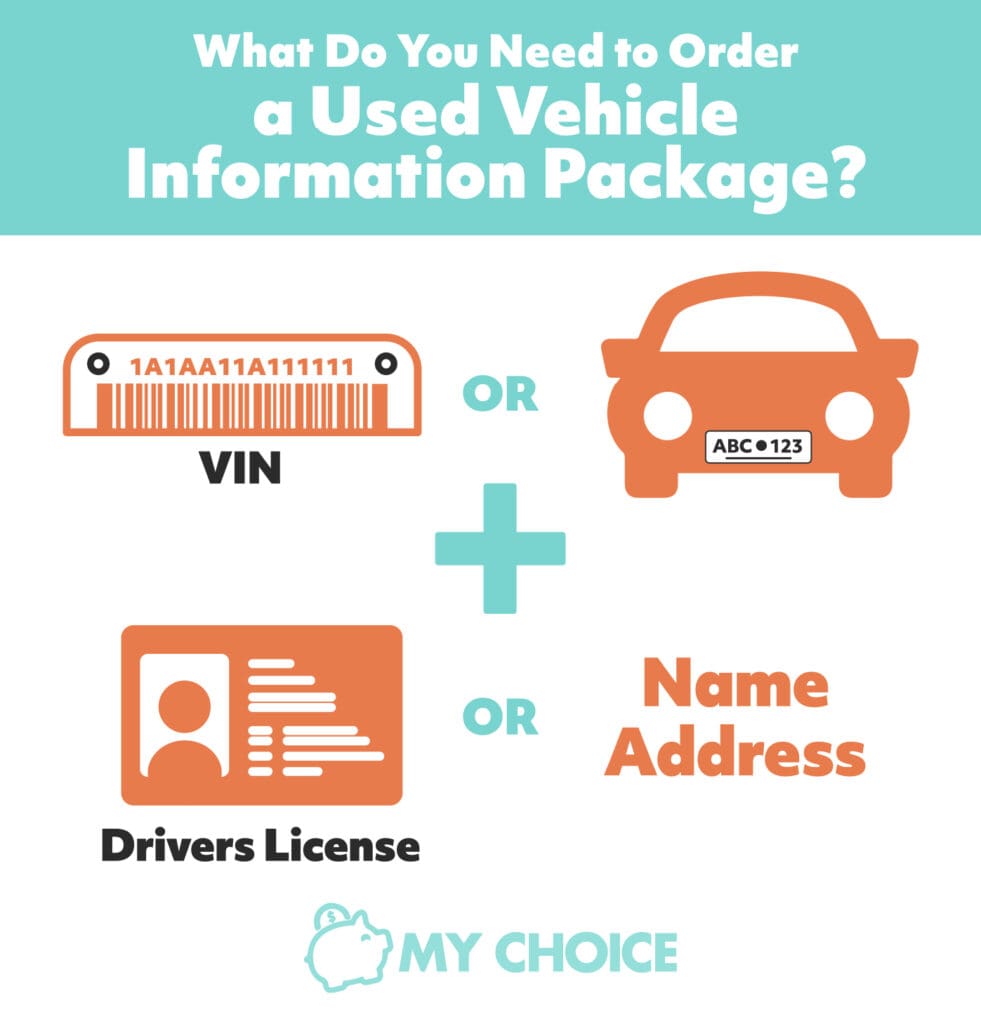 What's the Difference Between a Used Vehicle Information Package vs Carfax?
A used vehicle information package and Carfax are not the same things. You need the used vehicle information package to complete the used car purchase process. Carfax or CarProof is an optional report you can purchase for a fee, but it isn't mandatory. However, Carfax also provides valuable vehicle history information such as:
If a car has been stolen.
If there are safety recalls on a vehicle.
If there is a lien on a car.
Ready to Buy a Used Car?
If you are a buyer of a used car in Ontario, please note that the UVIP information will help you with finding your car insurance. Most insurance companies or brokers will ask you for some data from this document to quote your auto insurance. If you want to start comparing car insurance for your pre-owned car, MyChoice is the best place to compare quotes and choose personalized insurance for your car.