What Is The Green Licence Plate Program In Ontario?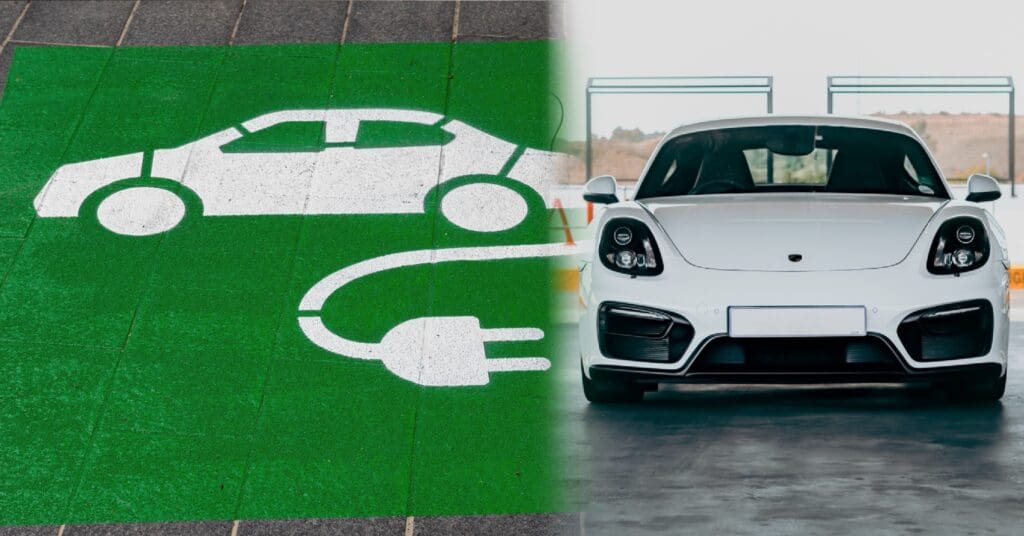 As the climate crisis becomes more and more alarming, more car owners are going green. In response to the demand for more environmentally-friendly transportation options, car manufacturers continue rolling out plug-in hybrids and battery-powered vehicles that don't require gas or diesel.
To track green vehicles more efficiently, Ontario launched the Green Licence Plate Program in 2009. This guide will tell you what you need to know about the program and how to know if your car qualifies for a green licence plate.
What Is The Green Licence Plate Program?
The Green Licence Plate Program provides low-carbon emitting vehicles with special access to specific driving lanes, including:
High Occupancy Vehicle (HOV) lanes: Usable by vehicles carrying two or more passengers

High Occupancy Toll (HOT) lanes: Usable by high-occupancy vehicles that don't meet occupancy requirements. Drivers can pay a toll to access this lane. The Green Licence Plate Program provides access to HOT lanes on the Queen Elizabeth Way and other 400-series highways.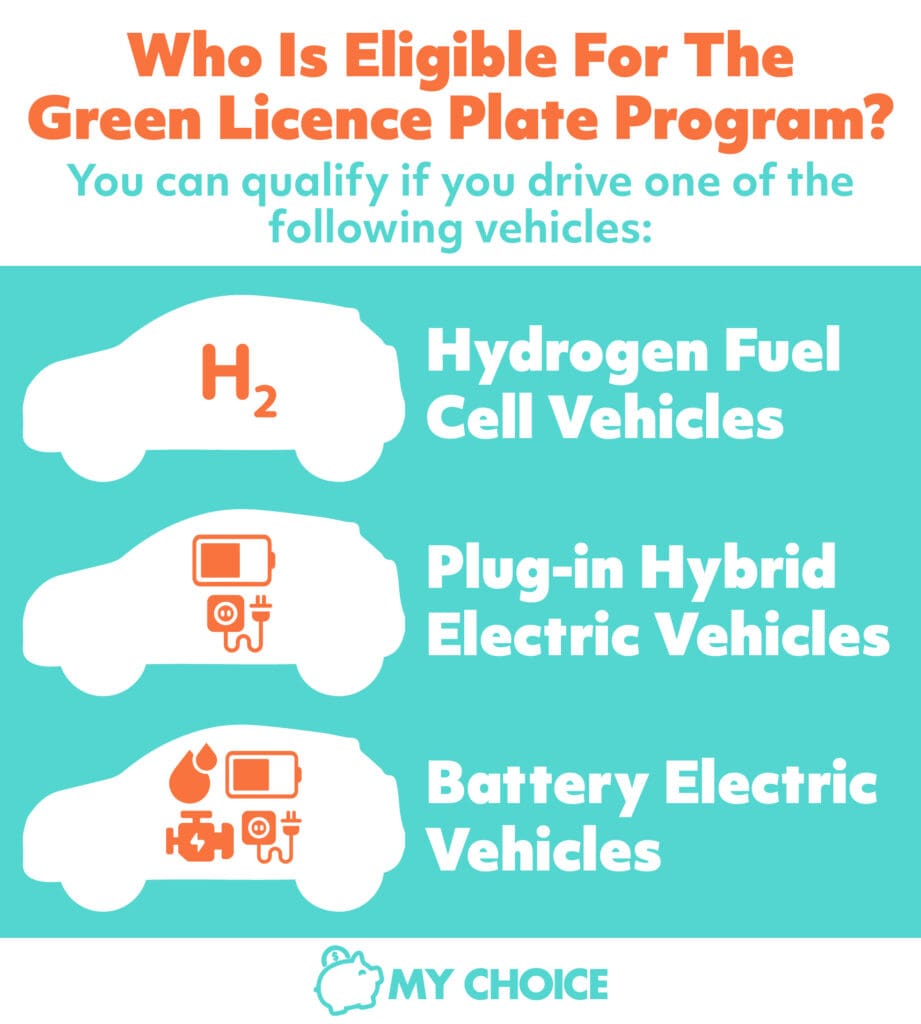 Who Is Eligible For The Green Licence Plate Program?
You may be eligible for a green licence plate if you are an individual with a driver's licence, a business entity, or run a commercial fleet. However, not all vehicle types are eligible for the program.
You can qualify if you drive one of the following vehicles:
Hydrogen fuel cell vehicles (HFCVs): Vehicles that use electric motors and generate electricity on board. These are zero-emission vehicles that can refuel as quickly as five minutes. HFCV types include the Honda Clarity Fuel Cell, Toyota Mirai, and Hyundai Nexo.
Plug-in hybrid electric vehicles (PHEV): Vehicles powered by electric motors that also contain an internal combustion engine. When the battery runs out, a PHEV automatically switches to its ICE to consume gasoline. PHEVs don't produce tailpipe emissions. PHEV types include the BMW X5, Kia Sorento, Range Rover Evoque, and Volvo XC90.
Battery electric vehicles (BEV): Electric-only vehicles that exclusively use chemical energy. BEVs do not produce any greenhouse gas emissions. BEV types include the Mercedes-Benz EQS, BMW i4, Nissan Leaf, and Hyundai Ioniq.
Ineligible Green Vehicles
Not all green vehicles are eligible for the Green Licence Plate Program, such as:
Low-speed vehicles
Motorcycles and e-bikes
Off-road vehicles
Commercial vehicles that weigh more than 3,000 kg
Convention hybrid electric vehicles (HEVs)
Traditional vehicles converted for plug-in capabilities
That said, eligibility may change in the coming years. You can stay updated by referring to the Ontario Ministry of Transport's list of vehicles. Automobile manufacturers that have made the list of eligible vehicles include:
Honda
Jaguar
Tesla
Honda
Ford
KIA
BMW
Audi
How To Apply For A Green Licence Plate
Green licence plates are available at any ServiceOntario centre. If you're buying a new car, your dealership will likely process your registration.
If your dealership doesn't facilitate registration, below are a few things you'll need to get a green licence plate:
Ontario driver's licence or registrant identification number (RIN)
Proof of identity with a government form that lists your legal name, birthdate, and signature
Proof of vehicle purchase
Safety Standards Certificate to ensure the vehicle is safe for driving
Proof of insurance from an Ontario-licensed provider
If you are registering your vehicle to a business, you'll need the following:
Notarized letter of authorization from the business owner or director
Identification document from the business (e.g., letter of good standing, article of amendment)
Proof of business address (e.g., utility bill, pink slip)
 You cannot currently order green licence plates online or have them personalized.
Does A Green Licence Plate Impact Your Insurance?
No, having a green licence plate won't directly impact your insurance. Still, it's important to note that because electric cars are more expensive to maintain, insurance premiums will likely be higher.
The good news is that you can apply for rebates through the Zero-Emission Vehicles Program (iZEV), which can also cover higher insurance rates.
Incentives For Purchasing Zero-Emission Vehicles
While zero-emission vehicles (ZEVs) come with higher up-front costs, they do come with incentives that make them worth your investment. iZEV offers two types of incentives:
Battery-electric, long-range plug-in, and hydrogen fuel cell vehicles are eligible for up to $5,000 in incentives.
Short-range plug-in hybrid electric vehicles are eligible for up to $2,500 in incentives.
Owners can claim their incentives upfront at their dealership.
Qualifications For Eligibility
For your vehicle to qualify for the iZEV program, it must meet the following standards:
Aligns with Canada's Motor Vehicle Safety Standards
Is used on public streets, highways, and roads
Has four functioning wheels capable of highway driving
Is leased for at least 12 months
Vehicles not eligible for iZEV incentives include:
Vehicles purchased or leased outside of Canada
Used vehicles that have already been plated
Two-wheeled vehicles
Should You Buy An Electric Car In Canada?
Aside from the advantages of the Green Licence Plate Program, buying an electric car in Canada can be worth it! On top of special toll access and incentives, you could also reap the following benefits:
Cleaner environments: EVs have no tailpipes that emit harmful exhaust gases, reducing local air pollution in highly congested areas.
Less noise: Compared to gas vehicles, EVs are so quiet that some territories require Acoustic Vehicle Alert Systems (AVAS) to emit noise when travelling below 12 mph.
Less maintenance: Unlike gas-powered vehicles, EVs don't require oil changes, replacements for parts like spark plugs and exhaust pipes, or smog tests. EV engines are significantly simpler than their gas-powered counterparts and will only require annual spot-checking.
Advanced technology: Most EVs have cutting-edge technology like keyless ignition, touchscreen features, xenon headlights, and even payment processors like Apple Pay and PayPal.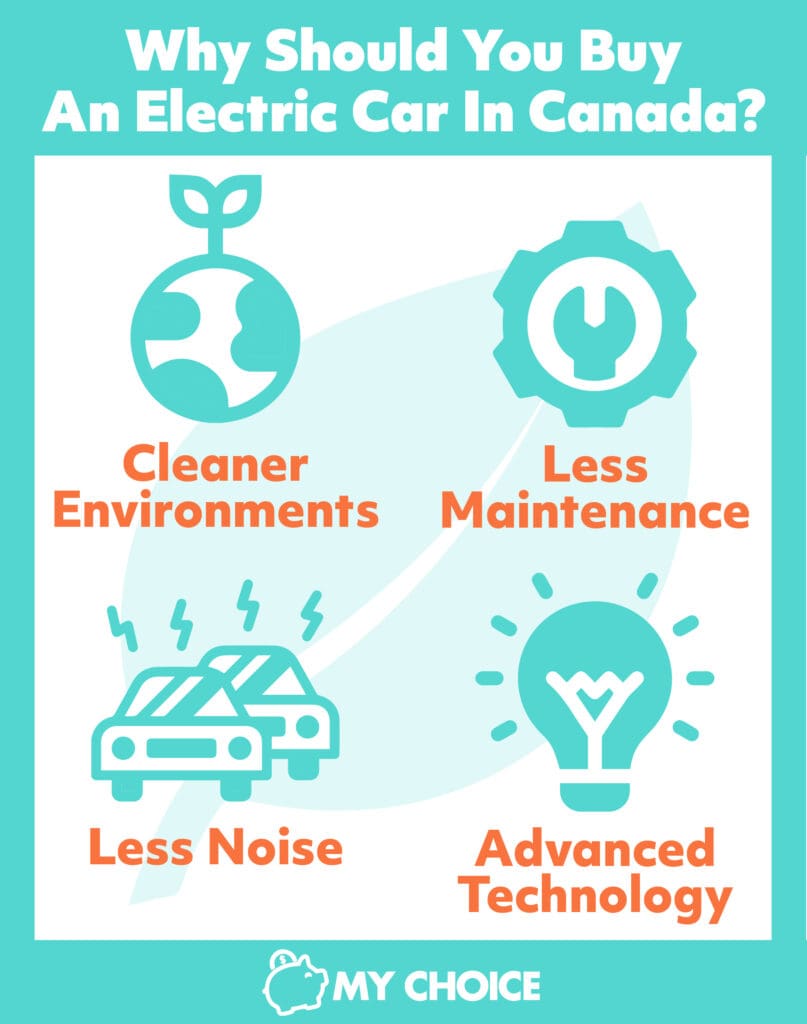 The Bottom Line
If you're considering going green and purchasing an electric vehicle, applying for the Green Licence Plate Program is worth it. Not only will you help the environment, but you'll also get access to special tolls, monetary incentives, and better insurance.
Don't want to overpay for green car insurance? Get the rates you deserve with My Choice! In just three minutes, you can get a deal with the best providers in the country.