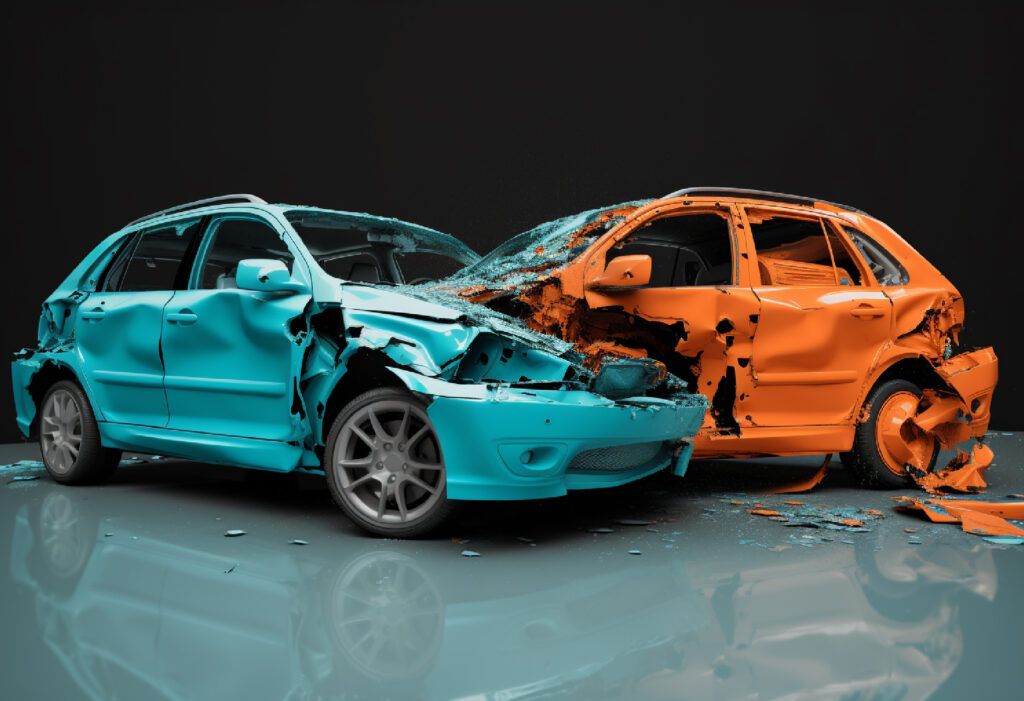 After a car accident, you may find yourself struggling with car insurance claims, demerit points, and repairs. But in particularly bad accidents, your car may even be considered too expensive to repair, resulting in your car being written off.
How does an insurer determine if a car should be written off or if it can still be repaired instead? In this article, we explain what you can do if your car is a write-off, how your car insurance company decides your car's value, and what collision insurance covers.
What Happens if Your Car Is Deemed a Write-Off?
If your car is deemed a write-off, your car insurance company will offer you a settlement check equivalent to the car's value at the time of the collision. Here's how your car is assessed by your appraiser and deemed a write-off:
An appraiser from your car insurance company will compute how much your vehicle was worth before the accident. Note that this value may have gone down due to depreciation, which is one of the hidden costs of owning a car.
The appraiser then compares the cost of repairs to your car's actual cash value less its salvage value.
The appraiser decides if your car will be written off or repaired.
If the appraiser deems your car still worth repairing, your car insurance policy will be used to cover the cost of repairs. However, if your damaged car's estimated cost of repairs and salvage value exceeds your car's pre-accident cash value, it will be written off.
If your car is deemed a write-off, your car insurer will give you a settlement offer to replace it instead.
After your damaged car is written off, it may be branded "irreparable" or "salvage". Irreparable cars can never be repaired and driven on the road – they can only be used for parts. Salvage cars need repairs and inspection before they can be allowed on the road again.
You could be allowed to keep your damaged car as part of the write-off settlement if it has no safety or structural issues.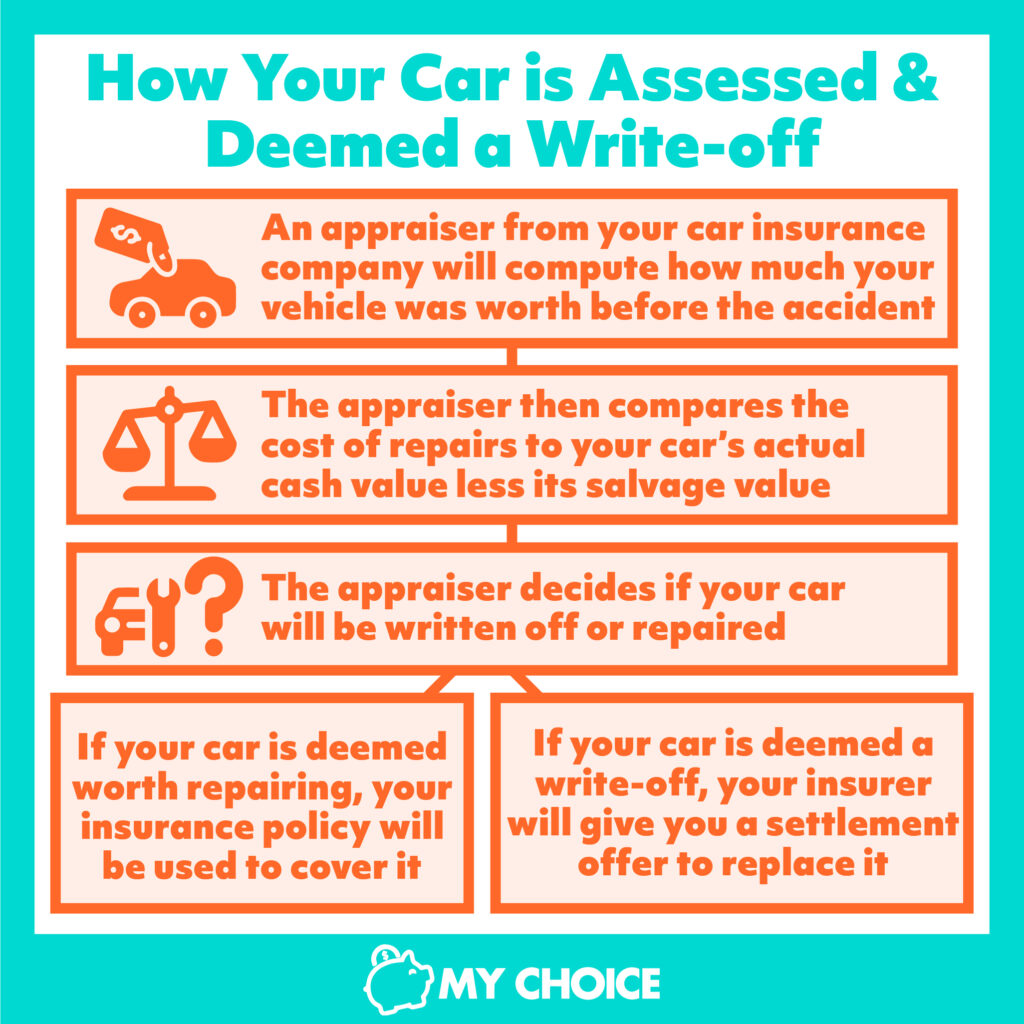 What You Can Do if Your Car Is a Write-Off
If your car is deemed a write-off, you may want to use the settlement cheque to cover the cost of a new car or dispute the company's assessment. Here's a quick breakdown of how each works:
You can use the settlement cheque to purchase a new car, but this cheque will represent the depreciated value of your car, not its original purchase price. Cars start depreciating as soon as you drive them off the lot, so in many cases, your settlement cheque may not be enough to buy a similar, brand-new vehicle.
If your car was brand-new at the time of the accident and covered by a depreciation waiver, your settlement will be equivalent to your car's original purchase price. With this amount, you are in a better financial position to pay for a new car.
If you accept that your car should be written off but disagree with the settlement amount offered, you can present your own list of similar vehicles and their values to your car insurer.
If you think your car shouldn't be written off and can still be repaired, you need to talk to your car insurance company. You'll need to show evidence that the car will be safe to drive after repairs, as well as a lower estimate that makes the car worth repairing.
How Does a Car Insurance Company Determine My Car's Value?
A car insurance company determines the value of your car by considering the following factors:
Your car's make, model, year, and odometer reading
Engine type
Overall interior and exterior condition, taking into consideration any prior damage
Values for similar vehicles listed in industry publications, classified ads, and used car valuation databases, such as the Canadian Automobile Red Book
However, if your car is brand-new and covered by a depreciation waiver, your car insurance company will reimburse you whichever of these amounts is lower:
Your car's purchase price
The manufacturer's list price for your car
The cost of replacing your car with similar vehicles
Generally, the newer and better maintained your vehicle, the higher your car's assessed value, and the larger the amount you'll get if it's written off.
My Car's Damage Wasn't Too Serious, Why Was It Written Off?
Even if the damage to your car doesn't appear too serious, your car insurer may write it off and instead hand you a cheque due to the cost of recalibration.
Because of the increasing sophistication of car technology, many vehicles have sensitive electronic sensors that need recalibrating during repairs. Recalibration can take tools, specialized knowledge, and more time to repair.
If your car insurer considers the cost of repairs and recalibration too high, they may write your car off instead.
What if I Want My Car Repaired Instead of Written Off?
If you want your car repaired instead of written off, you need to talk to a representative from your car insurance company to reevaluate the claim
If your car's damage was minor and the car insurance company considers it worth repairing, it will do the following:
Cover the cost of repairs related to the accident
Oversee your vehicle's repairs at one of their preferred auto shops
Expect you to cover any additional costs for part replacements if they're better than your car's parts before the accident
In most cases, car insurance companies refuse to repair a vehicle if there's a safety issue that's too serious or costs too much for them to repair.
What if I Want My Car Written Off and Not Repaired?
If you want your car written off and not repaired, you can disagree with your car insurance company's appraisal of the cost of repairs. The cost you present has to be high enough for the company to deem the vehicle too expensive to repair at any of their preferred shops.
Apart from the cost of repair, you should be able to show that the car is no longer safe to drive even after repairs and replacements. Typically, when a car insurance company sees too many safety issues, it will write off the car instead of covering repairs. Review your claim with a representative from your insurer to determine if the car is too expensive to repair or too risky to put back on the road.
What if I Want My Car Repaired at a Different Shop?
If you want your car repaired at a different shop, you'll need to get an estimate for parts and labour approved by your insurer. Here are things to keep in mind if you want your car repaired at your trusted mechanic or shop instead of your car insurer's preferred shops:
Ask the shop for a written estimate for repairs, inclusive of labour and replacement parts.
Get the estimate approved by your insurer.
Once your car insurer approves this estimate, sign it with the mechanic of your trusted shop.
Stay updated about your car's repairs and any suggested recommendations from your shop's mechanic. Note that, during repairs, your mechanic may suggest additional upgrades like brake replacement or updating the exhaust. However, these add-ons won't be covered by your insurer.
Is a Written-Off Car a Taxable Expense?
Yes, a written-off car can be a taxable expense if you used it to earn business income. The types of claims you can make on your car are:
Insurance
Maintenance and repairs
License and registration costs
Fuel and oil costs
Leasing costs, if applicable
Interest on money borrowed to purchase the vehicle
Capital cost allowance, if you own the vehicle
Note that you can only deduct reasonable motor vehicle expenses if you have receipts to back them up. Keep in mind that if you also use your vehicle for personal purposes, the only deductible expenses are those incurred for business.
Learn more about deducting motor vehicle expenses on the national government's main website.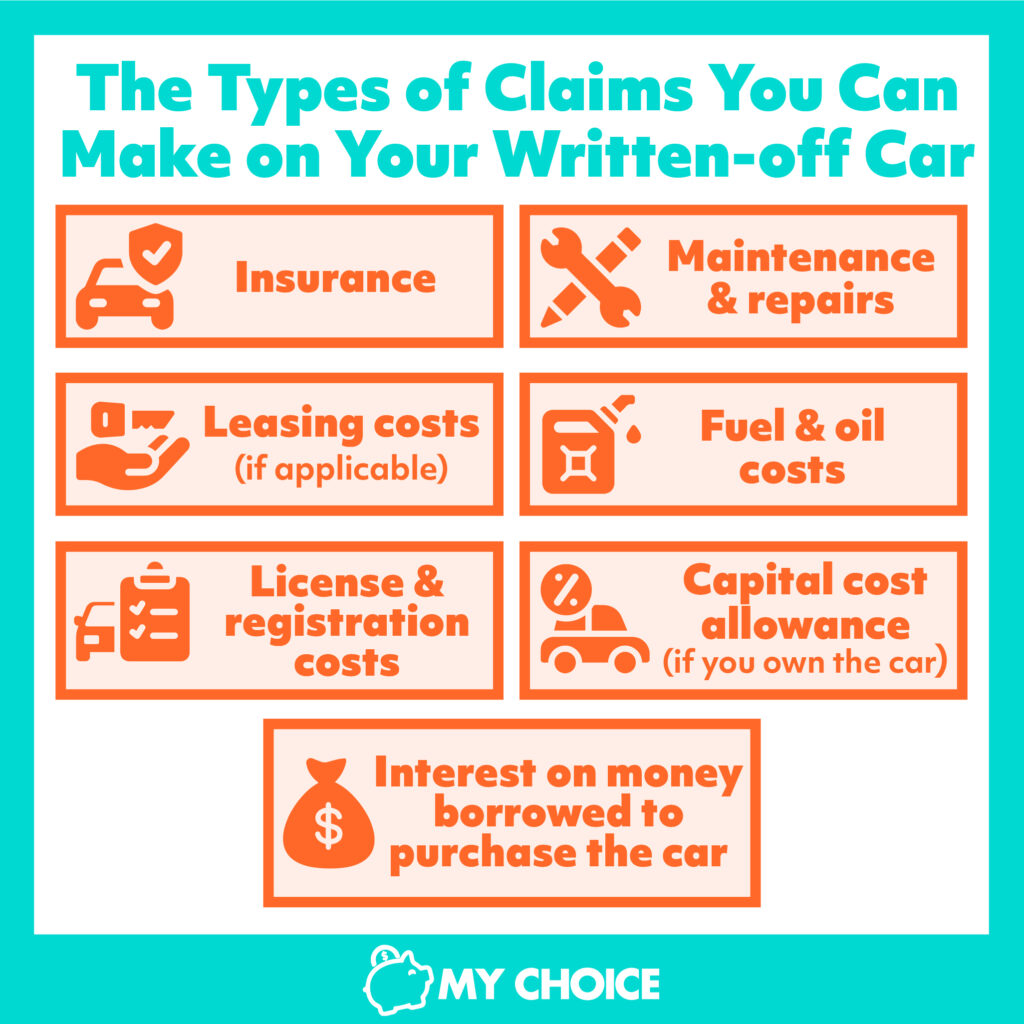 What Does My Collision Insurance Cover?
Generally, collision insurance only covers your car's replacement or repairs. Your collision insurance policy likely won't cover any damage to your car's contents, regardless of their value. Keep this in mind if you keep expensive equipment or tools in your car.
Here are other things to keep in mind about what your collision insurance covers:
You may have to cover the additional cost of replacements or repairs made with after-market parts.
If your car can't be repaired, your car insurer may reimburse you the value of your car before the accident. However, this value may have gone down significantly due to depreciation. A car's value may depreciate by as much as 20% within its first year of use, so what you receive may not be enough for replacement with a similar vehicle.
While you can get your vehicle repaired anywhere for your insurer's quoted cost, note that your insurer will typically only guarantee the repair's quality if you have it done at one of their preferred shops. If you have repairs done elsewhere and they turn out to be shoddy, you'll have to cover any additional work.
Collision insurance only covers damage if your car collides with another vehicle or object. If you want to protect your car from other risks such as vandalism, theft, or natural disasters, consider opting for comprehensive car insurance.
Read our guide comparing collision car insurance vs. comprehensive insurance policies to learn more about which is best for you.
The Bottom Line
A car accident is a costly, exhausting event that can leave you worrying about the cost of repairs. But if your car insurer thinks your damaged vehicle is too expensive to repair, it will write it off and offer you a settlement cheque instead.
Affordable, solid car insurance coverage can help you cover the cost of repairs or replacement after a collision. If you need help comparing car insurance policies, MyChoice can help you find the best match for your budget.