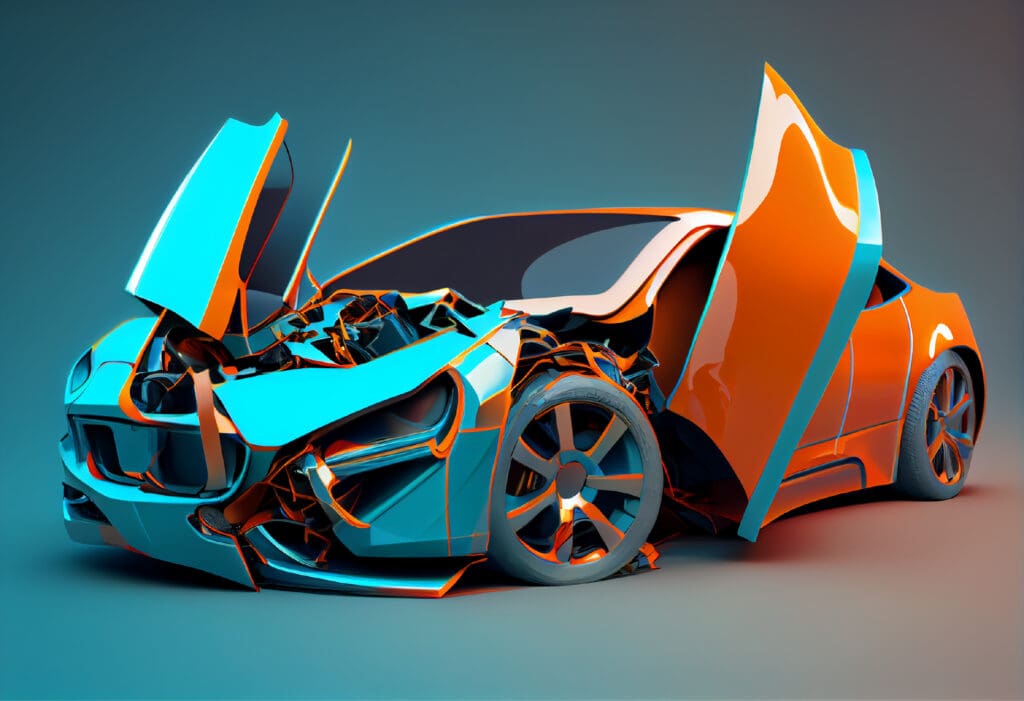 When you get into a car accident, making an insurance claim might be the last thing on your mind. However, making a claim after an accident is essential, especially if your vehicle sustains damage.
The process may seem tricky if you've never made a claim before. After all, there is the other driver, your lawyer, and a ton of paperwork involved. Fortunately, this guide will tell you everything about the automobile claims process, including what you should and shouldn't do.
When to Make a Car Accident Claim
The best times to make a car accident claim are when:
You cause significant damage to your vehicle or another vehicle.
You suspect the other driver is trying to commit insurance fraud.
You sustain an injury or cause physical harm to other drivers.
On the other hand, there are instances under which you should not file an insurance claim, such as when:
The damage to your vehicle doesn't significantly surpass your insurance deductible.
You can't afford to pay for the damage.
The damage caused is minor.
You caused the damage by backing into a fixture.
Additionally, if you can't afford the insurance rate increases that come with filing a car accident claim, you might be better off shouldering the repair expenses.
How Long After an Accident Can You Make a Claim?
If you decide to make a claim after an accident, most insurance companies provide a 90-day to 12-month grace period. However, these time frames may vary according to different insurance companies.
Car Accident Claims Do's and Don'ts
There are several steps to making a car accident claim, so you'll want to remember these dos and don'ts. Check out our guide to learn more about what to do immediately after a car accident.
DO – Review the Damage and Document It
The first thing you should do after getting into an accident is to step out of your vehicle and review the damage. If you have a working phone, take photos of the scene, the vehicles involved, and other physical evidence, such as skid marks or street signs.
DO – Report the Accident Immediately
Canadian law requires that you report an automobile accident immediately after it occurs, mainly if it results in bodily harm, property damage, or death. When the appropriate legal entities arrive, ensure that you provide factual information.
DO – Seek Medical Attention
Traumatic car accidents can result in broken bones, bruises, and other injuries. Even if there are no signs of injury, seeking medical help can identify whether you suffer from internal organ damage. Don't forget to save your medical bills for reimbursements.
DO – Work with a Claims Adjustor
Provide your claims adjustor with as much information as possible. The more accurate information you gather, the easier to determine what your insurance policy can cover. Contact them via phone if your claims adjustor cannot meet you in person.
DON'T – Volunteer Additional Information
Don't speculate or volunteer incomplete information if you're unsure about something. Avoid answering anything with an opinion – only facts.
DON'T – Admit Fault
Even if you are at fault, admitting it can (literally) cost you. You alone cannot determine liability. Wait for law enforcement to investigate the accident, or you may not receive a fair settlement when you make a claim.
DON'T – Negotiate with the Other Driver
Just as you cannot determine liability, the other driver or drivers cannot be involved in the compensation process. You may not receive fair compensation if you negotiate with the other parties.
If the other driver has automobile insurance, leave the discussion to your lawyer. If they do not have automobile insurance, consult your insurance company regarding coverage.
DON'T – Sign Waivers Without Your Lawyer Present
Only accept full and final payments with a lawyer to help determine the appropriate settlement. Even the most attractive offer may not cover bills for damage or injury.
In addition, you should avoid signing a blanket medical authorization. Insurance companies should only access medical information relevant to the accident – nothing beyond that.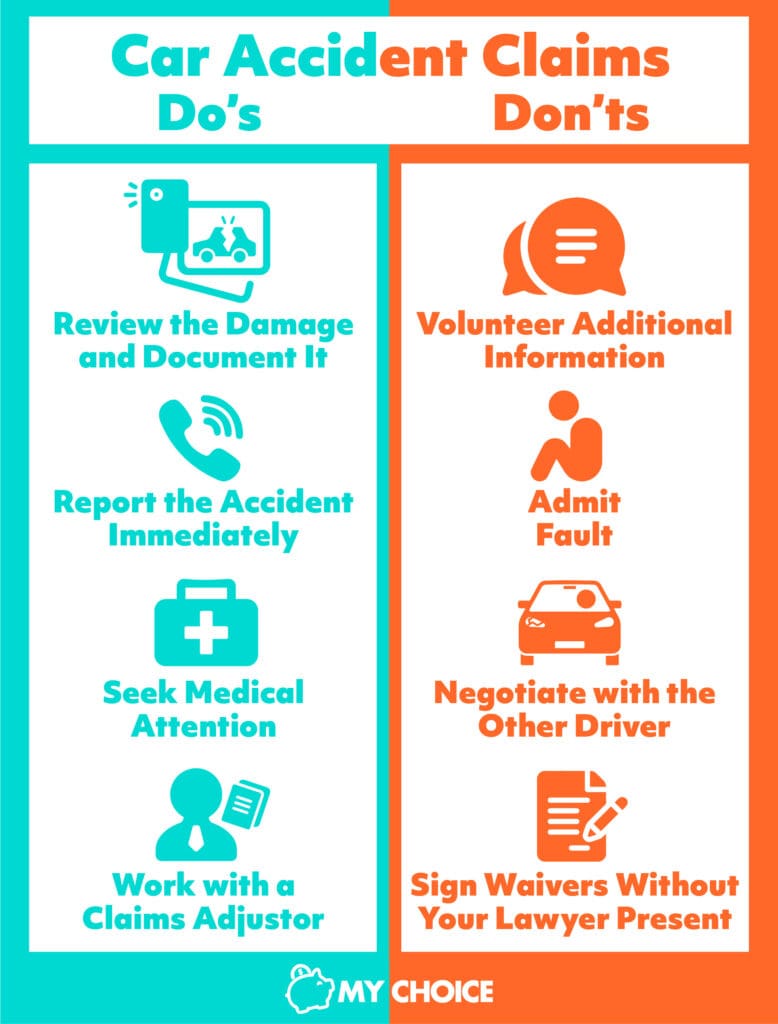 The Auto Insurance Claims Process
The auto insurance claims process is more straightforward than you might anticipate. Just follow these steps:
Pull over to a safe spot. If there is someone else in your vehicle and they are injured, do not move them. Read more about how to safely pull over onto the side of the road in our guide.
Call 911 immediately. Then, call your insurer and provide them with as many details about the accident as possible.
Answer any questions your insurance adjustor asks. They will provide an estimate for the damage and repairs.
Review auto repair shops and determine your schedule.
Settle and close the claim.
Information to Provide
When making an accident claim, you'll have to provide the following information:
Insurance company name and policy number
Date, time, and location of the accident (include landmarks)
Make, model, year, and RIN of your vehicle
Accident details
Injury details
Property damage details
The names, contact details, and driver's licences of everyone involved
The names and information of any insurance companies and automobile policies of everyone involved
The name, contact details, and badge number of the investigating officer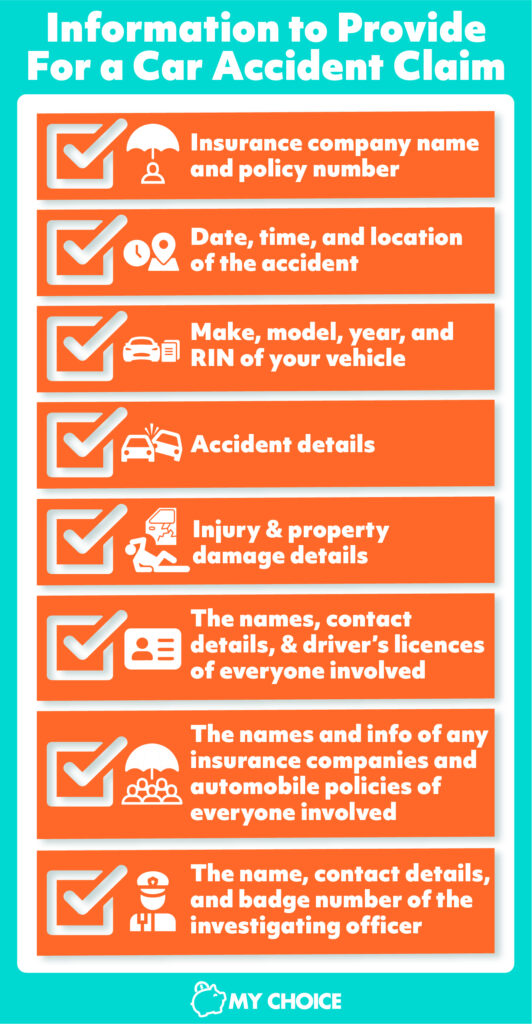 Determining Fault
When you report an accident, the insurance companies involved are legally obliged to determine fault. Canadian companies establish responsibility through the Insurance Act and Fault Determination Rules.
With diagrams outlining over 40 accident situations, determining fault can take some time. In addition, the rules apply regardless of road conditions, pedestrian involvement, and the weather.
Once investigators review the accident details, they determine fault on a scale of 0 to 100. If the insurance company determines that you are at fault, this will reflect on your record. The higher the fault scale, the more your insurance premiums will increase.
If you don't believe you were at fault, you can contact your insurance company's complaint officer and submit an appeal.
What Is Covered in Case of Injury?
Because Canadian law mandates Accident Benefits Coverage, you can expect to receive compensation for any injuries. These settlements can cover the following:
Income replacement
Caregivers
Rehabilitation or physical therapy
Medical bills
Compensation for other expenses like home maintenance or educational costs
If the accident results in death, your family can expect to receive monetary support for the funeral and additional living expenses.
What Your Insurance Company Pays
Insurance companies pay one of two fees:
The cost to repair damage caused to your vehicle
The actual cash value of your car at the time of the accident
The actual cash value refers to the cost of replacing your vehicle with another car in a similar condition. Your insurance company will review your car's mileage, age, and overall condition to determine this cost. If investigators determine that you are at fault, you must pay your entire deductible. If you have optional coverage, here is what you can expect from the claims process.
Comprehensive Coverage
Comprehensive coverage assists in total repair or replacement. It will cover any damage caused by flying objects and other specified perils regardless of fault.
Collision Coverage
If you purchased collision coverage, you will receive repair compensation irrespective of fault. Collision coverage also applies to cases involving uninsured drivers.
Learn more about what collision and comprehensive plans cover in our guide.
How Claims Affect Your Insurance Rates
Drivers making a car accident claim for the first time who are not at fault won't typically see an increase in their insurance premiums. In other situations, you might be subject to an increase depending on the damage sustained, any injuries, the claim type you file, and the fault determined.
If an insurance company finds you at fault for an accident, this can also stay on your record for a few years and impact your rates. Learn more about how long a car accident stays on your driving record.
Where to Get Your Vehicle Repaired
When you receive compensation, you can repair your vehicle at any shop. However, your insurance company might recommend a body shop of their choice to fit the estimated budget. The benefit of employing a shop that works closely with your insurance company is that they can ensure the job is done satisfactorily.
Can You Cancel an Active Claim?
While you can cancel an active claim, it will depend on how far along the process you're in. You can no longer cancel a claim if you've already received compensation. In addition, you cannot withdraw the existence of a claim on your driving record after processing it.
How Many Auto Insurance Claims Can You Make in a Year?
You can file as many auto insurance claims as you need each year. However, you'll want to keep this number to a minimum, or else your company might suspect insurance fraud.
How Long Does it Take to File an Insurance Claim?
Filing an insurance claim can take 30 minutes to an hour, including the call to your adjustor. However, the actual settlement can take between weeks and months. Ultimately, how long it'll take to receive your compensation depends on the damage's extent and whether the parties involved file complaints or appeals.
What to Do if Your Claim Is Denied
Your insurance company can deny a claim. Claim denial typically happens for the following reasons:
You provided inaccurate or misleading information.
You were not a licenced or authorized driver.
You were using a personal vehicle for commercial or business purposes.
You broke the law.
You needed to catch up on insurance payments.
You don't have the appropriate insurance plan.
You committed insurance fraud.
You can contest these findings with the Automobile Accident Benefits Service or apply for a new claim appropriate to your existing coverage.
What to Do if You Don't Have an Insurance Policy
You can still make a claim if you don't have an auto insurance policy or are not listed secondarily on another insurance policy. Alternatively, you can get temporary insurance.
Consider the following circumstances and to whom you can submit your claims application:
| Accident Circumstance | Where to File a Claim |
| --- | --- |
| Driving a company vehicle | Insurance company contracted by your business |
| Passenger in an uninsured vehicle | Other driver's insurance company |
| Passenger in someone else's vehicle | Company that insures the vehicle |
| Pedestrian | Company that insures the vehicle at fault |
| N/A | Motor Vehicle Accident Claims Fund |
Find out more about insurance when you drive someone else's car and what you should do if you can't afford insurance.
The Bottom Line
Being in a vehicular accident can be incredibly traumatizing. Fortunately, there are ways to protect yourself physically and financially. When you familiarize yourself with the car accident claims process, receiving compensation for injuries and property damage will be easier.
Are you looking for the best accident benefits coverage? Find a plan that suits you with MyChoice.