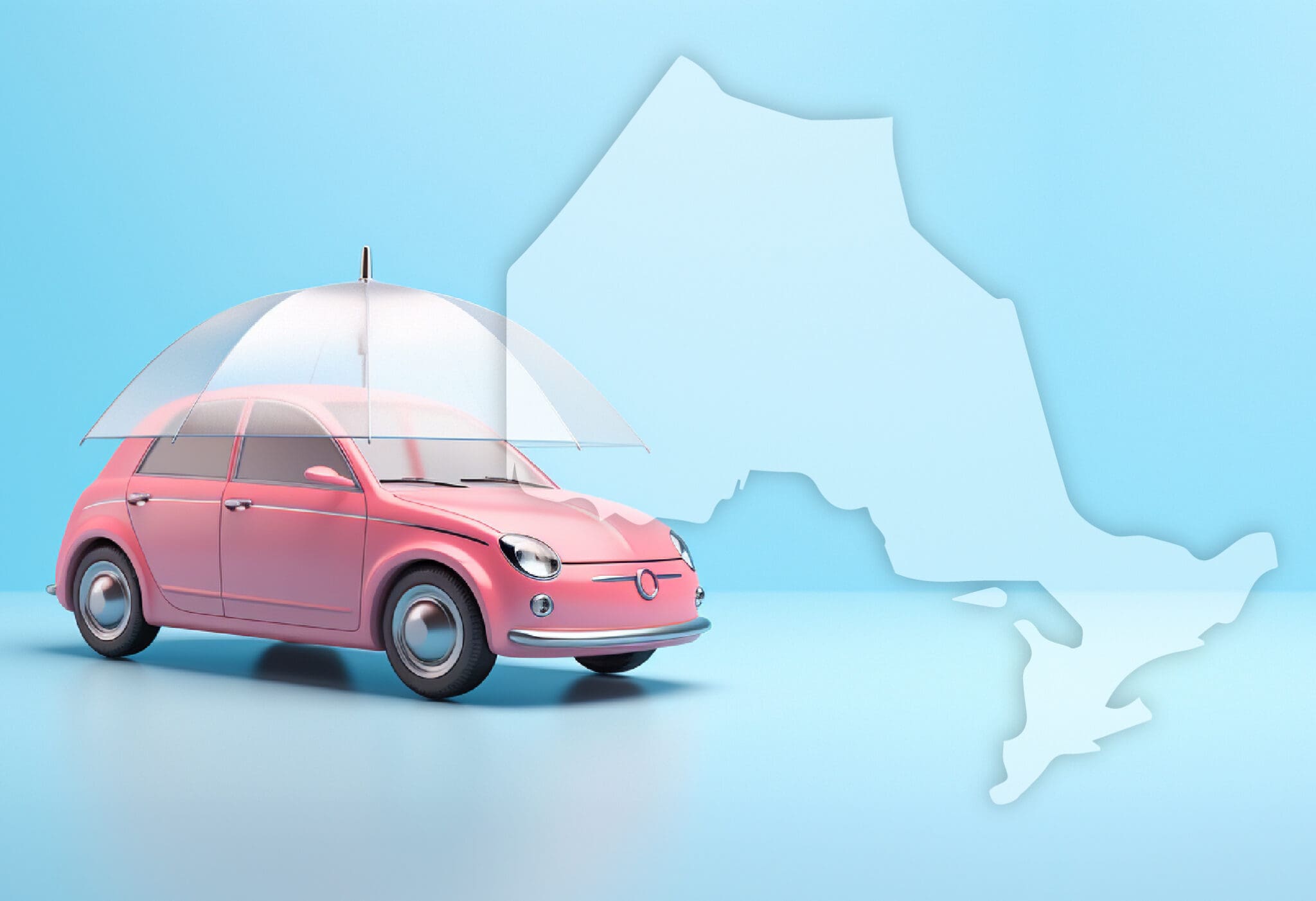 Buying a car in Ontario can be an exciting prospect, but it's important to remember that there are still a few things you need to do before you can start driving. One of these vital steps is getting car insurance.
Each Canadian province has its own rules when it comes to mandatory coverage. Read on to learn more about car insurance Ontario rules, including which types of coverage are mandatory and how Ontario car insurance works. You'll also find out what optional coverage you can get to protect your car from additional risks in Ontario.
How Does Car Insurance Work in Ontario?
Car insurance essentially works as a contract between an auto insurance company and a policyholder, where the company protects them and their car in exchange for monthly or annual premiums.
The level of protection you get depends on your policy type. Generally, the more coverage you have, the higher your premiums will be.
Some Canadian provinces offer a public insurance system. However, in Ontario, private insurance must be purchased at least at a minimum level. Coverage rates vary, of course, so it pays to shop around for the best rates.
Buying insurance from a private company ensures that you can shop around for the best rates among competing companies which, theoretically at least, allows drivers to buy the coverage they feel like they need and at the best possible price.
Before car insurance companies offer you rates for coverage, your insurer will want to know a few things. These are some of the factors that an Ontario car insurance company will look at to calculate your premiums:
The model and make of your car
Your driving record, including any suspensions, fines, and other penalties
The average number of kilometres you drive in a year
The number of drivers in your household
After checking these, a car insurance company will present different coverage options to you. While some forms are mandatory, others are wholly optional and it'll be up to you to add them to your policy according to your needs. When you've chosen your coverage type, the car insurance company will present its offered rates and the option to pay your premiums every month, quarter, or year.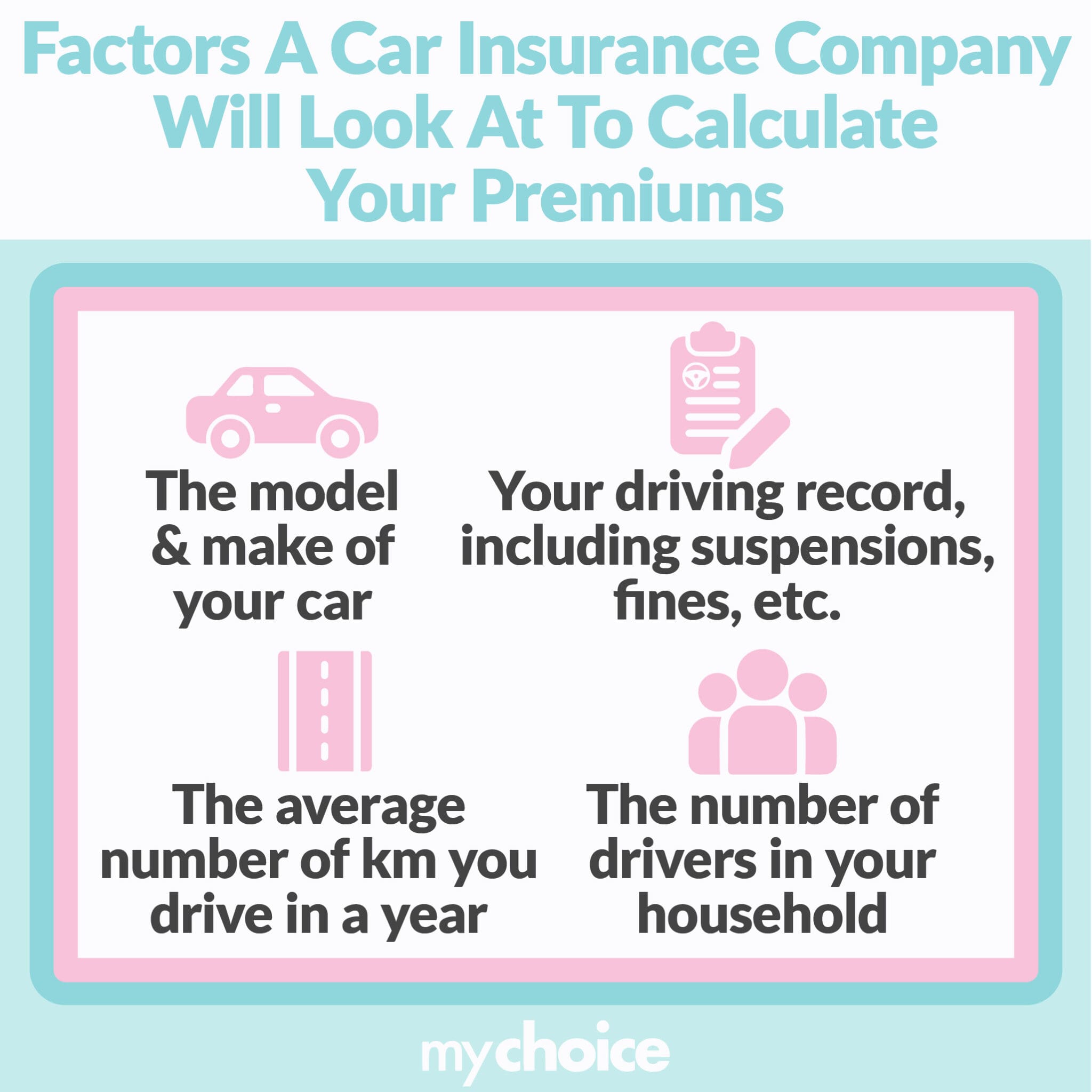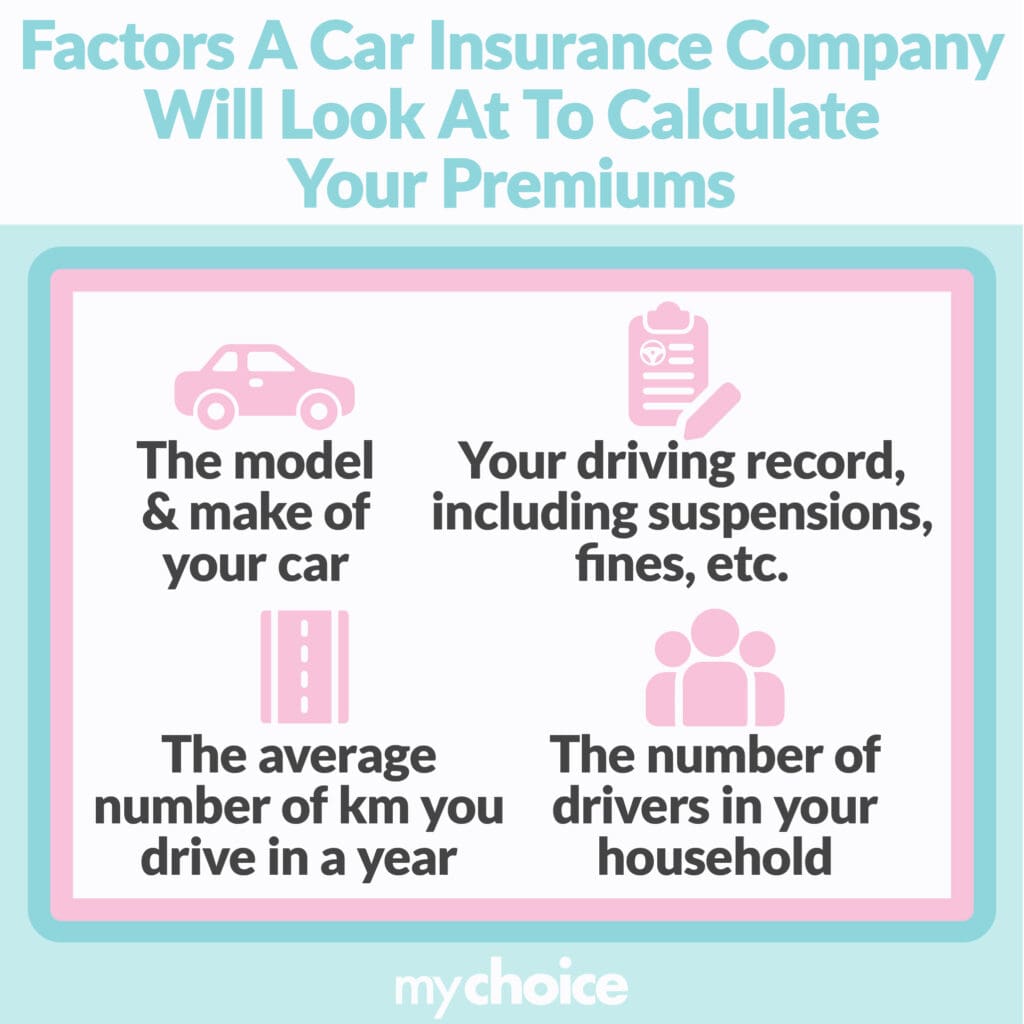 Is Car Insurance Mandatory in Ontario?
Yes, car insurance is mandatory under Ontario law. Keep in mind that while other provinces offer coverage through government-owned insurers, Ontario only allows you to get auto coverage from private insurers.
These are the types of insurance that are mandatory according to Ontario automobile policy:
Third-Party Liability Insurance
This mandatory car insurance covers up to $200,000 if you kill or injure someone with your vehicle or if your car causes property damage. Note that this is the basic coverage amount under this policy type, and you can opt to upgrade it to cover more damages.
Accident Benefits
Accident benefits will cover medical expenses and the costs of treatments needed to recover from a collision, regardless of who was at fault for the accident. Examples of medical expenses covered by accident benefits include the following:
Cost of physical rehabilitation
Income replacement (if you're unable to work while recovering)
Supplementary medical bills
Attendant care benefits
Non-earner benefits
Death and funeral benefits
Uninsured Automobile Coverage
Even if you have mandatory car insurance, there's a chance you may get into an accident with someone who doesn't. Uninsured automobile coverage compensates you for up to $200,000 if you're hurt or killed in an accident caused by an uninsured car or hit-and-run driver.
Direct Compensation and Property Damage Coverage (DCPD)
DCPD pays for damage to your car and any belongings in it (up to a certain value and type limit) after an accident where another party is considered at fault. Typically, the following conditions must be met for your DC-PD coverage to apply to a situation:
The accident took place in Ontario.
At least two cars were involved in the accident.
You were not deemed at fault for the accident. In cases where you are deemed at fault, you'll need collision or all-perils coverage to get compensation.
All cars involved in the accident must be insured and identifiable.
Ontario is one of seven Canadian provinces which offer this type of mandatory coverage. Read our guide to direct compensation and property damage coverage to learn how you can benefit from this part of your policy.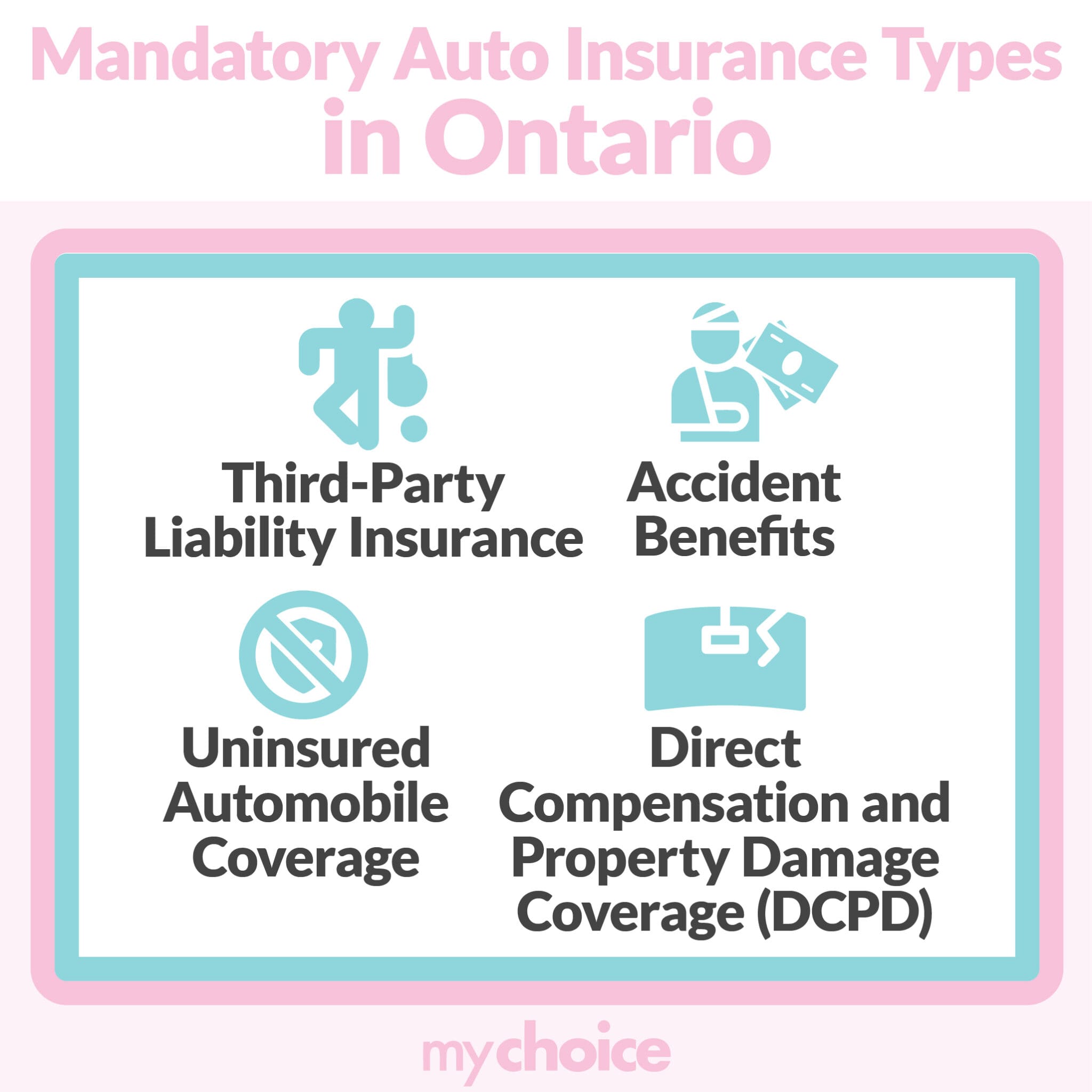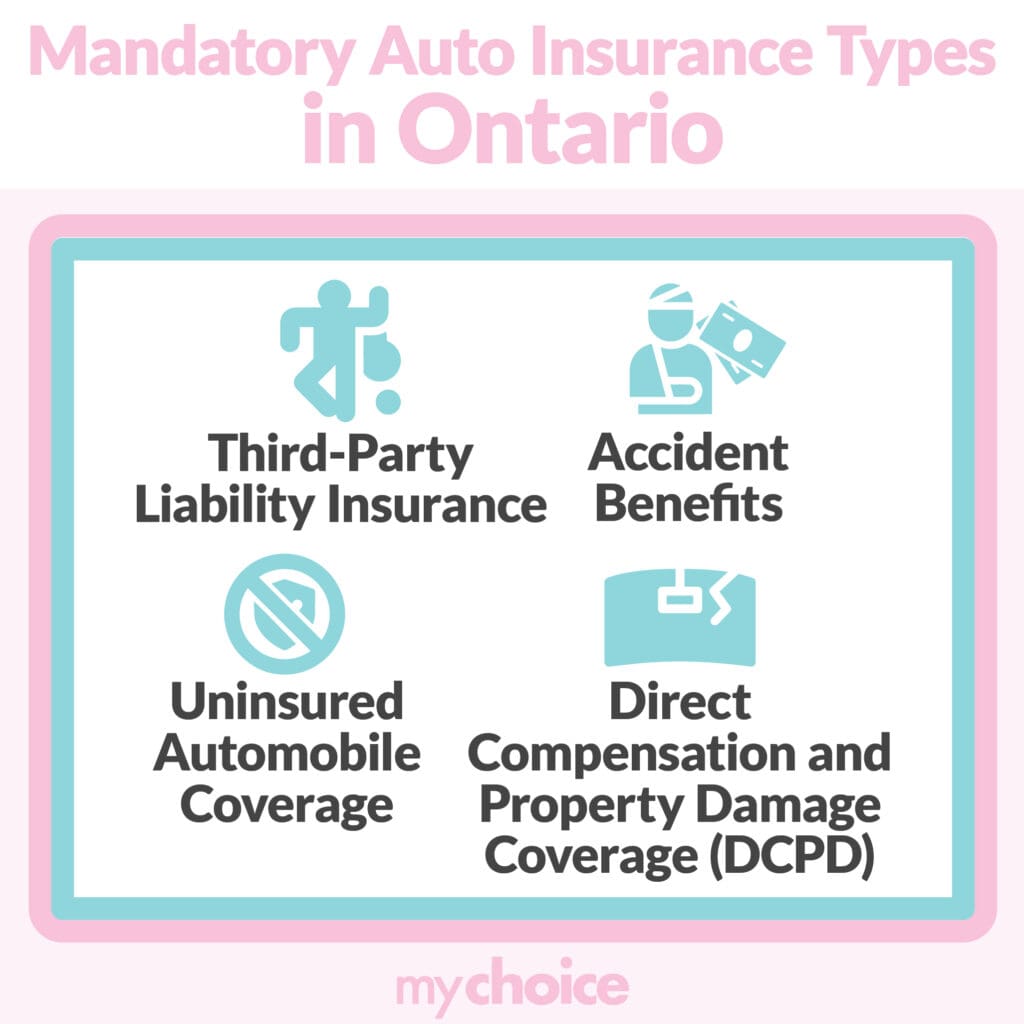 What Happens If I Drive Without Mandatory Car Insurance?
If you drive without mandatory car insurance, this can result in getting your driver's licence suspended. This can stay on your driving record for up to 10 years, making it harder for you to find an insurance company that offers affordable rates.
Note that apart from being a driving requirement, you'll need to get car insurance before you can do the following:
Put a licence plate on your car
Buy a temporary permit
Renew your car registration
What Other Types of Coverage Can I Get?
While some forms of coverage are mandatory, optional coverage can give your car extra protection. It's a good idea to talk to your car insurance provider in Ontario first to understand your financial limits and whether you should purchase additional coverage.
Here are the other types of coverage that you can add to your Ontario car insurance policy:
Extra Coverage for Different Types of Accidents
Some events aren't covered by mandatory Ontario auto insurance, leaving you out of pocket if you suffer damage or a complete loss of your car. This is why some car owners opt to add these types of coverage to get compensation during unexpected events:
Collision coverage: This type of coverage will cover the cost of repairs if your car is involved in an accident with another car or by hitting an object. Regardless of who is at fault for the accident, this will pay coverage for your damages.
Comprehensive coverage: This extra coverage protects your car from risks not related to collisions, such as vandalism, theft, and fire.
All-perils coverage: All-perils coverage is a combination of collision and comprehensive coverage. This type of coverage covers all types of losses and risks except those explicitly excluded. Because of its broad protection, this optional coverage is usually more expensive.
Specified perils coverage: This extra coverage pays for damages or losses caused by risks explicitly listed in your policy, such as fire, hailstorms, and floods.
Optional Insurance Policy Endorsements
Endorsements allow you to change, add, or even reduce your coverage in special situations in Ontario, such as:
Family protection coverage
Rented or leased vehicles
Transportation replacement a.k.a. loss of use. This shoulders the cost of a rental vehicle while your car is being replaced or repaired due to a risk covered by your policy.
Removing depreciation deduction
Liability for damage to non-owned cars (e.g., a rental or a borrowed car)
Optional Accident Benefits
While accident benefits are mandatory in Ontario, these amounts may be too low and can pose a serious financial burden to the average policyholder. Fortunately, you can get optional accident benefits to increase your policy's maximum limits and cover additional situations.
Here are some of the most common optional accident benefits that can be added to an Ontario car insurance policy:
| | | |
| --- | --- | --- |
| Catastrophic impairment coverage | | Up to $1 million |
| Additional income replacement benefits | | Increase from $400/week to $1,000/week |
| Additional death and funeral benefits | Spouse | Increase to $50,000 |
| | Dependents | Increase to $20,000. If no spousal payment was required, dependents get $50,000 instead as an extra benefit. |
| Additional medical coverage | | Up to $130,000 |
| Additional coverage for housekeeping, general home maintenance, and caregivers | | |
| Optional dependent care benefits | | |
Compare Rates With MyChoice for Affordable Ontario Car Insurance
Before you take your car for a spin in Ontario, you'll need to get mandatory car insurance. You may also be interested in purchasing additional coverage to protect your car from other common risks like hailstorms and theft. However, the more protection you have, the higher your premiums will be.
Compare Ontario car insurance rates with MyChoice. We can help you find the most competitive rates from trusted companies, so you can get your preferred coverage at a wallet-friendly price.