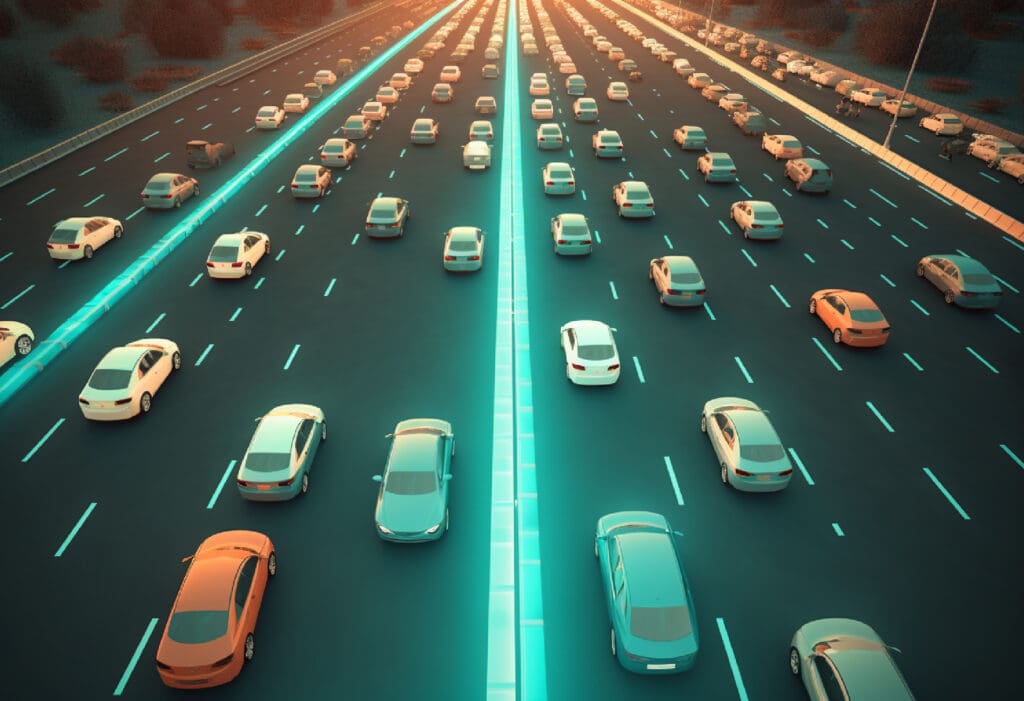 You might have been tempted to beat Ontario traffic during your daily commute by driving in the HOV lane. These lanes, along with roundabouts, were devised by city planners to reduce car congestion and improve traffic. But what is the HOV lane, and are you actually allowed to drive in it?
In this article, we explain what the HOV lane is and who can use it. We also break down how these lanes are enforced and the penalties you may face for improperly using them.
What Are HOV Lanes?
"HOV lane" stands for "high-occupancy vehicle lanes", and they're allocated for certain kinds of cars or cars with at least two people in them. These specially designated lanes are essentially a type of carpool lane, designed to encourage people to carpool or drive in more eco-friendly vehicles.
These lanes were designed to reduce highway congestion, allowing people to arrive faster and more safely to their destinations. To make sure they remain effective at doing so, HOV lanes are not open to all traffic even outside of rush hour.
HOV Lane Sign and Markings
HOV lanes are easily identifiable in Ontario through special HOV lane signs and markers along the road. These signs have a special diamond marker, while a striped buffer separates HOV lanes from other lanes. Ontario has HOV lanes along Queen Elizabeth Way (QEW), as well as Highways 403, 404, 410, 417, and 427.
Note that there are no solid barriers that separate HOV lanes from other lanes as this would reduce the width of highway shoulders. A reduced shoulder width would reduce the number of entry and exit points possible for HOV lanes, as well as make it harder to have a safe enforcement area and clear snow.
By using painted lines instead, city planners avoid these inconveniences and drivers can quickly react to changes in traffic.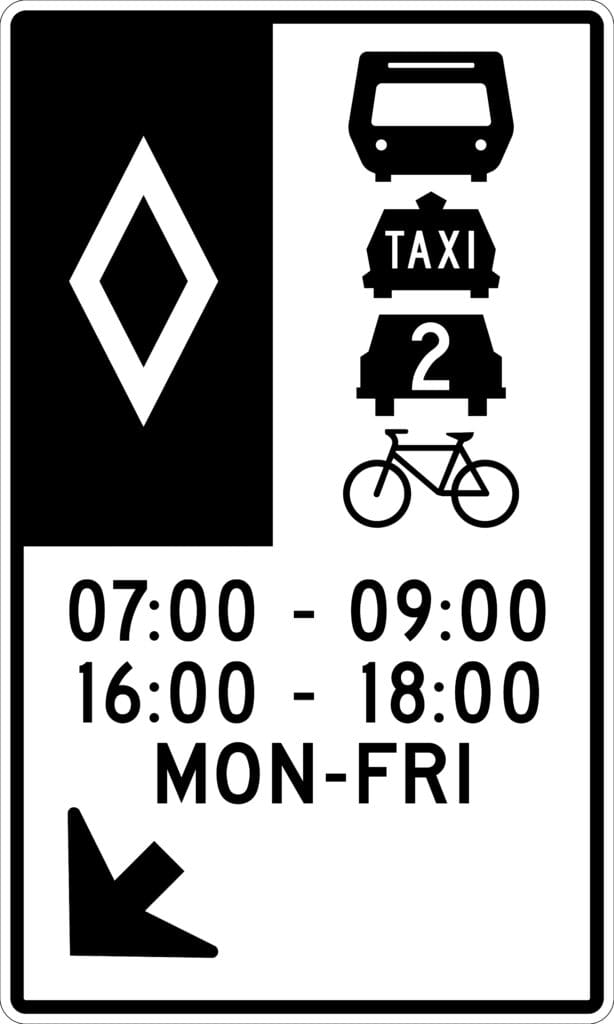 Rules for an HOV Lane in Ontario
In Ontario, the following vehicles can use the HOV lane if they contain at least two people inside them:
Cars
Vans
Commercial trucks that are less than 6.5 metres long and have a gross weight of no more than 4,500 kg
Cars with trailers, as long as the combined vehicle and trailer length is less than 6.5 metres
Light trucks
Note that this two-person count includes the driver. However, keep an eye out for HOV lanes with signs that say "3+" on them. A vehicle must have more than two passengers and a driver inside to make use of lanes with this sign.
The following cars are allowed to use HOV lanes at any time in Ontario, no matter how many people are in the vehicle:
Motorcycles
Cars with green license plates in Ontario
Emergency vehicles, such as police cars and ambulances
Licensed airport limousines and taxis
All types of buses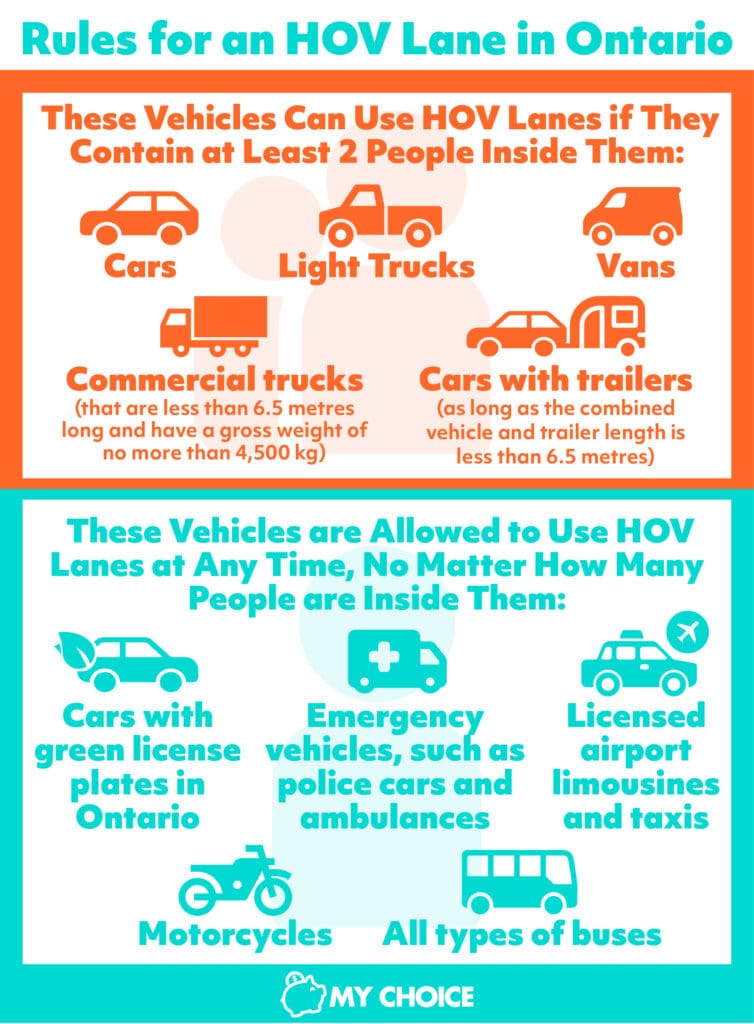 Can Electric Cars and Hybrid Cars Use an HOV Lane?
Electric cars and hybrid cars with green license plates in Ontario can use HOV lanes anytime, even if only one person is in the car. This is because HOV lanes were created to reduce emissions, improve air quality, and minimize environmental impact – three things already done by electric cars and hybrid cars.
Green license plates cost the same as regular plates. Check if your car is qualified for a green license plate in Ontario, as having one comes with many benefits like insurance rebates and the use of HOV and HOT lanes.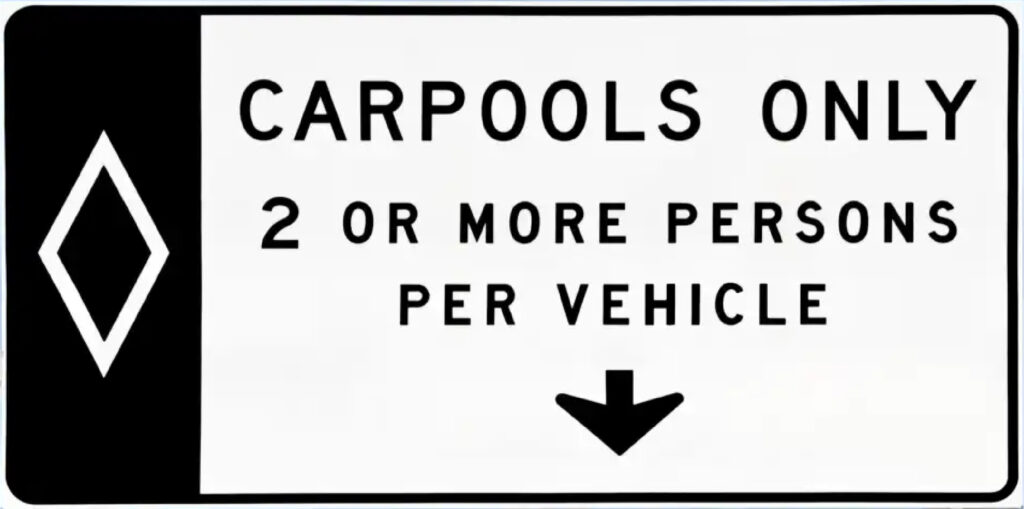 What Are the Penalties for Improperly Using HOV Lanes in Ontario?
The penalties for improper use of HOV lanes in Ontario are:
3 demerit points, and;
A fine of $110
These penalties are enforced by Ontario Provincial Police (OPP) officers along the road. They'll issue an HOV lane ticket to anyone caught doing the following:
Driving over the posted speed limit
Driving in the HOV lane with only one person in the vehicle
Using mannequins or other objects to pretend that there is more than one person in the vehicle
Crossing the striped buffer or solid line zones to enter or exit the HOV lane
Demerit points and other traffic violations stay on your Ontario record for only two years, after which your record is reset.
Note that if you have too many demerits on your record, your Ontario driver's license may be suspended. If you need help getting your driving privileges back, read our guide to dealing with a suspended driver's license in Ontario.
Driving Tips for HOV Lanes in Ontario
Improperly entering or exiting HOV lanes can result in tickets and demerits. Pay attention to road signs and use HOV lanes properly by doing the following:
Enter and exit only at designated points: The designated entry and exit points are marked by signs, diamond markings on the pavement, and broken white lines. Keep an eye out for these areas and enter only when you see the overhead HOV signs on the left side of the highway.
Make a lane change for proper entry: HOV lanes are located to the left. Make a lane change to the left to enter the HOV lane.
Prepare to exit: Get ready to exit the HOV lane when you see the overhead signs that specify where the lane ends. Prepare to merge with traffic to the right once it's safe to do so and use the regular highway.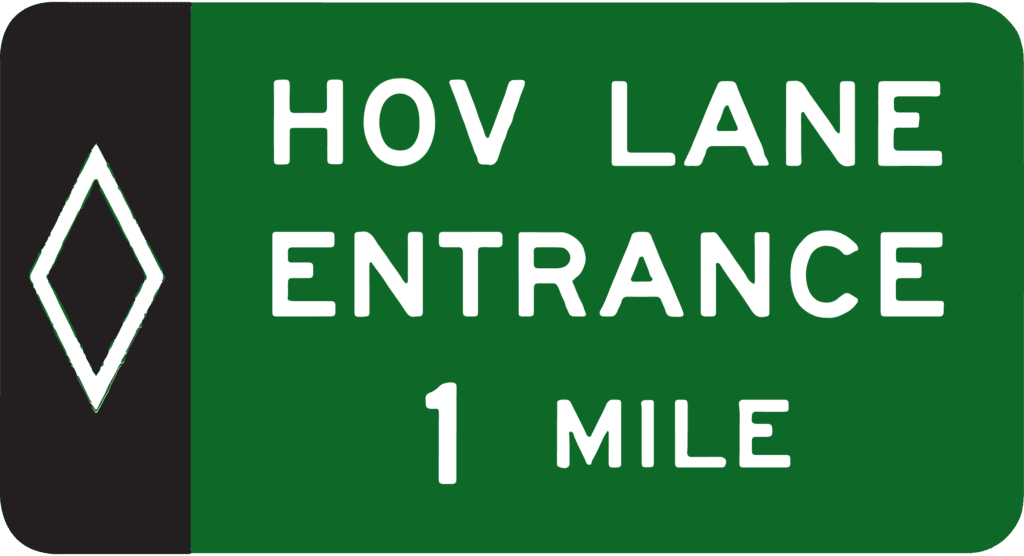 Can You Pay to Use an HOV Lane?
You can't pay a fee to use HOV lanes. However, High-Occupancy Toll (HOT) lanes allow solo drivers to pay a fee to use the lane, unlike HOV lanes where at least two people should be in the car. Note that certain vehicles and carpooling vehicles can use HOT lanes for free.
What Is a HOT Lane?
HOT lanes are a pilot program also designated to improve highway efficiency along the QEW in Ontario. For a small fee, people who drive alone can use HOT lanes, allowing them to avoid traffic congestion.
You need a permit to use a HOT lane. Follow these steps to apply for a HOT permit:
Visit the official HOT application site. Note that applications are accepted every February, May, August and November.
Provide your valid license plate number and contact details, including your email address and phone number. Note that your license should have no outstanding fines.
Check your email inbox for the result of the application draw. If you're chosen and receive an email confirming this, you can buy a HOT permit online. If you weren't successful this time, you'll have to apply again.
Once you've paid for your permit, you'll receive your HOT sticker in the mail.
Place your HOT sticker outside the rear windshield on the passenger's side and the front driver's side windshield.
Vehicles driving in HOT lanes without a permit can be fined no less than $250 and no more than $2,500. There are limited exceptions to this rule, so consider applying for a permit if you drive solo and want to speed up your daily commute.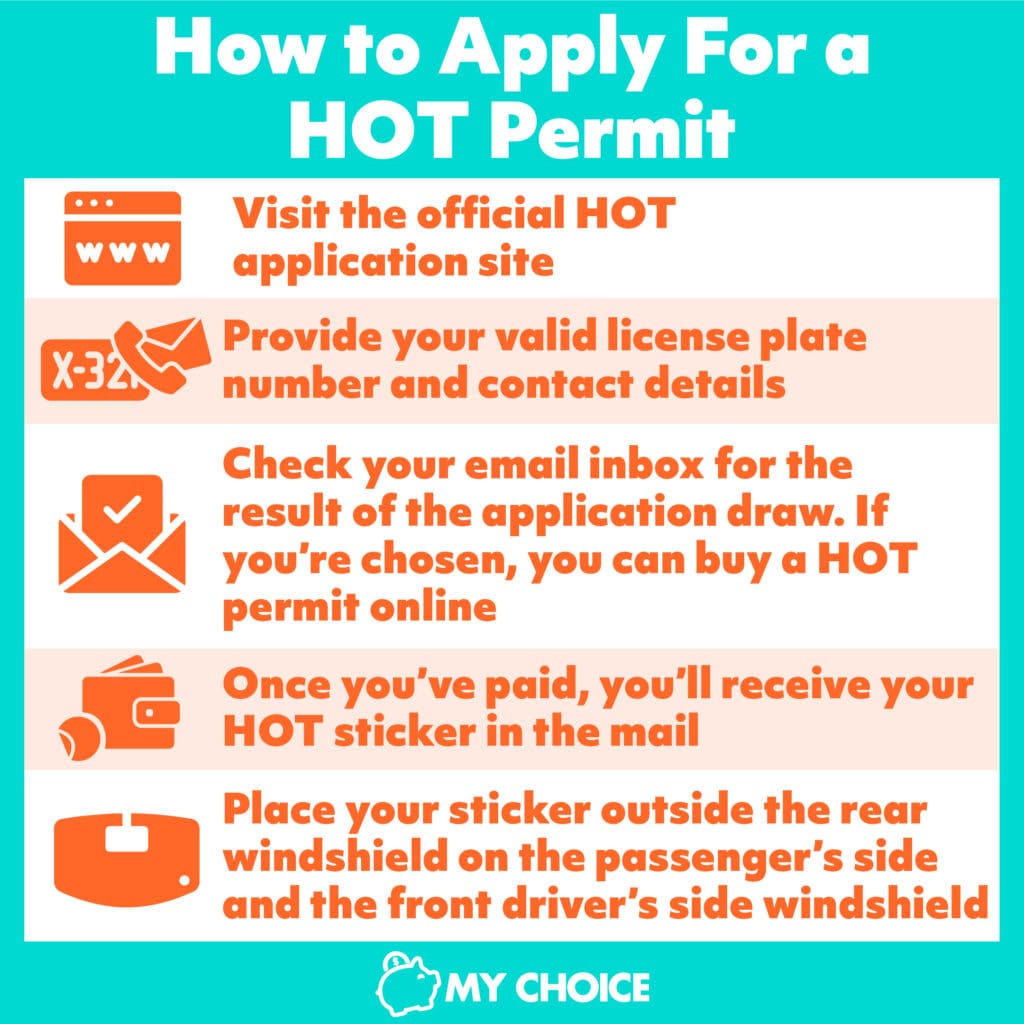 The Bottom Line
HOV lanes encourage more Ontario residents to carpool or use green cars, improving air quality as well as traffic conditions. If you want to speed up your daily commute and help the environment, consider carpooling or driving an electric car to make use of HOV lanes.