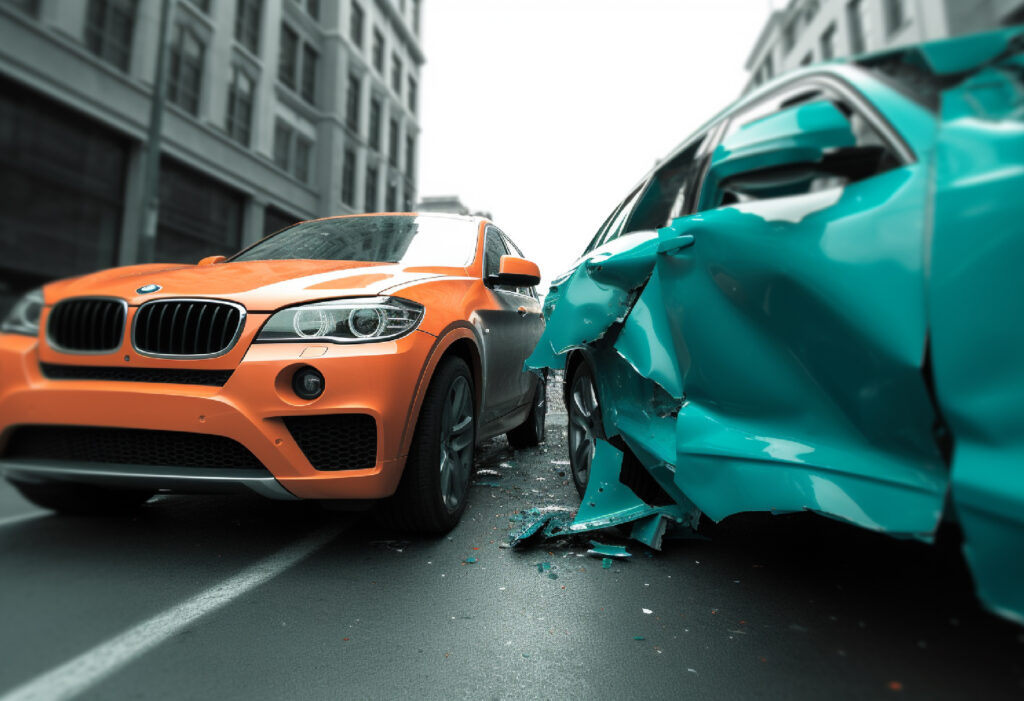 While car accidents are common in Ontario, not every driver knows what to do after a hit-and-run. This can result in devastating consequences and potentially hurt any claims you file in the future.
When in a hit-and-run, you should always file a police report and contact your personal injury lawyer as soon as possible. However, the case may be different if you are the cause of a hit-and-run.
In this guide, you'll learn what a hit-and-run entails, the penalties, and what to do after it happens.
What is a Hit-and-Run?
A hit-and-run accident occurs when at least two vehicles collide and one driver flees the scene. A driver might leave the scene for one of many reasons, including the following:
They don't have insurance.
They are driving with a suspended or expired licence.
They are worried that they caused the accident.
They are in a rush because of an emergency.
They were intoxicated and did not want to get pulled over for a drunk driving charge.
Does a Hit-and-Run Count as an Accident?
Yes, a hit-and-run is an accidental occurrence covered by specific insurance types. However, if you sustain significant injuries due to the accident or cannot find the suspect, you can file a civil lawsuit to receive compensation for the damage.
A hit-and-run is not the same as careless driving. Learn more about the latter in our guide.
Penalties for a Hit-and-Run in Ontario
Fleeing a hit-and-run scene can lead to significant charges, insurance fines, and even jail time. An Ontario hit-and-run poses two potential charges:
Highway Traffic Act: Failing to stay within the collision area can land you a ticket.
Canadian Criminal Code: If a driver injures another driver or pedestrian and flees the scene, they could face criminal charges:
When a victim is unharmed but the perpetrator fails to stop, the latter can receive up to five years of jail time.
When a victim sustains a severe injury, perpetrators can face up to ten years of jail time.
What Should You Do After a Hit-and-Run?
After experiencing a hit-and-run as a victim, follow these steps immediately after the incident.
Collect Information
If uninjured, collect as much information as possible, including licence plate numbers, contact details, photos, and videos. It may be challenging to gather information if a vehicle has fled the scene, but licence plate numbers are the easiest way to track someone.
At the very least, try to recall the vehicle's make, model, colour, and direction in which it was going. If you can, provide law enforcement detail with a description of the driver. Talk to as many witnesses as possible.
Finally, note the estimated damage to your vehicle. Chances are, you won't be able to formulate a number yourself, so make sure you provide your insurance company with as many photos, videos, and details as possible. This includes photos of:
Paint scrapes
Popped tires
Shattered windshields
Broken side mirrors
Smashed headlights
Surrounding damages (to stop signs, bikes, roads, public property, etc.)
Know What Not to Do
Knowing what not to do after a hit-and-run is as valuable as knowing what steps to take first. Never attempt to chase a vehicle fleeing the scene, as you can put yourself in even more danger. Instead, note as much information as possible, and take photos of the car as it drives away.
Another thing you shouldn't do is wait to report a hit-and-run. Remember, you must call the police within 24 hours, or you may not receive fair compensation for any damage to your vehicle.
Seek Medical Attention
If you are injured, seek medical attention immediately. Even if you don't have visible cuts and bruises, calling an ambulance for a physical exam can reveal potential internal injuries. Keep your medical bills on record – you will get reimbursed with insurance.
The most common injuries associated with a hit-and-run include the following:
Broken bones
Whiplash
Concussion
Paralysis
Spinal cord injury
Traumatic brain injury
Internal bleeding
Organ damage
Tell Your Insurance Company
Notify your insurance provider and report all the damages under your policy. You must pay your deductible, but your insurance company will cover any losses under your liability policy.
Note that you won't get compensation for any vehicular damage if you don't have collision coverage.
Speak with a Personal Injury Lawyer
If you get injured due to a hit-and-run, your regular insurance typically won't cover medical expenses. Instead, you must consult with a personal injury lawyer, who will collect the necessary evidence to ensure you get the coverage you deserve.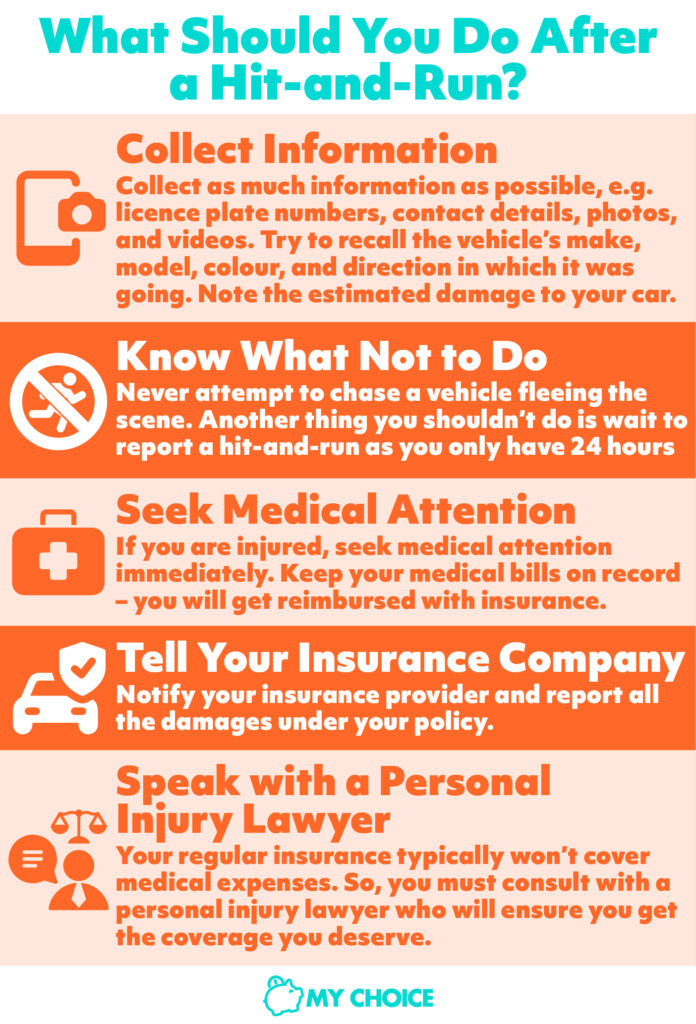 How To Report a Hit-and-Run Accident in Ontario
Even if you don't sustain any injuries or damages to your vehicle, reporting a hit-and-run accident to the police is essential. Ontario law requires all drivers involved in a hit-and-run to report it, regardless of the physical consequences (or lack thereof).
In addition, you must file a police report within 24 hours of the accident to maximize the odds of apprehending the perpetrator. Note that some insurers will only accept a claim if you file a police report.
Learn how to file a police report after a car accident in our comprehensive guide.
Who Investigates a Hit-and-Run?
The Ontario police are primarily responsible for investigating a hit-and-run, though your insurance company will perform another investigation to determine culpability and the total cost of damages.
Until When Can You File a Hit-and-Run Claim?
While you must file a police report within 24 hours of a hit-and-run, you can still file a claim against a potential suspect up to six months after the accident.
Does Auto Insurance Cover a Hit-and-Run?
Yes, auto insurance covers hit-and-run incidents, but you must pay your deductible. Also, you only get compensation if you have collision and liability insurance. Without it, you have to cover out-of-pocket medical bills and vehicle damages.
If your insurance company can't determine who is responsible for the accident, they will pay for damages under the Direct Compensation Property Damage (DCPD) portion of your insurance, which doesn't require a deductible.
If law enforcement apprehends the perpetrator and they don't have insurance, an Uninsured Motorist coverage policy will cover the damages.
You will also get compensation for the following:
Medical bills
Income replacement, in case you have to stop working due to the accident
Rehabilitation costs
Home care, if you need an attendant
Lost wages or future earning capacity
What if the Hit-and-Run Happened in a Parking Lot?
If a hit-and-run occurs in a parking lot, perpetrating drivers will still be held liable for the incident. Check for security cameras if you fall victim to a hit-and-run in a parking lot. If you're lucky, you might find video evidence of the accident, which you can then submit to the police and your insurance company.
Can't find any security cameras in the area? Look for witnesses or security guards who can provide information.
Will a Hit-and-Run Raise Your Insurance?
If you're not at fault for a hit-and-run incident, filing a claim won't raise your insurance rates.
What if the Driver Was Drunk?
If the perpetrating driver had any traces of alcohol in their system during the hit-and-run, punishments are far more severe. In case of death, the driver may spend up to two years in jail.
The severity of each punishment may vary according to the driver's record and history. Additional instances of drunk driving can increase jail time, licence suspensions, and fees. Courts may order medical exams and physical inspections to determine the suspect's behaviour and state during the incident.
What to Do if You Cause a Hit-and-Run
If you cause a hit-and-run, the consequences will depend on the severity of your case. At the very least, your insurance company may raise your rates significantly and label you a high-risk driver. If your company considers you a significant liability, they might even cancel your policy.
Expect to receive criminal charges if your actions result in severe injuries or death. Your insurer won't cover any legal fees. You may also have difficulty securing insurance from any other company for at least four to seven years, which is how long a hit-and-run incident stays on your driving record.
The best way to build a defence against a hit-and-run charge is to work with an experienced criminal defence lawyer.
Settlement Amounts & Consequences for Hit-and-Run Incidents in Ontario
If you receive a claim against you for a hit-and-run, the government can try you under Section 525 of the Criminal Code. Depending on the severity, expect to receive the following punishments:
Automatic licence suspension for up to three years
Increased insurance policy premiums by up to 50%
7 demerit points
Fines between $400 and $2,000
Probationary driving period
Learn more about how demerit points and a bad driving record can affect your insurance policy fees in the future.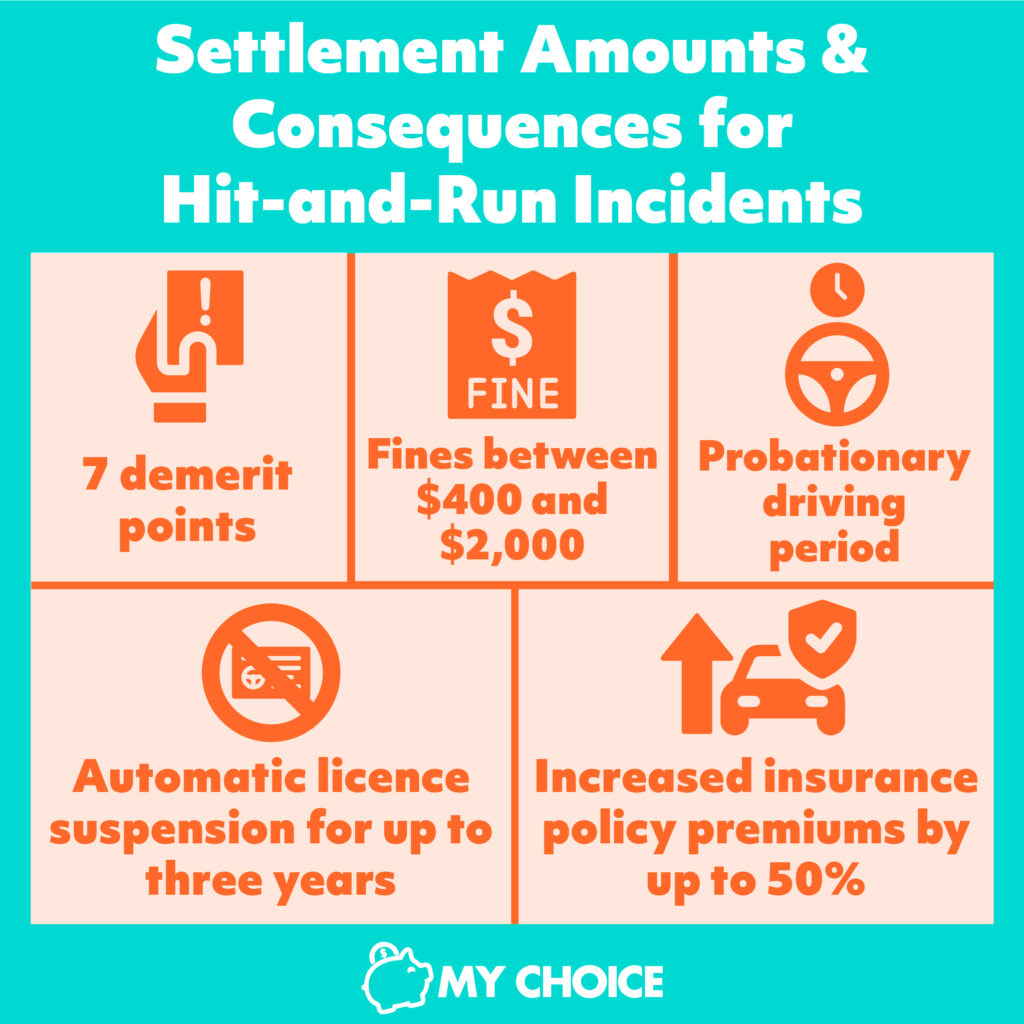 How to Prevent a Hit-and-Run
It can be challenging to prevent a hit-and-run, but there are ways to take extra precautions in the future. Installing a dash cam in your vehicle is one way to protect yourself on the road.
These devices can capture negligent behaviour and automatically record video when you start your engine. Some dash cams even come equipped with motion sensors, which activate the camera whenever they detect movement within or nearby your vehicle.
The Bottom Line
If you're dealing with the consequences of a hit-and-run, MyChoice is here to help. Our services provide you with the best insurance rates to cover hit-and-runs and other similar incidents.