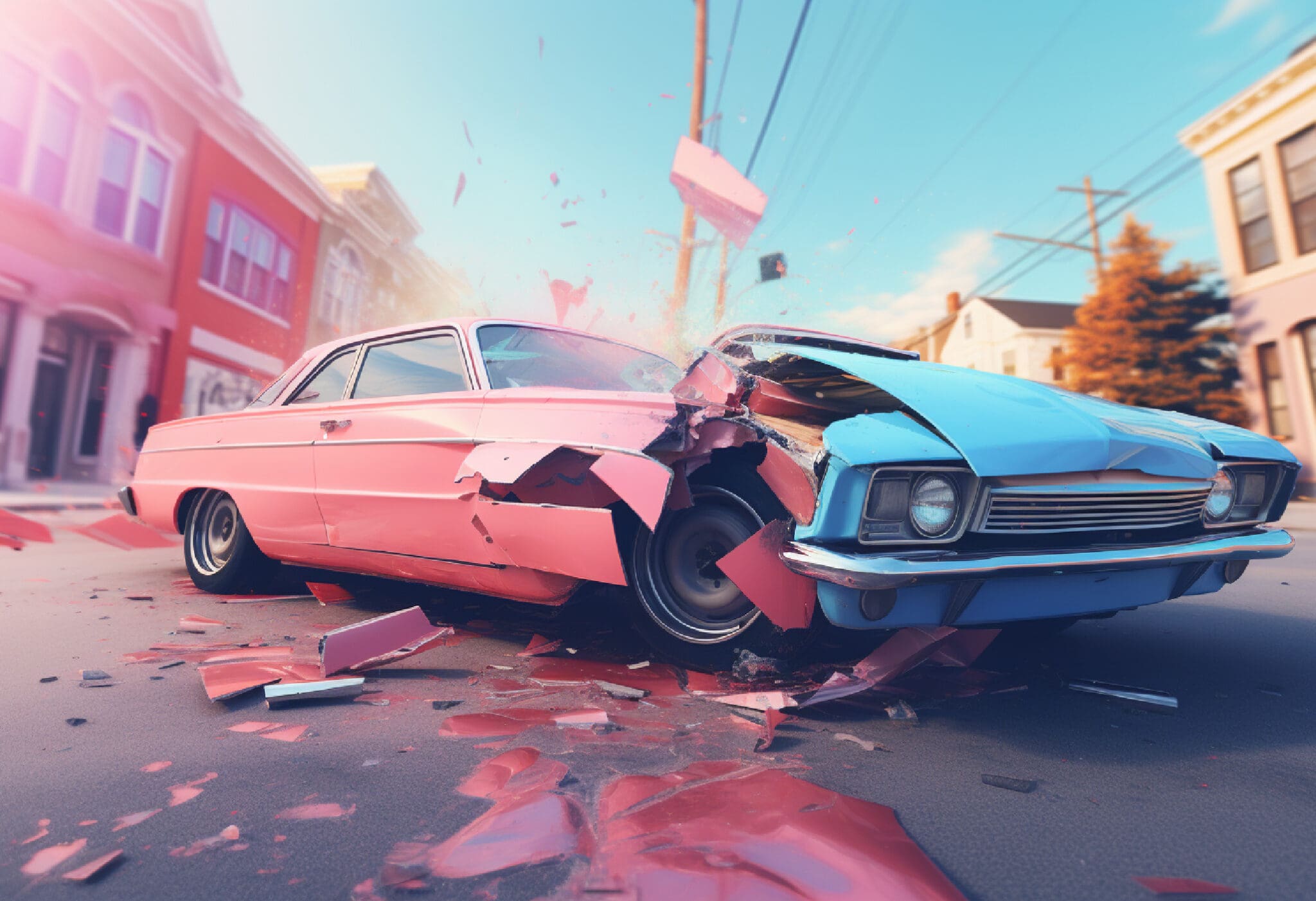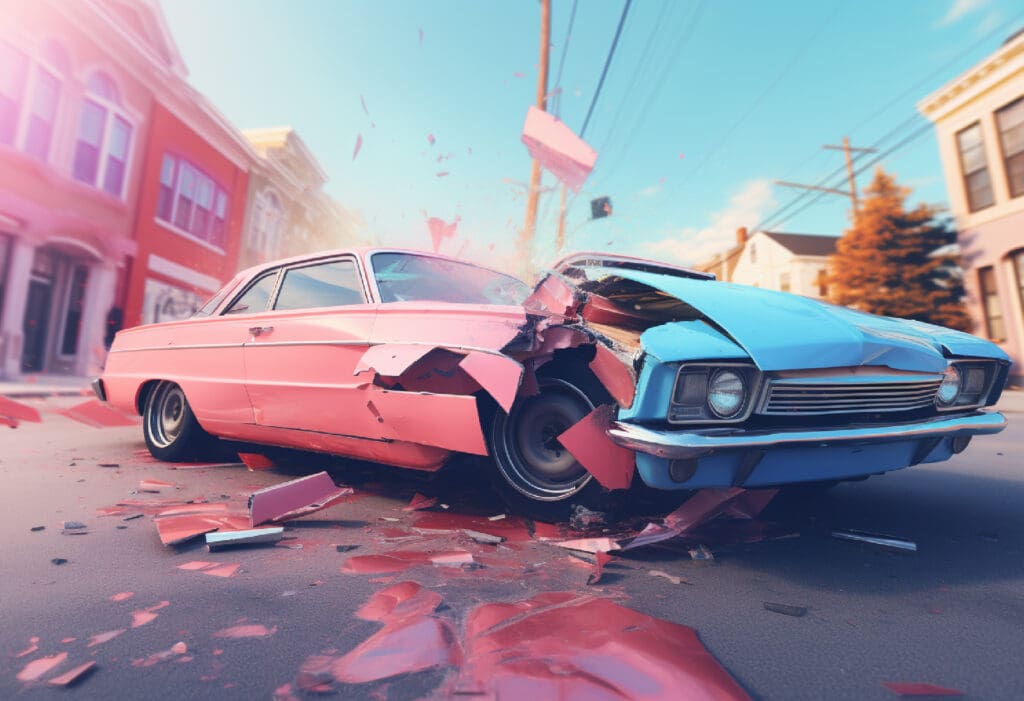 Ontario car safety standards, new auto technology, and Canadian traffic laws protect drivers, passengers, and pedestrians alike. However, car accidents still happen, and one of the unfortunate consequences you'll need to deal with after reporting your accident is filing an insurance claim.
Depending on whether you were responsible for the accident or not, it will go on your record and may cause an increase in your insurance premiums. You may wonder, "How much will my insurance go up with an at-fault accident in Canada?", and what happens if you're not at fault?
Learn more about what is an at-fault accident, how accidents impact your car insurance rate, and how long past accidents will affect future car insurance quotes.
How Much Will My Insurance Go Up With an At-Fault Accident in Ontario?
The rate of your car insurance premium's increase after an at-fault accident will depend on several factors, such as:
Your driving record: Generally, drivers with a clean record will have a lower premium increase compared to drivers who've been in multiple at-fault accidents.
Accident forgiveness: If you added this protection to your policy and it's your first accident, your accident won't cause your insurance premiums to go up.
Cost of property damage involved: If the car accident was minor and caused property damage valued under $2,000, the Ontario Insurance Act prevents your insurer from increasing your premiums even if you were at fault. Note that there also must be no injuries and no payout by the insurer, as the at-fault driver would bear the cost. This protection covers only one minor accident every three years.
What Is an At-Fault Accident?
An at-fault accident is a car accident where your insurance company determines that you are wholly or partially responsible. This means that your actions or inactions caused the car accident to take place.
Common car accidents where you may be considered at fault include:
Distracted driving, such as texting or calling while on the road
Backing into another car in a parking lot
Driving while impaired
Colliding into another car after failing to obey traffic signs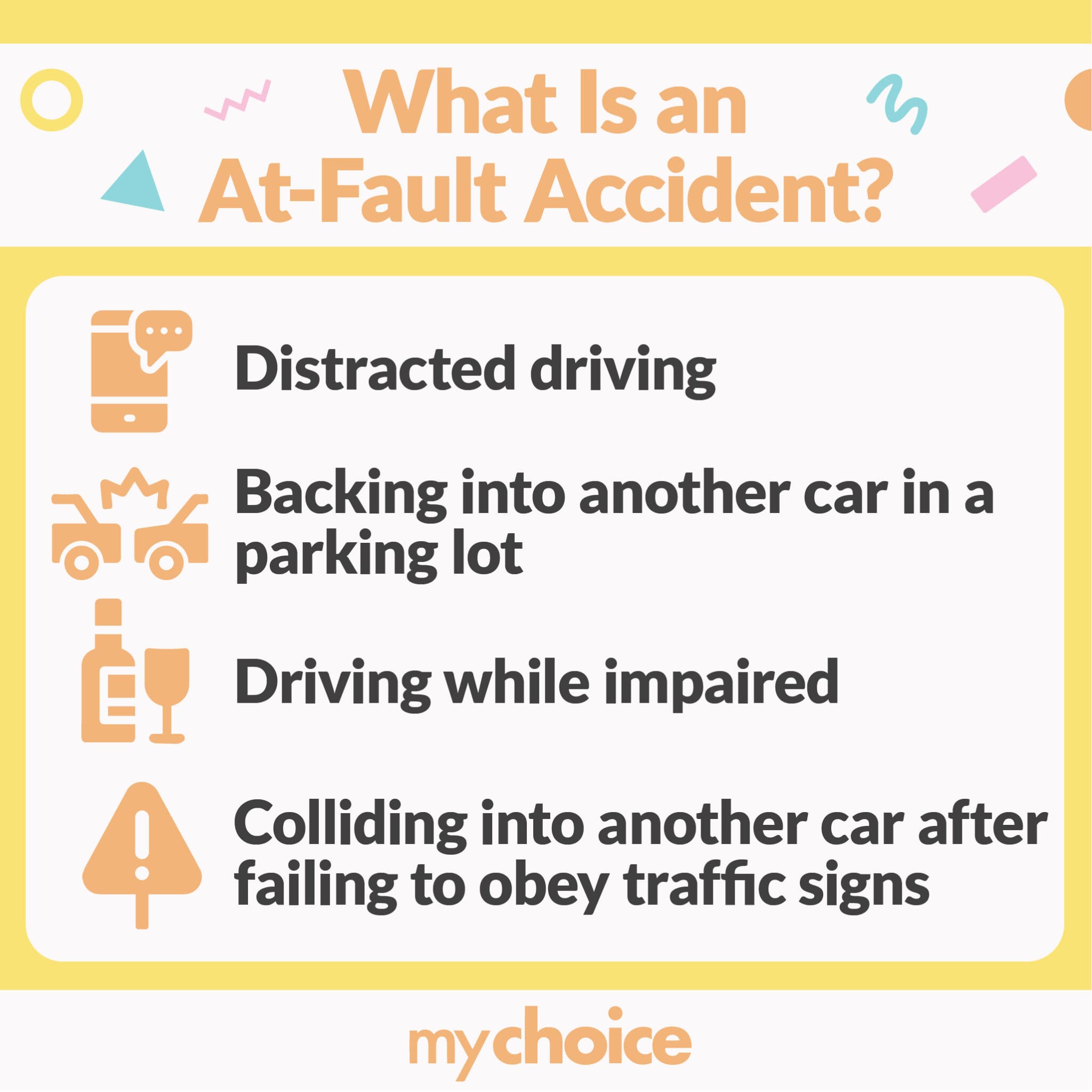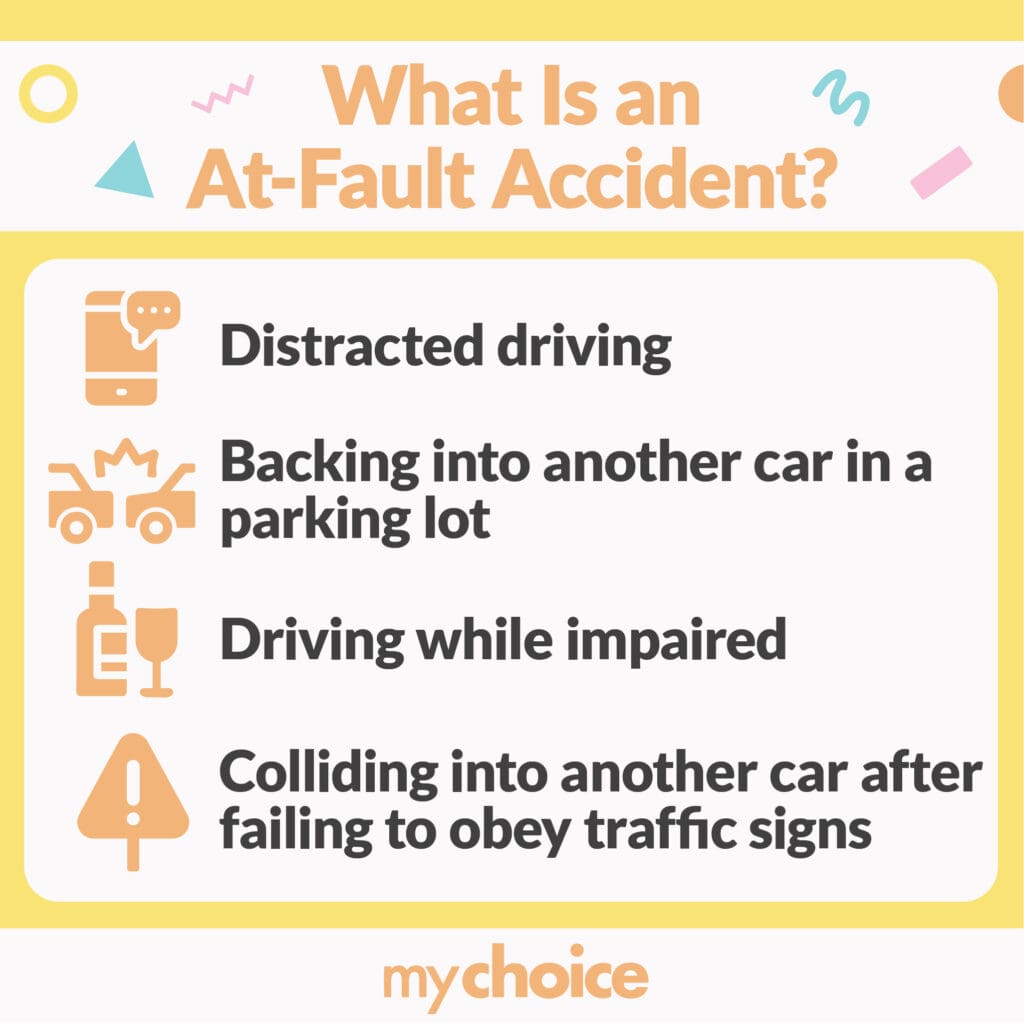 What Is No-Fault Insurance?
No-fault insurance simply means that drivers deal directly with their respective insurance companies to settle a car accident claim, instead of having each other's insurance companies dispute who's responsible and who should pay. This insurance system was adopted by Ontario and other provinces to simplify the claims process and speed up the process of compensating drivers.
Despite the potentially confusing name, "no-fault insurance" doesn't mean that drivers can't be found at fault for an accident. Even under no-fault insurance, insurers will determine an accident's causes for several reasons, such as to decide if a driver is entitled to direct compensation for proper damage or if a deductible should be applied to a claim.
While a police report may have an independent finding of fault or "no-fault" in car accidents, this is used to decide if there was a violation of the Highway Safety Act. This is not the same as your car insurance company's findings for the claims process or future premiums.
How Will a Car Insurance Company Determine Who Is At Fault?
In Ontario, a car insurance company will assign a claims adjuster to decide who is at fault in a car accident. Your claims adjuster may do the following to establish who is responsible:
Take statements from you and any other drivers involved
Examine the police report
Note physical evidence found at the scene of the accident
Consult a collision reconstruction company for a better understanding of what happened before and during the car accident
All of the information gathered by these means will be compared by your claims adjuster to the Ontario Insurance Act's fault determination rules. Together, these will help your insurer decide who is responsible for your car accident.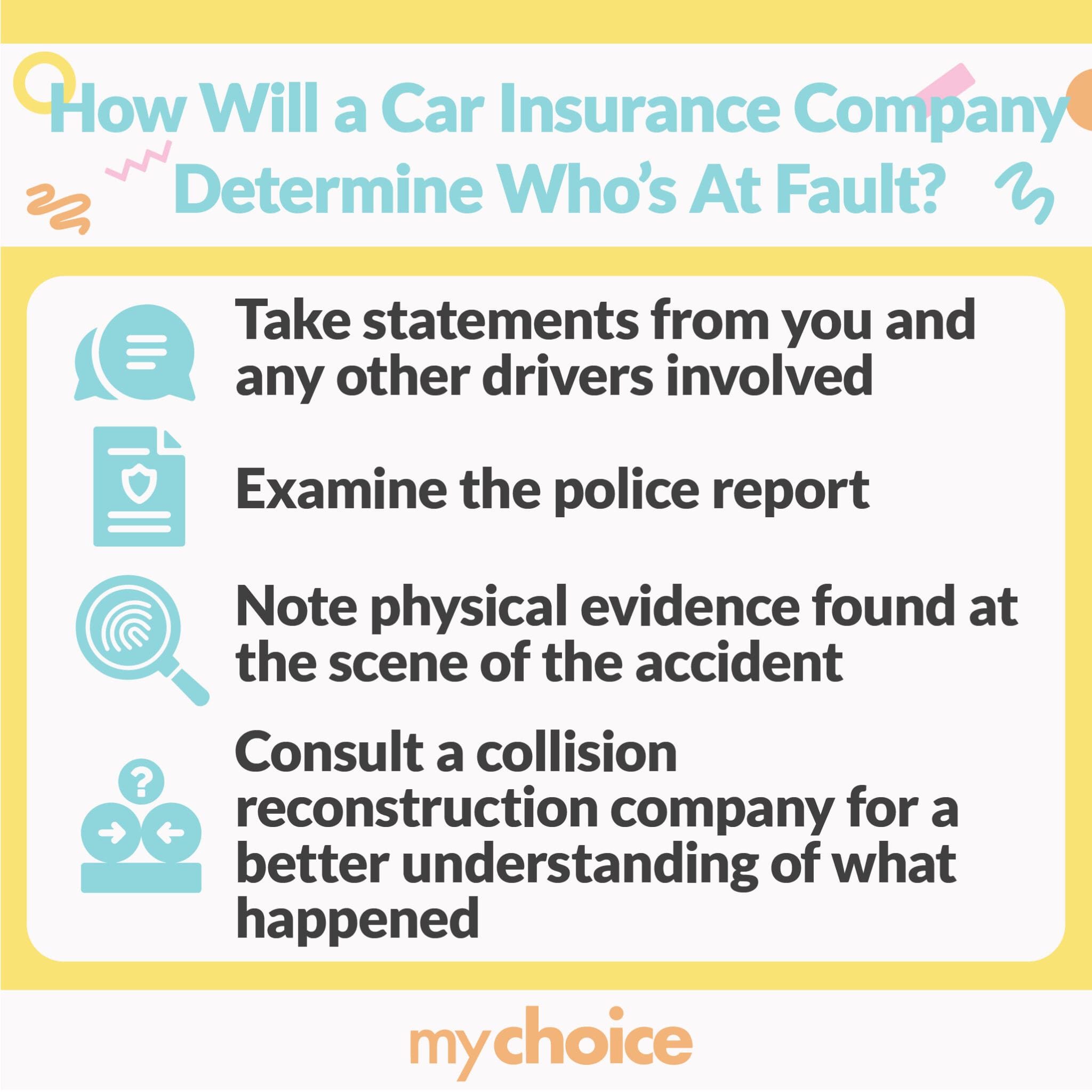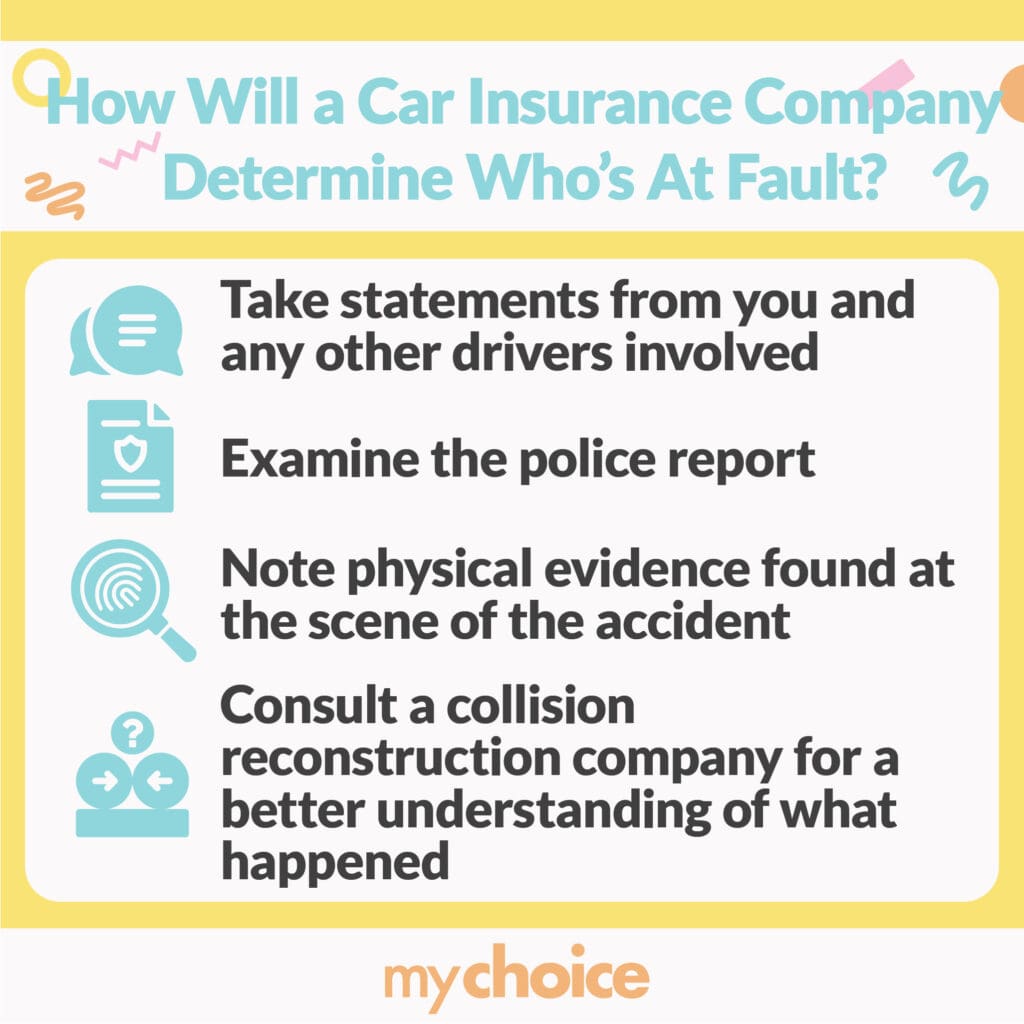 What Are Ontario's Fault Determination Rules?
The Ontario Insurance Act explains fault determination principles by describing different types of auto accidents and the possibilities of their incidence using diagrams. These written and visual examples illustrate the different kinds of collisions that drivers may be involved in, as well as the types of claims.
Apart from covering collisions on roads and highways, the rules also have guidelines for collisions at parking lots and intersections. The act also outlines how to apply these rules in circumstances that aren't covered by the diagrams.
Using these rules and the fact-finding means listed above, car insurance claims adjusters determine which driver is responsible for an accident. Typically, insurers assign 0%, 50%, or 100% of the fault to a driver.
If I'm Not At Fault, How Much Does Insurance Increase After an Accident?
If you're found to be wholly not at fault (0% responsible) or at least less than 25% at fault for a car accident, it's unlikely that your car insurance premiums will increase. However, even if you're found to not be at fault, you'll still have to file a claim with your insurer to cover any vehicle damage and the cost of medical care.
How Long Does a Car Accident Stay on My Driving Record in Ontario?
In Ontario, demerit points for incidents such as car accidents stay on your driving record for two years. After two years, this period "resets". Note that this driving record is used to track traffic offences, and it differs from the one kept by your present car insurer.
Your car insurance company may have its own point evaluation system to assess the risk of insuring you, as well as the likelihood of potential claims. Generally, points may stay in your insurer's records for up to five years, increasing your premiums for future renewals.
Another thing to keep in mind is that even if a car accident is no longer on your Ontario driving record, car insurers may look as far back as ten years ago for a comprehensive risk assessment. This means that car accidents that no longer appear on an extended driving record or driver's abstract may affect your insurance premiums.
What Is Accident Forgiveness?
Accident forgiveness is an additional feature offered by car insurance companies to drivers with a clean driving record. Generally, this feature "forgives" the first car accident where you're found to be at fault. This means your first at-fault accident won't go on your driving record with your insurer or make your insurance go up.
Note that accident forgiveness has the following restrictions:
Most auto insurers won't offer this add-on to your insurance policy unless you've been accident-free and claims-free for a specified period.
Usually, only the first at-fault accident is forgiven. However, some insurers will reset your accident forgiveness after three or more years without accidents or claims.
You may need to have been with your car insurer for a specified period.
This feature may not travel with you if you switch car insurers.
Accident forgiveness doesn't keep demerit points off your record or prevent you from being charged for offences.
It doesn't cover insurance premium increases due to speeding tickets or other driving convictions.
Can a Pedestrian Be Found at Fault for a Car Accident?
A pedestrian may be found at fault for a car accident, using the Ontario Insurance Act's fault determination rules. There are several situations where pedestrians may be found responsible even if they aren't injured or hit by the driver's vehicle, such as:
Jaywalking
Crossing while not following traffic signals
Crossing under the influence of drugs and/or alcohol
The Bottom Line
If you've gotten into a collision, you may be asking, "How much does your car insurance go up after an accident in Ontario?" A potential increase in your car insurance premiums will depend on whether you're found responsible for the car accident, any existing demerit points and accidents on your record, and the terms of your policy.
It can be tough to get affordable car insurance after an at-fault accident, as companies tend to charge higher premiums to those they deem high-risk drivers. Use MyChoice's car insurance calculator to compare quotes between trusted Ontario insurers to find the best deal for you.