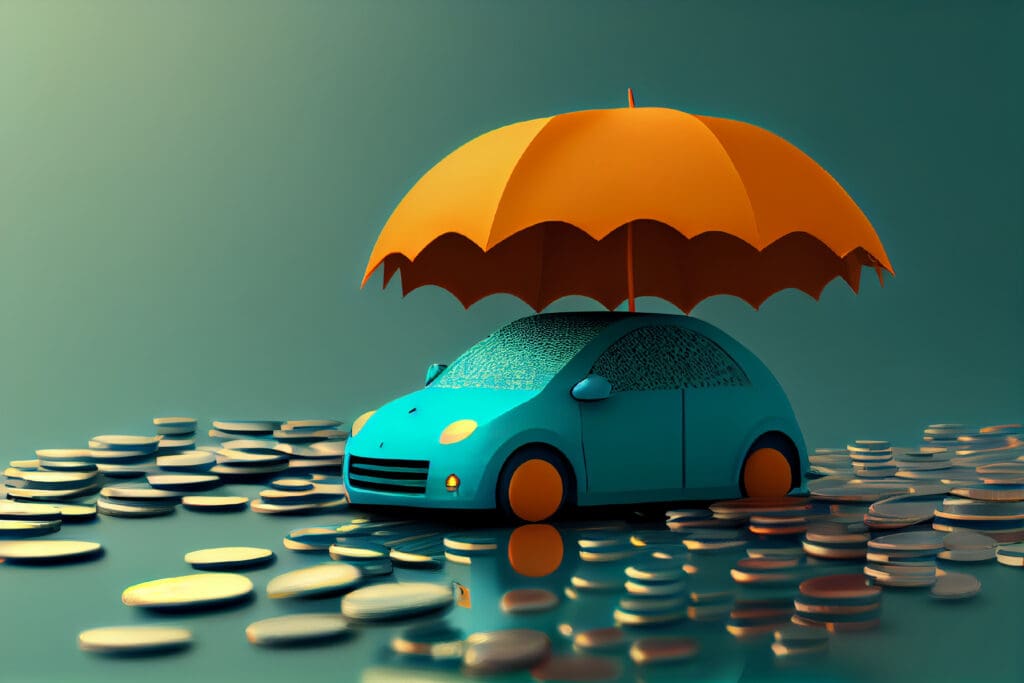 Auto insurance is mandatory for all car owners in Canada. That means that, before purchasing a vehicle, you'll have to decide where and how to insure it.
Today, plenty of insurance providers allow car owners to buy direct, meaning they can purchase their auto insurance online with just a few clicks. And at first glance, buying insurance online might appear more convenient and cost-effective than going through an agent or broker. But is that really the case?
In this blog post, we explore the pros and cons of purchasing auto insurance direct so you can make an informed decision about what's right for you.
What Does it Mean to Buy Direct Insurance?
Buying insurance direct means buying directly from an insurance provider, whether through the provider's website or any of the comparison sites that aggregate insurance quotes from different sources.
Unlike the alternative, which involves working with an insurance agent or a broker, buying direct means you have the freedom and responsibility to go through the entire buying process, including requesting quotes, purchasing your policy, changing your policy, making claims, and the like.
How to Buy Auto Insurance Online
More often than not, buying auto insurance online entails the following steps:
Step 1: Decide What Kind of Coverage You Need
Mandatory coverage varies from province to province. Depending on where you live, you may or may not have to pay for the following types of coverage:
Third-party liability: This protects your assets should you be found responsible for an accident leading to injury or death. It covers expenses such as medical and legal bills.
Accident benefits: This covers any expenses incurred if you are injured or killed in a road accident. These typically include medical assistance, the cost of rehabilitation, lost income, and funeral charges.
Direct Compensation for Property Damage (DCPD): This covers the cost of vehicle damage caused by others in the event of an accident.
Uninsured automobile protection: This covers hit-and-runs or accidents involving an uninsured driver.
Civil liability: This covers any damage done to another person's property, like their car, or injuries you may have caused that aren't covered by public insurance. It may also cover any damage done to your car if you're not found at fault.
Aside from mandatory coverage, you may also purchase any of the following optional insurance coverages:
Collision insurance: Also called upset coverage, this provides car owners compensation for damages caused by collision with another vehicle, object, or the ground.
Comprehensive insurance: This covers the cost of repairing or replacing vehicles that have been stolen or damaged by perils like a fire, lightning, flood, or earthquake. This does not cover damages caused by collisions. Compare the difference between collision and comprehensive coverage in this guide.
All perils insurance: Also known as all-risk coverage, all perils auto coverage is the broadest and typically most expensive form of car insurance. It covers all risks except those explicitly excluded in your policy.
Guaranteed Auto Protection (GAP) insurance: GAP insurance ensures you are reimbursed for the difference between the cost of a total loss and your outstanding car loan. The payment for the loss has to be less than the outstanding loan.
Usage-based Insurance (UBI): Usage-based insurance coverage utilizes telematics technology to measure your driving behaviour. This, in turn, determines how much you'll be charged for insurance. Better driving behaviour results in cheaper rates.
Step 2: Request a Quote
Now that you know what type of insurance policy to get, you can begin requesting quotes online. Most insurers require prospective clients to submit the following information before they can provide accurate estimates:
Address
Occupation
Your car's make, model, and year
Social security number
Driver's license number
Vehicle identification number (VIN)
Any history of traffic violations or accidents
Your vehicle's current mileage
Information regarding your current or previous insurance policy
Step 3: Compare Quotes
If you want to find an affordable auto insurance policy, you'll have to learn how to compare quotes across several different companies. Some of the factors you should consider are:
Premium rates
Coverage options (and the cost for additional coverage)
Terms (how long policies last)
Deductibles
Customer service
Any discounts on offer
Customer reviews
The Benefits of Buying Car Insurance Direct
So, why buy direct? Here are a few of the advantages of purchasing auto insurance online:
You Have More Time and Freedom to Decide
When you buy auto insurance on your own, you skip having to deal with brokers and agents who may want to sway you in one direction or another. You'll have total control of which company to request quotes from, what policies and packages to consider, and when you'll seal the deal.
The Purchasing Process is Fast and Convenient
Buying auto insurance online is as easy as can be. Oftentimes, it takes just a few minutes to receive quotes from insurance providers and a few hours to a handful of days to complete the entire process – all of which can be done online.
You May Be Entitled to Discounts
Since selling policies online doesn't require sending agents out to meet potential buyers, insurance agencies can cut down on certain costs. This allows (and even encourages) them to offer more affordable policies and discounts to those who avail of their policies online.
The Drawbacks of Buying Car Insurance Direct
While buying car insurance online definitely has its pros, it isn't ideal for everyone. Learn some of the major cons of buying car insurance directly from a company below:
You Do All the Heavy Lifting
For first-time buyers, sifting through quotes, policies, deductibles, and all kinds of financial and legal jargon can be overwhelming. And when you're bogged down with too many unfamiliar words and concepts, you may find yourself vulnerable to scammers who overcharge or offer unnecessary coverage.
Not All Providers Offer Insurance Online
These days, most large insurance companies allow drivers to buy coverage online. However, smaller outfits – with potentially decent coverage at lower rates – may not have the infrastructure to make their products available on the web. If you're set on only buying online, you may miss out on potentially good opportunities.
Some Insurance Policies May Not Be Available to You
Many insurance providers don't allow high-risk drivers and young drivers to purchase their auto insurance online. They have to undergo stricter vetting processes, which often require meeting with an agent.
Owners of specialty vehicles, motorcycles, or RVs, as well as those seeking multiple car insurance may also find it difficult to buy direct.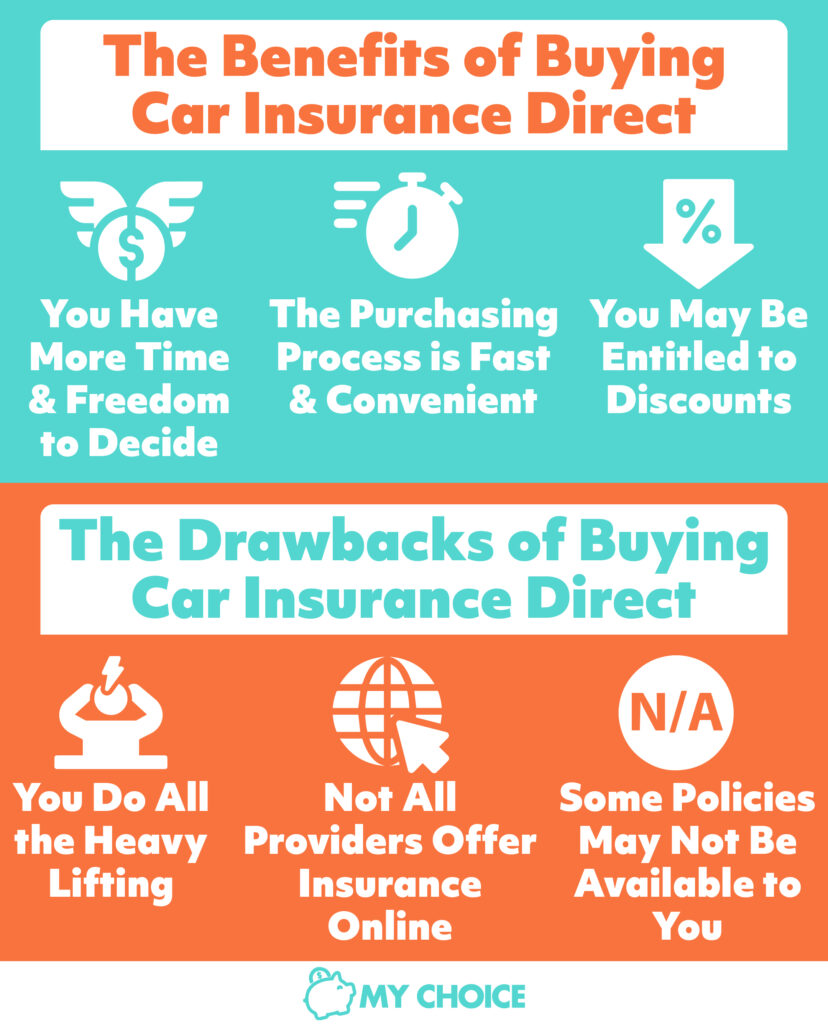 When Should You Buy Car Insurance Direct?
You should buy auto insurance direct if you're willing and able to put in the time to research good companies and policies, enjoy hunting for bargains, and don't have a complicated driving history or high-net-worth assets like classic cars.
How to Reduce Your Auto Insurance Rates When Buying Direct
If you're set on buying direct but are on a tight budget, make sure to keep the following tips and tricks in mind. These could help you reduce your insurance rates by a considerable amount:
Bundle your car and home insurance policies: Many insurance providers offer discounts to clients who purchase home and auto insurance from the same company. This saves you the hassle of dealing with two different companies for your insurance as well.
Pay upfront: If you can afford it, pay annually rather than monthly. You can save up to 10% by paying a lump sum upfront rather than at the end of each month.
Choose a high deductible: A higher deductible means lower insurance premiums.
Drive carefully: Keep your driving record clean and you can expect better rates or sometimes even discounts. Accidents can stay on your driving record for up to 5 years.
Compare quotes: Never settle for the first provider you come across. Rates vary widely across different providers. Shop policies, compare quotes, consider different discounts or bundle plans, and give yourself enough time to consider all your options.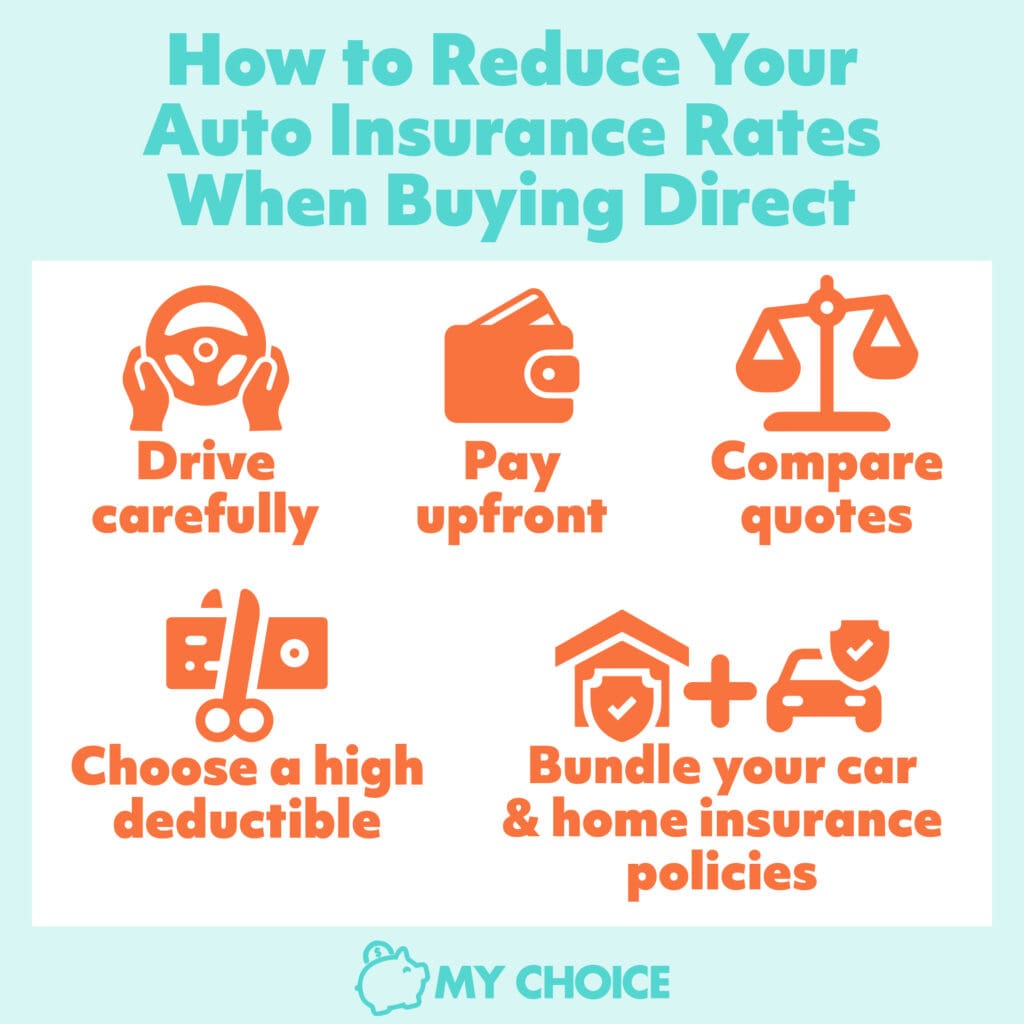 The Bottom Line
Buying car insurance direct is a great way to save money and stay in control of your coverage. Though it can seem daunting at first, purchasing auto insurance online doesn't have to be a labour-intensive and anxiety-filled endeavour. With a little bit of time, patience, and research, you can find an affordable, reliable provider that fits all your needs.
Ready to get started? MyChoice makes it so much easier to shop for your insurance policy and get the best deal for you. In just three minutes, we can provide you with a selection of auto insurance rates from top providers – and potentially save you up to $1,000.