Road rage, stunt driving, street racing and aggressive driving will now find it more difficult to take place on Ontario streets. Bill 282, the Moving Ontarians More Safely Act or the MOMS Act came into effect on 1st July and imposed more severe penalties for these violations.
The Minister of Transportation for Ontario, Caroline Mulroney mentioned in a news release that "Driving is a privilege and those who threaten the safety of others have no place on our roads." Under this, drivers will now face a longer licence suspension and vehicle impoundment. Your car insurance rates in Ontario can be impacted by accidents and traffic violations such as this.
What is the MOMS Act?
Several statistics pointed towards unethical road usage. In Ontario, licence suspensions relating to street racing and stunt driving have increased by 130% between 2013 and 2019, and have risen by an additional 52% during the COVID-19 pandemic between March and August 2020, in comparison to the same period in 2019. According to Mayor John Tory, the City of Toronto has also seen a "dramatic and troubling" rise in high-risk driving since the start of the COVID-19 pandemic. Between January 2021 to the end of May, Toronto alone saw a 90% jump in stunt driving and racing charges compared to the same period in 2019, with over 276 tickets nearly 130 more than in 2019 issued.
The MOMS Act or the Moving Ontarians More Safely Act was created to prevent this and calls for a more severe crackdown on stunt driving, improved commercial-truck safety, protection for cyclists and road workers, and strengthening provincial oversight of the towing industry.
What Changed?
The roadside penalty for street racing increased from a 7-day licence suspension and vehicle impoundment to a 30-day licence suspension and a 14-day vehicle impoundment. If convicted of the charge, the penalty increases with the number of offence. First-timers face a license suspension for a minimum of one to three years. Repeat offenders face a minimum of three to 10 years. If you get caught three times, you face a lifetime licence suspension that might be later reduced. Fourth or subsequent offenders are penalised with a lifetime suspension.
The legislation reduced the speed threshold for stunt driving charges. For roads where the speed limit is less than 80 km/h, the threshold decreased from 50 kmph to 40 kmph. For a highway not within a local municipality or a built-up area, the act establishes a default speed limit of 80 kmph.
Other Safety Measures
The act also features other safety measures such as using cameras in streetcars to photograph drivers who illegally pass, requirements for a police report and charges if applicable, for drivers who open their doors and hit cyclists and introduced new standards for e-bikes, which will be now be classified under bicycle-style, mopeds, or motorcycle-style.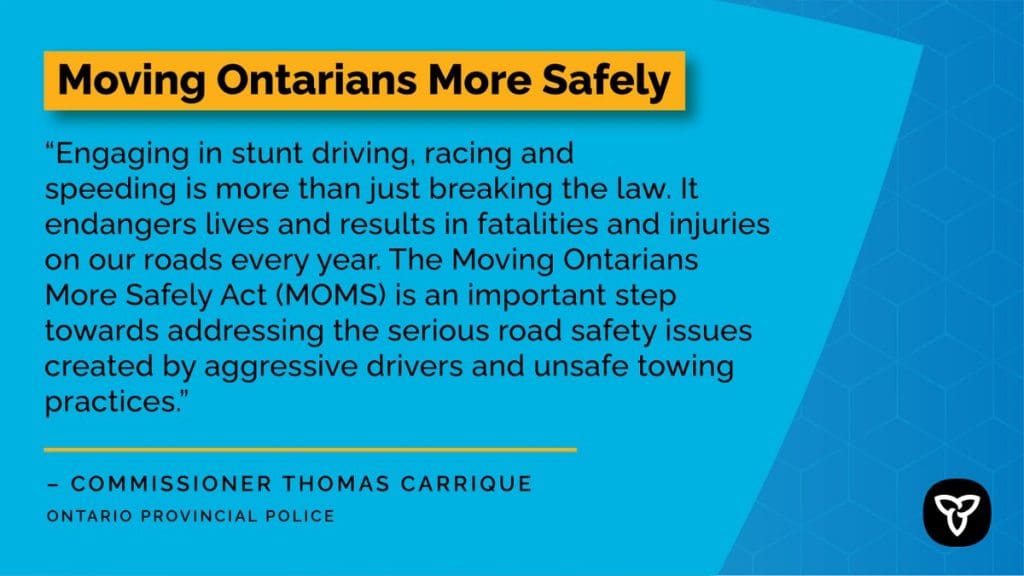 Roadworkers will be protected by authorizing MTO Transportation Enforcement Officers to close a road, drive along closed roads and direct traffic as part of their duties when responding to emergencies or assisting in collision investigations. It will also permit the use of "Automated Flagger Assistance Devices" or automated traffic control devices and permit vehicles used in highway construction to back up on a divided highway in safety.
To improve truck safety, the Act introduced additional tools to maintain the hours-of-service rules and created the Towing and Storage Safety and Enforcement Act, 2021, (TSSEA) that requires tow operators, tow truck drivers and vehicle storage operators to be certified under this. It will also set standards for customer protection and roadside behaviours, establish penalties for non-compliance, and appoint authorities to provide oversight.
What Does it Mean for Your Car Insurance?
Kim Donaldson, the Vice-President of Insurance Bureau of Canada (IBC), Ontario issued this statement after the act was passed, "IBC commends the government and members of the Ontario Legislature that helped pass this legislation in record time. The MOMS Act will make roads and highways safer for drivers and tackle the rampant fraud that has driven up their auto insurance rates."
This means that partaking in stunt driving not only will put your car at the risk of collision and associated charges, but will also raise your insurance rates if you're convicted under this Act. Moreover, you may even face a license suspension or vehicle impoundment. Obtaining car insurance in Toronto can be tricky after this conviction. However, with our insurance tool below, you can save money on your insurance across top providers. You can also lower your insurance premiums by
Paying on time
Living in a relatively safe location
Practising safe driving and even taking defensive driving courses
Ensuring you remain clean and free of traffic violations, accidents, and injuries
Avoiding extra optional coverage that you may not need
Adding another type of insurance such as a house or motorcycle to your bundle
Opting for a safe, affordable car that is inexpensive to repair
Choosing certain types of vehicles such as green vehicles or those with anti-theft features or using safety add-ons like winter tires and alarm systems
Extensive driving to become an experienced driver with a clean driving record
Bad driving record? Learn more about car insurance for bad drivers.