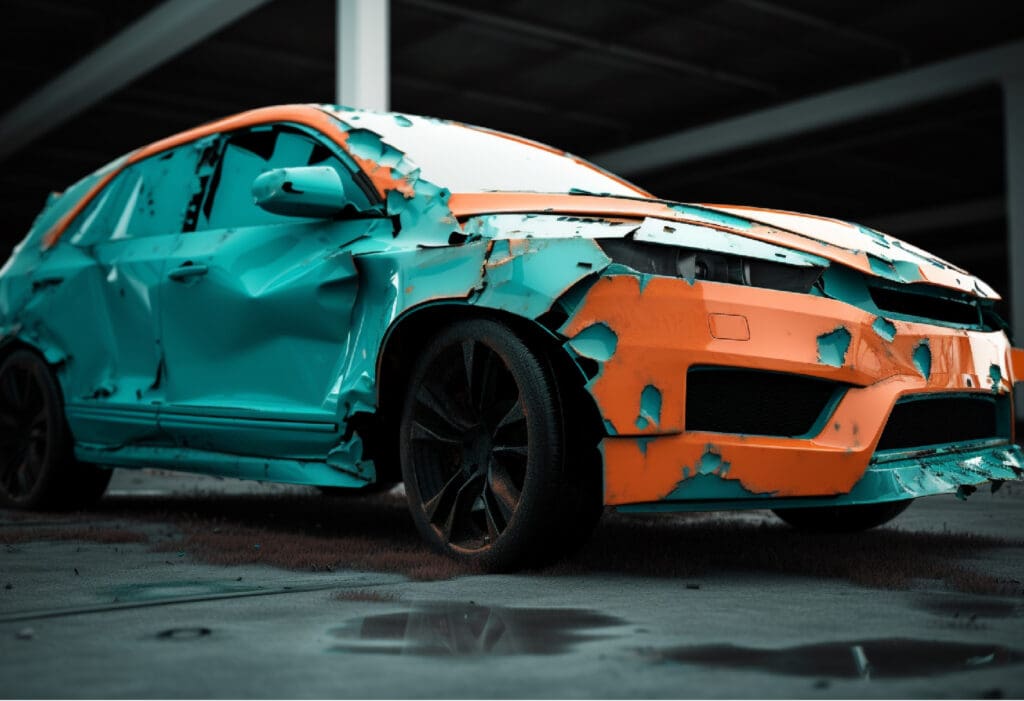 Contrary to popular belief, a parked car is not immune to potential damage or accidents. Fortunately, parking insurance can protect your vehicle from non-navigational accidents, especially when parked for long periods.
Parking insurance offers protection for your vehicle when it isn't in motion. Parking insurance may be a good idea if you plan to park your vehicle and leave it undriven for a while. In this article, you'll learn what parking insurance is, what it covers, and how much it costs.
What Is Parking Insurance?
Parking insurance is comprehensive insurance that protects your vehicles from specific perils when stored or off the road. While you may think parking a vehicle means it's safe from any threats, you can never be too sure.
For instance, parking up or downhill can be tricky in addition, you might incur a fine for parking next to a fire hydrant.
Whatever the case, parking insurance can provide repair and replacement coverage for many incidents.
What it Covers
Parked car insurance protects your vehicle against damage, theft, and vandalism. Parking lot accidents are also more common than you think, so parked car insurance is a good policy.
It also provides coverage for:
Cracked windshields
Falling or flying objects
Civil unrest
Fire
Flooding
Lightning
Hail
Windstorm
Earthquake or explosion
Damage from falling aircraft parts
However, it won't cover collisions or liability. If your car falls victim to a hit-and-run, parking insurance won't cover it – collision insurance will.
Does Home Insurance Cover Damage to a Parked Vehicle?
No, home insurance will not cover damage to a vehicle parked on your property. However, it may cover personal items stolen from your car.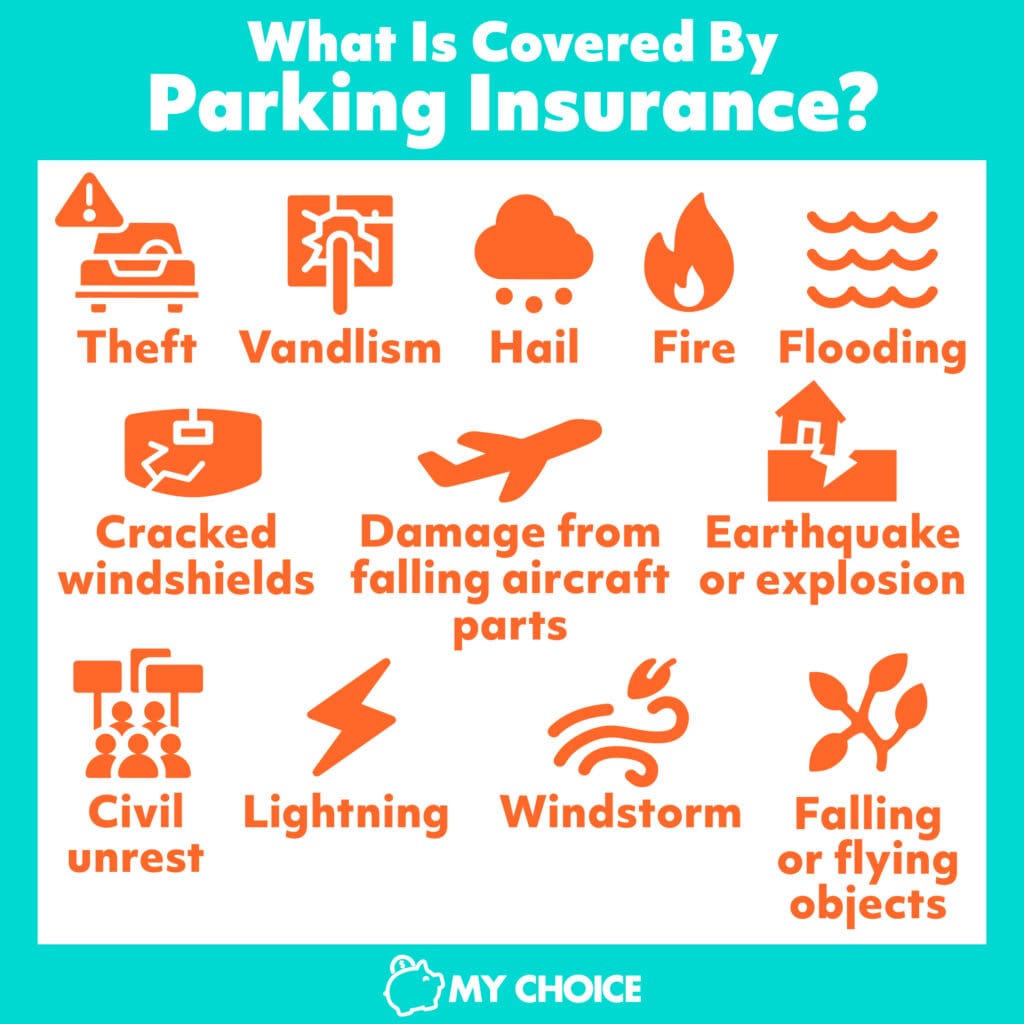 Is Car Parking Insurance Required in Ontario?
Car parking insurance is not required in Ontario. However, it is highly recommended, as you never know what might happen even when your vehicle is parked.
Parking an Uninsured Vehicle on the Road
It's generally inadvisable to park your car on the road without parking insurance, as you won't be able to move your vehicle legally. Insurance is mandatory to drive in Canada.
Do You Need Parked Insurance for Stored Vehicles?
While not required, purchasing parked insurance for vehicles stored in offsite facilities is recommended.
Why You Need Insurance for a Parked Car
There are many reasons you might need insurance for a parked car, including the following:
To cover potential damages
In case of an interruption in policy history
In case of changes to your financial circumstances
To cover potential losses from a fire
In case you lose your driver's licence due to a medical emergency
You might also need parked car insurance if you:
Drive a seasonal or classic vehicle
Drive more than one vehicle and store one or the other for long periods
Want to avoid gaps in your policies
Don't have access to a private or secured area for parking your car
Can no longer drive your vehicle because your licence is permanently suspended
Purchasing parked car insurance also provides the following benefits:
Cost savings: You won't have to pay for repairs out of pocket if anything happens to your vehicle while it's stored or parked.
Snowbird insurance: If you travel away from Canada to avoid the harsh winters, snowbird travel insurance can protect your vehicle when you aren't in town.
Peace of mind: Worrying about your vehicle when you're not in town can be stressful. Fortunately, you can get peace of mind knowing your car is covered for potential damages.
When Shouldn't You Get Parked Car Insurance?
You shouldn't get parked car insurance if you keep it in your garage or only have a vehicle for spare parts or a salvaged car. Another reason you might not choose to get parked car insurance is that it doesn't cover all threats, such as a hit-and-run or collision with another vehicle.
Some people have put off purchasing parking insurance because they may need approval from their insurance companies to take their car on the road.
How Much Does Parked Car Insurance Cost?
A parked car insurance policy is cheaper than traditional coverage. Insurance companies will calculate your premiums according to the following factors:
Personal information: Your age, occupation, gender, and even marital status can influence your insurance rates.
Location: Some insurance premiums are higher in areas with expensive living costs. Theft rates in your location will also affect your premiums.
Type of vehicle: Your vehicle's make, model, and production year will all play a part in determining your rates. Commonly-driven vehicles with smaller engines typically cost less to insure.
Coverage amount: If you hardly drive your car regularly, you might qualify for lower rates.
Driving history: You may not qualify for parked car insurance if you're unreliable, have a bad driving record, or have outstanding fees on things like parking tickets.
Generally, you can expect parked car insurance to cost between $100 and $300 annually for low-risk drivers.
Driving with Parked Car Insurance
Parked car insurance doesn't cover damage incurred when you're on the road. Instead, Ontario law mandates that all drivers should have the following types of insurance:
Third-party liability (at least $200,000)
Direct compensation property damage (DCPD)
Uninsured automobile coverage
Accident benefit coverage
What to Do if Your Parked Vehicle Is Damaged Without Insurance
You must shoulder the repair and replacement costs if your vehicle incurs damage without insurance. You can add comprehensive insurance to your existing auto policy to avoid this in the future.
If your car becomes the victim of a hit-and-run and you don't have collision insurance, remember to note the following details to present to the authorities:
The precise location of the incident
The date and time the incident occurred
The weather conditions during the incident
The damage your vehicle incurred (including photos and videos, if possible)
Any damaged cars nearby, including the vehicle model and plate number
The contact information of any witnesses
Tips for Protecting Your Parked Vehicle
Where and how you store your vehicle is essential to keeping it safe. Consider these tips when storing your car:
Park your vehicle inside a garage, if possible.
Use a vehicle cover when parking your car outdoors.
Remove or secure your valuables from the vehicle.
Speak to a mechanic about vehicle maintenance if leaving your car in a storage unit long-term.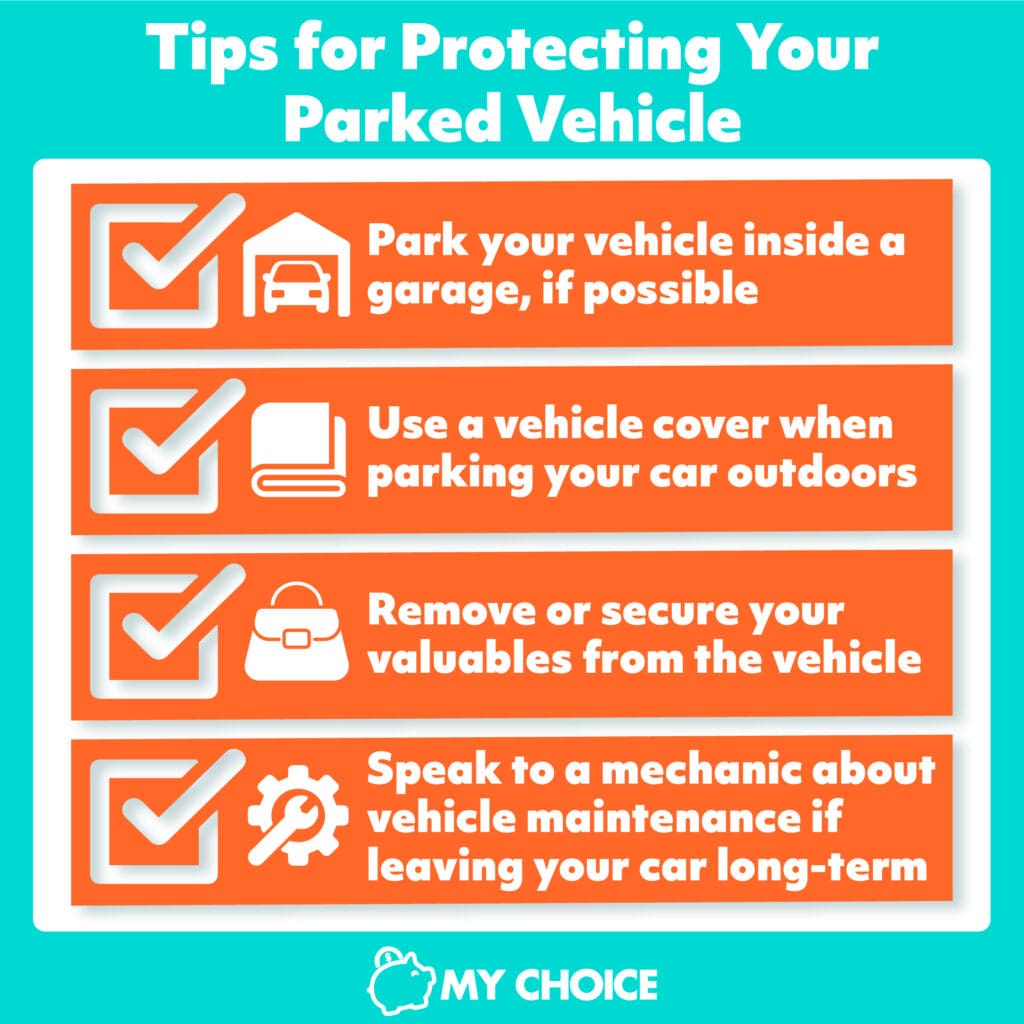 Conclusion
Many people assume parking their vehicle means it's safe from potential accidents. Your parked vehicle won't be as exposed to an incident for the most part, but you can never be too careful. With parking insurance, you can rest assured that any damage your vehicle incurs while parked has the appropriate coverage.