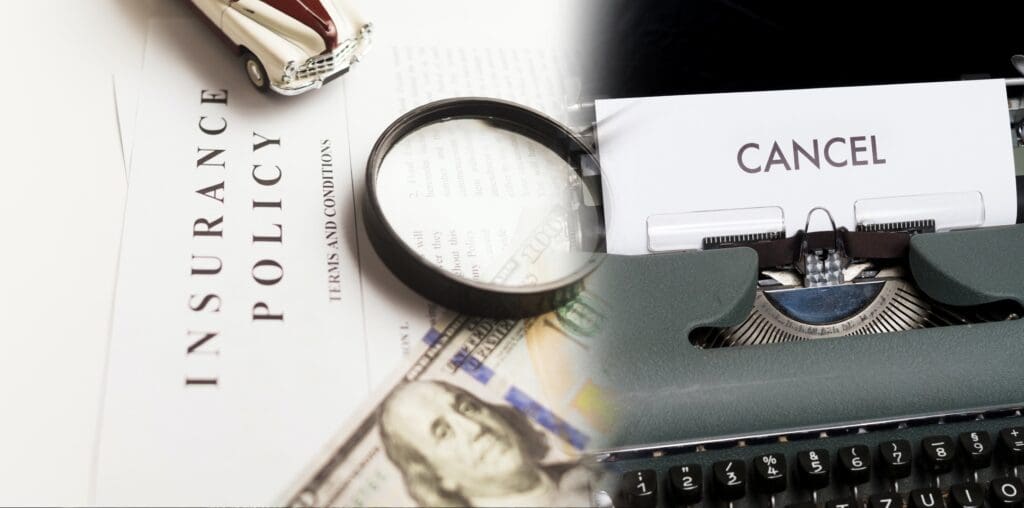 You may be lucky enough to find a great deal on a car insurance policy that makes you want coverage immediately. But what happens if you already have a policy from another insurer? You could consider cancelling your existing policy and switching to a new provider to get better rates or coverage.
If you're wondering how to cancel your car insurance without charges and if you can get a refund after cancelling your car insurance, you've come to the right place. Keep reading our guide to find out more about cancelling your car insurance in Canada.
How Much Does It Cost to Cancel Car Insurance?
On average, it can cost you 2% to 7% of your car insurance premium to cancel your policy before the renewal period. However, these charges can vary depending on the following factors:
Any outstanding premium payments
Non-refundable provider fees
The time remaining on the term of your policy
Generally, the closer your cancellation date is to your renewal date, the lower the amount you pay in cancellation charges. Read the fine print to see what fees are incurred if you cancel before that date and what requirements you need to submit for your policy cancellation.
How to Cancel Your Car Insurance Policy
Planning to cancel your car insurance policy? Here are the steps that you need to follow:
Prepare your policy information for documentation: You'll need your policy number and personal information, like your birth date. If you're getting coverage from a new insurer, you'll need your new policy number, the provider's name, and the date of policy effectivity.
Read your policy and inform your insurer: Check your policy's requirements for cancellation, as each provider will have a different protocol for this. You also need to speak to your car insurance provider, so they know about your decision. Do not allow your policy to simply lapse without talking to them, as this can affect future insurance applications.
Ask your car insurer if there's a specific procedure you need to follow: Insurance companies may require you to give a cancellation letter or submit certain documents within the notice period. Remember these specifications, including the due dates to accomplish them. Note that some provinces require a cancellation letter from you before your insurer can cancel your policy.
Ask about any refunds or cancellation fees: Some providers provide different cancellation fees depending on when you cancel your policy. Others will give you a pro-rated refund on any premiums you've already paid.
Contact your bank and cancel any automatic payments: If you've taken out a car loan, you need to tell the lending institution or bank that you're cancelling your policy and switching to a new insurer. Make sure you cancel any automatic payments from your bank account to avoid extra charges.
Make sure your new policy is in force before the old one is cancelled: You shouldn't have a gap in insurance coverage, so make sure your new policy is already effective before your old one is cancelled. Driving without car insurance can lead to fines and penalties, especially if you get into an accident.
Get your notice of cancellation: Keep a copy of this notice for your personal records. As a precaution, don't settle for verbal confirmation through a call or a face-to-face meeting. Ask your car insurer for official written confirmation.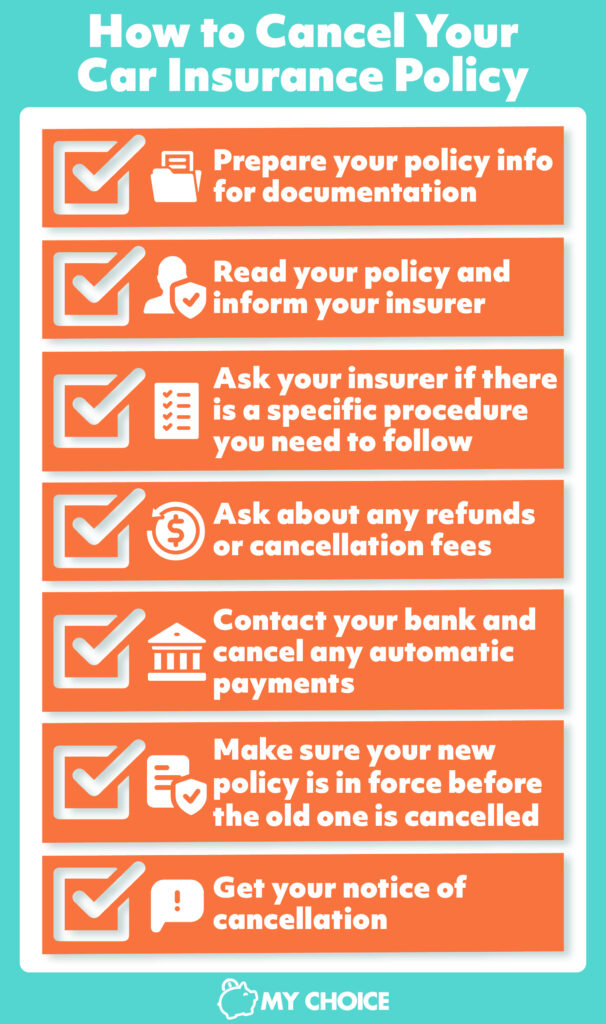 Can I Get a Refund on My Car Insurance Policy?
Yes, you can get a refund on your car insurance policy if you pay your premiums annually. You'll be refunded the amount for the months you paid in advance. However, if you pay your premiums monthly, you will have to pay a cancellation fee.
Companies will compute your refund either through short-rate cancellation or pro-rated cancellation. Here's the difference between the two:
Short-rate cancellation: You'll receive part of your initial premium, but your car insurer will charge you a cancellation fee for cancelling your policy early. They may also deduct additional administrative fees.
Pro-rated cancellation: You'll receive a refund based on the remaining months you already paid for. E.g. if you paid for a year of coverage but cancelled four months before the renewal date, you'll be refunded for that remaining time.
Can I Cancel My Car Insurance Without Incurring Charges?
Yes, you can cancel your car insurance without incurring extra charges by cancelling during your renewal period. It's best to inform your insurer ahead of time that you'll be cancelling your policy effective on the renewal date.
Can My Insurer Cancel My Car Insurance Policy?
Yes, your insurance provider can cancel your car insurance policy if you've missed payments, given misleading information related to your car insurance policy or paid past the due date.
Avoid headaches by paying for your policy on time. If you notice that you missed a payment or you received a late payment reminder from your insurer, address this by paying for it immediately. Note that some providers will charge late payment fees, while others may raise their rates or refuse to renew your policy when it's up.
Can I Cancel My Car Insurance Policy With an Open Claim?
Yes, you can cancel your car insurance policy even with an open claim. However, note that you'll still need to complete the claim and must pay cancellation fees to your insurer. A claim should also be disclosed to your new insurance provider, which can affect the rates they offer. Non-disclosure of your claim with your old provider can lead to the cancellation of your new policy.
Common Reasons to Cancel an Existing Car Insurance Policy
These are the most common reasons why drivers cancel their car insurance policies, even if they have to pay cancellation charges:
More affordable premiums: You may have found a good car insurer that offers lower rates for the same level of coverage.
Discounts by bundling: A car and home insurer may be offering a good discount if you get them to insure both your house and your car. Alternatively, you may have decided to get a multi-car insurance policy with a spouse or family member because it results in cheaper premiums.
No more car to cover: You may have decided that you don't need a car anymore, so the policy is equally unnecessary.
Poor customer service: You may simply be unsatisfied with the way your insurer handles claims, customer concerns, and queries.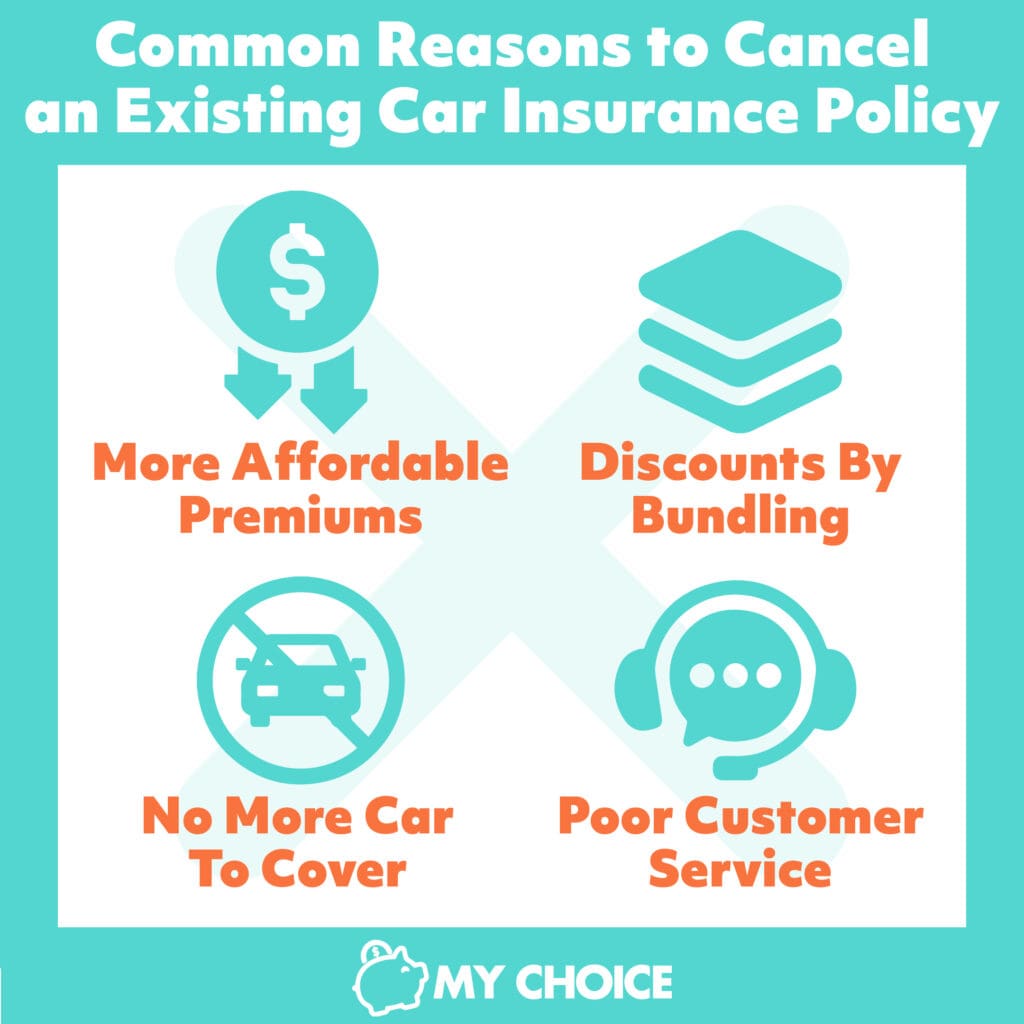 Find the Best Car Insurance Policy Deals With MyChoice
Sometimes, switching to a new car insurer is worth it, even with the cancellation fees. This can be due to affordable rates or discounts for bundling car and home insurance policies. Consider the financial impact before you cancel your policy or switch to a new provider.
If you're unhappy with your current provider's high fees and want a better deal, try MyChoice's car insurance calculator tool. We'll show you the best deals from various providers in your area, so you can make the most budget conscious choice.