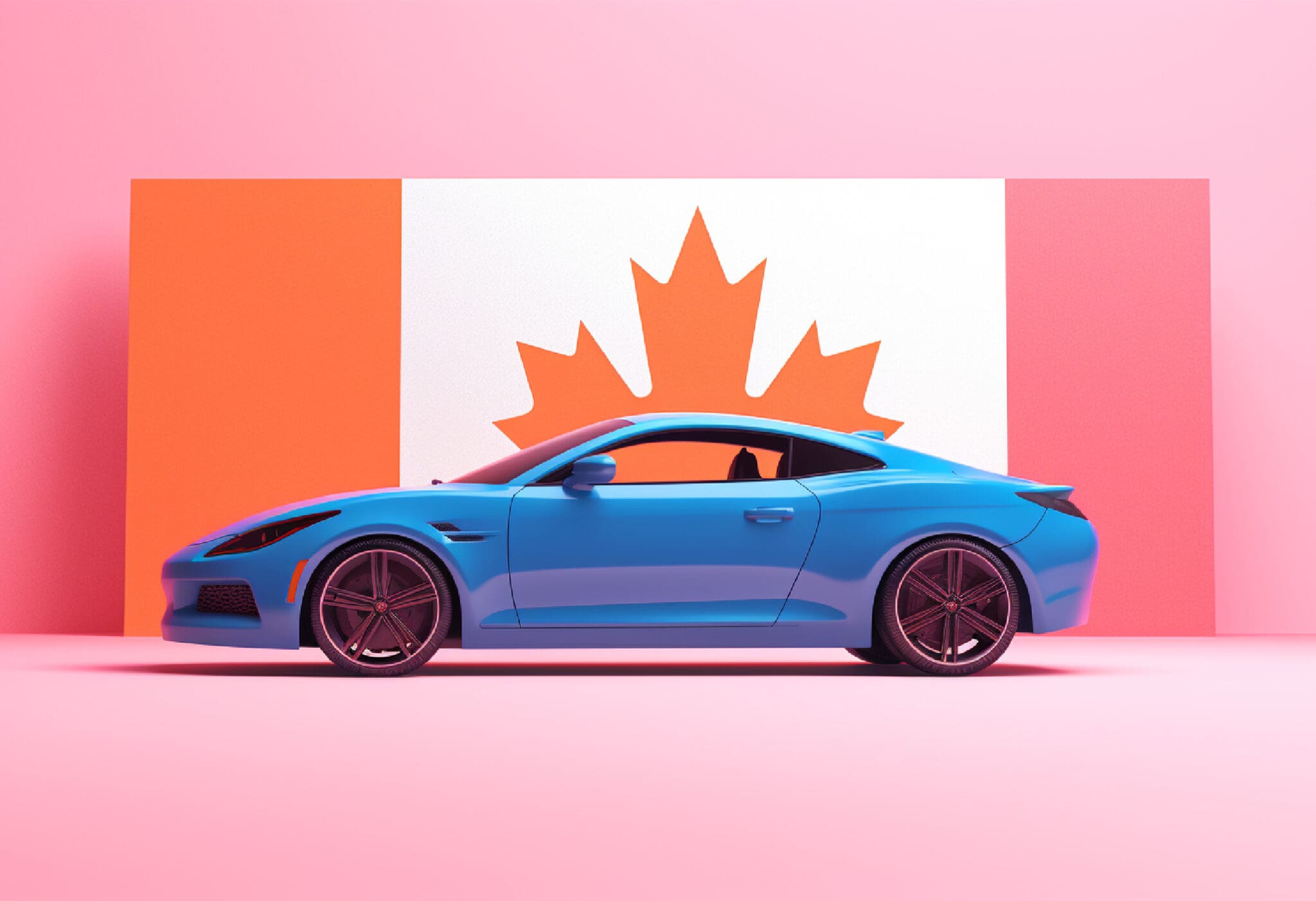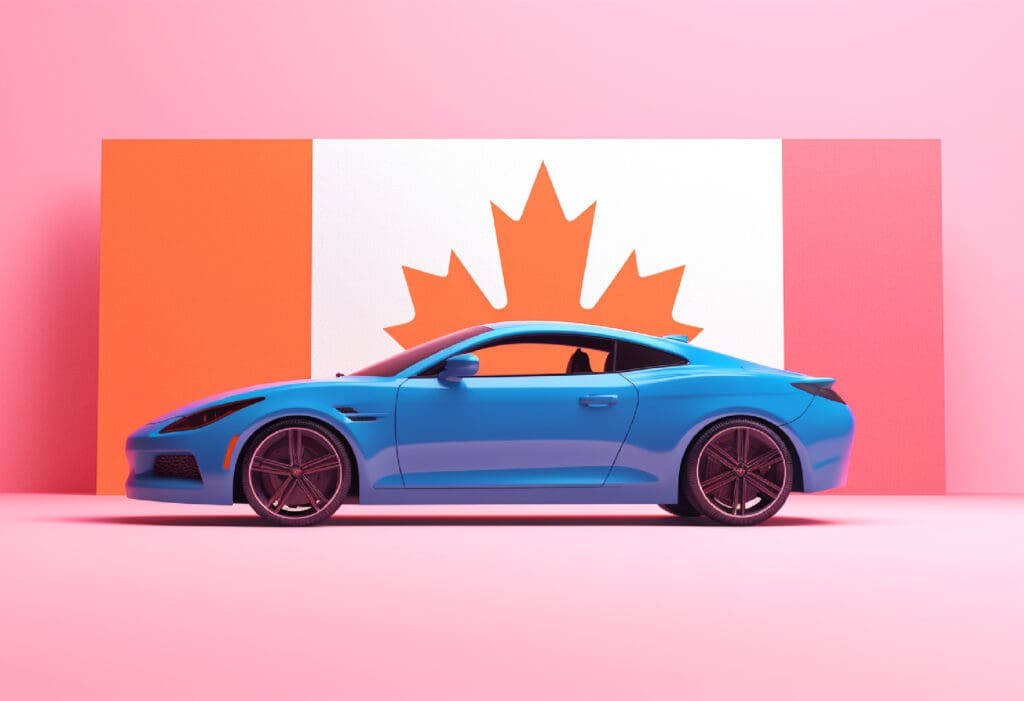 Finding your dream car can sometimes mean looking beyond your local dealerships, especially with the current vehicle shortages across Canada. While buying a car within your province might be straightforward, purchasing one from another can come with its own challenges. Here's a detailed guide to help you navigate the process of buying an out-of-province vehicle in Ontario.
Can I Buy a Car Out-of-Province?
Absolutely! Whether it's through a dealership or a private sale, you can purchase a car from any Canadian province. However, this option often comes with extra paperwork, research, time, and cost. It's also important to be aware of the regulations in each province, as they're all different. Like buying any new or used vehicle, it's best to be patient and do your homework to ensure it's worth your time and money.
Factors to Consider When Buying a Car Out-of-Province:
Registering an Out-of-Province Vehicle in Ontario. When you decide to register your out-of-province vehicle in Ontario, ensure you have all the necessary paperwork. This includes proof of insurance, out-of-province ownership or title, a complete bill of sale, and a Safety Standard Certificate. Remember, each province has its own rules for registering out-of-province vehicles, so always check with ServiceOntario to ensure you're on the right track.
Insurance & In-Transit Permit. Before driving your new vehicle home, you'll need to ensure it's insured. Once the sale is complete, you can obtain vehicle insurance. After securing insurance, you can get an in-transit permit to drive the vehicle back to your home province.
Sales Tax Implications. When buying a vehicle out-of-province, you'll pay the sales tax of the province where the purchase took place. However, you can later get a refund for this amount when you return to Ontario and then pay the Ontario sales tax. The majority of the vehicles bought privately in another province will be subjected to a retail sales tax or 13% (HST) when you register in Ontario.
Steps to Take When Buying a Car from a Different Province:
Check-in with the Seller: Ensure that dealerships are set up for interprovincial transactions and private sellers are open to selling out of province.
Contact Your Province's Vehicle Registration Authority (VRA): Ensure you have all the necessary information and documents before finalizing any deal.
Determine the Condition of the Car: It's crucial to understand the vehicle's condition, especially if you can't see it in person. Obtain a full vehicle history report, inspect the car's interior and exterior, and consider getting a mechanical inspection.
Negotiate the Price: There might be additional costs when buying from another province. Ensure the payment method is safe, especially for private sales.
Finalize the Deal: Sign all necessary paperwork, protect you from consumer protection laws, and transfer ownership.
Ship/Pick Up the Car: Factor in the costs of either picking up the car or having it shipped to you.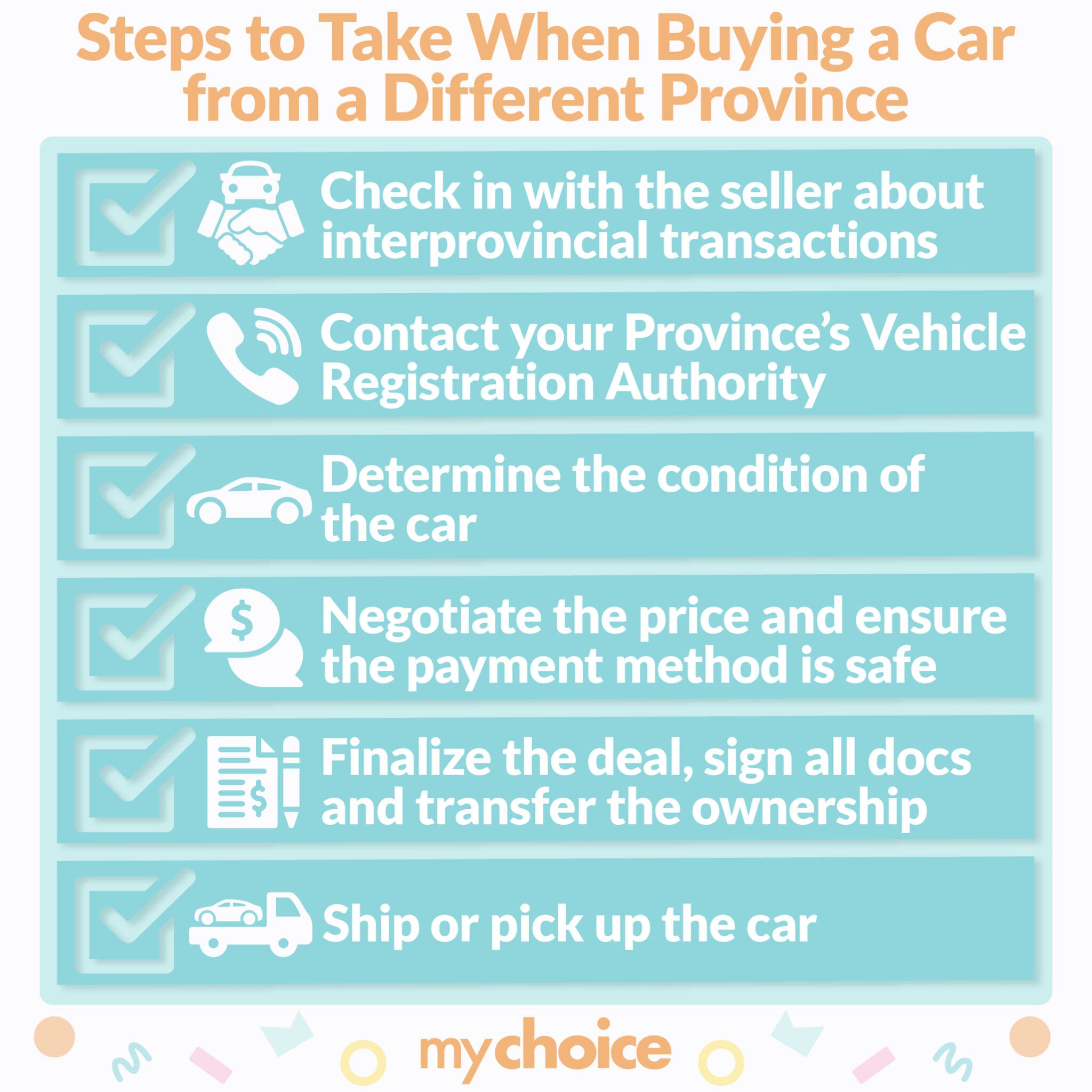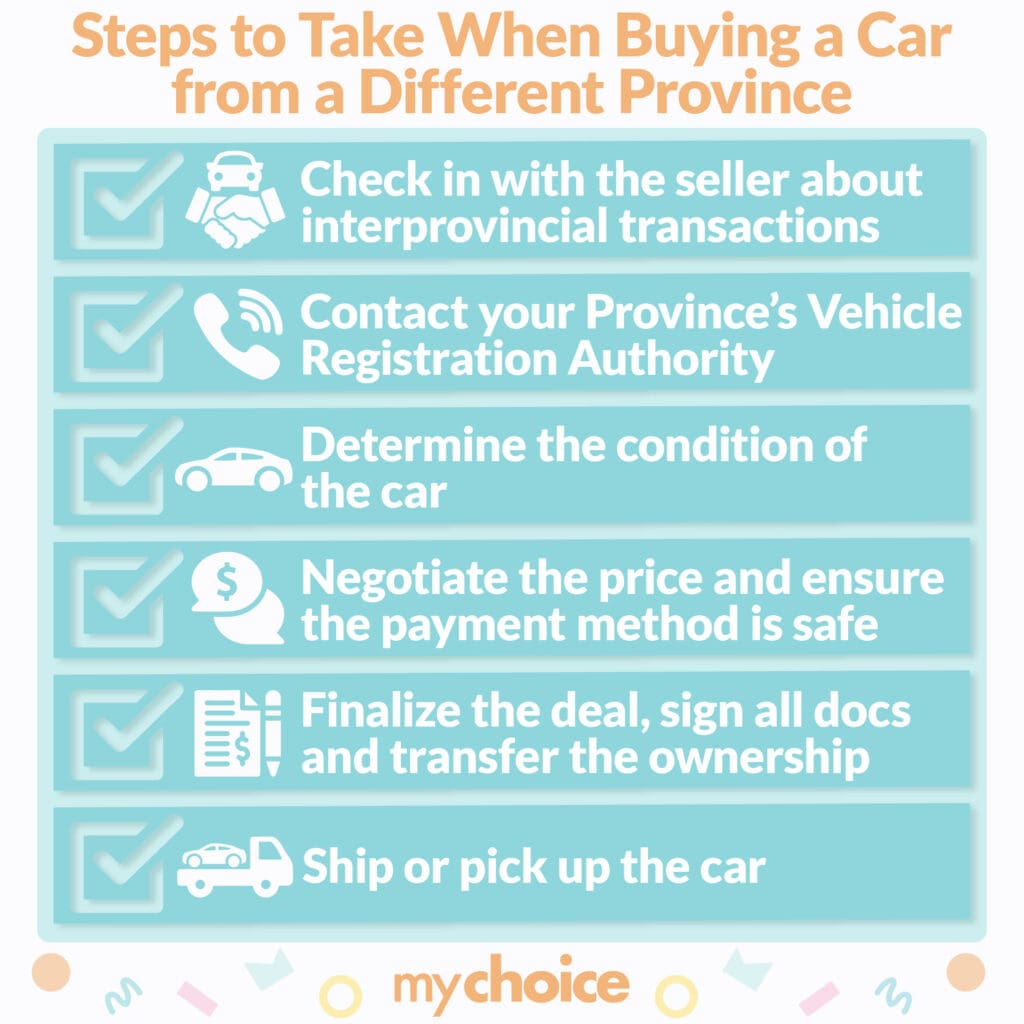 Pros & Cons of Purchasing an Out-of-Province Vehicle:
Pros: You might find a broader selection of vehicles, potentially at better prices, especially if your home province lacks inventory. Choosing the right dealership can also streamline the process, making it smoother and more efficient.
Cons: The additional effort, time, and costs associated with re-registering the vehicle and handling sales taxes might offset any savings. Plus, there's the potential cost of travel and accommodation if you need to pick up the vehicle in person.
Additional Considerations:
Time vs. Effort: Researching cars, understanding provincial regulations, securing financing, and arranging shipping/pick-up can be time-consuming.
Verifying the Vehicle: Ensure the vehicle is in good condition, especially if you can't see it in person. Obtain a vehicle history report, inspect the car, and consider getting a mechanical inspection.
Cost Implications: Factor in the vehicle's cost, taxes, registration payment, and travel or shipping costs.
Paperwork for Used Cars: If you're buying a used car from another province, you might need additional inspections and certifications based on your province's safety standards. If you live in Ontario, be sure to have a look at our Ontario car safety inspection guide.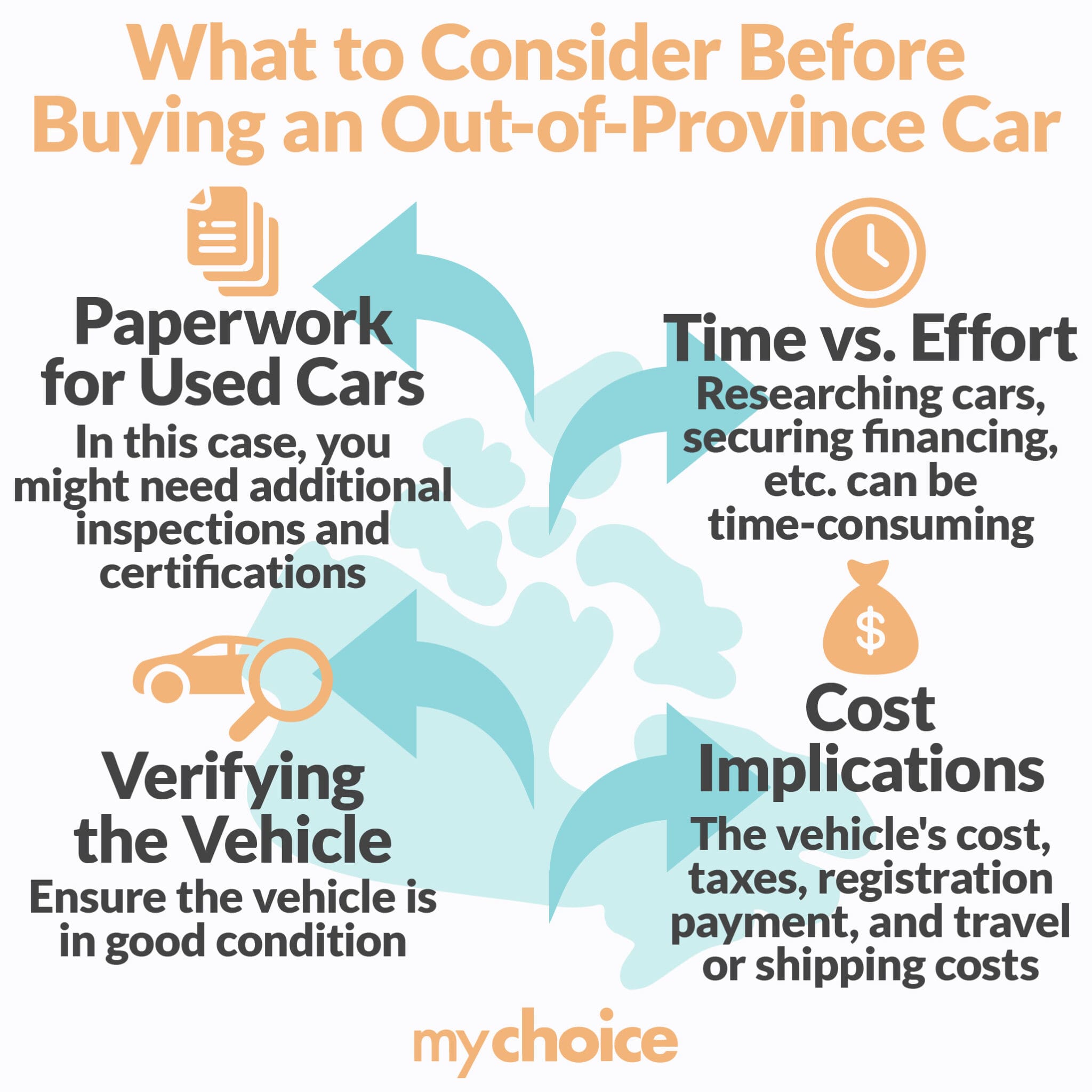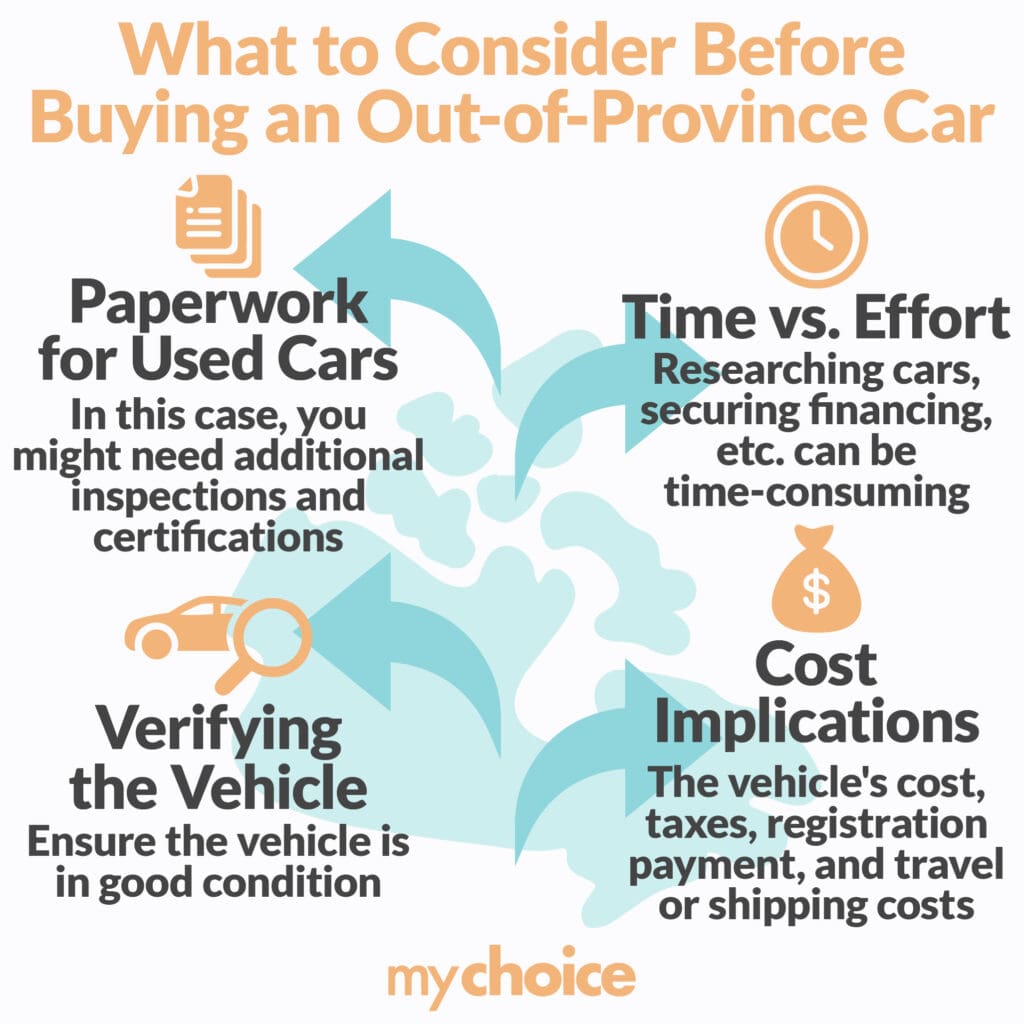 Final Thoughts
In conclusion, while purchasing an out-of-province vehicle in Ontario can be a viable option, it's essential to be well-informed and prepared. Ensure you do thorough research, understand all associated costs, and choose reputable dealerships or sellers. And, as always, make sure your new vehicle is adequately insured to protect your investment.