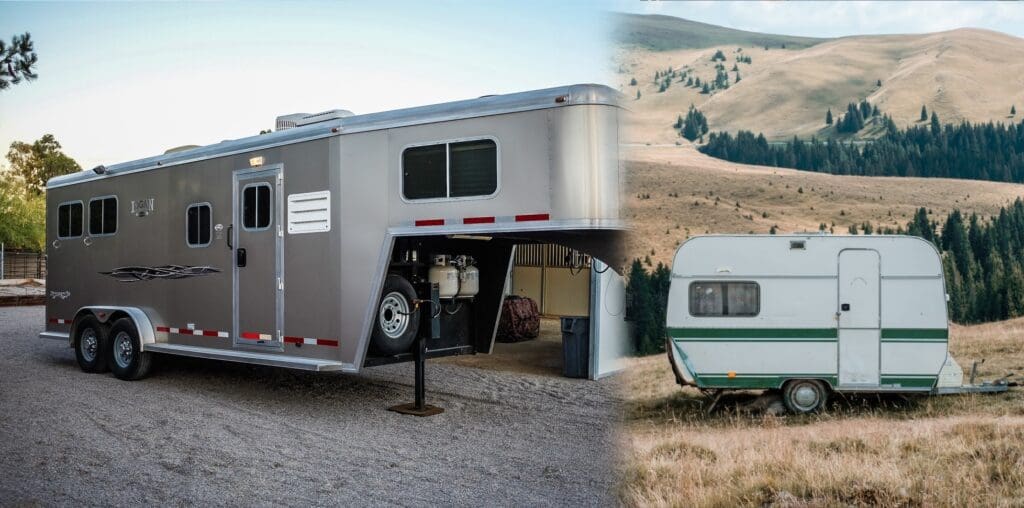 Are you the type of driver who craves cross-country adventures and road trips? During the Summer is a great time to get on the road and explore some of Canada's wilderness. Some people are content with their car and a tent, but what are your options if you need more space? A common option is to consider looking for a travel trailer. Many people purchase an RV or trailer to travel around in during the summer months, these trailers are a convenient and exciting way to get around Ontario and the rest of Canada. Both options have numerous advantages and disadvantages and as with any major purchase, you should be aware of some certain things before making your decision to buy.
Purchasing a trailer can be costly; some Ontarians will attempt to offset the initial outlay by purchasing a used model but lets take a look at all the options and see which one might be right for you.
What Is a Travel Trailer?
Travel trailers are basically small homes that you can tow behind your car. Of course, you must ensure that your personal vehicle can tow the specific travel trailer you select. Put simply make sure that your car, SUV, or truck has a trailer hitch option and its towing capacity to ensure that it can at least tow one of the smaller travel trailer options. Some of the main types of trailers are:
Travel Trailers: They can be as small as 33 feet long or there are larger travel trailers that can accommodate up to six or even more people.
Fifth Wheel Trailers: These trailers have a special mount located in the rear. This mount adds more stability when driving, making it easier to park the trailer in narrow camp sites. These trailers can be very long and heavy, which requires a more powerful truck.
Popup Trailers: These are very light trailers. They feature fold-up parts, and you can usually see a canvas top which can be extended. Since they are very light, you can tow them with a minivan or most vehicles.
Truck Campers: Truck campers are designed to ride on a pickup truck. They are very light and extremely affordable, but also very small.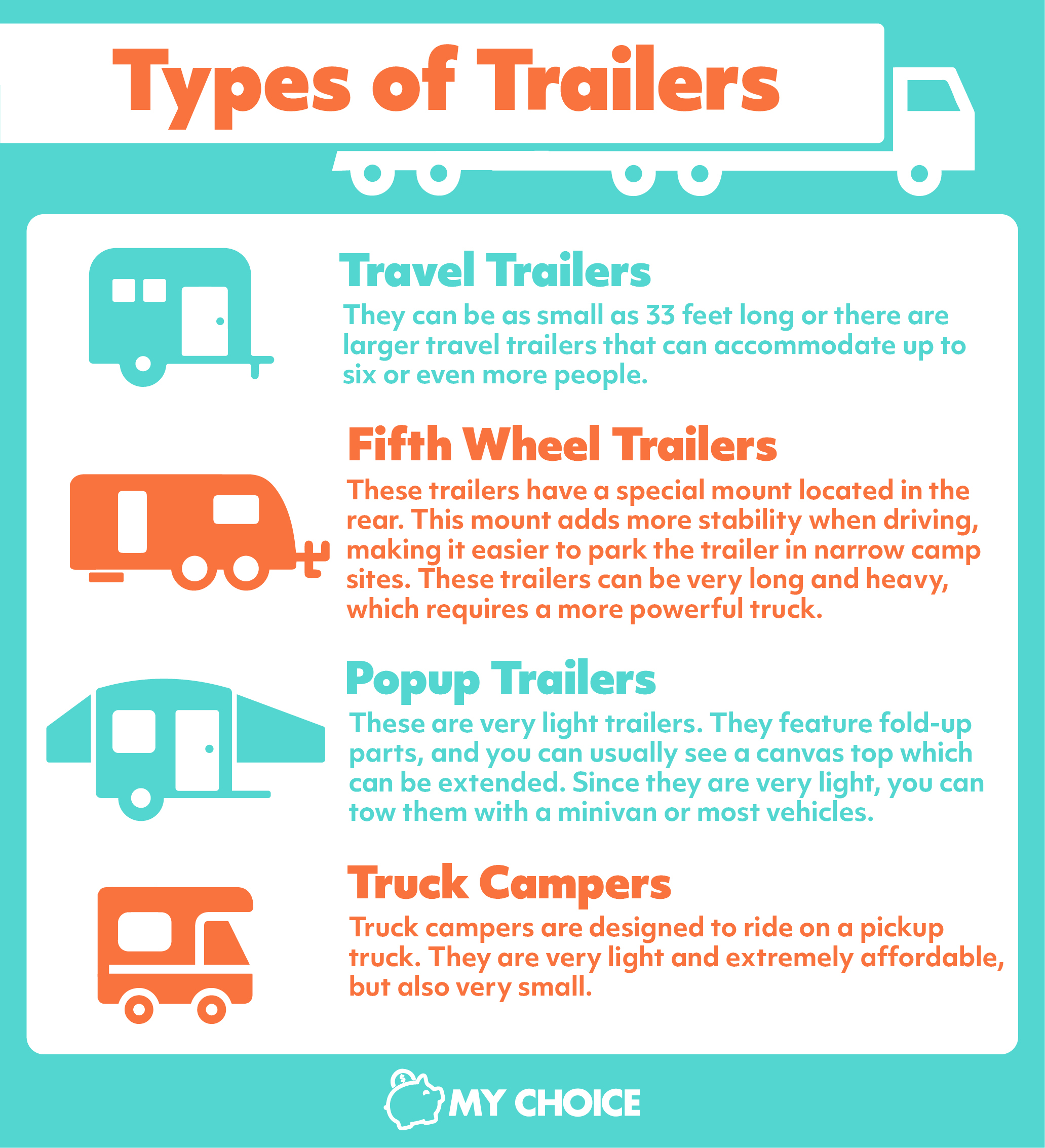 What Is an RV And What Is the Difference with A Regular Travel Trailer?
Recreation Vehicles, also known as motorhomes, are a hybrid trailer/truck. This means they have their own engines and don't require the additional towing vehicle. So, the main difference here is that you need an extra vehicle to tow a trailer which you don't with an RV, however, since trailers don't feature an engine, they are considerably more affordable than RVs, at least in the same size category.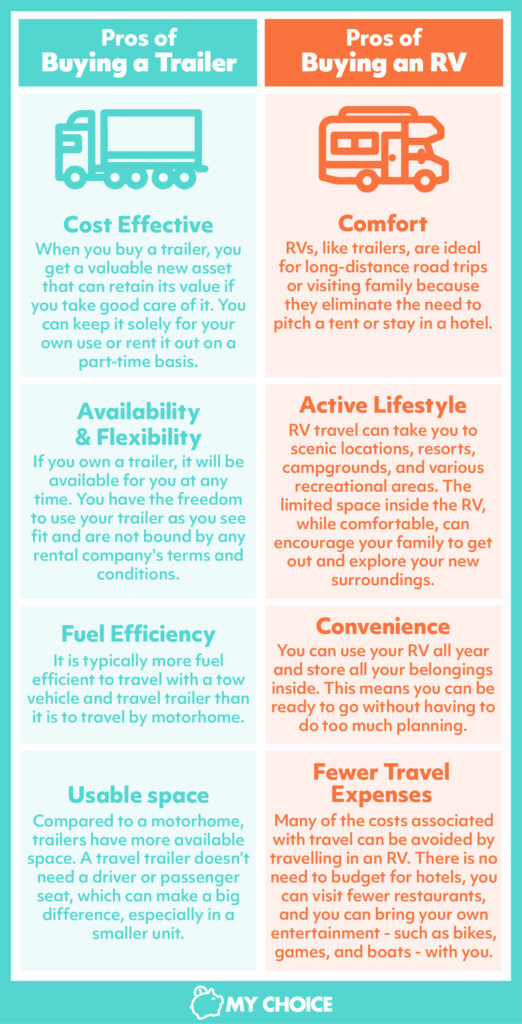 Pros Of Buying a Trailer
Some of the positive aspects of buying a travel trailer include:
Cost Effective: When you buy a trailer, you get a valuable new asset that can retain its value if you take good care of it. You can keep it solely for your own use or rent it out on a part-time basis.
Availability and flexibility: If you own a trailer, it will be available for you at any time. You have the freedom to use your trailer as you see fit and are not bound by any rental company's terms and conditions.
Fuel efficiency: It is typically more fuel efficient to travel with a tow vehicle and travel trailer than it is to travel by motorhome.
Usable space: Compared to a motorhome, trailers have more available space. A travel trailer doesn't need a driver or passenger seat, which can make a big difference, especially in a smaller unit.
Pros Of Buying an RV
Buying an RV is also a great option, these are some of the main benefits of this purchase:
Comfort: RVs, like trailers, are ideal for long-distance road trips or visiting family because they eliminate the need to pitch a tent or stay in a hotel.
Convenience: You can use your RV all year and store all your belongings inside. This means you can be ready to go without having to do too much planning.
Active lifestyle: RV travel can take you to scenic locations, resorts, campgrounds, and various recreational areas. The limited space inside the RV, while comfortable, can encourage your family to get out and explore your new surroundings.
Fewer travel expenses: Many of the costs associated with travel can be avoided by travelling in an RV. There is no need to budget for hotels, you can visit fewer restaurants, and you can bring your own entertainment – such as bikes, games, and boats – with you.
Cons Of Buying a Trailer
Now that we've discussed the advantages, let's look at the disadvantages of purchasing a new trailer.
Very expensive: In Canada, the average travel trailer costs around $24,000. Many people on Ontario can't to afford a new model due to the high price.
Insurance costs: If you are involved in an accident or collision and do not have travel trailer insurance, you will be responsible for the trailer's damage out of pocket.
Varying quality: When buying a used trailer, there may be issues caused by general wear and tear or a problem that the previous owner failed to mention. It's important to inspect the prospective trailer before committing to a purchase.
Things To Consider Before Buying a Trailer
You cannot have anyone in the trailer while you are driving. All your companions must remain inside your towing vehicle until you have parked.
Travel trailers are not motor vehicles, but when they are towed, they receive the same liability coverage as your auto policy. However, any other coverages associated with your auto policy, such as comprehensive or collision coverage, do not apply to your trailer. Furthermore, while your home insurance may cover the contents of your travel trailer, it may not be sufficient.
You should have a proper travel trailer insurance policy that includes the following coverage:
Damages
Contents Coverage
Bodily Injury
Standard Emergency Roadside Service
And more