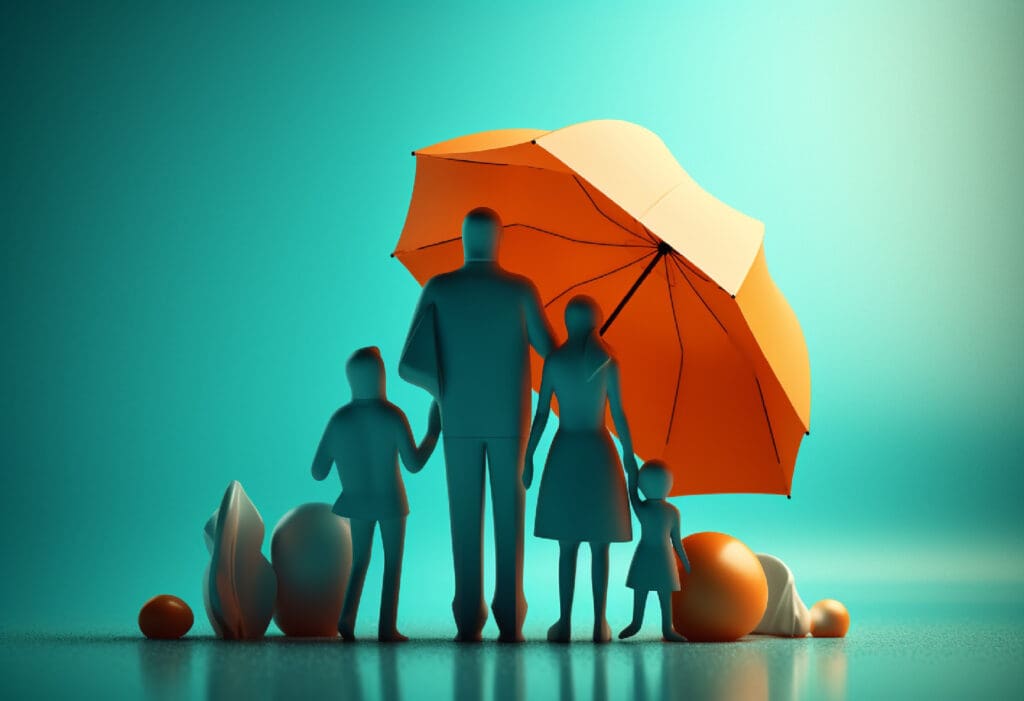 A certificate of insurance (COI) is a financial document that summarizes the vital aspects and terms of an insurance policy. This simple, one-page document may not seem that important, but it could save small business owners, independent contractors, and home and car owners from financial and legal issues in the future.
But how exactly does a COI work? And how do you go about obtaining one? In this guide, we tell you everything you need to know about COIs.
What Is a Certificate of Insurance (COI) and How Does It Work?
Issued by an insurance broker or company, a certificate of insurance (COI) is a document that details the pertinent information regarding an insurance policy, including but not limited to:
The policyholder's name
The coverage's expiration and effective date
The persons or entities covered by the policy
The type of coverage the policy provides (i.e. general liability insurance, auto insurance, etc.)
The policy's limits
In any business arrangement, it's imperative that you understand the kinds of risks and responsibilities you may incur. As proof of your insurance coverage, a COI is there to protect you and all other parties involved in an arrangement from taking on any unnecessary responsibilities.
Similarly, COIs are also used to verify details for other types of insurance policies, including home and auto insurance.
However, it should be noted that a COI is not a formal contract and does not provide any coverage. It merely highlights important details of your policy and, ultimately, serves as proof of insurance coverage.
Why Do You Need a COI?
Here are some of the top reasons why COIs are necessary:
A COI protects you against liability in the event of an accident, injury, theft, or damages to your property.
If you're a business or a contractor, having a COI gives you an advantage over the competition, as clients want to reduce as much risk as they possibly can.
When you are audited, having a COI will allow you to avoid paying a premium on your workers' compensation and general liability.
A COI ensures that an organization is compensated fairly if a contractor fails to deliver or delivers substandard work.
Having a COI makes it easier for you to partner with clients and, in turn, expand your business.
For drivers, having a COI also allows them to purchase a new vehicle, as it is mandatory for all drivers to insure their vehicles. Not having a previous COI on hand when buying a new policy could also mean facing higher premiums, as this may paint you as a high-risk driver.
A COI also serves as proof of insurance when you get pulled over.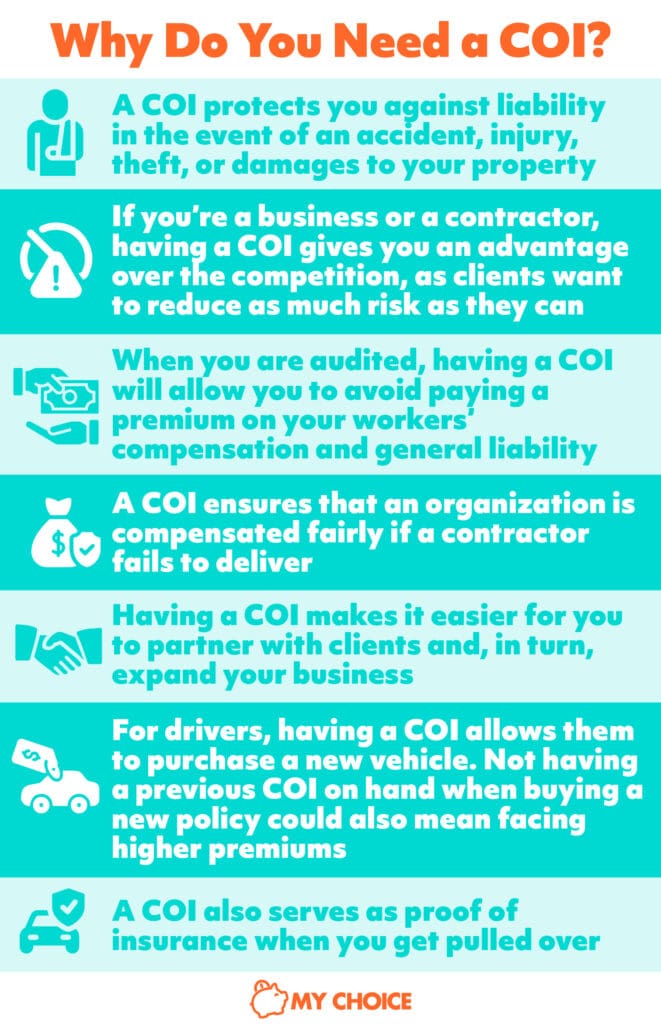 When Is a COI Required?
A COI is required whenever a third-party supplier is hired to perform services or provide goods to another person or business.
For example, say your organization is hosting an event and you need to hire a contractor to build a stage on company property. Because you don't want to be liable for any losses or damages linked to the event, you request a COI from the contractor. That contractor would then ask their insurance provider to extend their policy's coverage for all the workers involved throughout the event.
Types of Certificates of Insurance
These are some of the most popular types of COIs:
Certificate of Liability Insurance
This certificate ensures that the project owner, project manager, and/or lender have Additional Insured status.
An "Additional Insured" is an individual or group that is covered under the insurance policy registered in another entity's name. A certificate holder, that is a person or entity that requests a COI, will typically ask to be named as an Additional Insured on a policyholder's coverage plan.
This certificate must include the names and contacts of all insured parties, a description of the work involved, and a subrogation waiver.
Certificate of Worker's Compensation Insurance
This certificate details the kind of insurance coverage workers are entitled to in case they are injured while working on a project. This type of COI should be written in compliance with the laws of the province where the project will be completed.
Certificate of Auto Liability Insurance
A certificate of automobile insurance indicates:
The insured vehicles
The coverages purchased, along with any selected optional coverages
A description of how the insured was rated for the premiums
The coverage period
In some places, driving without an auto insurance certificate is an offence akin to driving without a license.
Some insurance providers allow clients to obtain an electronic auto insurance certificate in Ontario. This can be saved and viewed on a mobile device.
Elements Found in a COI
To help you understand any COIs you issue or that are issued to you, we break down some of the key elements below:
Insured: This refers to the person(s), company, or policyholder(s) that are covered by the insurance policy.
Insurer: This refers to the insurance company responsible for providing the coverage.
Certificate holder: This refers to the person or entity that requests the certificate. Usually, you can find the certificate holder's name and contact information in the bottom left-hand corner of the certificate.
Coverages: This is a description of the kind of coverage the policy offers the insured parties, i.e. general liability, auto insurance, workers' compensation, business interruption, property damage, etc. This section also indicates the maximum amount of money the insurance provider will shell out to cover each incident.
Effective and expiration dates: This indicates the start and end dates of the insurance coverage.
Additional Insured: This refers to any persons or businesses that benefit from the coverage provided for another entity. For example, a landlord can require commercial tenants to name them as an additional insured on the tenant's policy. This ensures that in the event of an accident or loss on the rented property, the landlord will be covered as well.
Endorsement: Also called a "rider", an endorsement is essentially an additional form of coverage or an add-on to an existing policy.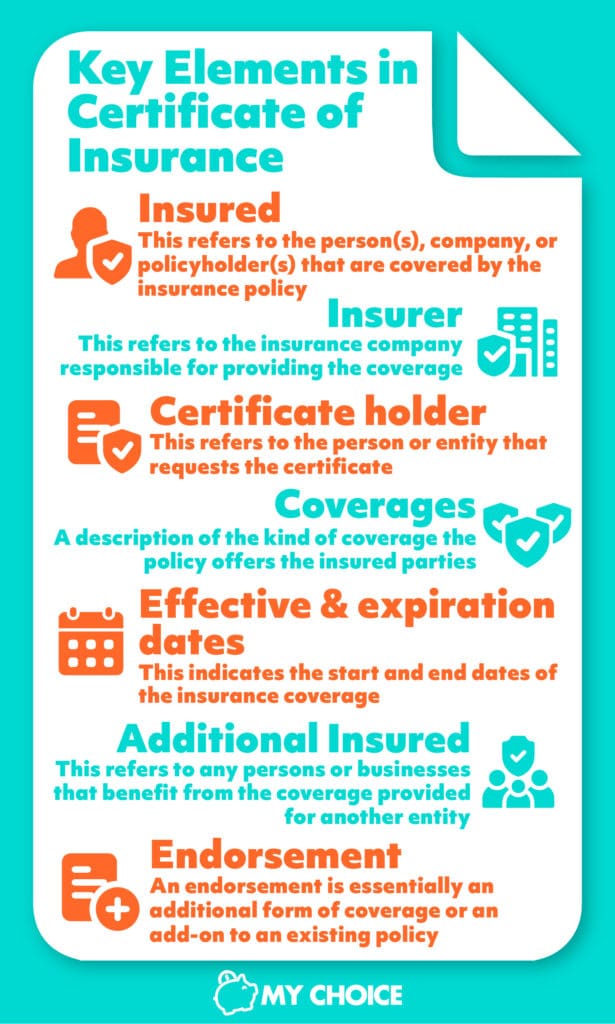 How Do I Acquire a COI?
To request a COI from your insurance provider, take the following steps:
Iron out the details: Aside from looking into the limitations of your current coverage, make sure to request the details of coverage from your client. This should include their name, address, and tax identification number. These details will allow you to request an increase in your premium if necessary.
Contact your broker: Discuss the situation with your broker and explain the minimum coverage amount. For policies that meet the requirements, brokers can immediately contact the insurance provider to secure the COI. However, in instances where a rider is needed to increase coverage, your broker will provide you with the paperwork needed to make the request.
Receive your COI: Once all the details are finalized and your broker gets approval from your insurance provider, they can draft the COI and send you a physical and/or electronic copy. You can then send this copy out to your client.
How Much Is a COI?
COIs don't typically cost anything. Insurance companies provide COIs as a complimentary service. You usually have to make an additional payment if the project you need a COI for requires you to obtain additional coverage.
How Long Does It Take to Obtain a COI?
It can take anywhere between a few days to a few weeks to obtain a COI.
To speed up the process of obtaining a COI, make sure you have all the necessary information on hand when contacting your broker.
How Long Is a COI Good For?
A COI is usually valid for as long as your policy is active. However, this is not always the case. Typically, a COI can last up to five years.
The Bottom Line
Summing it up, a COI is an essential form of protection for any business or organization. It serves to show the client or recipient that the policyholder is financially insured in the event of an accident or any other type of incident that would otherwise cost them money.
Find the best insurance provider that will be there for you every step of the way, whether you want to change insurance mid-policy or you simply want to request a certificate of insurance. With MyChoice, you can shop policies and get the best deals on home and auto insurance from top providers.