Since traffic levels in Ontario have dropped after the recent pandemic, the province has seen a 200% increase in stunt driving charges. Stunt driving is dangerous and illegal, but many drivers still engage in this unsafe "sport" and many drivers are unaware of the penalties involved. This guide defines what stunt driving is, the laws surrounding it, and the consequences of receiving a charge in Ontario.
What Is Stunt Driving?
Stunt driving involves excessive speeding, voluntarily disobeying traffic laws, and engaging in street racing or other contests. Incorporating illegal car modifications, such as high-performance motors and other style enhancements, is also considered stunt driving.
Other considerations by Section 172 of the Highway Traffic Act include:
Driving at least 50 km/h over the speed limit in an 80 km/h zone
Driving at least 40 km/h over the speed limit in an 89 km/h zone or lower
Driving at a speed of over 150 km/h
Driving to cause your tires to squeal, burn, or lose traction
Cutting another driver off intentionally
Driving too close to another driver
Driving and drifting to spin a vehicle
Driving with a person in the trunk of your vehicle
Driving recklessly and without concern for road conditions or other drivers
Driving to lift your tires off the ground
Denying other drivers or cyclists right of way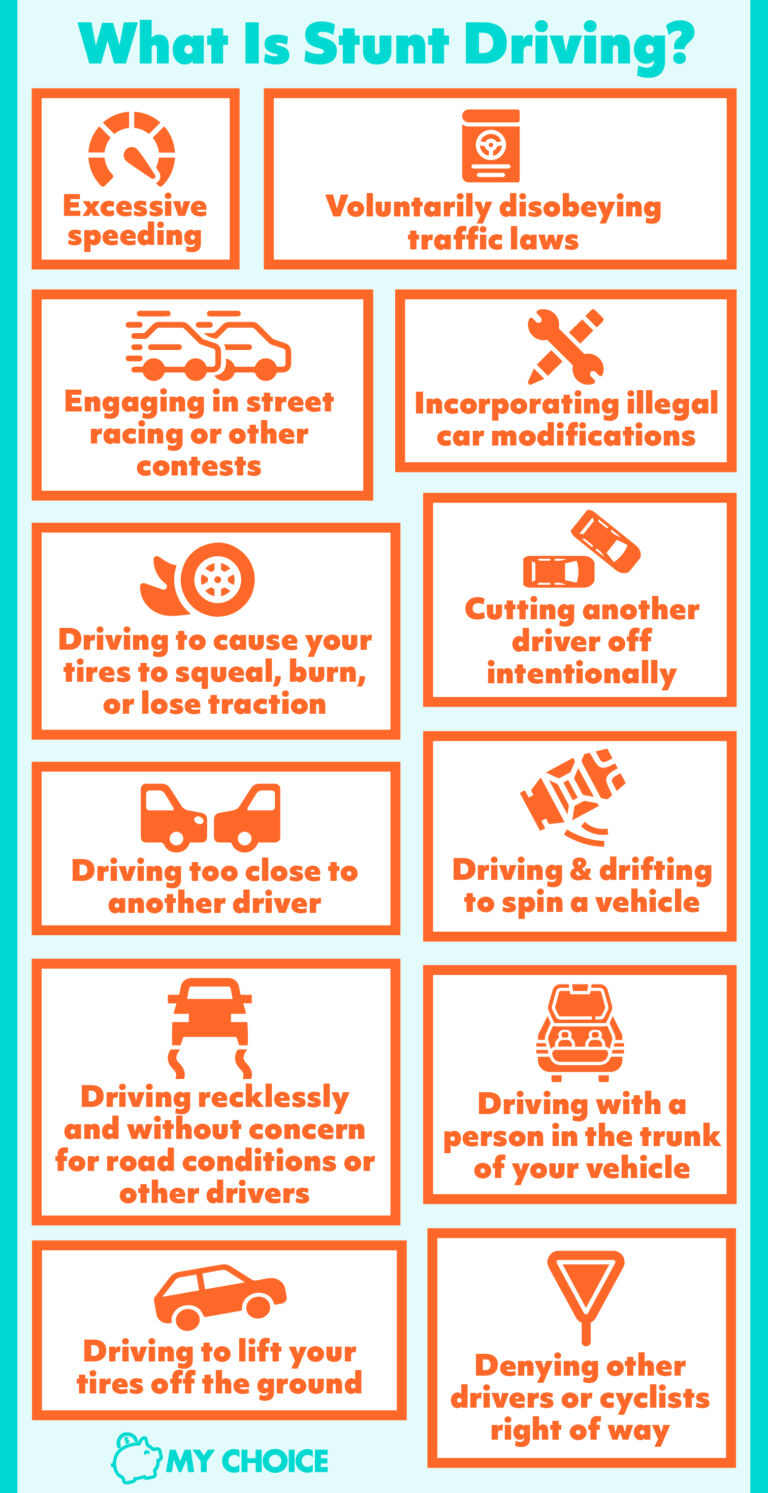 Stunt Driving in Toronto
Car collisions have significantly increased over the years, especially in Toronto, with fatalities increasing by almost 3.6% yearly. Most deaths in the Greater Toronto Area in 2022 directly resulted from over 400 stunt driving and racing charges.
According to deputy commissioners in the area, many of these stunt driving incidents are brazenly orchestrated with zero regard for other people's lives.
Stunt Driving Charges in Ontario
While you can get a conviction for stunt driving, it is not considered a criminal offence. However, because it is part of the Highway Traffic Act, stunt driving charges can significantly affect your record or even put you in jail.
Stunt Driving Penalties
How high a penalty you receive for stunt driving will ultimately depend on the severity of the damage caused and how many offences you have already incurred.
Take a closer look at the costs involved in stunt driving:
| Conditions | 1st Offence | 2nd Offence | 3rd Offence |
| --- | --- | --- | --- |
| Demerits | 6 points | | |
| Imprisonment | Up to 6 months | | |
| Vehicle impoundment | 14 days | | |
| Minimum fine | $2,000 – $10,000 with 25% victim surcharge | $2,000 – $10,000 with 25% victim surcharge | $2,000 – $10,000 with 25% victim surcharge |
| Licence suspension | 30 days (roadside suspension) | 30 days | |
| Suspension of driver's licence | Upon conviction, from 1 to 3 years | Upon conviction, up to 10 years | Lifetime suspension upon conviction |
| Driver improvement course | Mandatory (completion required within 60 days of conviction) | | |
If you fail to settle any mandatory fines, you will automatically get your driver's license revoked.
Plus, you'll have to worry about these extraneous costs:
Legal representation
Towing
Impound fees
License re-application
Employment fees if your job requires the use of a vehicle
Stunt driving, which is considered careless driving in Ontario, can also significantly increase your insurance rates in the future. Insurance companies may also cancel your auto insurance policy or list you as a high-risk driver with high rates. Read more about how your insurance rates after a careless driving charge.
Consequences for G2 Drivers
G2 (or Level 2) licence holders receive harsher consequences for stunt driving than their more experienced counterparts. When a G2 driver surrenders their licence, they will also receive an additional 30-day suspension. This 30-day suspension automatically applies to G2 licence holders who have accumulated over four demerit points.
Combatting a stunt driving ticket in court may be more challenging for G2 drivers, as prosecutors often consider them less experienced. As a G2 driver, you may have better luck with a stunt driving lawyer.
Updated Ontario Stunt Driving Laws
Since passing in 2021, the Moving Ontarians More Safely Act (MOMA Act) has introduced new and more robust measures to clamp down on stunt driving. Below is a table of the updated charges:
Law Changes
Current Law
Previous Law
Speed limit
Driving 40 km/h above speed limit in zones with a posted speed limit of 80 km/h or less
Driving 50 km/h above speed limit in zones with a posted speed limit of 80 km/h or less
Speed limit
14 days
7 days
Licence suspension (roadside)
30 days
7 days
Suspension of driver's licence (upon conviction)
1st conviction: 1-3 years
2nd conviction: 3-10 years
3rd conviction: Lifetime with the possibility of reduction
4th conviction onwards: Lifetime without reduction rights
$2,000 – $10,000 with 25% victim surcharge
Driver improvement course
30 days (roadside suspension)
30 days
You can incur these charges for stunt driving in parking lots, commercial lots, and private establishments. Learn more about how parking lot accidents can affect your insurance rates.
What to Do if You Receive a Stunt Driving Charge
If you receive a stunt driving charge and request to appear in court, you'll first want to cease driving your vehicle indefinitely. Avoid getting your vehicle towed or stored as much as possible, as fees are often exorbitant.
Before appearing in court, do your best to get your licence reinstated, as it increases the chances of resolving your case. Read on about how to deal with a suspended licence in our guide.
Get your documents in order with an experienced lawyer, then appear in court to fight your case.
Some tips for combatting your charge include:
Refusing to plead guilty or pay the ticket
Getting the best legal defence
Preparing questions for officers and witnesses
How to Beat a Stunt Driving Charge in Ontario
While it is always recommended to combat your stunt driving conviction with an experienced lawyer, some drivers opt to do so alone to avoid additional legal fees. Should you choose to fight your ticket without legal assistance, keep these tips in mind:
Reinstate your licence and present this to a prosecutor.
Compile all the necessary documents and letters with accurate information.
Appear in court on a specific date and arrange a trial.
Review previously resolved cases, and take notes regarding what worked and what didn't.
Prepare questions for witnesses to prove that the situation was different from what the assigned officer might present.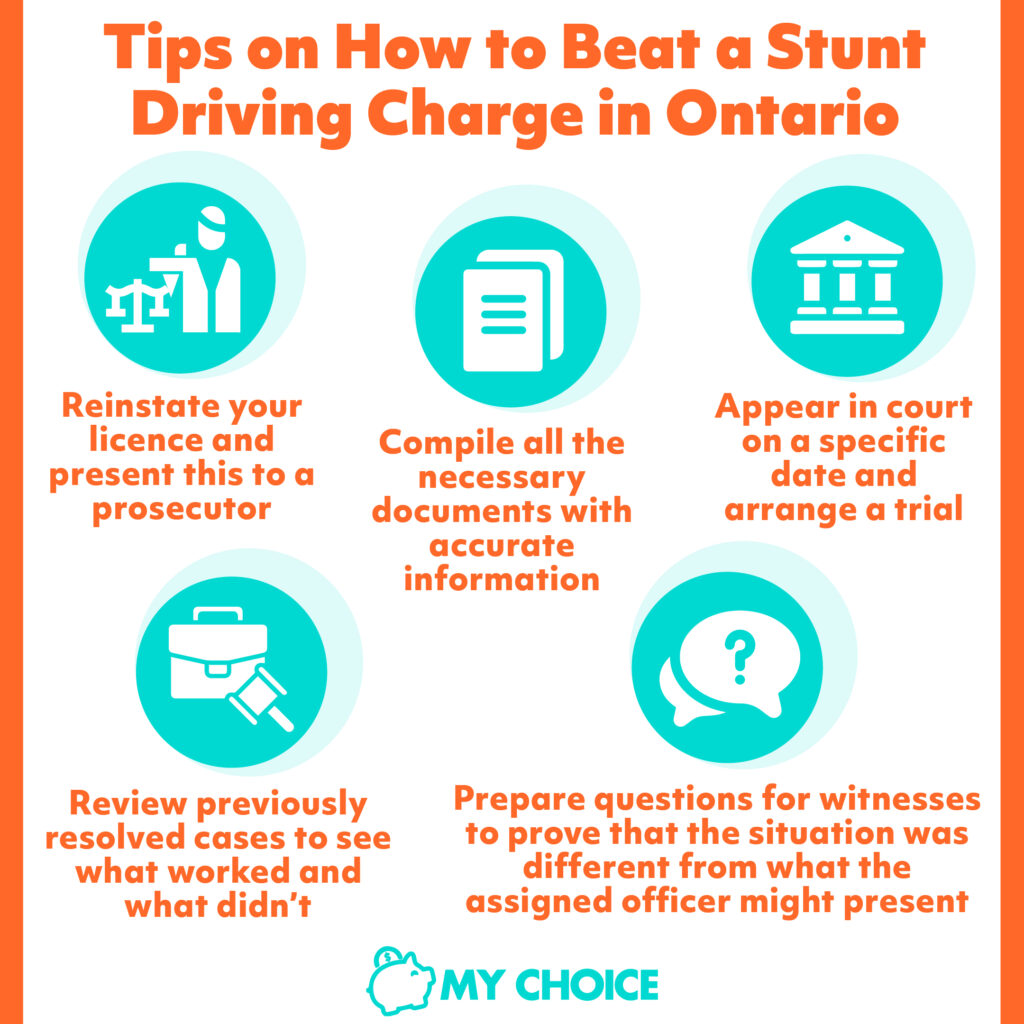 The Most Common Questions About Stunt Driving in Ontario
How Does Stunt Driving Affect Young Drivers?
Stunt driving can severely affect young drivers, who have less road experience and are often considered high-risk drivers.
Generally, younger drivers are more likely to get into car accidents than their older counterparts. In Canada, the road collision death rate for young drivers between 15 and 24 is three times higher than that of drivers between 35 and 44. As such, it can be more challenging for young drivers to get insurance after getting convicted for stunt driving.
That said, new and fully licenced drivers typically receive the same penalties.
Can you go to jail for stunt driving?
Yes, you can receive jail time for up to six months for stunt driving.
Can you get stunt driving charges dropped?
Yes, you can fight to drop or reduce stunt driving charges by getting the right legal representation.
How long does a stunt driving charge stay on your record?
A stunt driving charge stays on your record for three years. During this time, it can affect how much you pay for insurance.
How much is a stunt driving charge in Ontario?
A stunt driving charge in Ontario costs $2,000 to $10,000. How much you pay depends on how many offences you've already incurred.
What's the difference between street racing and stunt driving?
The main difference between street racing and stunt driving is what the driver attempts to do. Street racing occurs when a driver attempts to reach a destination before another driver or prevents another vehicle from passing theirs. On the other hand, stunt driving occurs when a driver purposely loses traction, drives into oncoming traffic, spins their tires, or drives too close to other vehicles.
The Bottom Line
Stunt driving can result in severe consequences that lead to exorbitant fees and even jail time. Should you become convicted of stunt driving, there are ways to fight your ticket and keep your licence from being revoked permanently.
Learn all you need to know about Ontario driving laws and insurance with MyChoice.