MyChoice reveals the most ticketed car models for speeding in Ontario: are you driving one of them?
Whether you are cruising down the highway or late for an appointment, it's easy for you to drive over the speed limit. There are also others who love to live life in the "fast" lane, but this could be dangerous, irresponsible and costly as the chances of receiving a speeding ticket increase.
We referred to our database of over 100,000 insurance quotes to identify which car models have the most speeding violations in 2022. Our data science team then analyzed the number of drivers with a past speeding ticket against the total number of drivers across 348 models to identify the top ten vehicles that break speeding laws at the highest rates in Ontario – and many entries on the list are surprising.
The top five car models in Ontario with the most speeding tickets are:
Honda Civic with 9.6% of total speeding tickets
Hyundai Elantra with 4.9% of total speeding tickets
Mazda 3 with 3.5% of total speeding tickets
Toyota Corolla with 3.2% of total speeding tickets
Hyundai Sonata with 2.3% of total speeding tickets
Rounding out the top ten are Dodge Ram, Honda Accord, Volkswagen Jetta, Dodge Grand Caravan and BMW 328i (see infographic below).
"Speeding tickets will affect your driving record which will increase your rates by up to 10% for the first infraction," said Aren Mirzaian, CEO, MyChoice. "It's best for drivers to follow the speed limits to not only avoid increased insurance premiums at renewal but, to most importantly, keep themselves and others safe on the road."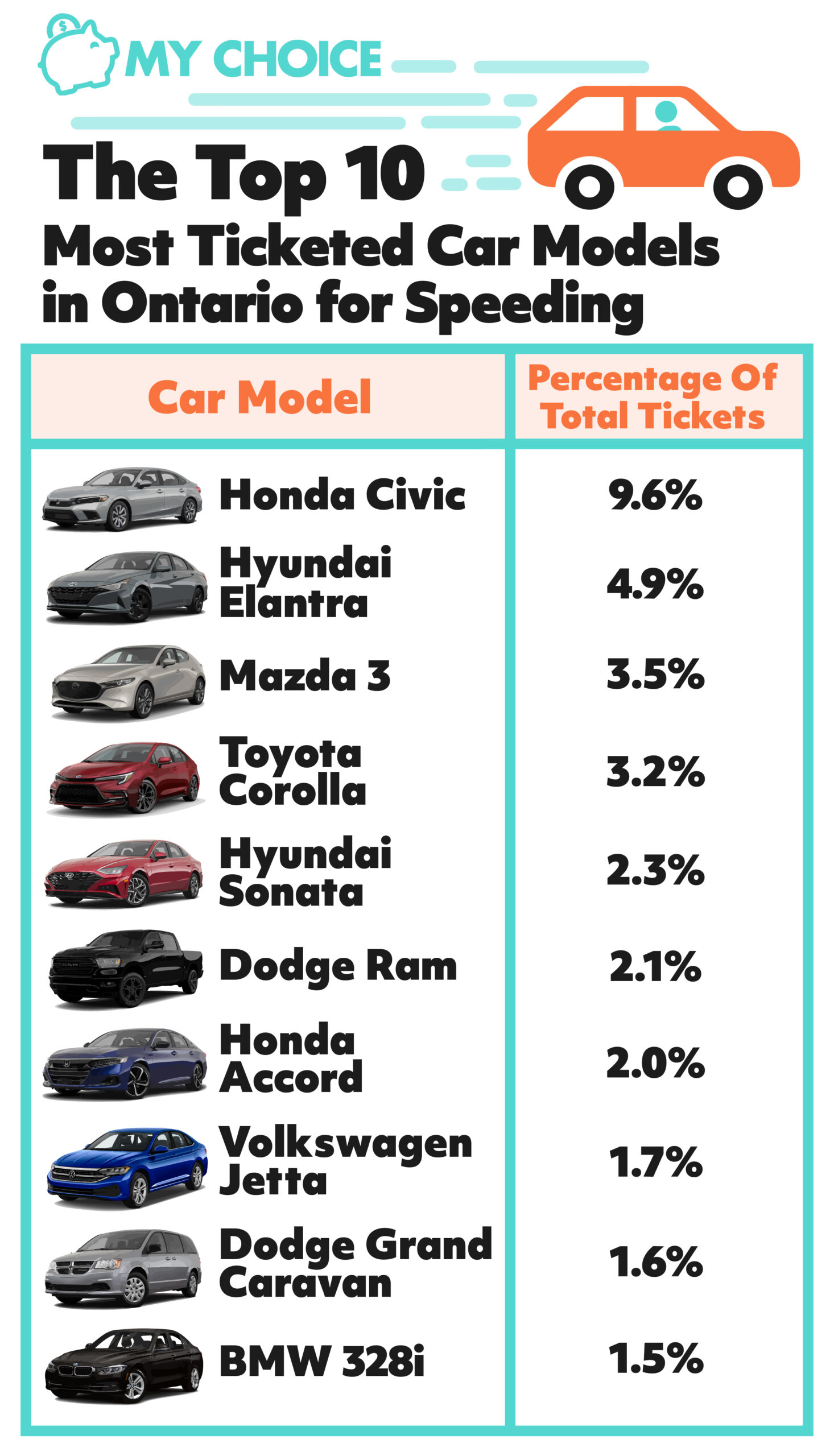 According to Transport Canada's Road Safety in Canada Report 1.27% of fatalities and 19% of serious injuries involve speeding. In Ontario, a speeding ticket stays on your driving record for up to three years from the date that you paid or were found guilty in court and will increase your car insurance premium at renewal. Receiving multiple speeding tickets can lead to being classified as a high-risk driver. If you are classified as high risk, you must seek out high-risk auto insurance where premiums are much higher than regular auto insurance. Although the impact of your tickets may not be immediate, insurers typically look at your record at renewal to determine whether to increase your rates.
When applying for car insurance in Ontario, drivers share vehicle and personal information including the make and model of the car and any driving violations, including speeding tickets they have received.