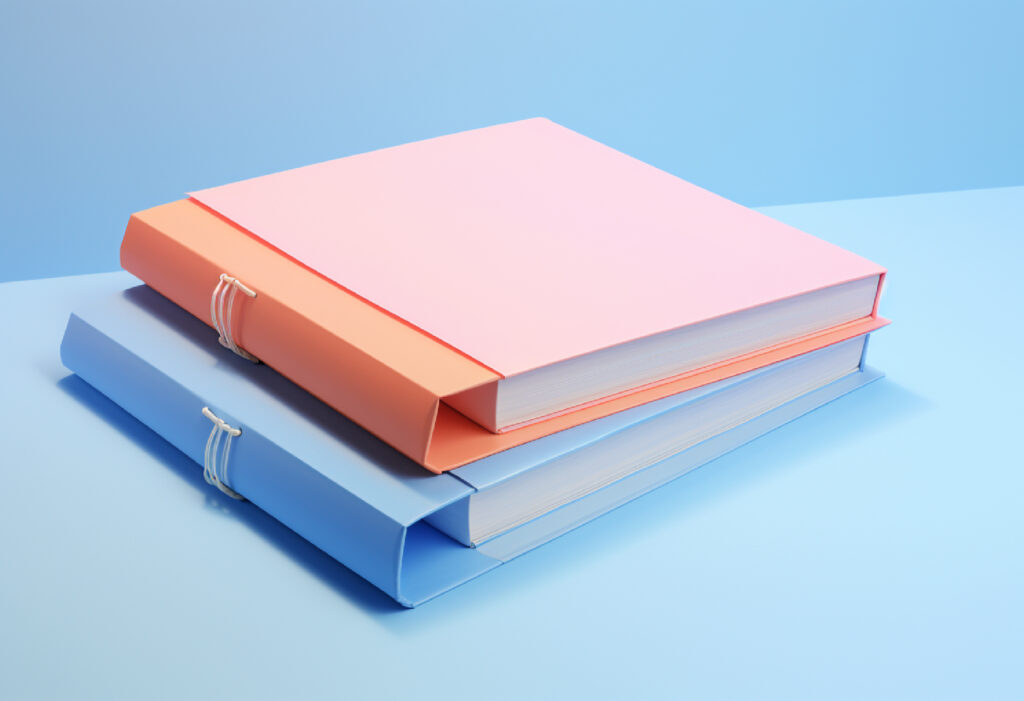 There's no standard for how long to keep insurance records. You need to keep some documents for a long time, while some others you can dispose of once they've served their purpose.
Unfortunately, learning which documents to keep or shred isn't easy. But we've got you covered. Read on to learn about the ins and outs of insurance record-keeping.
Is There Any Reason to Keep Old Insurance Policies?
There are some reasons why you should keep old insurance policies. One of the most common reasons to keep old policies is because you have an open claim that hasn't been settled yet. Disposing of insurance policies with an outstanding claim might make the process harder.
This rule doesn't just apply to policies, either. It applies to other claim-related paperwork. So, this means you should keep any repair receipts, hospital bills, and other documents related to that particular open claim. Even if that particular policy is expired, you shouldn't toss them until the claim is resolved.
How Long Should You Keep Old Insurance Policies?
Generally, you should keep old insurance policies until there are no more outstanding claims. If you don't have outstanding claims, you can dispose of old policies soon after they expire.
Here's a quick look at how long you should keep policies for different insurance types:
Home Insurance
Home insurance usually renews annually. So, you should keep your old insurance policies until your new policy kicks in. But you should check for any unresolved claims when your policy expires. If you still have outstanding insurance claims, keep the documents until they're resolved.
Car Insurance
Canadian car insurance policies usually last one year. The same rules apply here – you should keep old documents like your proof of insurance until your new policy starts. If you have any outstanding car accident claims, resolve them first before tossing your old policy documents.
Life Insurance
Life insurance is a little different from auto and home insurance since life policies are typically active for longer. We recommend keeping life insurance documents for a deceased loved one for at least 10 years. This ensures any outstanding claims or tax consequences will be resolved. Read our guide to the tax consequences of insurance to learn more.
That said, it's best to keep your loved one's life insurance documents indefinitely in case any more problems arise with their estate.
Do You Have to Keep Old Insurance Claim Documents?
You don't have to keep old insurance claim documents as long as they've been resolved. A resolved claim means the insurer has closed the claim and made all entitled payments. It also means the policy related to that particular claim has expired.
You can safely toss any resolved claims documents from expired policies. However, you may want to keep some of them around in case you need to file a similar insurance claim down the line.
Insurance Documents to Keep
With all the insurance documents you have, it can be confusing to choose which ones you should keep and which you should throw away. Here are the documents you can benefit from keeping:
Insurance card: Your insurance card (or a pink slip for auto insurance) is proof that you're a policyholder. You should carry these on you at all times in case you may need to show that you own an insurance policy. Your insurance card is especially important for auto and health policies since police officers or hospitals may ask you to show them when needed.
Declarations page: A declarations page summarizes your insurance coverage in one handy document. You should keep this because it often explains how to file claims, which can be useful if you're new to insurance.
Open claims documents: You shouldn't throw away open claims documents because you might need them to settle the claim. This applies to the claim filing document as well as related paperwork like receipts for medical bills or vehicle repairs. You should also hold onto any insurance claims documentation like police reports or accident photos.
Billing statements: There's no legal requirement to keep insurance billing statements for personal insurance policies. But you might find past billing statements useful for comparing rates when you're shopping for new policies.
Insurance Documents You Don't Have to Keep
On the flip side, you have documents that are fine to dispose of when they expire. In fact, disposing of these old documents is encouraged. Not having them around means they can't be used for identity theft.
Insurance docs you can throw away include:
Expired main policies: Your main policy document details everything you need to know about your insurance coverage. They're usually lengthy and take a bit of space to store. Fortunately, you don't need to keep expired policy documents once you renew your coverage. You can safely throw them away without getting into trouble – as long as you don't have any outstanding claims.
Old insurance cards: Insurance cards work similarly to main policies. If you have a new one from the insurer, the old one is generally rendered obsolete. Feel free to throw them away if you don't need them anymore.
Should You Keep Insurance Documents After Switching Insurers?
You're not required to keep insurance documents after switching insurers, as long as all claims are cleared. But if you still have unresolved claims, you need to keep the old documents until they're closed.
How to Keep Insurance Documents Safe
Keeping insurance documents safe is important to protect yourself from identity theft. It also ensures you know where the documents are, saving you a lot of effort when you need them.
So, how do you keep insurance documents safe? Here are our tips:
Store your insurance documents in a secure and fireproof home safe.
Don't store your documents in the basement in case of flooding.
Put your insurance documents in binders or plastic sleeves before storing them in a safe to reduce wear and tear.
Scan paper documents to make digital backups.
Copy your digital backups into physical and cloud drives so you don't lose all your backups when one fails.
Tell your beneficiaries where your documents are located and how to access them. This is especially important for life insurance to make the claims process easier when they find out you passed away.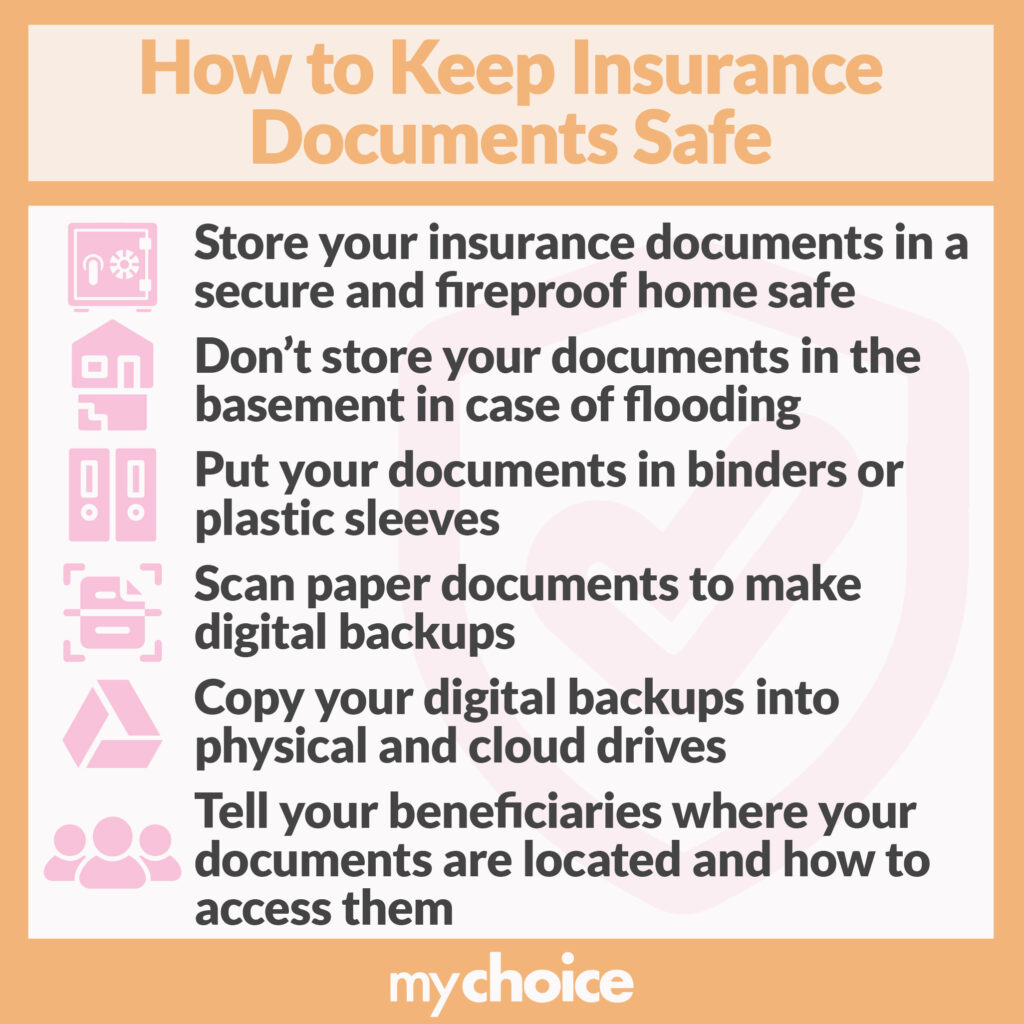 Properly Disposing of Old Insurance Documents
Insurance documents are very sensitive because they contain confidential information. If your policy documents fall into the wrong hands, you can end up a victim of identity theft and insurance scams. That's why you have to dispose of old insurance documents properly.
Destroying your insurance documents ensures irresponsible parties won't misuse them. Here are some easy ways to safely dispose of old insurance documents:
Put the documents in a crosscut shredder. Cross-cut shredders destroy documents more thoroughly than strip-cut shredders, so people won't be able to piece them together. You can buy a shredder at an office supply store, use the one at your workplace, or hire a record destruction service.
Submerge the documents in water. Leave the bucket out for a day, then mix it into a pulp with a paint mixer to completely destroy the documents. You can also use bleach to hasten the process.
Burn the documents in an outdoor fire pit until they turn to ash. Observe proper fire safety measures to keep yourself and your home safe.
For digital documents, you can delete them off your physical and cloud drives. Consider physically destroying the hard drives if you're particularly concerned about your information's safety.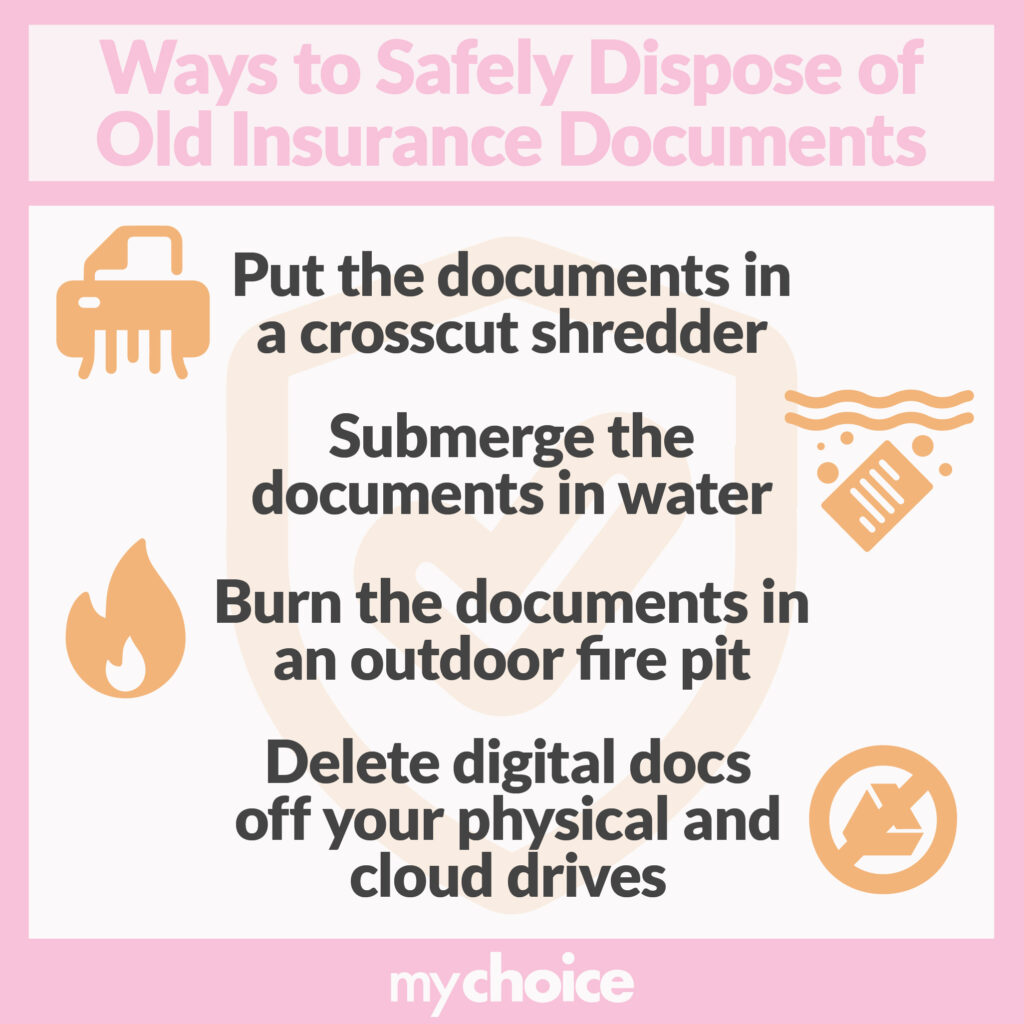 The Bottom Line
In most cases, you only need to keep insurance documents until the policy expires and you have no outstanding claims. However, you should keep the life insurance policies of deceased loved ones longer because estate processing and tax consequences can take some time to clear.
When you need to dispose of old insurance documents, be sure to do so thoroughly by burning, shredding, or pulping. Improper document disposal might lead to identity theft or other unwanted consequences.