In Ontario, more than 350 people died as a result of a collision on provincial roads last year with alcohol or drugs one of the highest contributing factors*. Driving under the influence (DUI) is a serious offence that endangers not only the driver and their passengers but also other drivers and pedestrians as well. It also has a serious impact on your insurance premiums should you be charged and convicted. In Ontario, if convicted of a DUI, drivers face a license suspension for at least a year, fines that can exceed $1,000 as well as potential jail time. A DUI conviction stays on a drivers' record for a minimum of three years in Ontario and can lead to insurance premiums doubling and worse, some insurers may even cancel coverage,
MyChoice, a premiere insurance rate comparison company, referred to their database of over 100,000 insurance quotes to identify which car models have been involved with DUIs in 2022.The info pulled from that database gives insight into the top ten car models with the most DUIs.
The top five car models in Ontario with the most DUIs are:
Ford Escape XLT with 2.31% of total DUIs
Honda Civic EX with 1.64% of total DUIs
Mitsubishi Lancer GTS with 1.10% of total DUIs
Honda CR-V LX 4DR with 1.05% of total DUIs
Honda Civic EX Coupe with 0.69% of total DUIs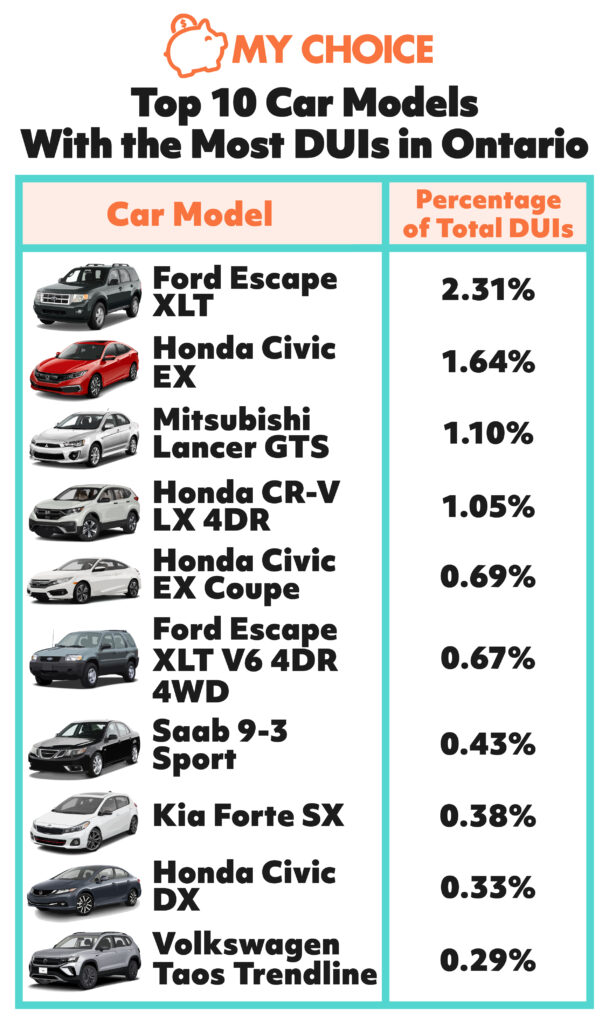 Finishing off the top ten are the Ford Escape XLT V6 4DR 4WD, SAAB 9-3 Sport, Kia Forte SX, Honda Civic DX, and Volkswagen Taos Trendline (see infographic below).
"There are a number of factors that contribute to a driver being classified as 'high risk' by insurance providers and having a DUI charge is one serious offence that will increase your premium by a at least 50% and as much as double," said Aren Mirzaian, CEO, MyChoice. "DUIs have severe consequences that won't just wreak havoc on your driving record and insurance premiums, but can also lead to hefty penalty fines and, in some cases, can even lead to jail time."
When applying for car insurance quotes, drivers share both vehicle and personal information including the make and model of the car and any driving violations, including the involvement of any DUI occurrence.