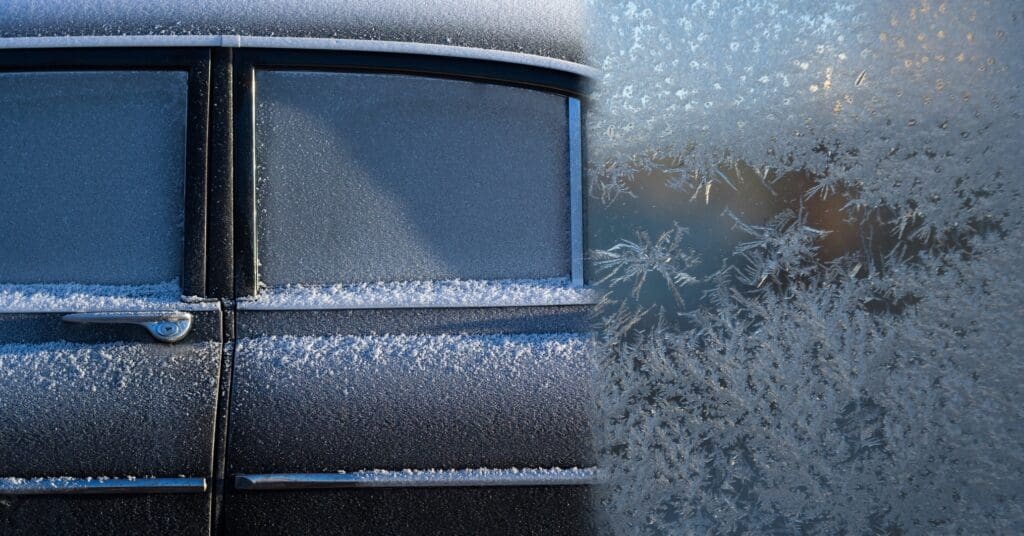 It's common to see frost on your windshield if you drive in cold, snowy climates. But what about frost on the inside of your windshield? Though not as common, frost on the inside of your windshield can form because of residual moisture in your car that freezes overnight.
Read on to learn why it happens, how to remove it, and how to prevent it.
Why Is There Frost on the Inside of My Windshield?
Frost on the inside of your windshield is caused by too much moisture inside the car overnight. When the temperature drops at night, the excess water vapour clings to your windshield and freezes. Let's look at some of the probable causes of this:
Moisture
Excess moisture in your car often comes from tracking snow inside, either on your boots or clothes. When the snow melts, the water vapour is released into the air and absorbed by your carpeting and floor mats. Then, when the temperature drops overnight, it condenses on colder surfaces in your car, like your windshield, and freezes.
Weather
In humid areas, there's more water vapour in the air. If that moisture-filled air stays inside your car, it collects on your windshield and freeze overnight.
Degraded Window Seals
Another cause of residual moisture in your car could come from damaged window seals. If your windows aren't properly sealed, water can easily seep into your car, evaporate in the heat, and then freeze on your windshield during the chilly hours of the night.
Dirt
Having dust or dirt on your windshield actually helps frost form there. This is because dust particles or small pieces of dirt attract water droplets. The water droplets cling to the dirt and then freeze when the temperature drops.
Recirculating Air
Many people use the air-recirculation button when it's cold outside, but this is actually the opposite of what you should do. Recirculating the air in your car traps the moisture inside, exacerbating the situation.
Passengers
Excess moisture inside your car is also caused by people's breath. We exhale warm air which stays inside the car. While this likely isn't something you can fix, it is another cause of residual moisture inside your car.
How Do I Remove Frost on the Inside of My Windshield?
The best way to remove frost on the inside of your windshield is to hit it with warm air to melt it. Then, make sure to wipe the area down with a dry cloth.
Heat Your Car Up and Turn the AC On
Turning the heat on in your car is the tried-and-true method of removing frost on your windshield, whether inside or out. Crank up the heat, angle it toward your windshield, and you should see it start to melt within a couple of minutes.
Turning the AC on is also good as it will remove humidity from your car and pump dry air inside, speeding up the defrosting process.
Use a Warm Cloth
Find a dry cloth and heat it in your microwave or dryer, then wipe the affected area. The heat will melt the frost, and the cloth will soak up any water left over. The cloth must be dry, as a wet cloth won't remove the moisture.
How To Prevent Frost From Forming on the Inside of My Windshield?
You can prevent frost from forming on the inside of your windshield by keeping it clean and your car as dry as possible. While that's the simplest solution, there are some other things you can do.
Make Sure Your Car Is Dry
Keeping your car completely dry during winter is difficult, but removing as much moisture as possible will prevent frost from forming inside your windshield. There are a few ways to do that, including:
If you have carpet floor mats, consider replacing them with plastic or rubber ones during winter and cleaning them daily. Removing wet floor mats will also remove excess moisture from your car.
Remove any wet clothes from the car. The moisture from drying clothes gets released into the air and gets trapped inside the car.
Make sure water bottles left in the car overnight are closed. The water evaporates and contributes to the humidity in your car.
Crack a Window
Keeping a window slightly open overnight will allow the residual moisture to escape, preventing it from collecting on your windshield. If you're leaving your window open, it's best to park inside a garage or in a safe area.
Use Moisture Absorbers
As the name implies, moisture absorbers soak up moisture from the air and keep your windshield from frosting over. A common type of moisture absorber is silica gel packets, these small packets are often found in products like food, clothes, or shoes. You can gather a few and place them on the corners of your dashboard and around the car.
Clean the Inside of Your Windshield
Use a dry cloth and wipe the inside of your windshield down, as dust and dirt collect water, removing them will lessen the chance of vapour collecting on your windshield and freezing.
Check Your Windows
Humidity can also form in your car if your windshield and windows aren't properly sealed. The rubber seal around your windows keeps water out, but water can seep through the cracks if it's damaged. If a crack isn't fixed, it can cause further damage and may force you to replace your windshield.
Don't Recirculate Air
Using the air-recirculation button on your dash keeps the hot air inside your car, but it also traps the humidity. Humidity is the main cause of frost on the inside of your windshield, so it's best to turn air recirculation off and instead turn the AC on.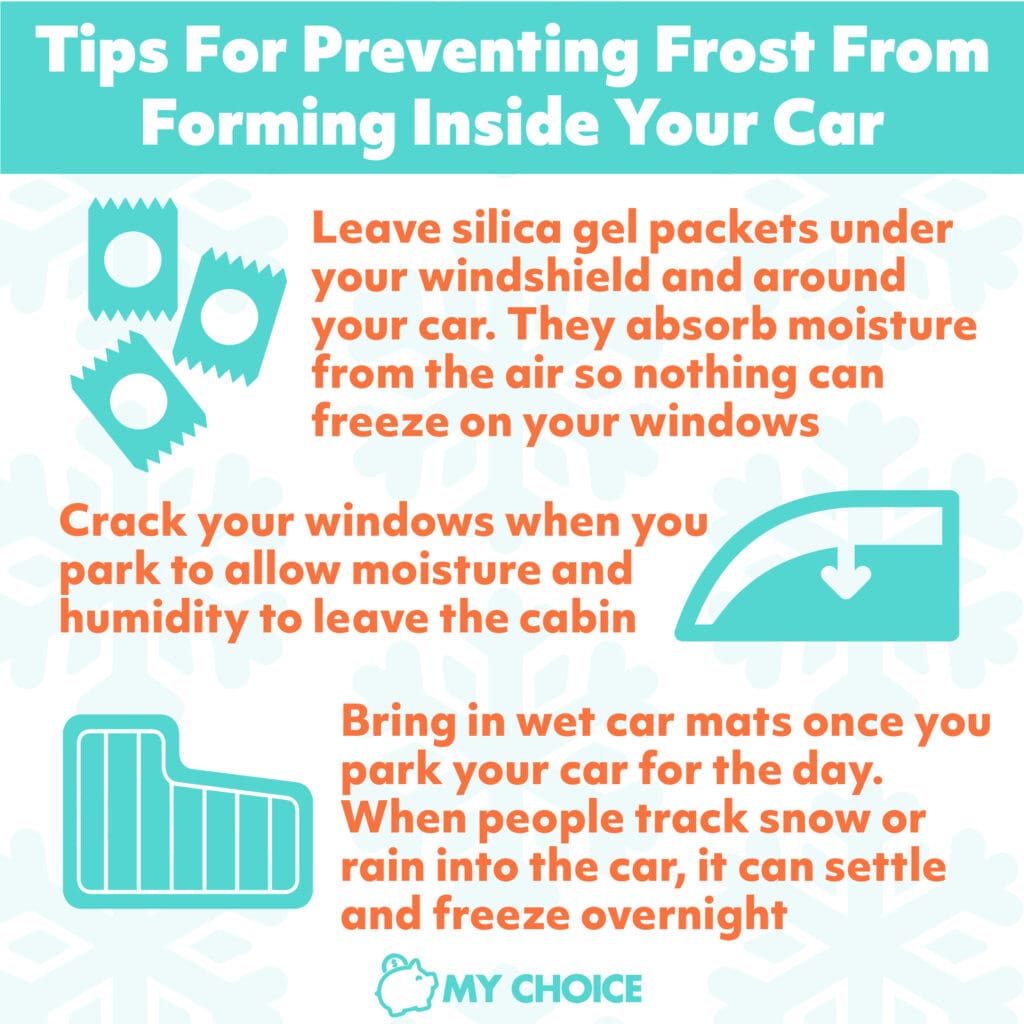 Is Frost on the Inside of My Windshield Dangerous?
Yes, leaving frost on the inside of your windshield can be dangerous. The frost will decrease visibility which, in the worst case, could result in a car accident. So, it's best to remove the frost completely before driving your car.
Final Thoughts
Frost on the inside of your windshield forms because of excess moisture in your car. The moisture is usually from tracking snow in your car, but can also form because of humid weather, dirt on your windshield, air recirculation, or even from breathing.
Removing it requires cranking the heat up in your car or wiping the area with a dry, heated cloth. You can then keep moisture out of your car by removing wet floor mats or clothes, keeping your windshield clean, and using moisture absorbers.
Driving during winter can be a hassle and sometimes dangerous. But you can reduce that by preventing moisture and frost build-up, getting your car serviced, and making sure your car is prepared for winter.