BMW vs Mercedes: Which Luxury Car Is Better?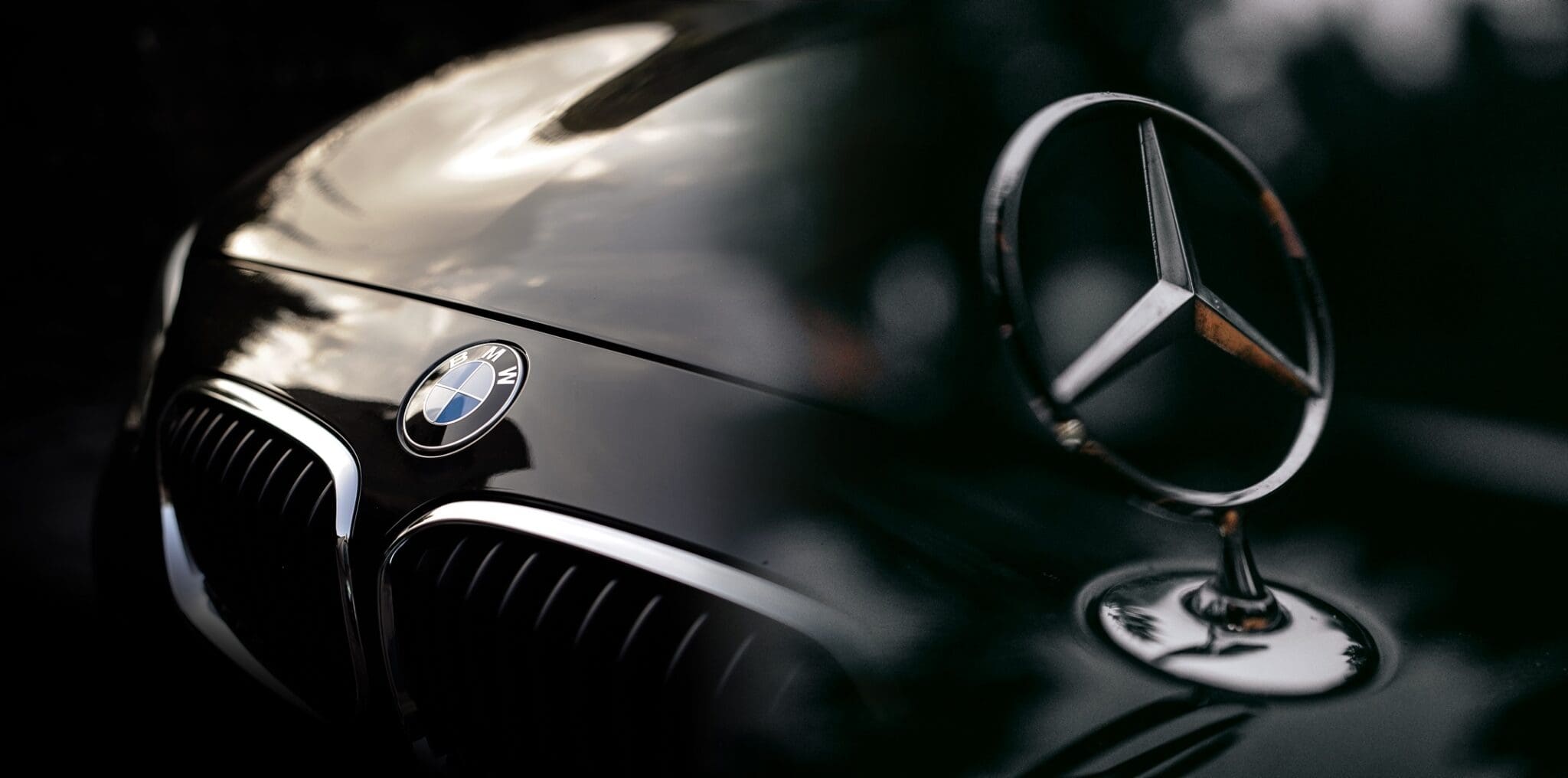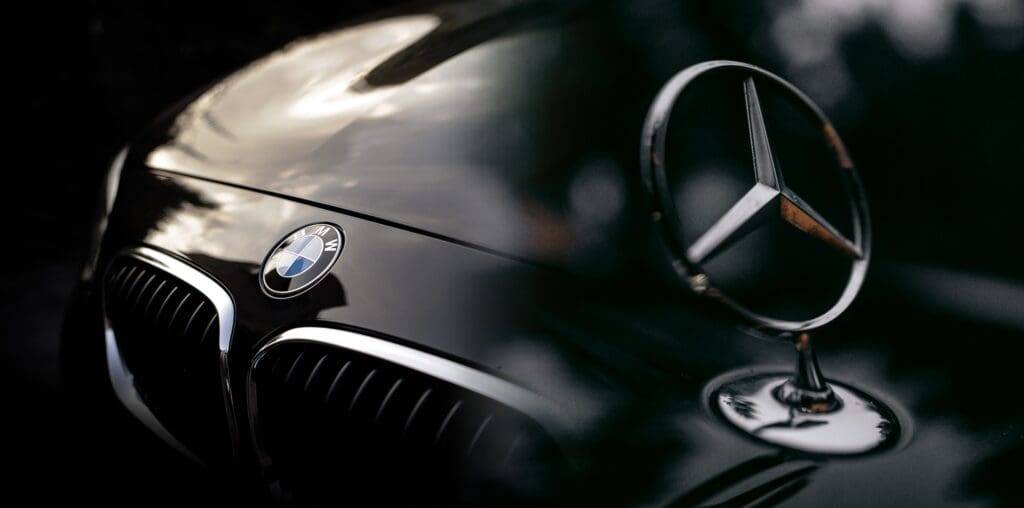 It's said that if you want to own a luxury car, buy German. BMW and Mercedes-Benz are the two brands at the pinnacle of German luxury vehicles. 
These two manufacturers have been competing for more than a hundred years, and the competition has only gotten hotter. With both of these luxury car manufacturers putting out incredible cars every year, choosing one for yourself can be a challenge.
If you're looking to cruise the streets in a quietly elegant car that exudes luxurious comfort, then you can't go wrong with either manufacturer. But if you're trying to find out which brand of car suits your needs and preferences better, this guide will tell you all you need to know.
What Car Is Better? BMW Or Mercedes?
It's difficult to say which car is better between BMW and Mercedes. Both car manufacturers have a wide range of vehicles that suit many different needs and preferences. Generally speaking, BMW produces sportier roadrunners, while Mercedes-Benz makes more luxurious carriages.
If you want to own either a Benz or a Beemer, one thing's for sure: the total cost of owning the car will be much higher than an economy brand. If you want to keep these costs down, consider looking for the best insurance quote you can find.
Similarities Between BMW And Mercedes
It's important to know that while there are many differences between a BMW and a Mercedes, there are quite a few similarities as well. Both manufacturers produce top-of-the-line vehicles that focus on making the driving experience smooth and pleasant.
Expect to find amazing seats, great suspension and cruise control, and high-end materials detailing the interior and exterior of these cars. The interiors in particular are a big focus of both automakers, maximizing comfort without sacrificing that luxury aesthetic.
Both automakers also cram as many safety features as possible into their car lineups. Mercedes, in particular, is known for being one of the safest car manufacturers out there, while BMW consistently scores high on safety tests.
Aimed at entry-level luxury car buyers, the Mercedes C-class and the BMW 3-series are the main offerings of these manufacturers. These sedans are great models for everyday driving. These cars focus on giving you a comfortable ride, with features such as dual-zone climate control, genuine wood dashboards trimmed with chrome, a robust infotainment system, smart suspension, and adaptive cruise control.
If you're looking for a more rugged offering, the Mercedes GLB and the BMW X3 are comparable SUVs that give you the practical power you need without skimping on the luxury that you want. If you want the most premium ride you can get, the BMW 7-series and the Mercedes S-Class are the posh standouts of their respective manufacturers.
Are Mercedes Reliable?
Cars made by Mercedes are reliable most of the time but aren't the most reliable cars on the market. The Repairpal website ranks it 3 stars out of 5 for reliability, meaning it's pretty average. The reason for this rating could be due to Mercedes' need to be on the bleeding edge of car tech, meaning more things could break inside a Mercedes. It can also be tricky to service a Mercedes due to its proprietary technology.
Are BMWs Reliable?
BMWs are reliable, but not as reliable as a Mercedes. Ranked only 2.5 stars out of 5 on the Repairpal website, BMW cars are decidedly average, though they still last quite a bit longer than comparable economy brands. While you may not have to repair a BMW too often, the parts are more expensive than comparable Mercedes parts.
Which Car Is Safer?
Generally, a Mercedes is going to be a safer car than a BMW. That's not to say that BMWs are unsafe, however, as they both score highly on the Euro NCAP safety ratings. Both manufacturers score 5 stars out of 5 for safety, meaning that they're both very safe for all occupants.
Mercedes has the edge in the safety department due to its huge focus on safety with the PRE-SAFE system, which is designed to minimize damage to everyone in the vehicle. This system uses sensors to detect imminent accidents and prepares you for them by automatically tightening the seatbelts, closing the windows, and adjusting the front head restraints.
BMWs also come with a slew of standard safety features, like automatic emergency braking, a warning when you're leaving your lane, cruise control, and speed limit assist. They are also built with a side-impact protection system, which protects occupants from injuries sustained in crashes taken from the side.
Which Car Has Better Performance?
Both automakers achieve similar performance with their cars, with only slight differences between comparable offerings. Depending on your definition of "performance", you can choose between either Mercedes or BMW to suit your needs.
Mercedes-Benz cars tend to have larger engines than their BMW counterparts. The average Mercedes-Benz C-class can reach up to 225 km/h and goes from 0-100 km/h in 7.1 seconds. While you may get more power and top speed from a Mercedes, expect to pay slightly more for gas. 
BMWs tend to have smaller, more efficient engines than their Mercedes competitors, giving you more miles per gallon. The average BMW 3-series can reach up to 210 km/h and goes from 0-100 km/h in 5.7 seconds. While it may not be a huge difference, BMWs usually carry on for one to two more miles per gallon than Mercedes cars.
Which Car Is Cheaper To Maintain And Repair?
A Mercedes-Benz is cheaper to maintain and repair than a BMW, despite being packed with a lot of advanced technology. This is due to BMWs having expensive parts and high upkeep costs.
On average, you're looking at a yearly cost of more than $1,000 for the maintenance for both brands. Mercedes-Benz cars are cheaper, but not by much, with an average yearly cost of $1,220. BMWs are only a tad more expensive to maintain, with the average cost at $1,300.
Which Car Is Cheaper To Insure?
Based on our average insurance cost calculations, Mercedes insurance tends to be cheaper than BMW insurance. The average insurance for BMWs can range from $907 to $2,191, while the average insurance for a comparable Mercedes can be as low as $562 to as high as $1,987.
Which car is cheaper to insure depends on a lot of factors, including the year and model of the car, whether it's new or used, driver age, ticket history, location, average repair cost, and many more. Because Mercedes and BMW are luxury car brands, expect insurance premiums to be much higher than regular cars.
BMW parts are usually more expensive than Mercedes parts, so the repair cost will affect insurance premiums greatly. Meanwhile, Mercedes-Benz is known as one of the safest car manufacturers in the world, which makes it easier to find lower insurance plans for a Mercedes compared to a BMW.
Shave hundreds of dollars off of your insurance premiums by shopping around for the best car insurance company.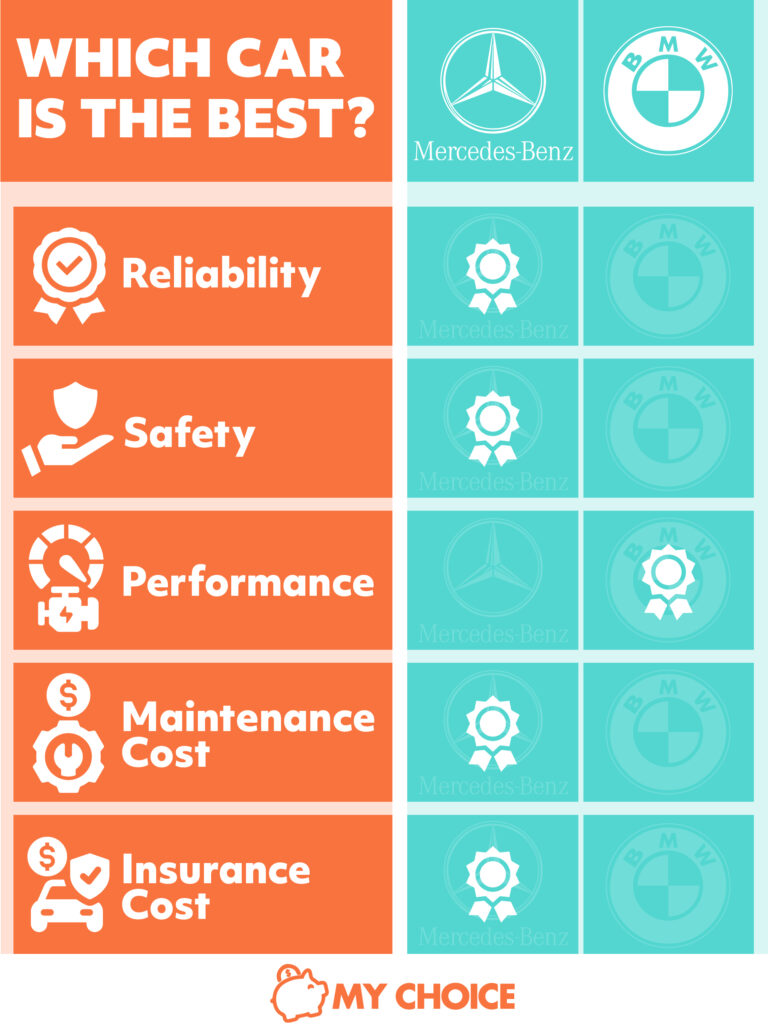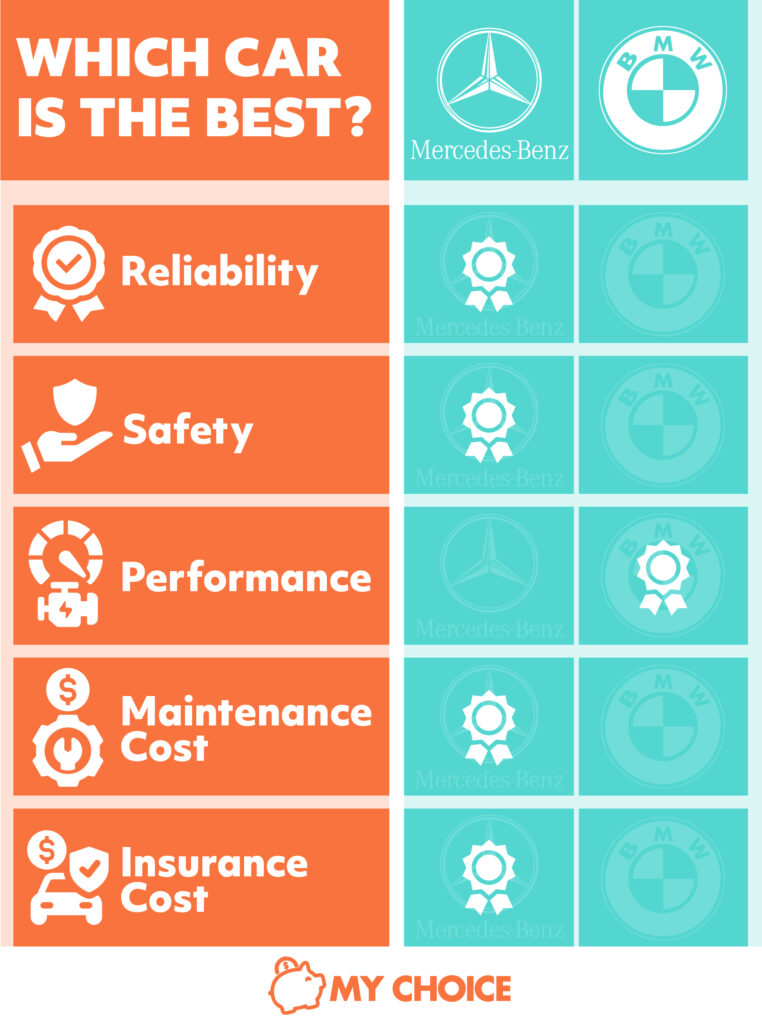 The Bottom Line
BMW and Mercedes-Benz are two brands at the top of the luxury car game. If you want to own a car from one of these manufacturers, you're in for a luxury driving experience with no compromises in safety. If you want a sporty car that you can take anywhere, get a BMW. If you want the smoothest and safest ride of your life, Mercedes is your best bet.
Depending on your budget, a BMW may be cheaper to buy initially but can get more expensive to maintain and insure. Meanwhile, a Mercedes can be a more expensive purchase but makes up for it in lower insurance rates and slightly cheaper maintenance costs.
Keep in mind that car insurance is a requirement for whichever car you buy, so make sure to factor in the insurance costs of both a BMW and a Mercedes before deciding on a purchase. Ultimately, however, remember that luxury cars are made for one thing: enjoying the ride.