Owning a car might get expensive, for that reason, when it comes to deciding on which car to buy, there are several factors to consider depending on individual transportation needs.
It's not the same to purchase a small or midsize car for a single person or for a couple as buying a SUV for a family with one or more kids. Also, some might need the vehicle for regular use and others a few times a week.
Despite all the variables, there are a couple of factors that every new car owner needs to know before making a decision on which car to buy: fuel efficiency and car reliability.
What Is Fuel Efficiency or Fuel Economy?
One factor that always comes to mind when deciding on what car to buy is if it will save money in terms of gas milage, which is also referred to as fuel efficiency or economy.
A fuel efficient car helps you save money in the long term because the vehicle will travel a longer distance with the less amount fuel possible, which means that you won't need to stop at a gas station often even more if fuel prices rise. When it comes to numbers, cars that spend less than 6 litres of fuel per 100 km covered are considered fuel-efficient.
Fuel Efficient Cars in Canada
Natural Resources Canada provides a fuel consumption guide every year to give consumers reliable information about the relative fuel efficiency of vehicles. You can use this information to compare the fuel consumption of different models and then choose the most fuel efficient vehicle that meets your everyday needs. You can use fuel consumption ratings search tool to compare fuel economy information of different models and car brands.
How to Check the Fuel Efficiency in my Car?
The EnerGuide label gives model-specific fuel consumption information for new light-duty vehicles available for sale in Canada.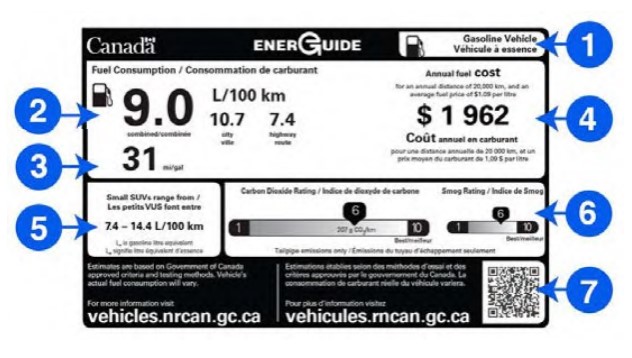 Vehicle technology and fuel – The text and related icon identify the type of fuel used by the vehicle.
Fuel consumption– This is a prominent combined fuel consumption rating and separate city and highway fuel consumption ratings in L/100 km. The combined rating reflects 55% city and 45% highway driving.
Fuel economy –Here, the combined rating is expressed in miles per imperial gallon (mi/gal).
Annual fuel cost – This is an estimate based on the combined fuel consumption rating, 20,000 km driven and the fuel price indicated.
Vehicle class range – This shows the best and worst combined fuel consumption ratings of vehicles in the same class.
CO2 and smog ratings –Here are the vehicle's tailpipe emissions of CO2 and smog-forming pollutants rated on a scale from 1 (worst) to 10 (best). The CO2 emissions, in grams per kilometre driven, are shown on the CO2 bar.
QR code – The quick-response code links smartphone users to the fuel consumption ratings search tool.
What Are the Most Fuel Efficient Car Brands in Canada?
According to the most recent report from Natural Resources Canada these are the most fuel-efficient new light-duty vehicles sold in Canada.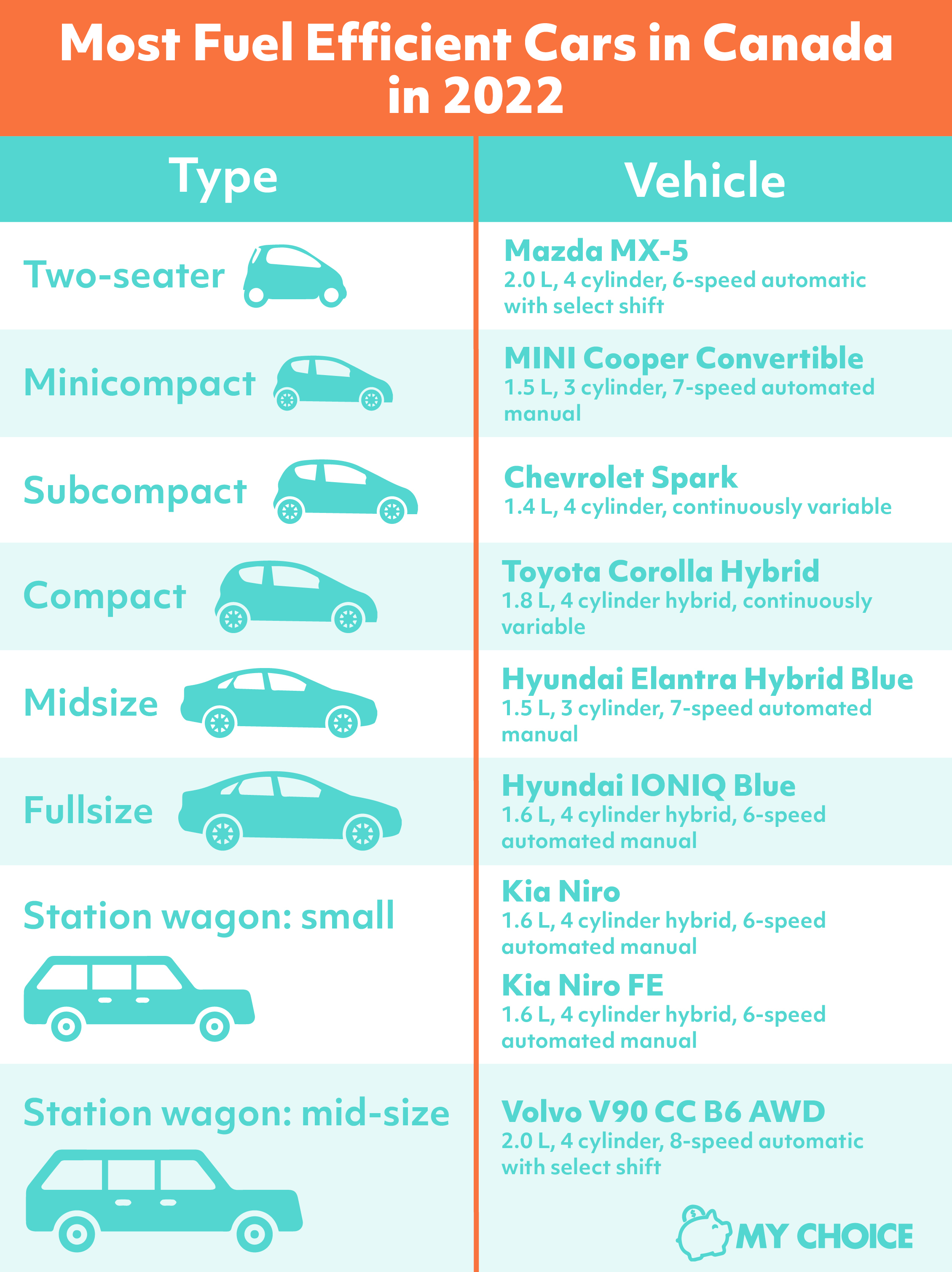 Car Reliability Ratings
The second factor that you want to put an eye on is the car reliability rating. A car is reliable when it meets all the standards and regulations of safety which will make your insurance rates very low too. There are different car rating websites where you can review and compare the most reliable car brands in Canada. These ratings usually also provide good insight into the cost of the vehicle's maintenance and repairs.
What Factors Determine the Car Reliability Rating?
Car reliability is based on several safety tests and reviews from manufacturers and consumers, in other words, a car is considered reliable when it meets all or most of the safety standards. A few factors that influence the rating are:
The star rating provided by the National Highway Traffic Safety Administration (NHTSA) provides consumers with information about the crash protection and rollover safety of new vehicles beyond what is required by Federal law. One star is the lowest rating; five stars is the highest. More stars equal safer cars.
The rating from the Insurance Institute of Highway Safety (IIHS) evaluates how well a vehicle protects its occupants in a crash and the technology that can prevent a crash or diminish its severity. The rating scales from Poor to Good or from Basic to Superior.
The vehicle meets or exceeds Canada Motor Vehicle Safety Regulations (MVSR) standards.
Recalls: When the NHTSA determines that a vehicle or its equipment poses a safety risk or does not meet motor vehicle safety standards, they issue a recall that affects the vehicle's car reliability.
Brand and model reputation
Average repair costs
Vehicle resale and trade-in value
Most Reliable Small Cars in Canada
If you feel that a small car is a good fit for your needs, the following list shows the safest small cars from the most reliable car brands Canada has to offer (based on the 2022 Top Safety Pick + from IIHS):
Honda Civic hatchback
Honda Civic sedan
Honda Insight
Mazda 3 hatchback
Mazda 3 sedan
Subaru Crosstrek Hybrid
Most Reliable Midsize Cars in Canada
Maybe small is not enough, that's ok, midsize cars are a great alternative too. The following list has the most reliable midsize car brands Canada has to offer (based on the 2022 Top Safety Pick + from IIHS):
Most Reliable SUVs in Canada
Do you prefer having more space?, if that's your case, the following is a list of some of the safest SUVs from the most reliable car brands Canada has to offer (based on the 2022 Top Safety Pick + from IIHS):
Chevrolet Trailblazer
Ford Bronco Sport
Hyundai Tucson
Mazda CX-5
Mazda CX-30
Mitsubishi Outlander built after June 2021
Nissan Rogue
Volvo C40 Recharge
Volvo XC40
Volvo XC40 Recharge
Most Reliable Minivans in Canada
Do you have numerous family or groups of friends for road trips, minivans are a great choice, take a look at this short list of some of the most reliable minivans in Canada (based on the 2022 Top Safety Pick + from IIHS):
Chrysler Pacifica
Honda Odyssey
Toyota Sienna
How Can Car Reliability Affect My Insurance Rate?
A reliable car is seen by the insurance providers as a vehicle less likely to be involved in accidents that can hurt or cause death of the driver or the passengers. This is taken into consideration when calculating your insurance rate. 
For example, if the car you buy has a higher-than-average collision rate or poor reliability rating, your car insurance provider will likely charge you more for its coverage.
However, you should remember that other factors can affect the price of your car insurance such as driver's age and gender, driving experience and location where you live.