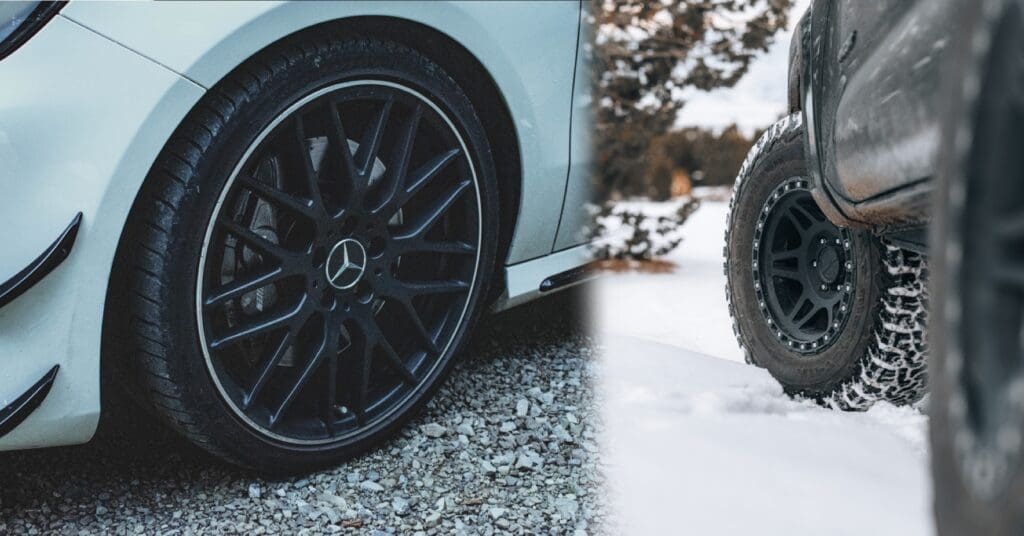 Summer is over and as they say in Game of Thrones, winter is coming. Canadians know that this change in seasons means its time to prepare properly for the colder weather, this preparation includes getting your car ready, especially for wet, icy and snowy roads. If you've been round the block a few times with Winter in Canada, then as a driver you should know that its necessary to change the tires of your car for the safety and durability of your vehicle over the next few months. With this in mind, the tire market commonly offers two tire options, winter tires and all season tires. Below we will see what the differences, benefits and disadvantages of each are so that you can make an informative decision for your vehicle.
What Are All Season Tires?
All season car tires combine the technology of winter and summer tires to allow safe driving at any time of the year, both on dry and wet surfaces and even on snow. All season tires perform well in temperatures ranging from -10°C to 30°C. These tires are ideal if you live in a region where winters are mild and snowfall is only occasional. As per the name you won't have to change these tires all year, however, as we know winters in Canada are usually far from mild, dependant on where you live hence, many people prefer to use the well-known option of winter tires to keep the car in good condition and to drive safer.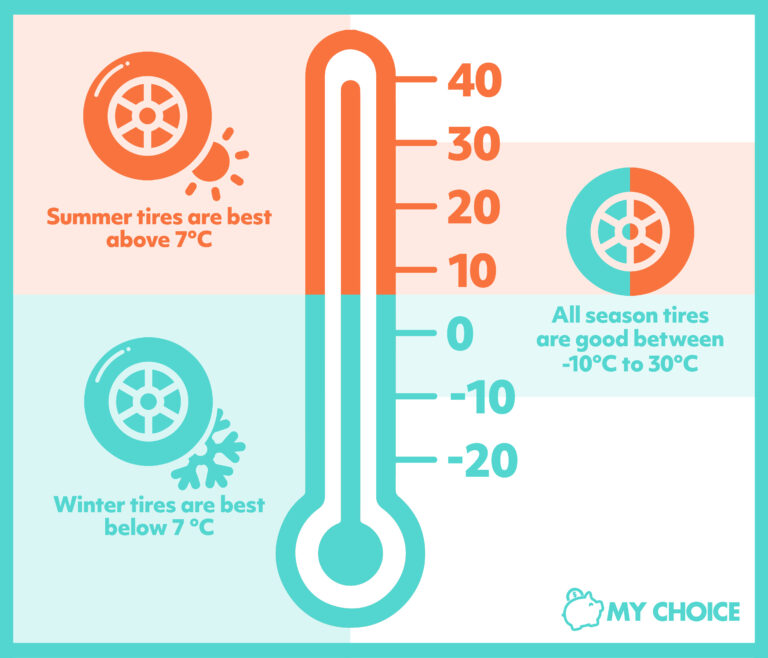 Main Difference Between Winter Tires and All Season Tires
Canadian winters are usually an intense experience with lots of snow and ice, this means that drivers need to take extra steps in order to drive safely during the winter months. Winter tires will help your car grip the road while driving on snow and ice, and perhaps most importantly they greatly reduce the chance of you sliding and losing control of your car.
Winter tires provide a much better grip at temperatures below 7 °C, especially in heavy snow and rainy days. These tires have a slightly different rubber composition that does not cause them to "harden" at low temperatures and still provides a good grip.
What Are the Pros of All Season Tires?
Cheaper in the short-term
All season tires are an economical way to maintain your car. Winter tires are not mandatory in Canada (except for Quebec), you can use the same tires all year round without having to change them when the seasons do. The cost for each tire is usually anywhere between $60 to $125 and they'll last an average of three years.
Smoother Driving
Since they are meant for various weather conditions, all season tires can offer better handling compared to winter tires when the weather is not so extreme. They also tend to be quite fuel-efficient, but its worth noting that they can lose some of handing ease when driving at high speeds.
Best for a Not so Extreme Climate
In areas where the difference between summer and winter is not so extreme, all-season tires are the best fit, most likely out West so think of BC or Alberta. Moreover, if it's more likely you'll see more rain than snow in the colder months, you'll want to choose all-performance tires. They are designed to perform in both wet and dry conditions, and they will offer about the same protection against aquaplaning or hydroplaning.
What Are the Disadvantages of All Season Tires?
They Wear Out Sooner
Although this disadvantage will vary based on the use that each driver gives them, its important to bear in mind that these tires are less resistant than those specific for summer or winter, so they may wear out sooner.
No Good for Extreme Conditions
The traction and braking of all season tires are very satisfactory and can be good for places with moderate winters, however, in Eastern Canada, where winters are very cold, these tires do not provide the same safety as winter tires do in very low temperatures.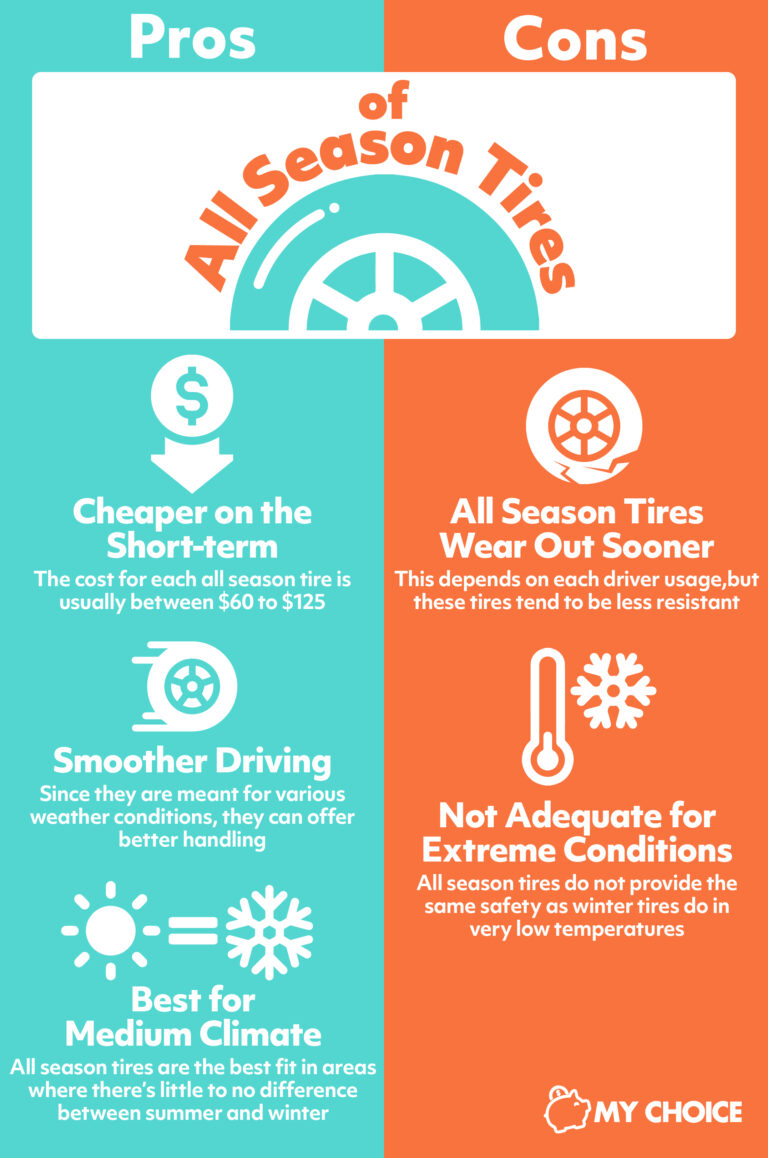 Top 5 Best All Season Tires
Toyo Extensa A/S II
The new Extensa also has a non-directional tread design that helps with easier tire rotations this is to ensure even wear and therefore extend the life on all four tires.
Bridgestone Turanza QuietTrack
The Bridgestone Turanza QuietTrack is a good example of a tire at the more premium end of all-season tires. Its longer treadwear warranty and higher speed rating also come with a heftier price, which is often the way with higher-performing tires. The average price for a 205/60HR16 tire is $119.
Kumho Solus TA31
The Kumho Solus line offers quite a bit of variety, with all-weather Solus HA versions as well as the Solus TA11 all-season as well. The Solus TA31 however is the entry-level tire into the Solus line, with sizes ranging from tiny 13-inch, 175mm-wide tires, up to 235/65R18s. The average price for one 205/60HR16 tire is $125.
Continental PureContact LS
Another entry within the higher end of the all-season tire market is the Continental PureContact LS, the German tire manufacturer is the priciest of this group here, though it (and many tiremakers) often offer rebates and deals that change constantly, so are not reflected here. The average price for one 205/60VR16 tire is $161.
Firestone Champion Fuel Fighter
Though now a division of Bridgestone, and often regarded as a less expensive sub-brand of the Japanese tire giant, Firestone as a brand was independent up until 1998, with many fans of the American brand remaining. Firestone's efficiency-focused Fuel Fighter line of low rolling resistance tires falls into this price range, with Firestone claiming better fuel efficiency than its Affinity all-season tires, though not specifying by how much. The average price for one 205/60HR16 tire is $128.
When is the Best Time to Change to Winter Tires?
If you choose to change your all season tires when winter comes, keep in mind that the weather is increasingly unpredictable and winters are highly variable from year to year. As a rule of thumb, to avoid ending up in a dangerous situation, remember to change your tires when the temperature drops below 7°C, you can also switch to winter tires with the fall time change. Remember that as temperatures drop to 7°C, summer tires will become less efficient. Another thing worth mentioning is the winter tires discounts that some car insurance providers offer.