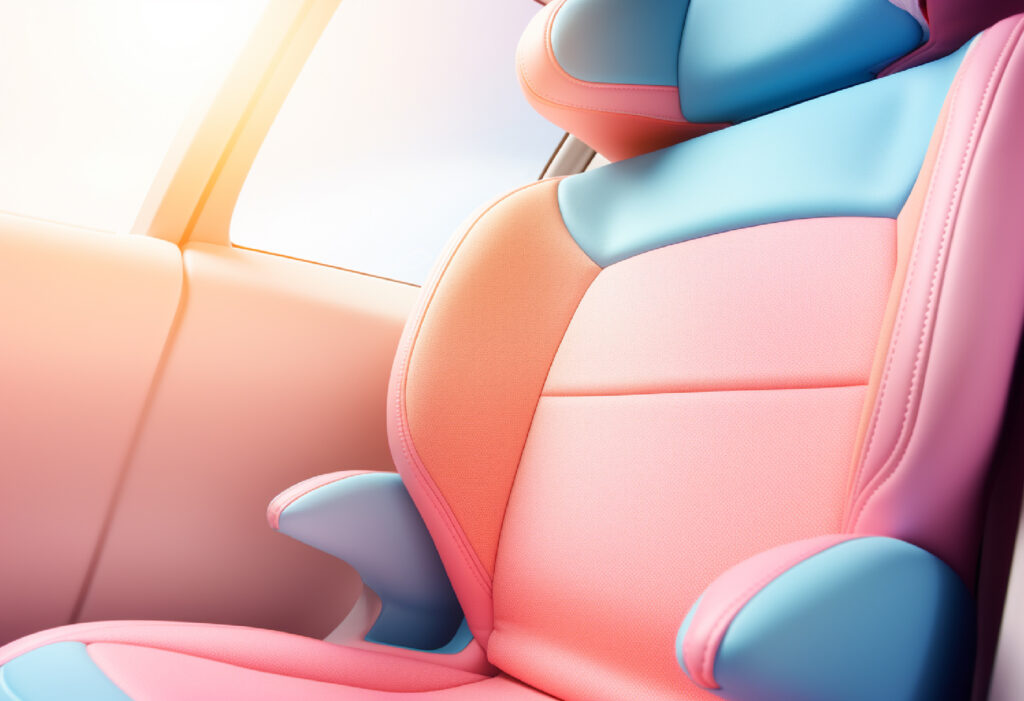 Car seat regulations in Alberta are very strict and detailed for a reason. Children are often more vulnerable to injuries or death in car accidents than adults, so drivers have to take extra measures to keep them safe on the road.
If you're a new parent, navigating child car seat laws in Alberta, Canada, can be difficult. Fortunately, we've got you covered. Read on to learn more about car seat regulations in Alberta and our tips to choose the best car seat for your child.
What Are the Car Seat Rules in Alberta?
The main car seat rule in Alberta is that drivers must ensure children under 16 years old are properly secured and restrained. Children are constantly growing, so parents must also adjust and replace their car seats to ensure they're always protected.
What happens if you don't obey car seat rules in Alberta? You may be subject to fines or demerit points.
Are you planning to travel or move to Ontario? Read through the booster seat laws in Ontario to ensure you're not breaking any rules.
How Child Safety Seats Protect Children
Children's car safety seats protect children in many ways. Here's how a child safety seat protects its occupant:
Prevent the child from being ejected in an accident.
Concentrate crash forces on the strongest parts of a child's body. Simultaneously, it spreads crash forces on multiple parts of the body to ensure no one body part takes the brunt of the crash.
Keep the child's body from hitting hard surfaces in your car's interior.
Adjust the child's position to buckle them down with the car's seat belt properly.
Children's Seat Stages in Alberta
Booster seat regulations in Alberta differ depending on the child's age and size. This is because children of different sizes require different types of seats and protection to ensure maximum safety.
Here are the three stages of children's car seats according to Alberta's booster seat laws:
Stage One: Rear-Facing Car Seat
A rear-facing child safety seat places the child facing away from the driver and towards the rear window. Alberta laws require rear-facing child safety seats if you're travelling with a child under the age of two.
You need to place your child in a rear-facing child safety seat until they exceed the age of two or outgrow the seat. You'll know if a child has outgrown their seat if their body dimensions exceed the limits set by the seat manufacturer.
Stage Two: Front-Facing Car Seat
The next stage after a rear-facing child safety seat is the front-facing child safety seat. Forward-facing seats orient the child just like other passengers: facing the front. They usually come with a five-point harness to keep the child in place.
Albertan regulations require children to sit in a front-facing seat until they're at least six or outgrow the car seat according to the manufacturer's limits. If they outgrow the car seat, it's time to move them to a booster seat.
Stage Three: Booster Seat
Booster seats in Alberta aren't legally required, but they're highly encouraged. A booster seat protects children between the ages of 6 and 15 by ensuring they can be buckled up properly.
Most seat belts fit small children across the neck and stomach, which we don't want. Booster seats ensure the belt fits across the child's chest and hips for maximum safety.
Children should keep using booster seats until they exceed the booster seat's weight limit or can buckle into seat belts properly.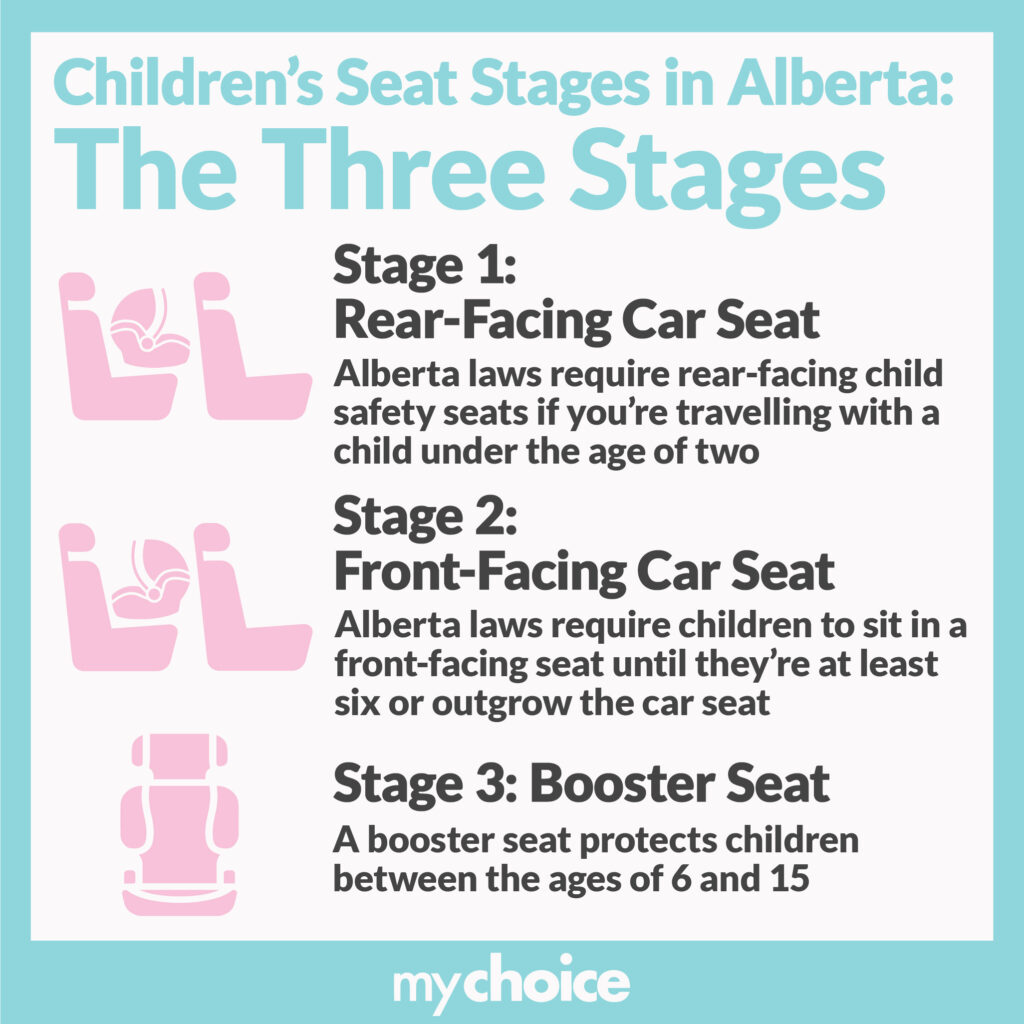 When Can A Child Wear Seat Belts Without Booster Seats?
A child can wear seat belts without booster seats when the seat belt can fit properly. In most cases, the child has to be over 145 cm tall.
How do you know when a child fits in a seat belt well? Here are the main indicators:
The child's knees bend properly at the seat's edge when they sit at the back of the seat.
The shoulder belt can cross the child's chest, sitting between the neck and shoulder.
The lap belt can fit comfortably across the child's hips and not their stomach.
Once a child fits comfortably in a seat belt, they should sit at the back of the vehicle until they're 13 years of age.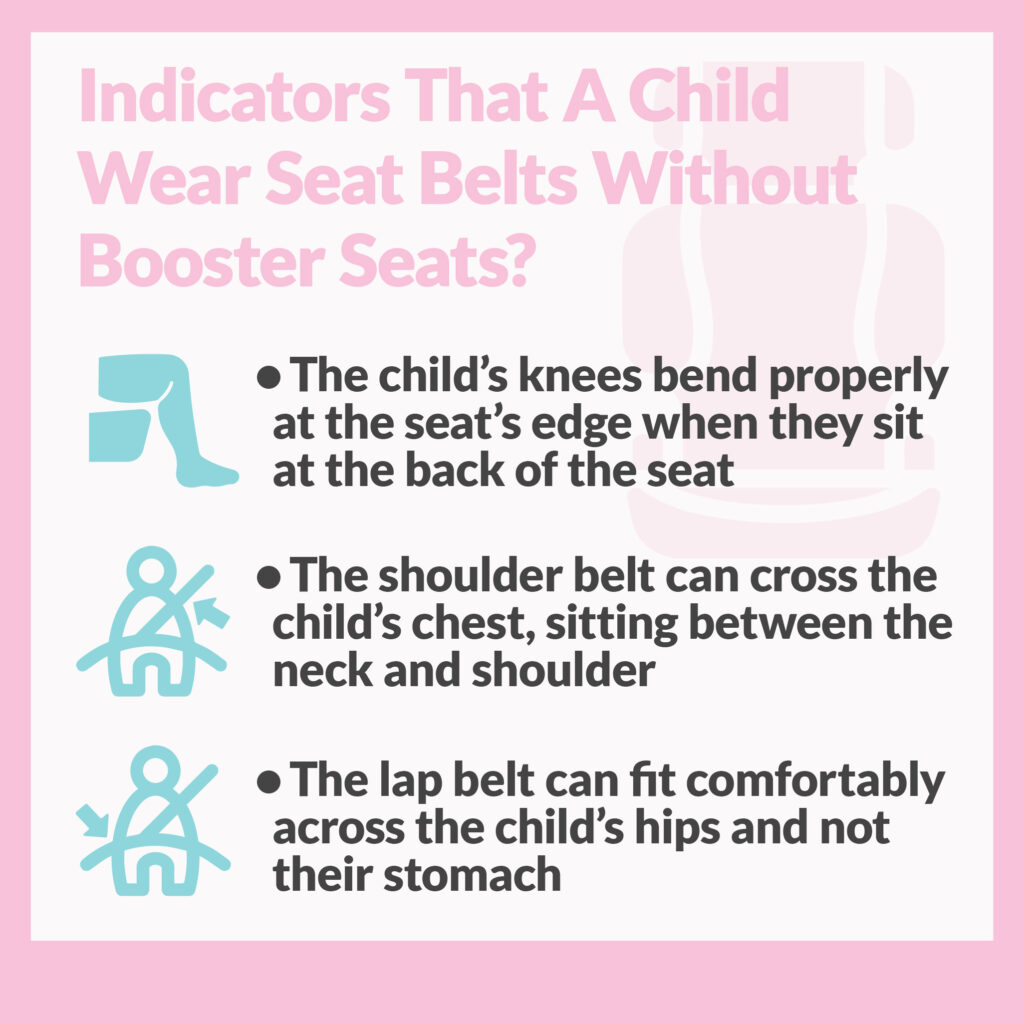 How to Choose a Child Safety Seat
You don't want to compromise your child's safety by choosing a faulty or defective safety seat. Here are our top tips for buying the best car safety seats:
Compare your child's height and weight against the seat's maximum height and weight allowance. Ensure your child's body dimensions still fall below the seat's maximum allowance.
Try installing the seat in your vehicle and have your child sit in it to ensure a comfortable fit and ease of use. Ask the store staff about trial periods, returns, or exchanges if you want to take the seat for a test drive. If you're buying a seat for a baby on the way, use a doll or teddy bear to simulate your child.
Check the seat model's history and ensure it's never been recalled.
Never buy used child safety seats without knowing their history. Don't even think about buying a child safety seat that's been involved in a severe crash.
Don't decide based on prices. Expensive seats aren't automatically the safest ones available.
Avoid buying seats that are too old, exhibit visible damage, and have missing parts.
There's no one "best" child seat for every kid. Children come in different shapes and sizes, so choose the seat that's most appropriate for your child's body and age.
When Can a Child Sit in the Front Seat in Alberta?
A child can sit up front in Alberta if they can fit in a seat belt safely on their own. Alberta car seat laws don't say when the front seat can be occupied by children. This means there is no minimum children's height and weight to sit in the front seat in Alberta.
Most children at least 145 cm tall can sit in cars without boosters safely, so they're legally able to sit up front. But we recommend only letting children above 13 years old sit up front to minimize possible injuries from airbags.
Most provinces allow children to sit in the front seat, but some rules may differ. Learn more in our article covering whether children can sit in the front seat in Ontario.
Protect Your Family With MyChoice
Car safety seats are legally required for Albertan drivers carrying children. But a more important reason to install them is to protect your child when you drive.
Choosing the right car insurance can give you even more protection for your family car. Use MyChoice to compare policies and find the best auto insurance deals. You can also check our list of top car insurance companies to get started.