CAR INSURANCE CALCULATOR
Use Our Car Insurance Calculator By Entering Your Postal Code
Are You Paying Too Much For Your Car Insurance?
Do you know if you are paying more for car insurance than you need to? Unfortunately, many people remain with the same insurance company for years and lose out on potential savings and benefits.
Your premiums can change every year based on many factors making it important to compare different quotes at least once a year to make sure you are still getting the best deal.
How Car Insurance Rates Are Calculated
In Ontario, car insurance premiums are estimated based on the coverage level and deductibles you set plus many factors including information about your vehicle, the safety and theft rating of your neighborhood.
Every insurance company uses its own formula, however. Some insurance companies may give more weight to your driving habits than the car you drive, while others will put more weight on your mileage and current driving habits. Each insurance company may also offer its own discounts and qualifications.
Car Insurance Trio Images iPhone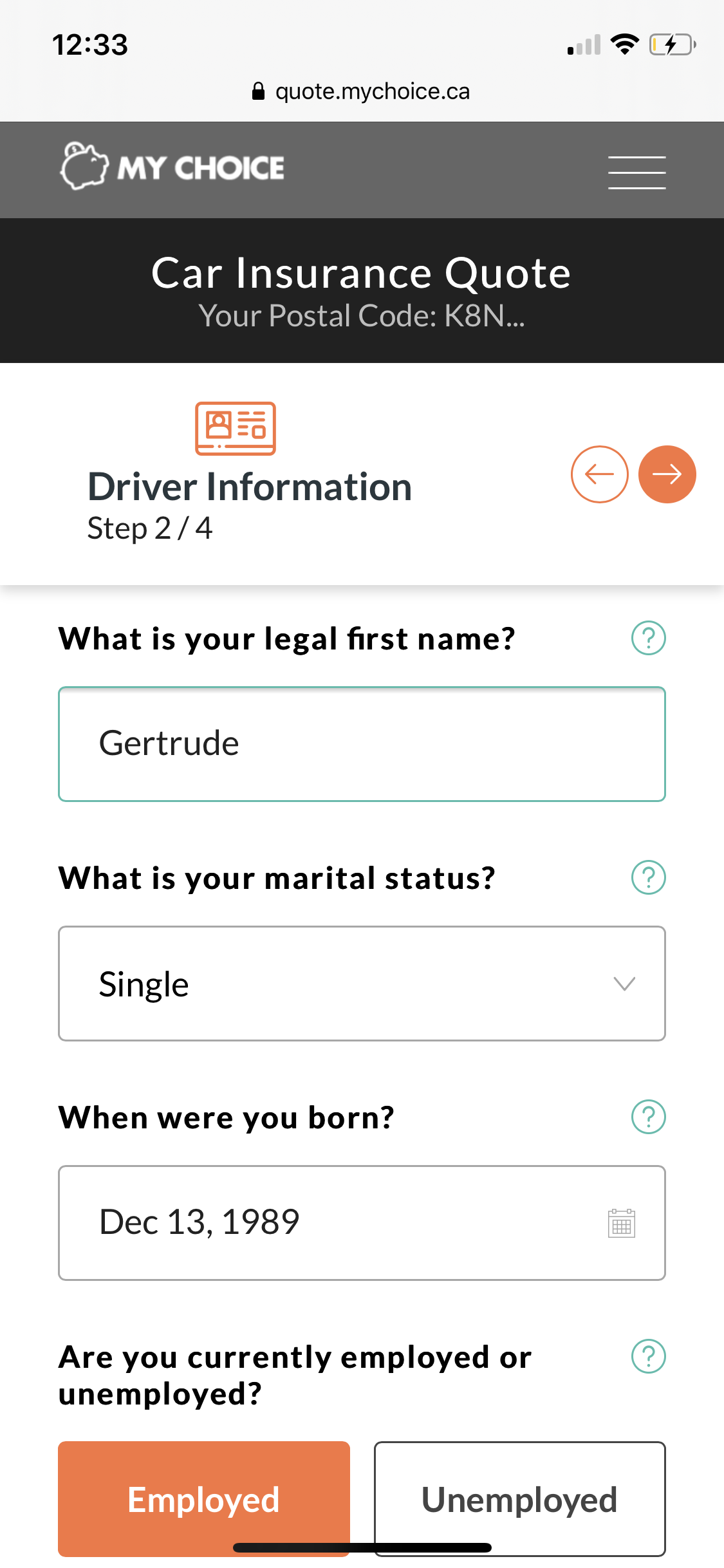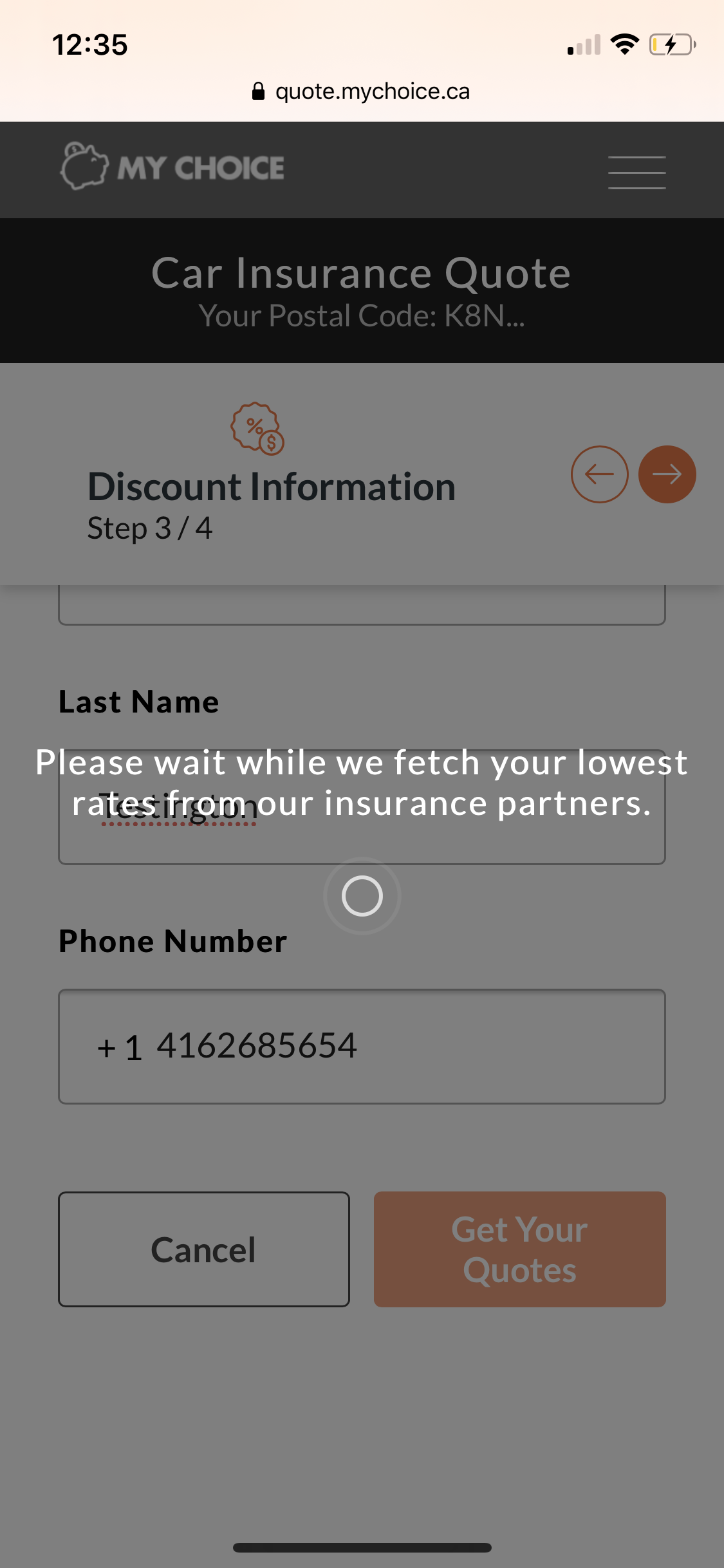 *Actual Quoting Data. Based On A Clean Driving Record.
What Is a Car Insurance Calculator?
Our calculator allows you to compare insurance rates from dozens of insurance companies by providing just a few personal details. You can easily compare coverage, deductibles, discounts, and rates from multiple providers with no obligations to give you a rough estimate of potential savings.
For the most accurate premiums, you can provide the following information – remember the more accurate you the better quote we can provide:
Location
Driver's license for your driving history and personal information
Past insurance claims history
Vehicle information
Coverage and deductible
Optional coverage
Discounts for which you qualify
Using a car insurance calculator is a free and easy way to reduce your insurance costs and even explore different factors that affect the rate you pay.
What Different Factors Affect Car Insurance Premiums?
There are many factors that influence your car insurance premiums. Some of these factors are in your control, such as your policy limits and deductibles. Other factors may be outside of your control, such as your age and where you may live!
Deductibles: The deductible is the amount you pay out-of-pocket when you make a claim for damage to your vehicle. In general, the higher the deductible, the lower your premiums.
Driving Record: Your driving history is an important factor that car insurance companies use to assess the risk that you will be involved in another accident.
Demographics: Drivers who are under 24 generally pay higher insurance rates than someone with a longer and strong driving record. Female drivers are usually safer drivers than men with lower rates. Married people also tend to pay less than single people for insurance.
Vehicle Type: Your car's make, model, and year will be used to calculate your premium for many reasons, including theft risk, safety rating, and value.
Geographic Area: Your insurance estimates will be based, in part, on where you live and the rate of theft, burglary, and other forms of crime in your area.
Driving Purpose and Habits: Your car insurance company will want to know whether you drive mostly for business, commuting to work, or for pleasure, which helps determine your risk for an accident. Your annual mileage and other driving habits can also affect your premiums.
Credit History: Studies have found that, on average, people with poor credit tend to make insurance claims more frequently than people with very good credit.
What Are Some Ways to Save on Car Insurance?
While using this calculator, keep in mind the many other ways you can save even more on your annual quote. For the most part there are many variables that are within your control, so here are some of the more prominent different ways you can save.
Pay for the Coverage You Need
Car insurance is mandatory with a minimum of $200,000 in liability coverage in Ontario. Still, getting a policy with just the minimum amount of coverage is unlikely to give you the protection you need. It's usually a good financial decision to choose higher coverage limits than necessary and consider optional coverage.
Just make sure you aren't buying coverage you don't really need. It's wise to get full coverage (collision and comprehensive) for a newer vehicle, but comprehensive coverage may not make sense for an older car.
Increase Your Deductible
The deductible, or how much you pay for repairs if your car is damaged, is a major factor influencing your insurance rates. Increasing your deductible means you're willing to pay a greater share of the costs if you need to make a claim and this can result in a much lower estimate. Just make sure you can afford to pay your deductible if you're in an accident. If you aren't sure if this is the right move, compare insurance rates with different deductibles to see how much you could save each year and how long it would take for the savings to make up the difference between two deductibles, such as $200 and $500.
Ask About Discounts
Every car insurance company should have its own discounts. It's always a good idea to find out what discounts are available and how you can qualify. Some of the most common discounts may include:
Good student
New car
Winter tires
Retiree
Green vehicle
Military or occupational if you work in a specific field
Home ownership
Multi-policy
Get Usage Based Coverage
Many car insurance companies in Ontario offer a discount if you install a telemetrics device in your vehicle that monitors speed, hard braking, and the time of day you're driving. This type of coverage is called usage-based insurance. If you have good driving habits, you can get a discount of 10% or more, but bad driving habits cannot result in a rate increase according to regulations.
Pay in Full
If you can afford to pay your car insurance premium in full rather than monthly, you can save more than $60 per year. Even if you can't pay the 12-month premium upfront, you may still qualify for a discount if you pay a 6-month premium in full.
Improve Your Credit
You may not realize it, but your credit can be affecting your car insurance premiums. While there's nothing you can do immediately to address this, you can work to improve your credit score over time to qualify for better rates. Focus on paying down debt, establishing a positive payment history without late payments, and never using more than 30% of your available credit limits.
How To Check Your Ontario Driving Record An overview of your driving record tells employers and car insurers how big a risk it would be to hire you or insure you. They can act as […]
BMW vs Mercedes: Which Luxury Car Is Better? It's said that if you want to own a luxury car, buy German. BMW and Mercedes-Benz are the two brands at the pinnacle of German luxury vehicles. […]
How to Report a Car Accident in Ontario Even if you're a safe driver, it helps to know what to do when an accident happens. Around 33% of Canadians have or will be involved in […]